Xiaomi 11T Pro review
GSMArena Team, 15 Sept 2021.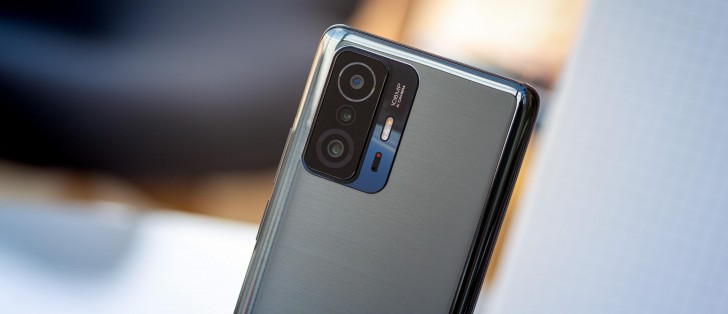 Android 11 with MIUI 12.5
The Xiaomi 11T Pro boots Android 11 with MIUI 12.5 out of the box. MIUI 13 should be arriving by the end of this year, and we guess the newest phones should be the one to get it first.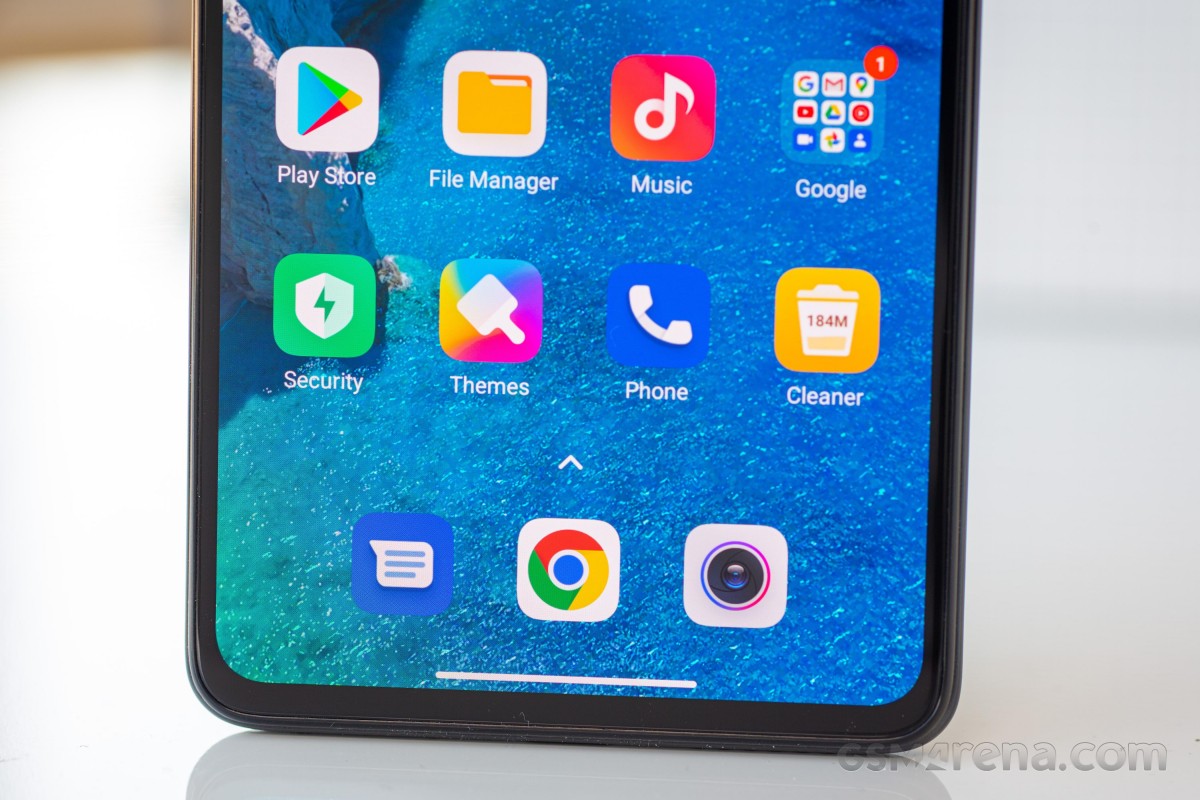 With the new 11T series Xiaomi has committed to three major Android updates and four years of security patches. That's an announcement that can surely sway quite a few people into buying a 11T or 11T Pro. More manufacturers should do this, and we hope for Xiaomi to treat its mid-range series the same way.
So, the MIUI 12 launcher has been around for a while, and it is plenty familiar already.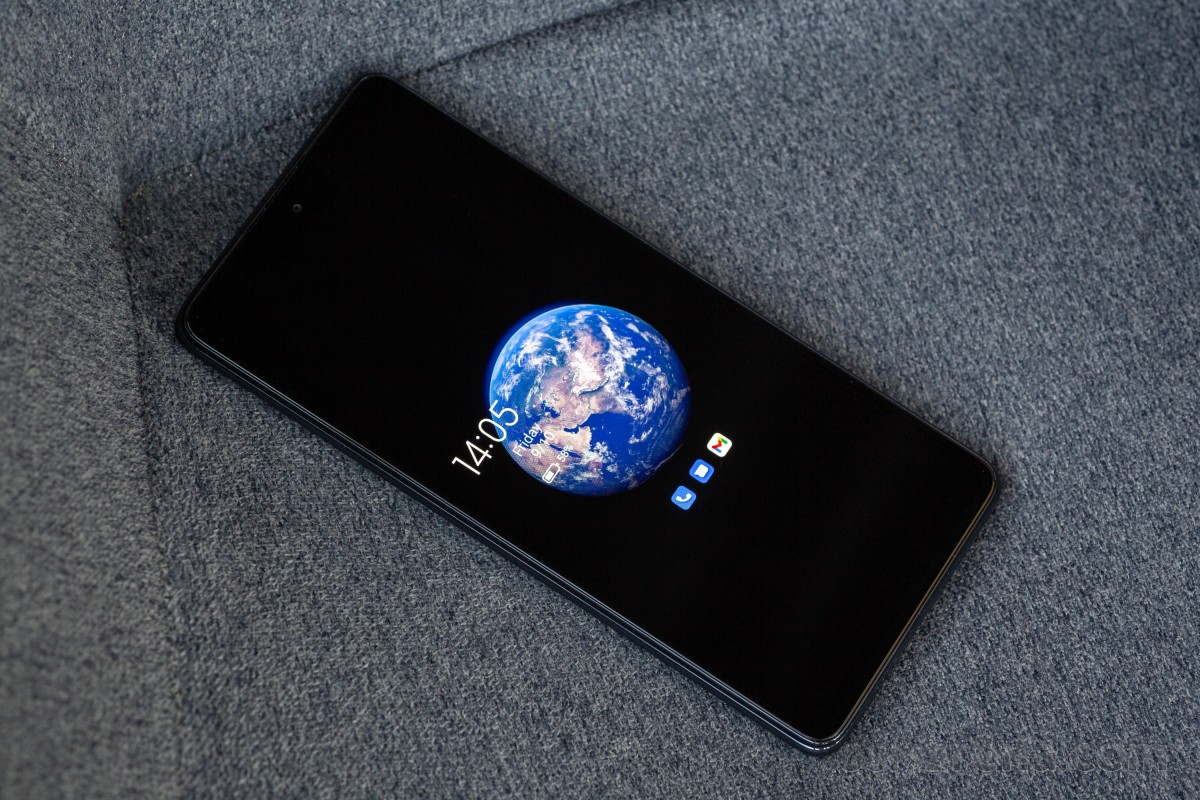 The Xiaomi 11T Pro supports an Always-on display - it can be always on, scheduled, or appearing for 10s after a tap. MIUI 12 has a ton of AOD themes you can choose from and make it yours. You can customize many of those. The Always-on display also supports breathing light - the curved edges of the display will flash with colors upon new notifications.
You unlock the screen via the side-mounted fingerprint scanner. The reader is easy to set up, blazing-fast, and the accuracy is superb. We advise you to set the unlock method to Press as the always-on reader will often attempt reading your palm and/or other fingers and eventually disable the fingerprint unlock until you input your PIN. A 2D Face Unlock is available, too, but it is far less secure than the fingerprint option.
The homescreens are business as usual - they are populated with shortcuts, folders, and widgets. The leftmost pane, if enabled, is Google's Discover.
The high-end phones running on MIUI 12 support these cool Super Wallpapers. Long story short - this is a dynamic wallpaper that zooms each time you pass a certain screen. The Super Wallpapers are not something groundbreaking, but they provide one very coherent visual experience that is a feast for the eyes and, in the meantime - connects the parts of MIUI in a subtle yet striking way.
There are now five Super Wallpapers available, and you get a choice of Snowy Peaks (new), Home (Earth), The Red Planet (Mars), Faraway rings (Saturn), and Geometry.
MIUI 12 offers an app drawer, and it automatically organizes your apps into categories. The first is All, meaning it contains all apps. Then follow Communication, Entertainment, Photography, Tools, New, and Business. You can edit these categories or even disable them altogether.
You can disable the app drawer entirely if that's not your thing.
Another interesting feature is the Notification shade split into Notification Center and Control Center. Indeed, this is precisely what the iPhones do, and you even summon them in the same fashion - pull down from the left part of the screen for the Notification Center, pull down from the right for the Control Center.
If you are not fond of this new split - you can disable the Control Center, and the shade will revert to its normal looks and operation.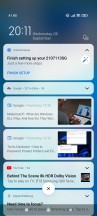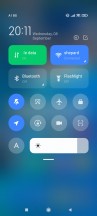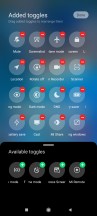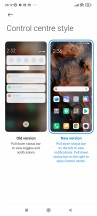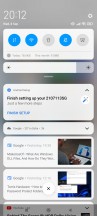 Notification Center • Control Center • Control Center • Options • The old Notification Shade
The task switcher has not changed much. It shows all of your recent apps in two columns. Tap and hold on a card for the split-screen shortcut, or just swipe it left or right to close it. There is a Floating Windows button on top, a cool option offered by MIUI 12. You can put a compatible app in a floating state, but you only have one floating window at a time.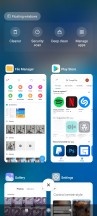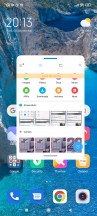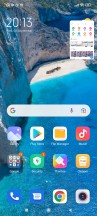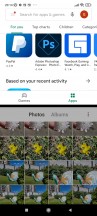 Task Switcher • Floating Windows • Floating app • Split screen
Themes are a huge part of MIUI, and they are available on MIUI 12, too. You can download new ones from the Themes store, and they can change wallpapers, ringtones, system icons, and even the always-on display style.
Xiaomi enhanced MIUI 12 with a couple of additional privacy options. Now, when sharing stuff, like photos and videos, you can opt to remove location info and/or other metadata (incl. device info) and thus protect your privacy better. Neat.
MIUI also offers a Security app. It can scan your phone for malware, manage your blacklist, manage or restrict your data usage, configure battery behavior, and free up some RAM. It can also manage the permissions of your installed apps, define the battery behavior of selected apps, and apply restrictions only to certain apps.
MIUI 12 packs proprietary Gallery, Music, and Video player. In some regions, the music and video apps may include paid streaming options. Mi Remote for the IR blaster is available, too.
MIUI 12 also enhances the Notes app with even more Task checklists and subtask options.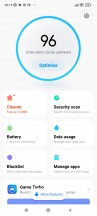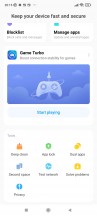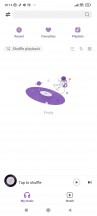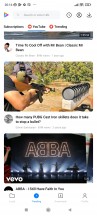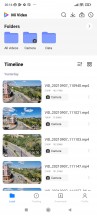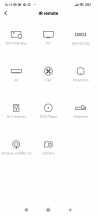 Security • Security • Music • Video • Video • Mi Remote
MIUI 12 supports Dark Mode, too, and you can even force it on wallpapers or restrict its application on incompatible individual apps.
MIUI 12 is fully optimized to work on HRR displays, and it looks gorgeous on the Xiaomi 11T Pro. Everything is smooth and fast; animations are unobtrusive yet impressive, the attention to detail is excellent. We did enjoy working with MIUI on the 11T Pro's 120Hz for sure.
Some MIUI ROMs include ads in the default apps; it is a well-known thing.
Some MIUI ROMs include ads in the default apps, it is a well-known thing. The international ROM version of this Xiaomi 11T Pro unit had no ads, and we checked thoroughly. And it better be; it's an expensive phone you would pay handsomely for, so we expect no such thing.
Still, if yours happens to have some ads - you can still disable them, even if it's a bit of a tedious job. For example, if you are annoyed by the app scanner's ads, just hit the settings gear and disable recommendations. Ads in the File Manager - Settings->About should do it. Themes - go to Settings and disable Recommendations. It's not ideal, sure, but at least you can get rid of them all.
Performance and benchmarks
The Xiaomi 11T Pro is powered by the flagship Snapdragon 888 5G chip by Qualcomm, the same one behind the original Mi 11 and the Mi 11i variant. The SoC is based on the 5nm manufacturing process.
The SD888 SoC has an octa-core processor with a familiar core configuration 1+3+4 - 1x2.84 GHz Kryo 680 Prime (Cortex-X1 derivative) & 3x2.42 GHz Kryo 680 Gold (Cortex-A78 derivative) & 4x1.8 GHz Kryo 680 Silver (Cortex-A55 derivative).
The Adreno 660 is part of the SD888 and is currently one of the best in the smartphone market.
The Xiaomi 11T Pro is available with either 8GB or 12GB of LPDDR5. The storage options are 128GB and 256GB, and the storage is of the UFS 3.1 kind.
The SD888 chip supports the latest connectivity standards - dual 5G, Wi-Fi 6, Bluetooth 5.2, dual-band GPS.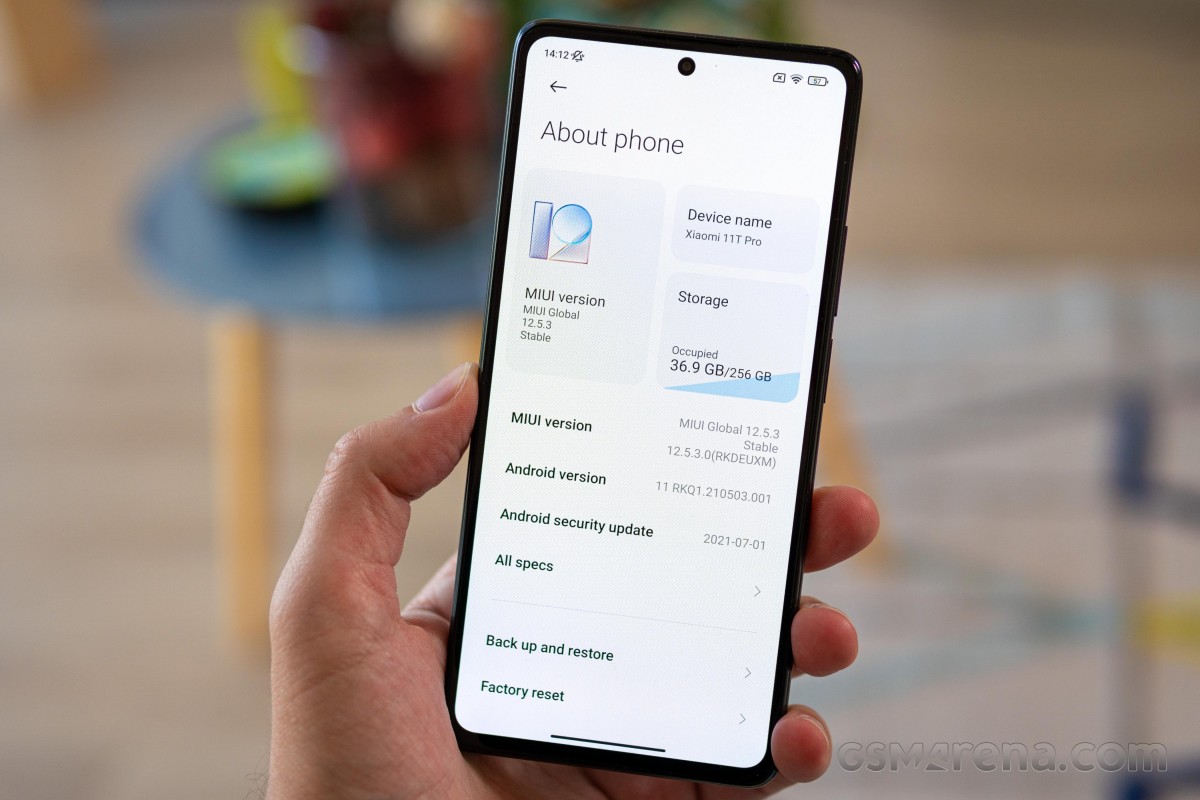 Unfortunately, our Xiaomi 11T Pro ROM had all benchmarks blacklisted. Still, it has a rather powerful silicon inside, and considering the 1080p screen, some may even consider this sort of performance as an overkill. We played a lot with the phone, and we saw no lag, no stutter, no screen issues, and all games ran lovely.
We did manage to run some stress tests, though. The phone has a vapor-chamber-based cooling solution, like many others on the market. But the Snapdragon 888 is one of the hottest chips on the market, so we were curious to see how it behaves within the Xiaomi 11T Pro.
First, we ran the CPU Stress Test for 1 hour. The cooling system allowed the CPU to keep just 56% of its maximum performance, and you can see the throttling began mere seconds after we hit START and continued until the end. The phone did not overheat but lost nearly 50% of its CPU performance for the rest of the test.
Then we ran a GPU Stress Test. The Xiaomi 11T Pro lasted 20 minutes working at 81% or more of its maximum GPU capability - a pretty solid number. Then it overheated and went into forced airplane mode in order to continue the test with about 75% of its maximum GPU speed. That's not bad, but not ideal either.
The phone gets unpleasantly hot around its camera during these tests, too.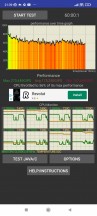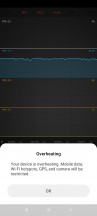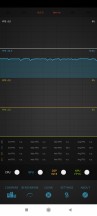 CPU Stress Test • GPU Stress Test • GPU Stress Test
We've always considered putting the fastest chip on the market under a 1080p screen a bit of an overkill. A Snapdragon 870 would have been better here for sustained performance for sure. It's a cooler chip and can keep working at 100% for longer.
Still, after everything we discovered, it's also worth pointing out that few apps or games, if any, will use 100% of the capabilities of the Snapdragon 888. We ran plenty of high-profile games without any issues. The phone didn't get that hot or throttle noticeably during our game time. And that's enough for the real-life performance.
from my experience one month now i have received 2 big updates and although nothing is mentioned in the change logs they have fixed the camera issues so no more over sharpened and over processed looking photos like shown in the review. Instead they l...
I bought Xiaomi 11T Pro few days back. For me, the battery lasts 100% to 3% with only 8 hours of web browsing (120 Hz) and surfing YouTube. You mentioned it lasts 12 hours of web browsing at 120 Hz. Does it mean my battery is degrading?