Xiaomi 12 Pro review
GSMArena Team, 15 March 2022.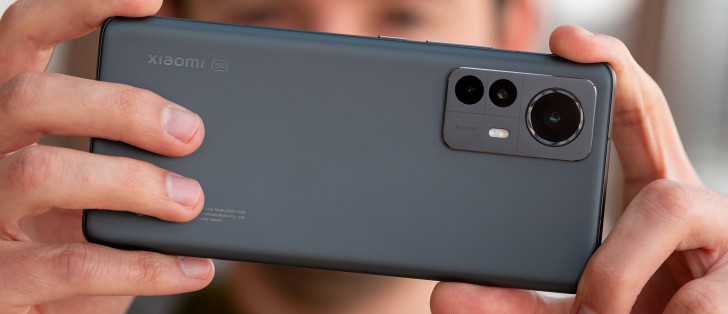 Properly great 6.7-inch OLED display
The 12 Pro sources its display from Samsung, and it's one impressive 6.73-inch unit. Leaving the curved edges to the design section and focusing on the numbers here instead, the Super AMOLED panel has a 1440x3200px resolution in a 20:9 aspect for a pixel density of 521ppi.
It supports a maximum refresh rate of 120Hz with touch sampling at up to 480Hz. Xiaomi claims 1000nits of brightness for regular operation, and up to 1500nits in HDR scenarios (of which it supports both the Dolby Vision and HDR10+ flavors).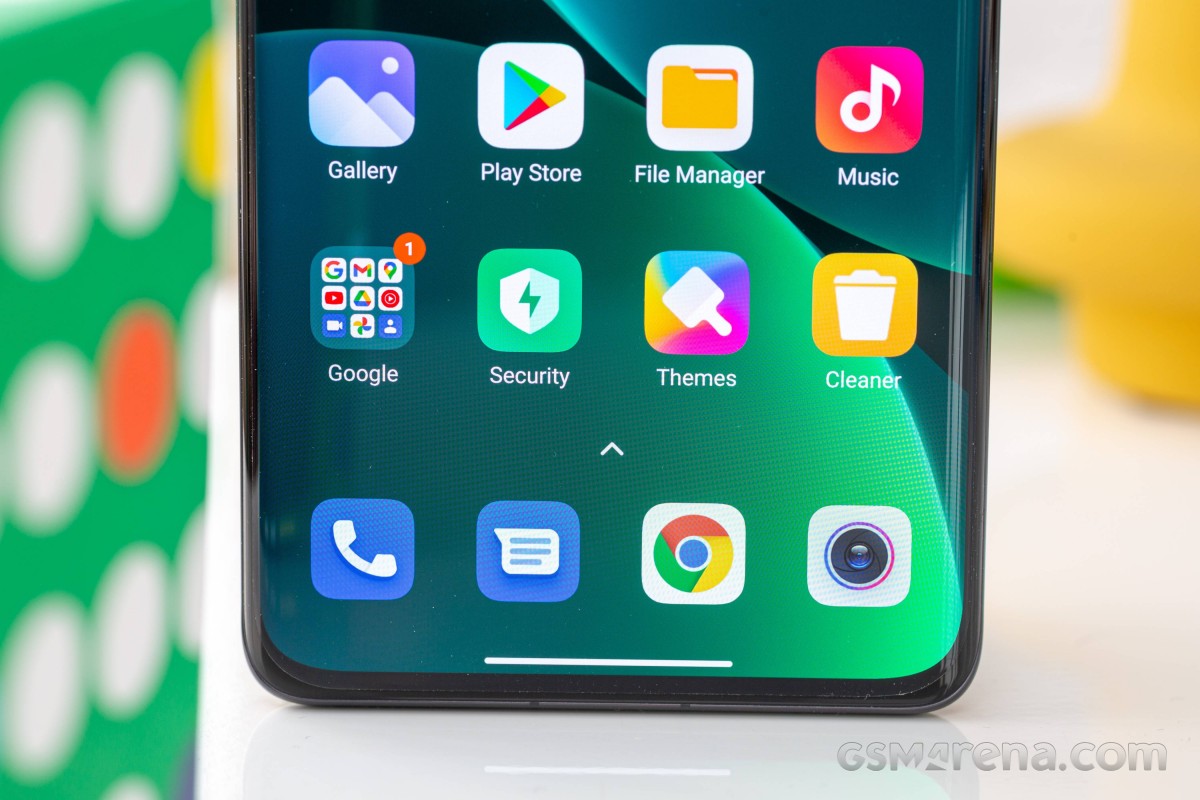 We measured 1050nits on the 12 Pro with Auto brightness enabled and bright ambient light in our standardized test. This score has the Xiaomi 12 Pro tied with the iPhone 13 Pro Max, and only Samsung's latest-gen flagships can top that number.
The manually attainable brightness is a more reasonable 506nits. The 12 Pro does allow you to turn off Auto brightness but keep the boost in bright ambient light - that's the Sunlight mode toggle in settings.
Display test
100% brightness
Black,cd/m2
White,cd/m2
Contrast ratio
Xiaomi 12 Pro
0
506
∞
Xiaomi 12 Pro (Max Auto)
0
1050
∞
Xiaomi Mi 11
0
498
∞
Xiaomi Mi 11 (Max Auto)
0
926
∞
Xiaomi Mi 11 Ultra
0
514
∞
Xiaomi Mi 11 Ultra (Max Auto)
0
943
∞
Samsung Galaxy S22+
0
468
∞
Samsung Galaxy S22+ (Extra brightness)
0
782
∞
Samsung Galaxy S22+ (Max Auto)
0
1214
∞
Samsung Galaxy S22 Ultra
0
494
∞
Samsung Galaxy S22 Ultra (Extra brightness)
0
829
∞
Samsung Galaxy S22 Ultra (Max Auto)
0
1266
∞
Apple iPhone 13 Pro Max
0
852
∞
Apple iPhone 13 Pro Max (Max Auto)
0
1050
∞
Oppo Find X3 Pro
0
493
∞
Oppo Find X3 Pro (Max Auto)
0
774
∞
vivo X70 Pro+
0
458
∞
vivo X70 Pro+ (Max Auto)
0
1022
∞
vivo iQOO 9 Pro
0
438
∞
vivo iQOO 9 Pro (Max Auto)
0
1000
∞
Google Pixel 6 Pro
0
497
∞
Google Pixel 6 Pro (Max Auto)
0
860
∞
Huawei P50 Pro
0
609
∞
Huawei P50 Pro (Max Auto)
0
754
∞
The 12 Pro adopts Xiaomi's feature-rich (or needlessly complex) approach to color handling and offers a multitude of options. There are three immediately available preset color modes (Vivid, Saturated, Original color), with a color wheel below for tweaking temperature on top of three factory presets (Default, Warm, Cool). Then there's an Advanced settings submenu where you can choose from three further presets (Original, P3, and sRGB), but there are also RGB sliders as well as sliders for hue, saturation, value, contrast, and gamma.
In the default Vivid mode, colors are nicely punchy, and we got generally accurate results for our DCI-P3 test swatches, but there was a noticeable blue shift to white and grays. The Warm temperature preset helped a little, but a hint of blue remained. We got the most accurate results (average dE2000 of 2.1) with a custom point on the color wheel.
Original color mode, on the other hand, was super accurate for sRGB content, and we recorded an average dE2000 of 0.9 for the sRGB patterns.
The dedicated P3 mode in Advanced settings was a bit less accurate than the Vivid mode for displaying P3 content, and the sRGB mode was way off target in our testing.
Additionally, there's a newly-introduced Adaptive color toggle that fine-tunes the color temperature to match the ambient light, much like Apple's True Tone.
The 12 Pro lets you choose whether the phone should render in its native 1440p resolution or a lower 1080p, the presumption being that the lower-res setting would be less taxing on the battery. There's also a toggle that allows the phone to automatically switch down to 1080p when it decides it's appropriate.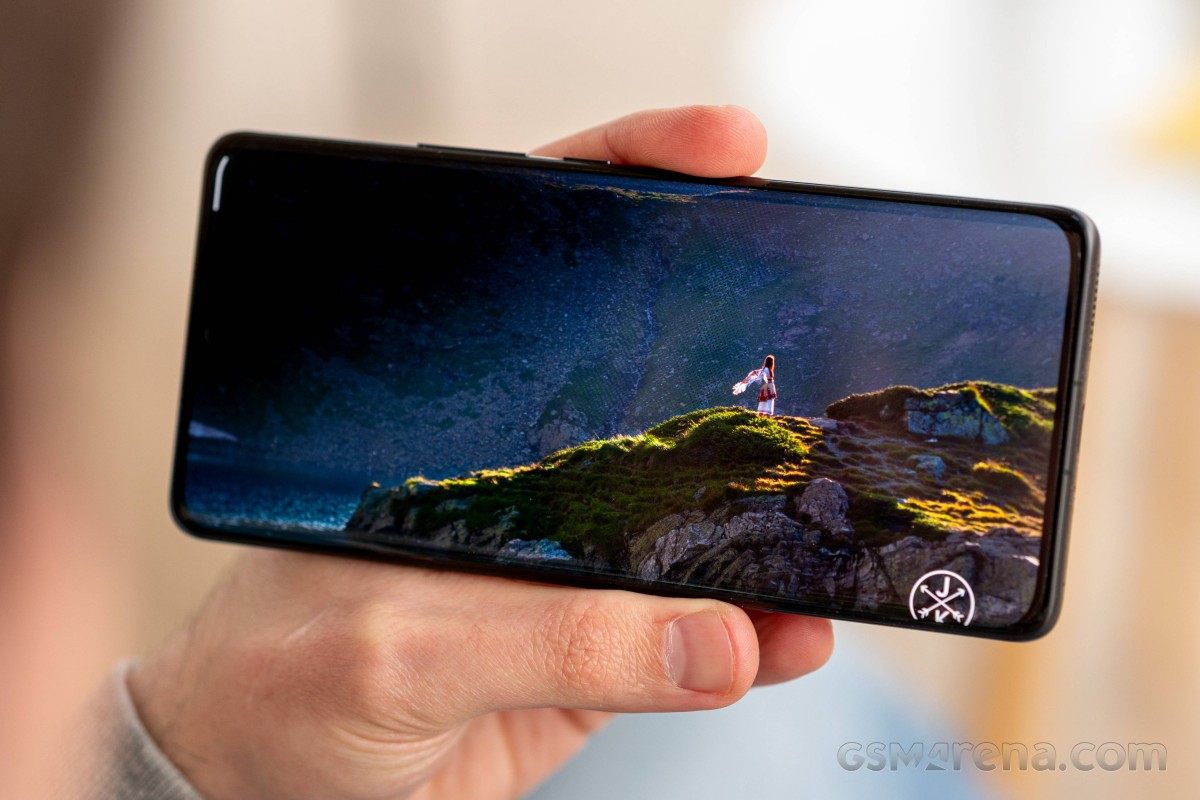 HDR capability is pretty great on the 12 Pro, offering both Dolby Vision and HDR10+. Netflix recognized the Dolby Vision support successfully, and YouTube happily streamed HDR video, though Amazon Prime Video didn't look very HDR.
High refresh rate support on the 12 Pro is handled in a way we haven't seen before, but we appreciate, at least in principle. There are two options in the menu - Auto and Custom. Auto leaves all the RR decisions to the phone, while Custom allows you to pick between 60, 90, and 120Hz, which effectively serves as a ceiling and the phone will still go below the number you choose according to its internal logic.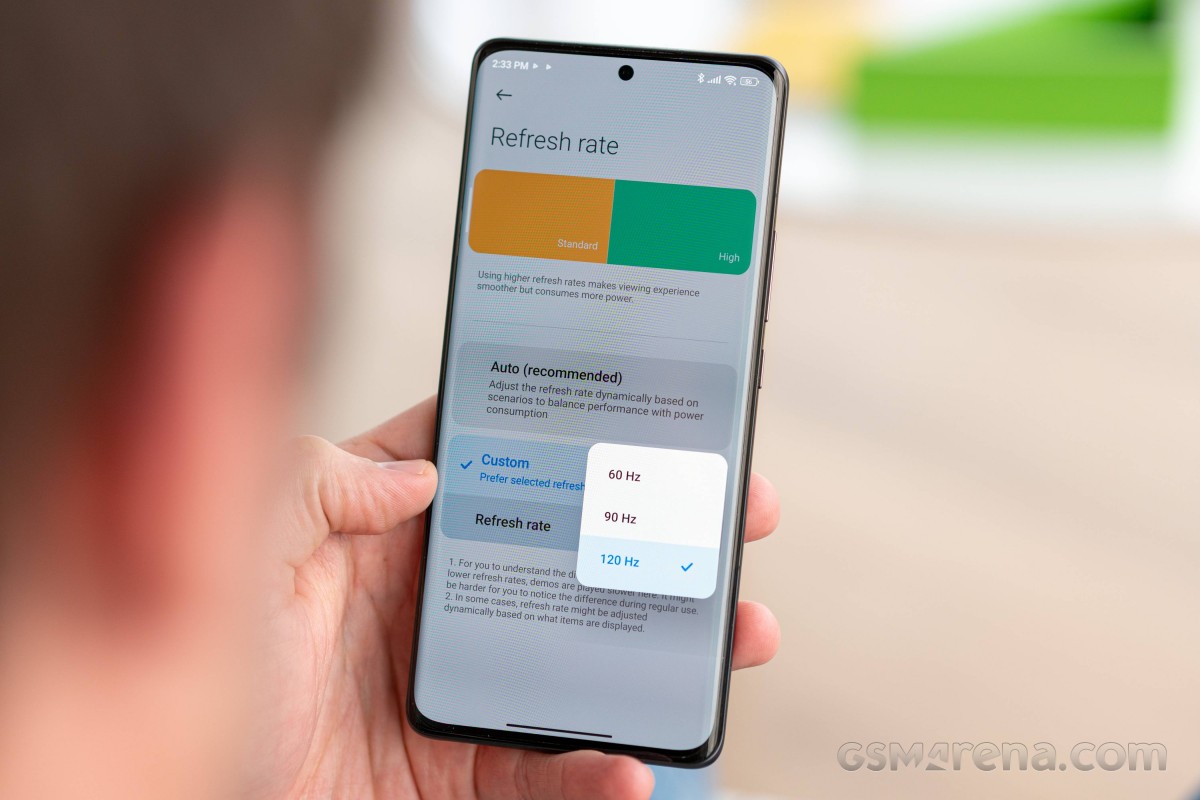 That logic is heavily based on interaction with the phone - basically, you stop touching it, and it will drop to 10Hz, you engage with it, and it will shoot to the maximum (120Hz in Auto or whatever value you set in Custom). There are further nuances to this behavior, of course.
For example, in browsers, the 12 Pro will drop to 10Hz only if it's displaying a static page - if there are moving bits, it will maintain 60Hz (with a jump to 120Hz when you touch to scroll, of course). Refresh rate in local video playback depends on the video - 24fps videos will get 24Hz, 30fps ones will get 30Hz, and same with 48 and 60fps. However, in video streaming apps, you'd be getting 60Hz regardless of the content's framerate, which we find somewhat odd. Games that support high frame rates will get the highest refresh rate available (120Hz in Auto or whatever value you set in Custom).
Xiaomi's press materials say that the phone should be capable of going all the way down to 1Hz. That's possible in book reading apps and indeed we saw the 1Hz in a handful of those, including the Kindle app.
Xiaomi 12 Pro battery life
The 12 Pro is powered by a 4,600mAh battery, same as on last year's Mi 11, but smaller than the 5,000mAh power packs on the 11 Pro or the intermediate 11T and 11T Pro. The capacity is also only marginally higher than that of the vanilla 12 (4,500mAh) despite the Pro having a larger and higher-res display (6.73" 1440p vs. 6.28" 1080p). So we went into battery testing having fairly conservative expectations.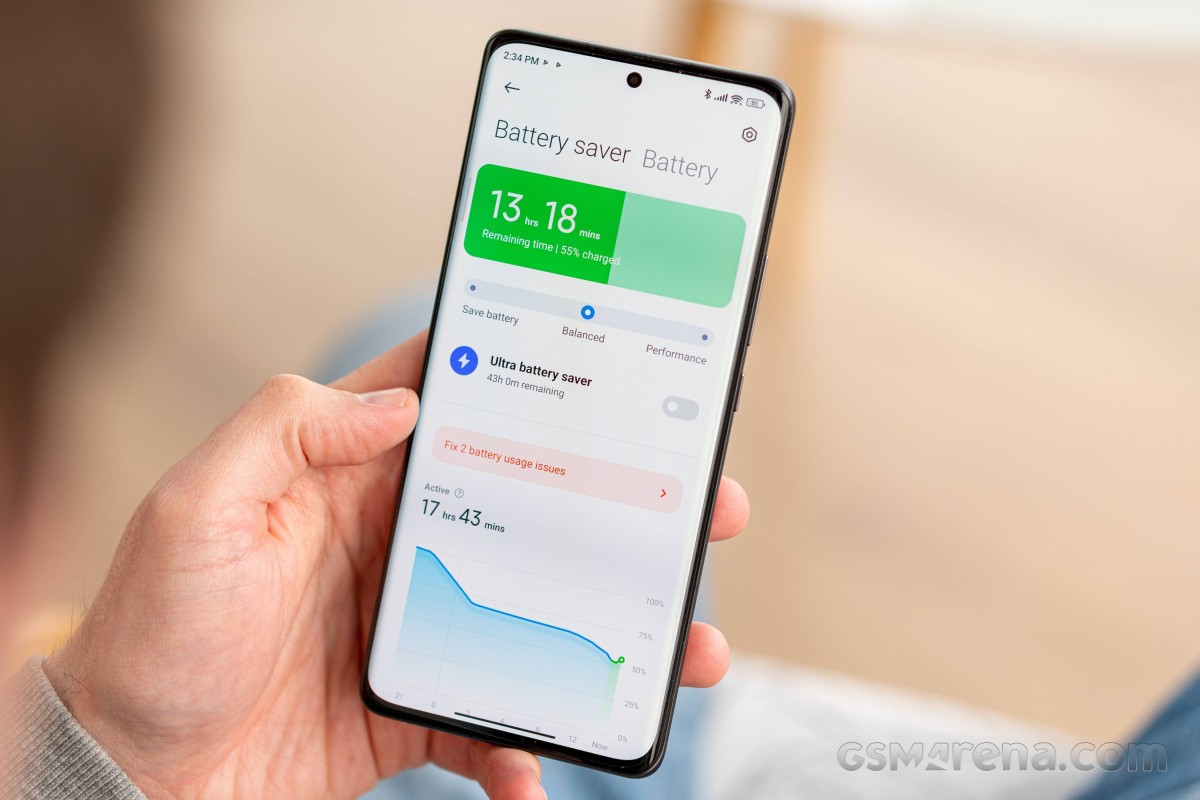 Indeed, the 12 Pro posted unimpressive numbers for endurance in all disciplines. Video playback (at 60Hz) was particularly out of touch with modern realities at just over 12 hours. Web browsing (at a constant 120Hz) isn't that bad, though at under 11 hours, it's not going to win any comparisons. And the 19-ish hours of voice calls, if enough to last a lifetime for some users, aren't competitive either.
In the end, the Endurance rating for the Xiaomi 12 Pro worked out to 74h.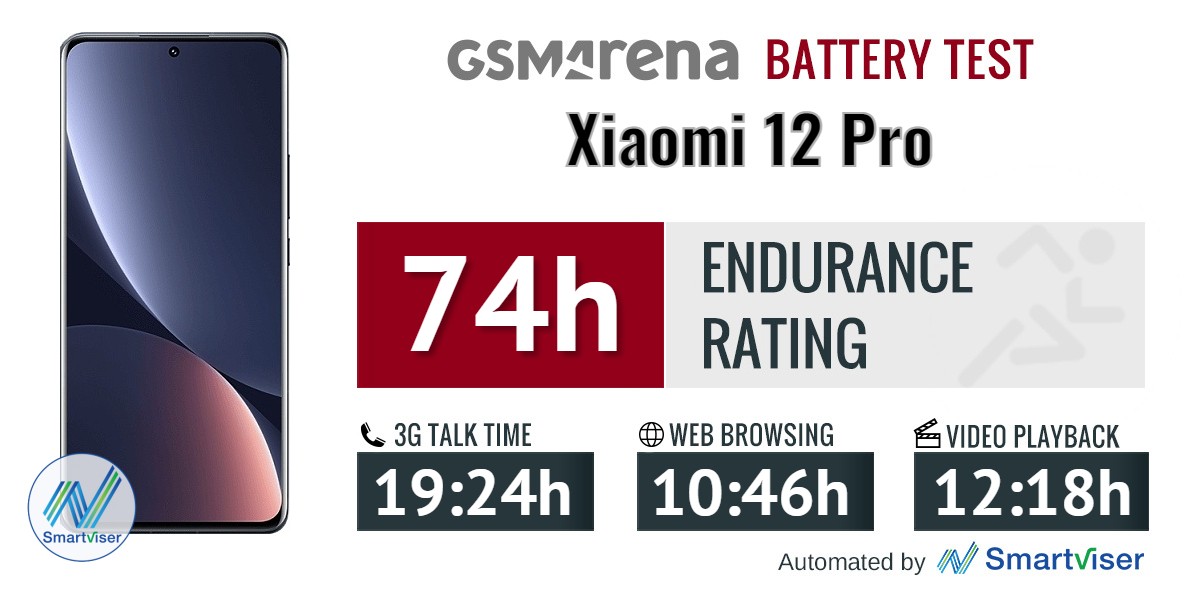 Our battery tests were automated thanks to SmartViser, using its viSerDevice app. The endurance rating denotes how long the battery charge will last you if you use the device for an hour of telephony, web browsing, and video playback daily. More details can be found here.
Video test carried out in 60Hz refresh rate mode. Web browsing test done at the display's highest refresh rate whenever possible. Refer to the respective reviews for specifics. To adjust the endurance rating formula to match your own usage - check out our all-time battery test results chart.
We repeated the browsing test with the display set at 60Hz and got an extra hour to an 11:41h total - hardly a game-changing difference.
All of the above tests were carried out at the full resolution display setting (1440x3200px). We have historically been unable to observe a meaningful advantage of switching to 1080p, but we nevertheless ran the two screen-on tests on the 12 Pro at the lower resolution, just to confirm. And confirm we did - we clocked no battery life improvements in either discipline.
Charging speed
The 12 Pro supports Xiaomi's most powerful commercially available fast charging at up to 120 watts. It also ships with a 120W adapter inside the box, the same one we saw bundled with the 11T Pro a few months ago.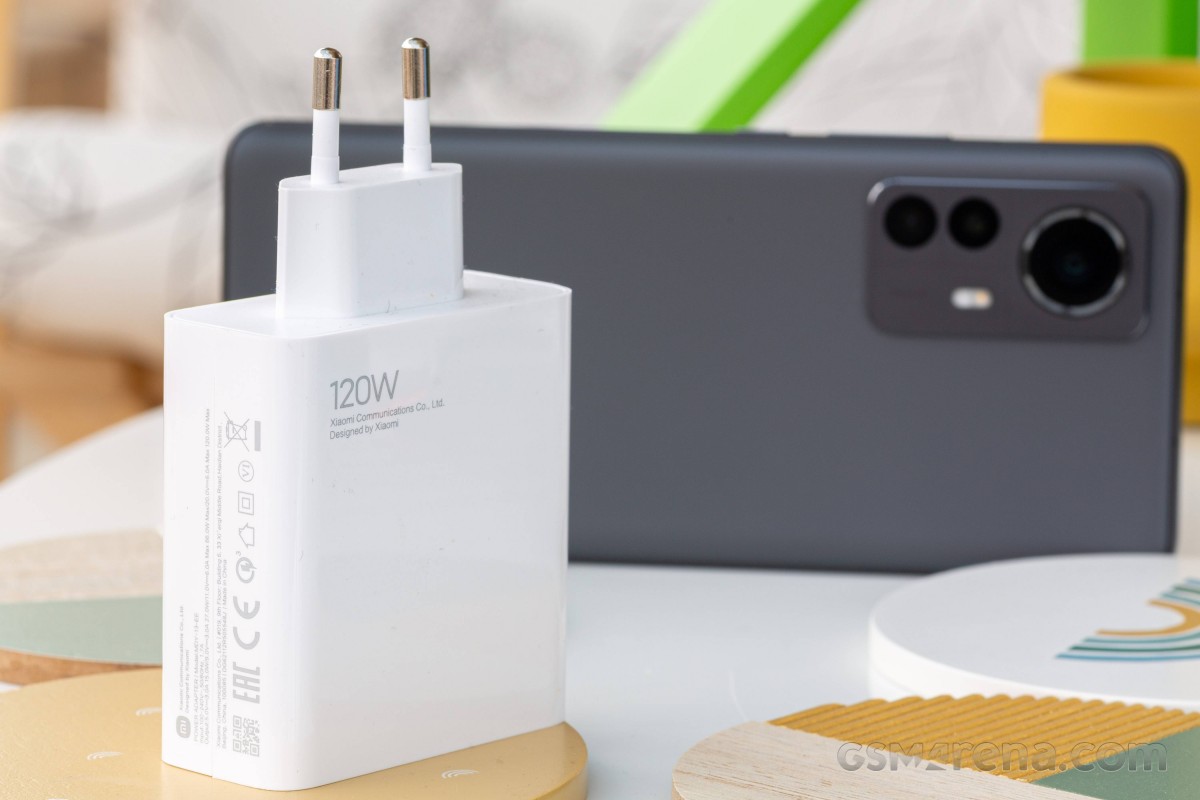 Xiaomi press materials claim a 0 to 100% time of 18 minutes, but in our testing, it took the phone a much, much longer 21 minutes - okay, that's properly fast anyway. Mind you, it takes another 3-5 minutes of trickle charging from 100% to 'full' - the moment the phone actually stops charging.
What's more important is that after the first 7 minutes after plugging in, you'd be looking at 50% in the battery indicator, and such speed can change your charging habits, sending overnight top-ups in the past.
Update, 15 March: Xiaomi shed more light on the details of the charging process after this review was published. There's apparently a Boost mode, which enables the fastest possible 18-minute charging time, and it's not turned on by default. You can find the mode by searching for 'Boost charging speed' in the Settings menu. With Boost mode off, Xiaomi quotes 24 minutes to a full charge, which aligns nicely with our initial 21+3min testing charge time.
We then switched to a third-party adapter that supports USB Power Delivery with PPS up to 65W - just to check what speeds you can expect if you don't want to lug around the 120W brick. Anything but sluggish, the 12 Pro took 50 minutes to 100% and reported 62% half an hour into the process.
30min charging test (from 0%)
Higher is better
Xiaomi 12 Pro (120W)
100%
Xiaomi 11T Pro
100%
iQOO 9 Pro
100%
OnePlus 9 Pro
99%
Oppo Find X5 Pro
91%
Xiaomi Mi 11 Ultra
89%
Xiaomi 12
87%
Xiaomi 11T
86%
Xiaomi Mi 11
83%
Huawei P50 Pro
73%
Xiaomi 12 Pro (65W PD)
62%
Samsung Galaxy S22+ (25W)
62%
Apple iPhone 13 Pro Max (65W PD)
55%
Apple iPhone 13 Pro Max (20W Apple)
42%
Time to full charge (from 0%)
Lower is better
Xiaomi 12 Pro (120W)
0:21h
Xiaomi 11T Pro
0:21h
iQOO 9 Pro
0:21h
OnePlus 9 Pro
0:32h
Xiaomi Mi 11 Ultra
0:37h
Oppo Find X5 Pro
0:40h
Xiaomi 11T
0:41h
Xiaomi 12
0:46h
Xiaomi 12 Pro (65W PD)
0:50h
Xiaomi Mi 11
0:50h
Huawei P50 Pro
0:50h
Samsung Galaxy S22+ (25W)
1:02h
Apple iPhone 13 Pro Max (20W Apple)
1:46h
Apple iPhone 13 Pro Max (65W PD)
1:54h
The 12 Pro supports wireless charging too, and the Wireless Power Consortium lists it as conforming to the Extended Power Profile for up to 10W of power transfer. However, that number applies to standard Qi charging pads, and as is usually the case, the phone can take a lot more using proprietary peripherals - 50W in the 12 Pro's case. That should make for a 0-100% time of 42 minutes, Xiaomi says, which is impressive too, but it's not something we've tested.
You can also use the phone itself as a wireless charging pad for other Qi-compatible devices, where it's rated for 10W output.
Speaker test
Harman/Kardon was in charge of tuning the 12 Pro's speaker system, as the logo on the top of the handset's frame reveals. Technically, it's a four-speaker configuration with a tweeter and a woofer at each end of the phone. In principle, it's a standard two-channel arrangement where the top speaker gets the left channel in portrait orientation, while in landscape, the phone is smart enough to send the correct channels so that sound's coming from where it should be.
There's no delegating this or that frequency range to the other speaker as is often the case with 'primary' bottom units and 'secondary' earpiece ones. That's because the speakers on the 12 Pro are equally capable, and the top one doesn't need help from the bottom one for its bass response.
This top speaker/earpiece solution on the 12 Pro means that there's a grille on the frame for loudspeaker purposes, and a slit towards the front for use in phone calls, and sound comes out of both simultaneously. What that means is that in calls the other party's voice will be spilling out from the top grille.
Despite the Harman/Kardon badge and in contrast with our past experiences with high-end Xiaomis, the 12 Pro wasn't particularly loud in our testing, only earning an 'Average' rating. Sound quality can be described similarly. It does have some low-frequency thump, more so than the Galaxy S22+, for example, but it lacks presence and clarity in the higher register.
Use the Playback controls to listen to the phone sample recordings (best use headphones). We measure the average loudness of the speakers in LUFS. A lower absolute value means a louder sound. A look at the frequency response chart will tell you how far off the ideal "0db" flat line is the reproduction of the bass, treble, and mid frequencies. You can add more phones to compare how they differ. The scores and ratings are not comparable with our older loudspeaker test. Learn more about how we test here.
" a few years back we would have complained about a punch hole"...lol..that IS the problem
Every comment here, does not reflect note 12 pro. It's an amazing phone, contact me if u need one from Nigeria.