Xiaomi Mi 11 long-term review
Hristo Zlatanov, 18 June 2021.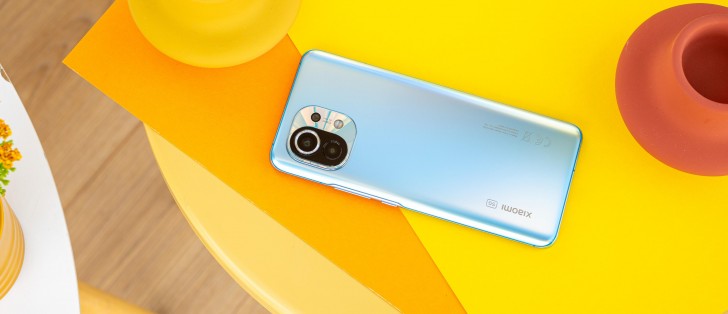 Design, handling, build quality
We'll be honest, when we saw the first leaked images of this phone last year, we really weren't impressed with the design of the camera island on the back. It just looked ugly. But that's the thing about leaks and CAD-based renders and those sorts of things - sometimes they don't tell the whole story. In reality, holding it, looking at it - we've done a full 180 and now think it's one of the better-looking phone backs out there. Not just that, but it's unique and instantly recognizable - and not for bad reasons. This isn't something Xiaomi is used to pulling off, but it has here, in droves, and we're happy about that.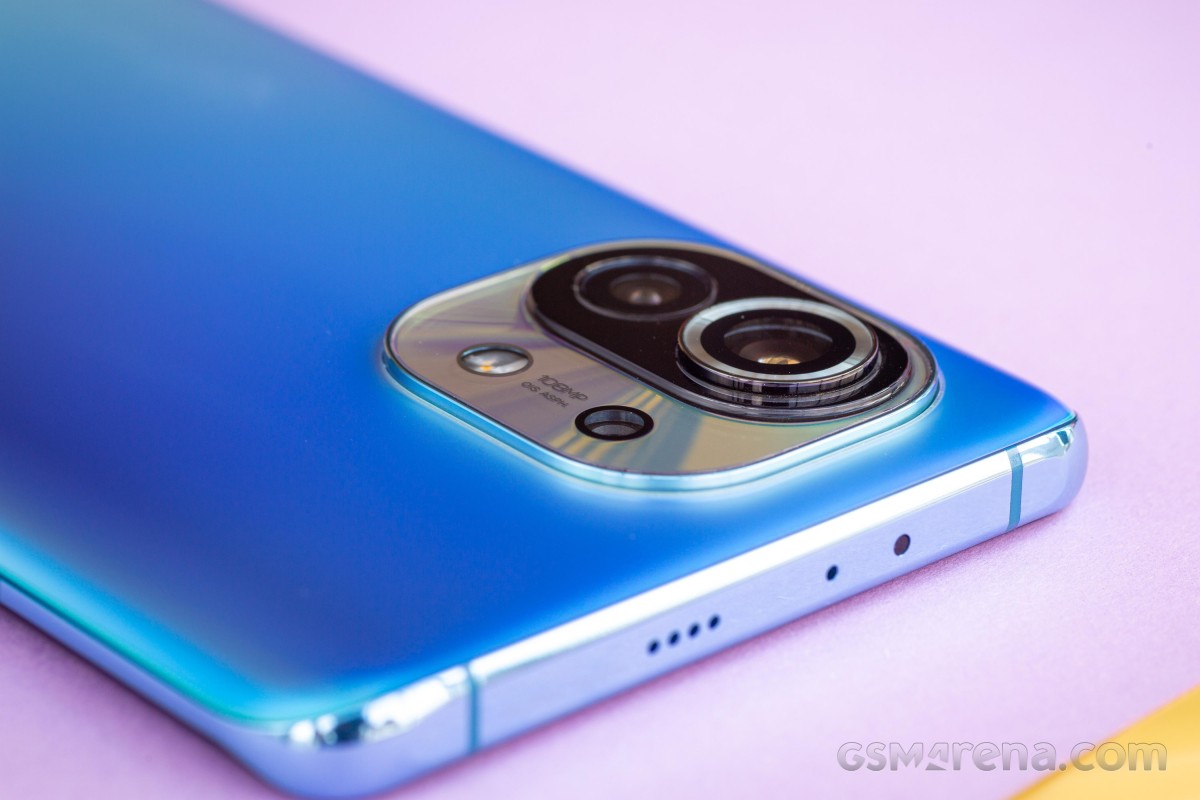 We began by talking about the camera island because seriously - have you seen Android phones these days? They all kind of look the same, save for this one design element through which manufacturers desperately try to differentiate their offerings. And Xiaomi has definitely made the camera bump different enough this year. It sticks with you after you see it in person for the first time, and it helps with brand awareness too, we suppose - if they stick with it for future phones, that is.
Anyway, it's a three-layered affair this island, and yes, there's some rocking motion on tables, but because of how huge the protuberance is, the phone actually doesn't rock while you type - it's only if you try and touch the upper left part of the screen that you have a problem - and that's a marginal issue.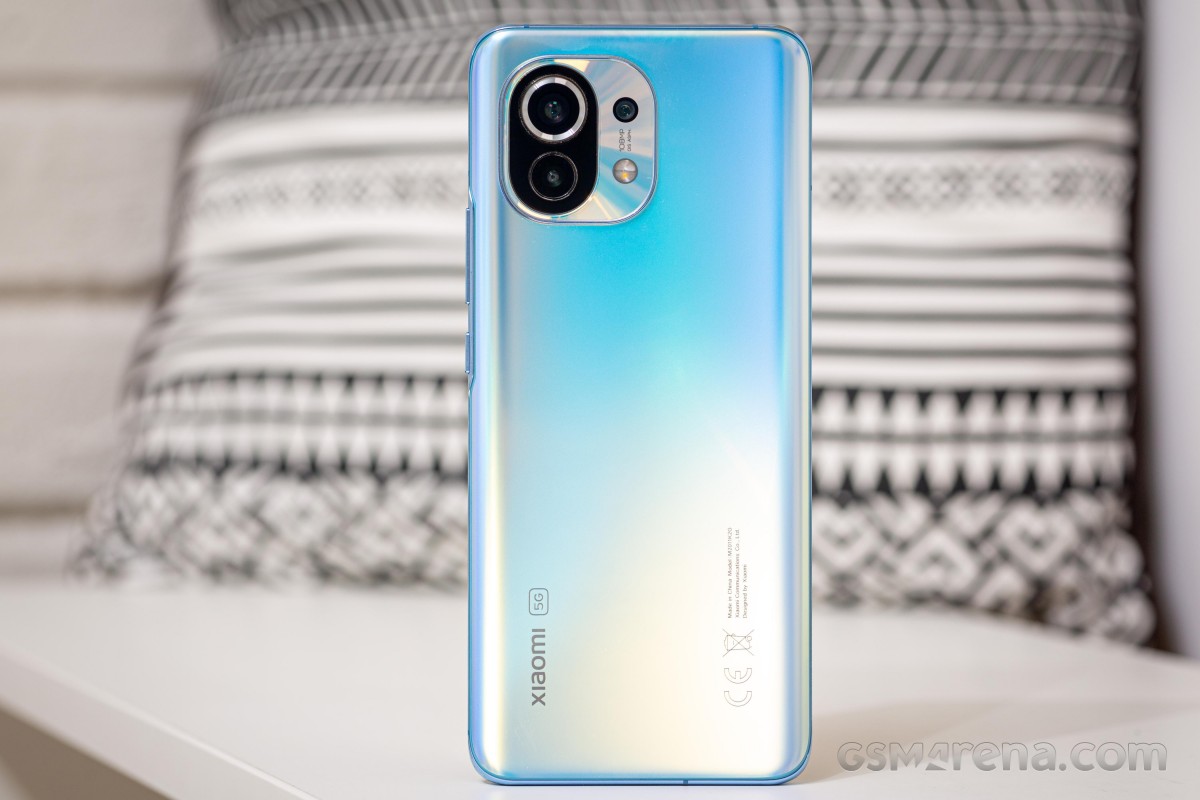 Otherwise, the Mi 11 looks pretty much like any other premium smartphone in this day and age, and has the materials for the bragging rights too, with the now ubiquitous glass sandwich design. We like that the front is covered in Gorilla Glass Victus, Corning's best one yet, while the back gets Gorilla Glass 5, which is not too shabby either. Since a lot of people use cases anyway, the back glass usually doesn't have to be as shatter-resistant as the front one, and Xiaomi definitely knows this.
Speaking of cases, it's not always that Xiaomi would come out with a line of separately sold accessories for its high-end phones, but this is the case (pun intended) for the Mi 11 and we have one of the optional covers for our review unit. It's a fabric-lined thingie and while it may not protect as well as one of those 'heavy duty' looking contraptions, it's incredibly nice feeling to the touch. It doesn't get fingerprint smears at all, and it's also not slippery at all. That pretty much makes it worth the additional purchase in our book, but if you stick with the much simpler silicone case that arrives with the phone in most regions, that's fine, too.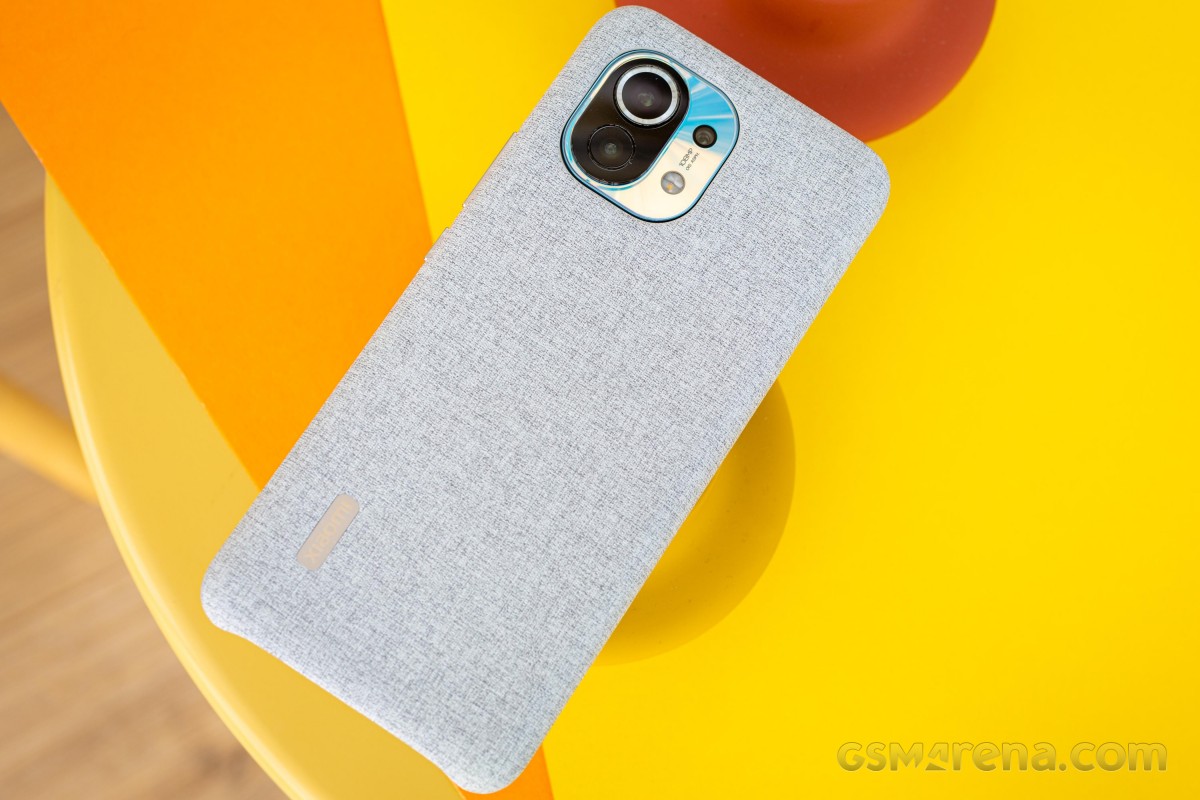 If you go without a case, then you'll encounter the usual downsides of having a phone built of premium materials. Notably, the Mi 11 is quite the slippery beast - probably because its rear glass is matte-ish. It does a pretty good job of not showing a lot of fingerprints (though some still make it through), and it's definitely not as slippery as some of the worst offenders we've handled, for what it's worth. We were adventurous enough to use it caseless for much of the long-term review period, and we're happy to report no accidents. That said, your mileage may vary based on your level of clumsiness.
The Mi 11 is, in this reviewer's opinion, 'weighty' enough that it feels premium, but not so much that it becomes a drag to hold for any significant amount of time. In fact, we'd say that for handsets of this size, around 200g is the sweet spot. If you go much lower, the device might feel like it is lacking substance, while if going over 200g, the handling is starting to get compromised, no matter how big your hands are.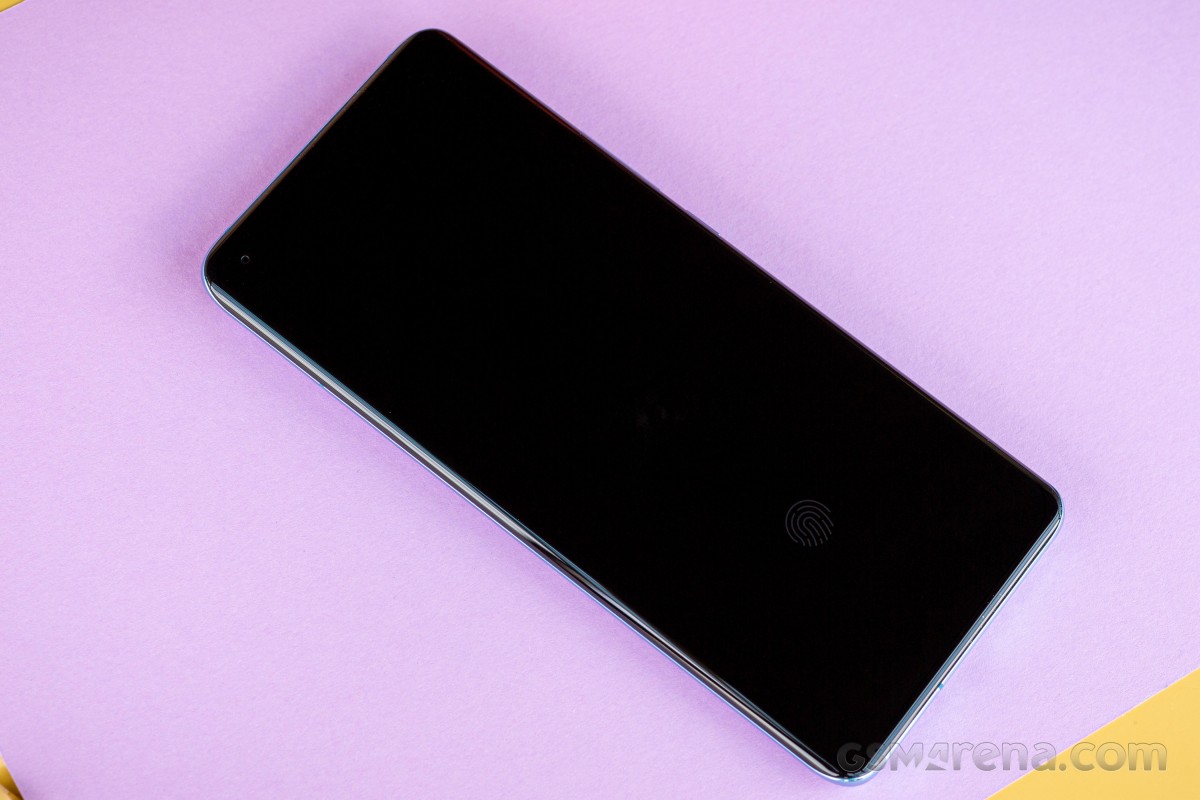 Speaking of that, since the ~75mm width is pretty much standard with high-end phones now (with a few notable exceptions of which this isn't one), we'll say this size works perfectly well for us and we appreciate the maximization of the screen space. But if you have small hands you will probably need to use both of them all the time in order to use the Mi 11, or any other handset in this size class.
Another thing we find ourselves repeating often in long-term reviews is the fact that the build quality is perfect, with no creaks or issues whatsoever. In fact this is now also true for much cheaper devices than the Mi 11, and so it's not surprising that the Mi 11 doesn't stand out negatively.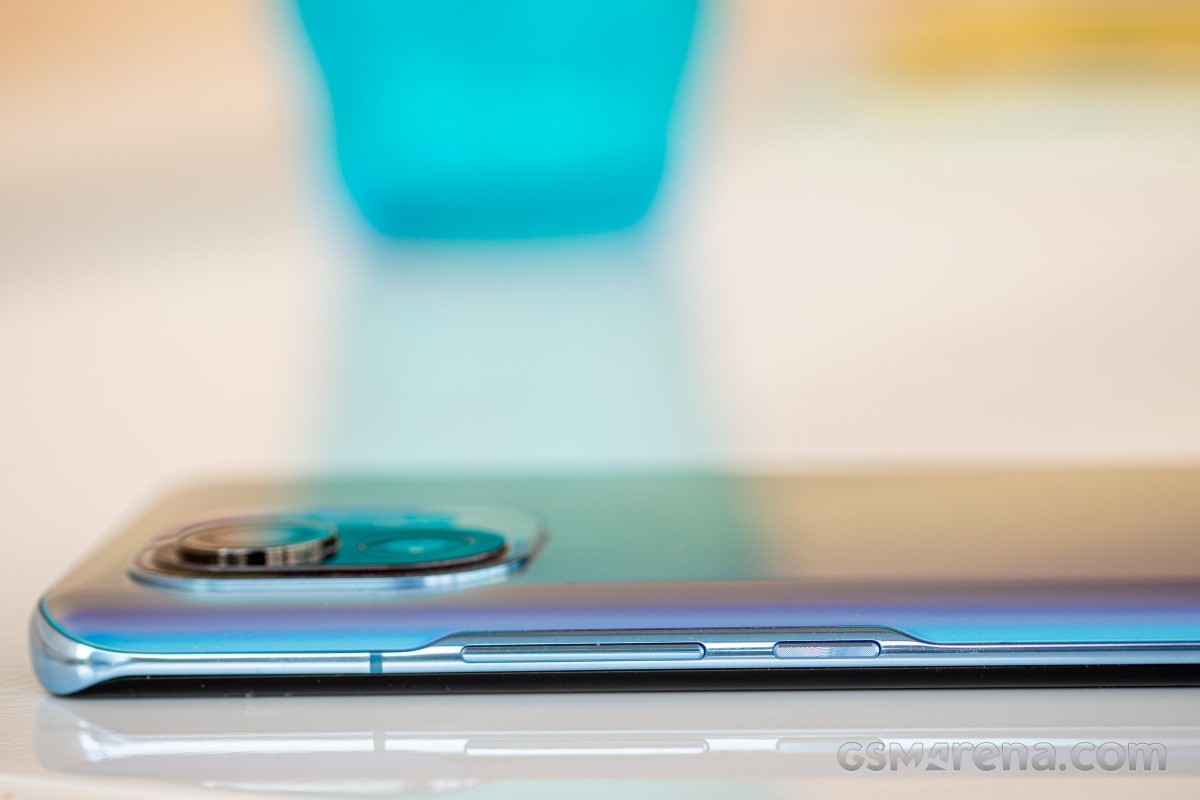 The power and volume buttons on the right are a bit too close to each other for our liking, but otherwise very nice to use. We like the way both the front and the back glass sheets curve into the metal frame, and overall we'd say the Mi 11 has a very modern and recognizable look without any unnecessary flashiness. It's not boring to look at, especially in this blue colorway, but it won't sear your retinas with weird color shifts either.
Speakers, biometrics, vibration motor
The Mi 11 has two speakers, which is par for the course for a high-end model these days, but there are a couple of quirks here. First, and most nitpicky, the Harman/Kardon logo on the top side of the frame is wholly unnecessary but also rather amusing considering that company is owned by what is probably Xiaomi's biggest competitor - Samsung. Still, there's some "audio tuning" by Harman/Kardon here apparently, and we do have to say the speakers sound very good.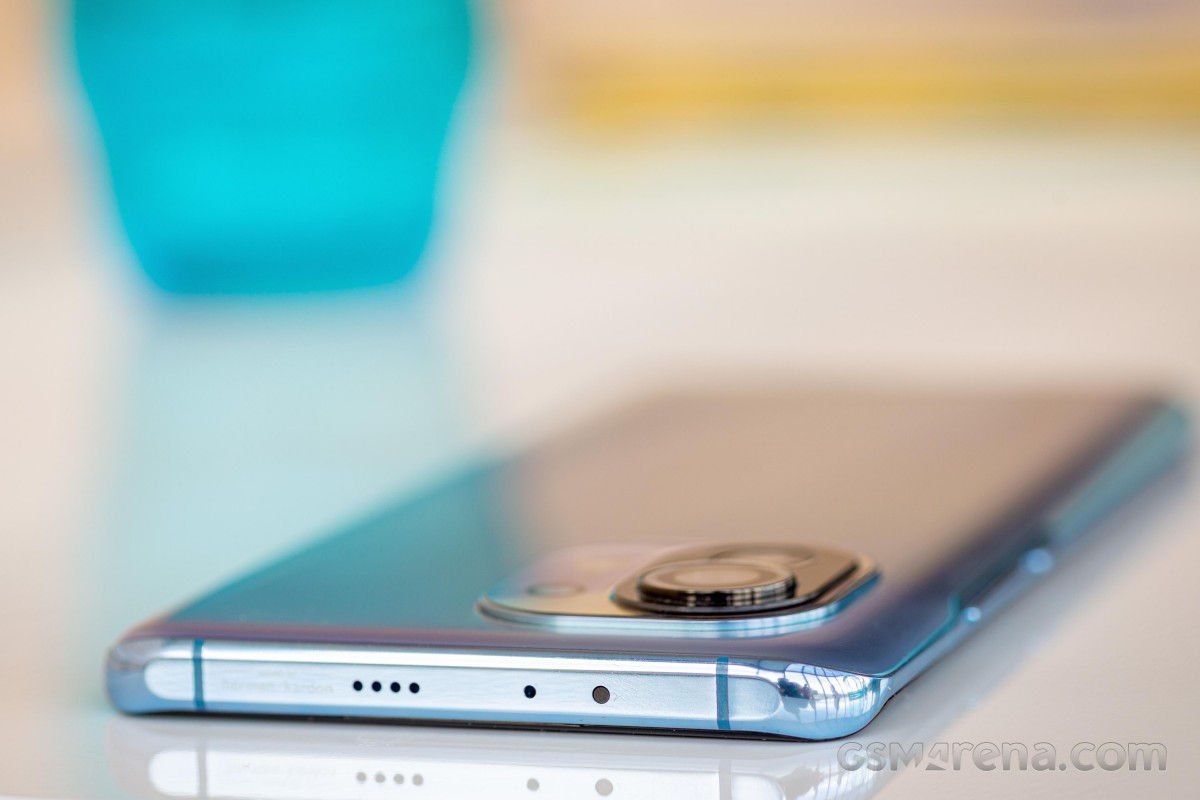 Next up, on the bottom there's one speaker as you'd expect, and then at the top there's another one that pulls double duty as the earpiece when needed. That's all fine and dandy, but this one also has some openings in the top frame. Those help when consuming media, as the top speaker feels 'fuller' for lack of a better word, but it does mean that while you're on phone calls there will be quite a lot of leakage whenever you go over around half of the volume slider. It's an interesting design choice, for sure. Perhaps you won't mind at all if you rarely use the phone for calls, or make those using Bluetooth headphones.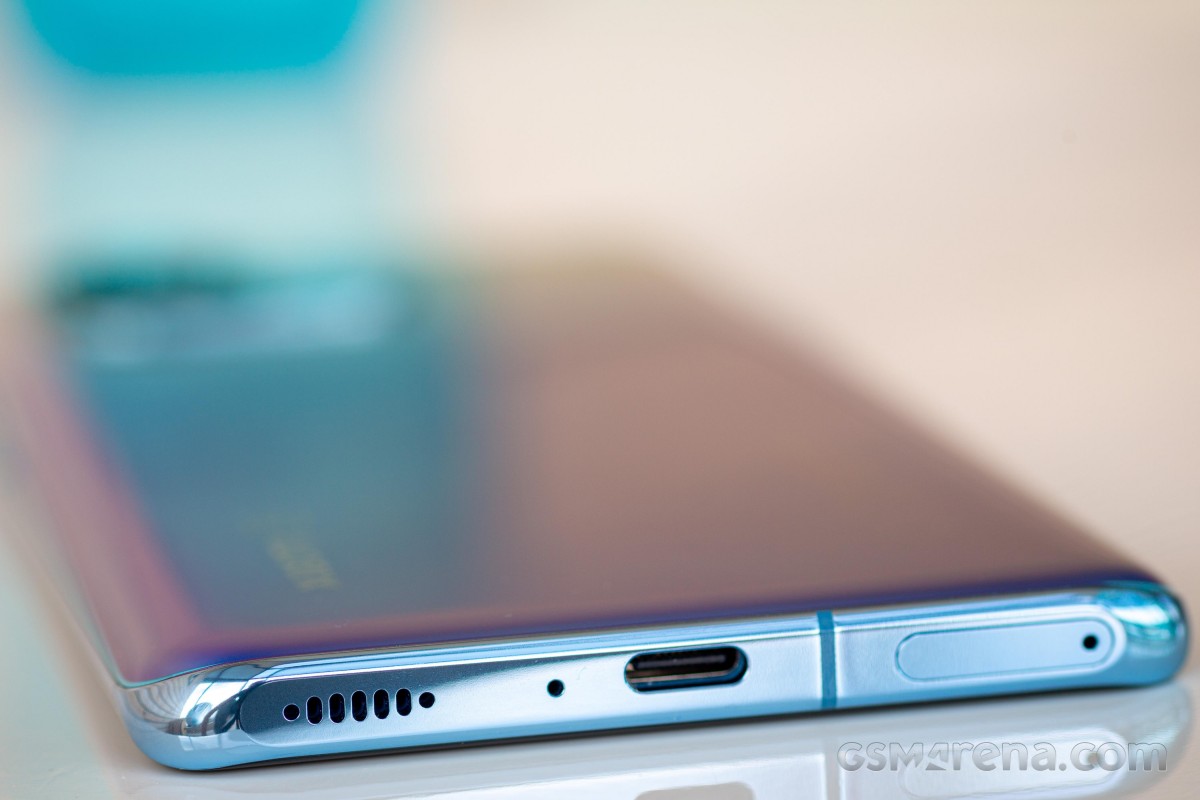 Sound-wise, the speakers aren't the loudest nor the highest quality we've ever heard, but they're very close in both regards, and do the job admirably for media consumption. We've watched our fair share of YouTube videos and listened to a lot of podcasts using the Mi 11 speakers, and weren't left wanting for more volume unless we were in a very loud environment.
As for sound quality, we're never not aware it's a phone and there are physical constraints on how good a phone can sound. Others are slightly better, but the difference isn't something we'd base a purchasing decision on.
The fingerprint sensor is embedded in the screen, as you'd expect at this price point, but it was honestly quite disappointing. Its position is great, especially compared to some competitors which have chosen to place theirs much lower, but accuracy suffers compared to under-display sensors Xiaomi has used in the past. We still get rejected readings around 2-3 times out of 10, which is a problem we haven't had in a very long time with any under-display sensor.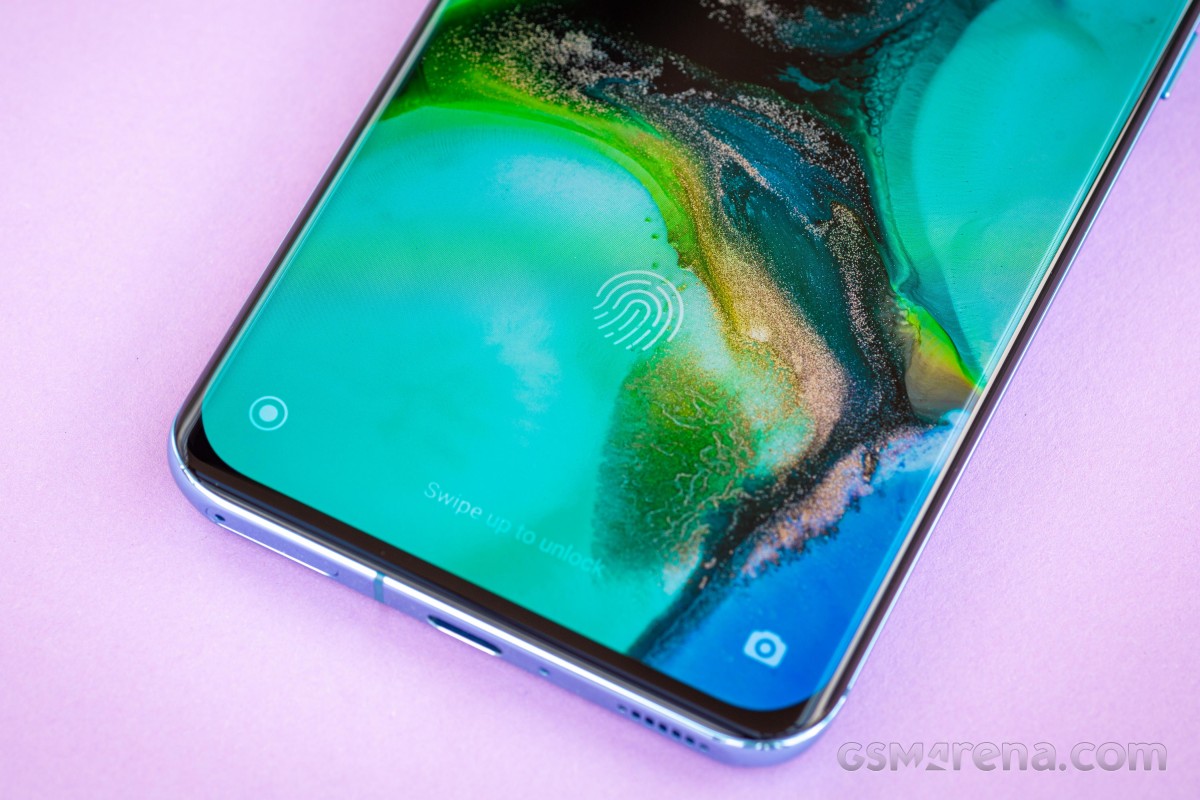 We're not sure what's going on here, but we're definitely not happy to see the tech going back in time. It had reached a point where accuracy was basically on par with capacitive sensors, and now it's not anymore. Hopefully, this is a fluke on our unit and not a trend. Speed was adequate, on the other hand, no issues to report there.
As usual, there's also face unlock if you don't mind the significantly worse security that provides by using only the selfie camera and no additional sensors. Thankfully, it doesn't unlock if your eyes are closed, even if there's no specific setting for this - we checked.
The vibration motor is among the best on the market, if not actually the best. Still, it provides very pleasing feedback, and paired with how MIUI uses it for gentle nudges throughout the UI the experience is extremely good.
You can control the haptic feedback level with a slider, or turn it off altogether - although we struggle to see why you'd do that and thus negate one of the main UX advantages MIUI currently has over any other Android skin out there.
miui 12.0.4 upgrade to 12.5.9 here. the battery graph looks power consumption improved but i doubt that it merely enlarge scale so that gradient looks not as steep as before.
Yes definitely. It is designed to stimulate up to 5 of your G spots, as it is 5G.😎
What are you even talking about??? Like for real the battery on the mi 10t pro is a gawd damned beast. I've never had one last as long on any phone. My mi mix 2S I had to charge at least once sometimes twice a day. The 10t pro sips batter...