Xiaomi Mi 8 SE review
GSMArena team, 25 July 2018.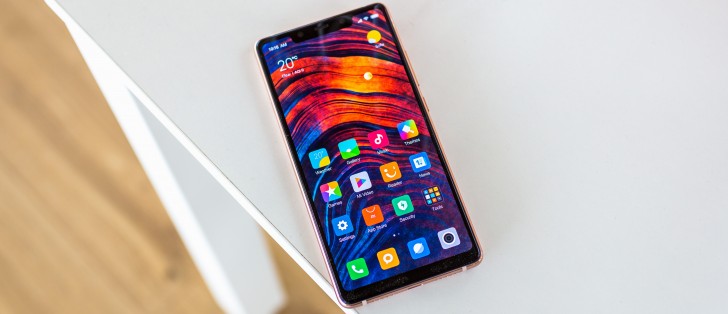 MIUI 9.5, on top of Android 8.1
Just like its siblings, the Mi 8 SE ships, running the latest Android 8.1 OS, complete with MIUI on top. For now, that's MIUI 9.5, but MIUI 10 is right around the corner and the Mi 8 SE is on the official waiting list. Overall, Xiaomi's popular UI offers a pretty consistent experience across devices, as well as versions. It's a very successful and deliberate way of hiding away the Google core and building a recognizable OS experience.
That being said, however, it is worth noting that Xiaomi is pretty liberal when it comes to modifications and flavors of MIUI. Some major retailers take it upon themselves to translate and tweak Chinese ROMs, primarily to ship to international clients, prior to a proper Global release of a given device.
Our review unit is one such case. Functionally, it's perfect, since it's based on current Chinese MIUI builds. You do have to go through an automated installer to get Google Play Services, but that's not really a major issue. Plus, it leaves you with the option to try and live your life without them and save on some battery.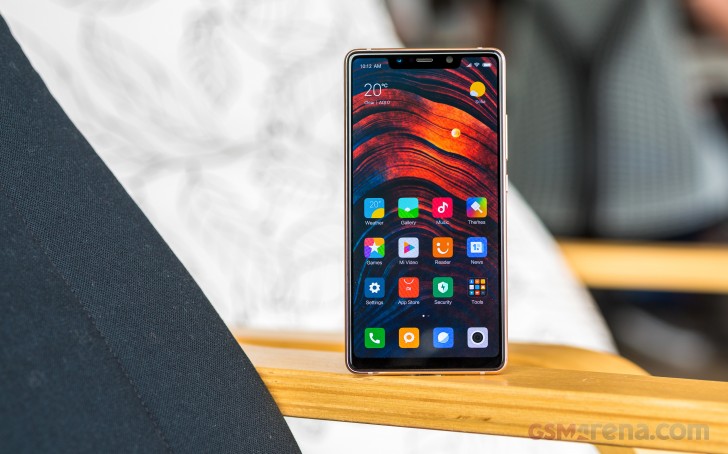 The only real issue with such a ROM is that it is often left stuck on an infrequently updated software branch. Thankfully, Xiaomi offers the option to unlock your phone's bootloader and there are pretty convenient tools for hopping over to an official OS branch. If you are importing the Mi 8 SE from China, it's an important consideration you need to keep all this in mind, so as not to miss out on future updates. But, we digress.
Moving on to the actual OS, there are some new features, like an always-on display, with a clock, date, and notifications. You don't get anything in the way of settings for different styles - it is what it is. You do get the option to schedule when it turns on and off, or keep it on all the time.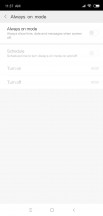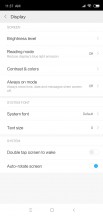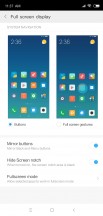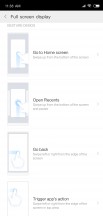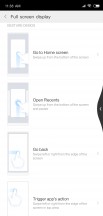 Always On display • Display settings • Fullscreen and navigation options
There's an entire Full screen display menu where you get options for gesture navigation. Effectively, you can replace the navigation bar with a set of swipe actions - swipe up from the bottom for Home, swipe up and hold for the task switcher, and swipe in from either edge to go back. And if you think that last bit would interfere with apps that use the swipe in gesture to access a drawer menu, it doesn't - just swipe in a little higher and you'll get the drawer.
There's a lot less going on within the top notch of the MI 8 SE than the regular Mi 8. The facial recognition system has been stripped down even more. The more expensive regular Mi 8 gets an infrared illuminator along with the camera. The Mi 8 SE only has the latter to work with. Still, even in its basic form, the facial recognition works well enough in good light. Naturally, accuracy and speed deteriorate with low light.
The Mi 8 SE's face recognition isn't as secure as fingerprint recognition, so it's a good thing then that the phone has that too. The sensor is on the back, enrollment is quick, and unlocking is nearly instantaneous.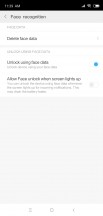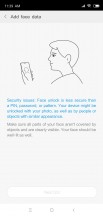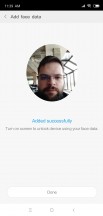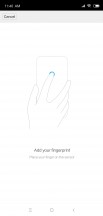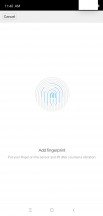 Face recognition and fingerprint unlock
Once you unlock the Mi 8, you go to the homescreen, which is where all your apps are - MIUI adopts a home-screen only approach to Android, opting out of the app drawer. The quick toggles and notification area have remained unchanged in MIUI for quite some time, unlike Google's own which get a redesign for every version. Recent apps look very much like the iOS app switcher. Apps are aligned next to each other and you flick them up to close them. The split-screen toggle resides here as well.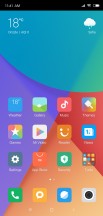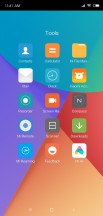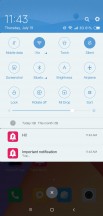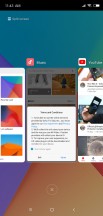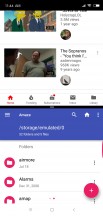 Home screen • Folder UI • Notification shade • Recent apps • Split-screen
A swipe to the right reveals the App vault pane (also called Guide) with shortcuts to frequently used apps and a peek at Mi Notes and upcoming calendar events. According to MIUI forums, this page can only be disabled on the Chinese version of the ROM. Since ours is the Chinese version, a bunch of the default cards is rather... foreign to us. Translations aren't great overall in this part of MIUI, but we are happy to report that this is an isolated occurrence.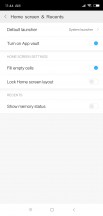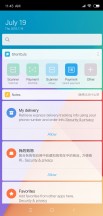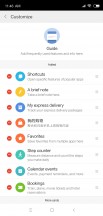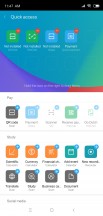 Home screen settings • App vault • App vault settings • Add new shortcut to App vault
The Security app is a hub that offers you options to scan your phone for malware, manage your blacklist, manage or restrict your data usage, configure battery behavior, and free up some RAM. It can also manage the permissions of your installed apps and allows you to define the battery behavior of selected apps and applies restrictions only to the apps you choose. It's all pretty in-depth, yet quite convenient. We particularly appreciate the shortcuts to the app, positioned within the settings menu.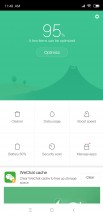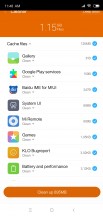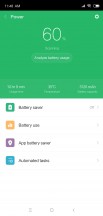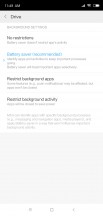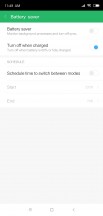 Security app • Cleaner • Battery management • Managing a single app • Battery Saver
The only battery-related feature that isn't conveniently accessible from multiple locations seems to be the Smart scenes menu, Currently, it only has an optional Sleep mode, which is reminiscent of Android's deep sleep functionality. We can only assume, it works on top of that.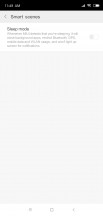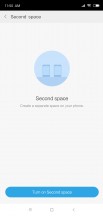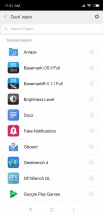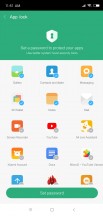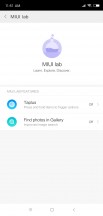 Smart scenes • Second space • Dual apps • App lock • MIUI lab
Some other advanced features, include second space, as well as dual apps, depending on whether you need a whole other environment or just a second instance of an app. App lock is pretty self-explanatory. There is also a MIUI lab menu for testing certain features that are not necessarily ready for prime time just yet.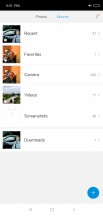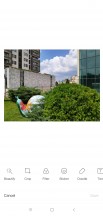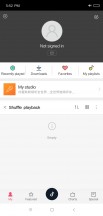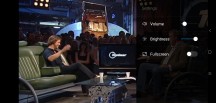 Gallery • Image editor • Music player • Video player
MIUI also offers proprietary Gallery, Music, and Video player. If you are running on a Chinese ROM, then the Music and Video app will also allow access to local (paid) streaming services. A ton of handy apps come pre-loaded too - voice/screen recorders, barcode/document scanner, compass/level, file manager, notes.
Synthetic benchmarks
We already mentioned on several occasions, that the new Snapdragon 710 has us pretty excited and with good reason. It is the he ambassador, of sorts, to Qualcomm's fresh lineup of 700 series chips, unveiled back in February.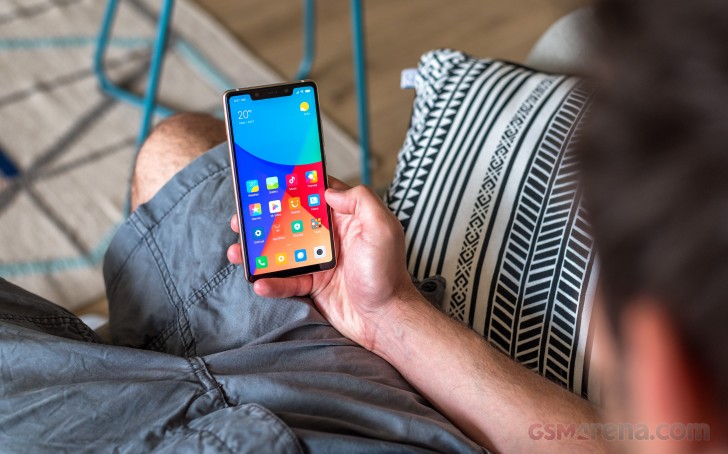 Among other things, this new chip family is marketed for advanced AI capabilities. However, for true AR gains, we might have to wait for the rumored the Snapdragon 730. It will likely be based on a Samsung 8nm LPP manufacturing process, use different cores and even feature a dedicated NPU 120 chip for on-device machine learning tasks. It looks like a different beast altogether and is unlikely to show up before the end of 2018. For now, we only have the Snapdragon 710 to explore and the Xiaomi Mi 8 SE is first, of what will likely be many, to actually bring the chip to market.
First, some specs are in order. The Snapdragon 710 Mobile Platform, as Qualcomm calls it, sits above the Snapdragon 660 and below the Snapdragon 835 and 845, aiming to trickle flagship functionality down to midrangers. Some of those advanced features, in question, include a Spectra 250 image signal processor that can perform multi-frame noise reduction in images and has some depth-sensing AI smarts, baked right in.
There is also the new X15 LTE modem, which delivers 4X4 MIMO and nearly gigabit (800 Mbs actually) downlink speeds. Also, it comes with QuickCharge 4+ support, which should make for really snappy top-offs once those chargers really start showing up in stores.
It's pretty clear that the Snapdragon 710 brings a lot more bells and whistles to the table than the 600 series, top-dog Snapdragon 660. But, rocking a rather unconventional CPU core setup, comprised of pretty new ARM cores, it's pretty interesting to see just where it sits in the mobile food chain.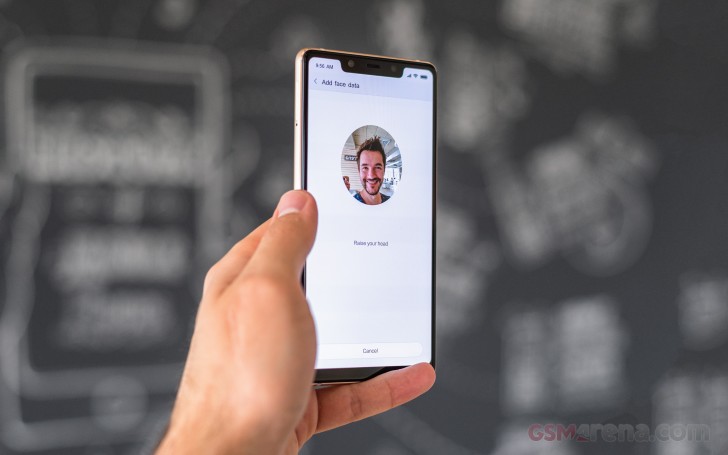 The Snapdragon 710 is a 10nm chip, just like the 835 and 845 flagships. However, it uses new Kryo 360 cores, separated into two clusters and designated as Gold and Silver, according to their overall performance. These are not your typical symmetrical clusters, but rather a two, plus six arrangement. 2 + 6 Octa-core (2.2 GHz Kryo 360 Gold - Cortex-A75 derivative + 1.7 GHz Kryo 360 Silver - Cortex-A55 derivative).
This, combined with the improved tech in the Kryo cores themselves, has facilitated Qualcomm's claims of 30% power efficiency on the Snapdragon 710, compared to the Snapdragon 660.
GeekBench 4.1 (single-core)
Higher is better
Samsung Galaxy S9+
3771
Xiaomi Mi 8
2431
Nokia 8
1925
Motorola Moto Z2 Force
1915
Huawei Honor View 10
1902
Xiaomi Mi 8 SE (Cooled)
1897
Xiaomi Mi 8 SE
1890
Meizu 15
1620
Oppo R15 Pro
1612
Oppo R15
1520
Xiaomi Redmi Note 5 AI Dual Camera
1329
Huawei P Smart
939
Huawei P20 Lite
938
Huawei Mate 10 Lite
913
Huawei Honor 7X
904
Motorola Moto G6 Plus
882
Xiaomi Mi A1
877
Samsung Galaxy A6+ (2018)
755
Motorola Moto G6
754
Samsung Galaxy J7 (2017)
734
Samsung Galaxy A6 (2018)
733
We kick things off with some pure CPU loads and GeekBench. Just to get the best possible picture, we made sure to include a wide selection of alternative chips in the chart. These go as far up as the ex-flagship Snapdragon 835, the Huawei's Kirin 970 and even the Snapdragon 845 and the Exynos 9810. Also, some interesting current mid-rangers, like the popular Kirin 659, and various Snapdragon SoCs, like the Snapdragon 660, 630, 625 and even the Snapdragon 450 and the Exynos 7880 and 7870. We even threw in the dated Snapdragon 821 in the mix.
Plus, for the sake of ultimate thoroughness, we also ran all the benchmarks on the Mi 8 SE with an active cooling solution and included the results as well. Speaking of which, this is a great time to commend Xiaomi on the excellent cooling job it did on the Mi 8 SE. There was no sign of any thermal-related CPU \throttling even after repeated runs of the benchmarks.
GeekBench 4.1 (multi-core)
Higher is better
Samsung Galaxy S9+
8883
Xiaomi Mi 8
8494
Huawei Honor View 10
6738
Motorola Moto Z2 Force
6629
Nokia 8
6568
Xiaomi Mi 8 SE (Cooled)
5912
Xiaomi Mi 8 SE
5908
Meizu 15
5877
Oppo R15 Pro
5809
Oppo R15
5806
Xiaomi Redmi Note 5 AI Dual Camera
4918
Xiaomi Mi A1
4292
Motorola Moto G6 Plus
4160
Motorola Moto G6
3972
Samsung Galaxy A6+ (2018)
3905
Samsung Galaxy J7 (2017)
3779
Huawei P20 Lite
3756
Huawei P Smart
3736
Samsung Galaxy A6 (2018)
3718
Huawei Mate 10 Lite
3603
Huawei Honor 7X
3535
CPU-wise, it is clear that the new Kryo 360 cores can't keep up with the beefier and higher-clocked, even if older Kryo 280 units in the Snapdragon 835. However, the Kryo 260 cores inside the Snapdragon 660 fall short, despite their overall higher clock rates. It is particularly interesting to see the Snapdragon 710 come out ahead, ever so slightly, in multi-threaded workloads, where one could naturally assume that having only two higher-tier cores would be a handicap. Turns out it's not.
Over at team Huawei, we find the Kirin 970 churning out just enough power to match the Snapdragon 835 in single-thread tests. Interestingly enough, the Snapdragon 710 and its new Cortex-A75-based units are on par as well, despite their lower clock speed. As for the Helio P60 - it clearly lags behind in single-core tests, but does make up quite a bit of ground with multi-threaded loads.
AnTuTu 7
Higher is better
Samsung Galaxy S9+
246660
Xiaomi Mi 8
217298
Huawei Honor View 10
212708
Nokia 8
210323
Motorola Moto Z2 Force
209779
Xiaomi Mi 8 SE
170218
Xiaomi Mi 8 SE (Cooled)
169044
Oppo R15 Pro
146526
Oppo R15
140161
Meizu 15
125444
Xiaomi Redmi Note 5 AI Dual Camera
115195
Motorola Moto G6 Plus
90263
Huawei P20 Lite
87431
Huawei P Smart
87156
Motorola Moto G6
70845
Samsung Galaxy A6+ (2018)
69899
Huawei Honor 7X
67636
Samsung Galaxy A6 (2018)
63632
Moving on to some more compound benchmarks, and AnTuTu, in particular, paints a pretty flattering picture for the MI 8 SE. Apparently, its overall hardware setup is potent enough to noticeably outperform the likes of upper mid-range offers, like the Oppo R15 Pro, or the Meizu 15. It still doesn't really have what it takes to match flagship devices, like the Mi 8, the Galaxy S9+ or even ones with the older Snapdragon 835. Not in raw power, at least. In terms of feature sets, they are all pretty close. It seems the Snapdragon 710 really is filling in a niche, left behind by the rapid recent advances in ARM performance.
Basemark OS 2.0
Higher is better
Xiaomi Mi 8
3858
Motorola Moto Z2 Force
3609
Nokia 8
3503
Samsung Galaxy S9+
3354
Huawei Honor View 10
3164
Xiaomi Mi 8 SE (Cooled)
2796
Xiaomi Mi 8 SE
2658
Meizu 15
2485
Oppo R15 Pro
2438
HTC U Ultra
2222
Oppo R15
1985
Xiaomi Redmi Note 5 AI Dual Camera
1925
Motorola Moto G6 Plus
1525
Huawei P Smart
1486
Huawei P20 Lite
1455
Samsung Galaxy A5 (2017)
1417
Huawei Mate 10 Lite
1408
Huawei Honor 7X
1398
Xiaomi Mi A1
1262
Samsung Galaxy A6+ (2018)
1156
Motorola Moto G6
1136
Samsung Galaxy A6 (2018)
1019
Samsung Galaxy J7 (2017)
349
Basemark OS 2.0 appears even more generous towards the Snapdragon 710. Still, the middle ground standing, we mentioned earlier is clearly visible.
Moving on to graphics, Qualcomm managed to position the graphical prowess of the Adreno 616 inside the Snapdragon 710 quite neatly in-between the Adreno 512 (Snapdragon 660) and the Adreno 540 (Snapdragon 835). Once again, filling the same performance niche between mid-range and flagship chips.
GFX 3.0 Manhattan (1080p offscreen)
Higher is better
Samsung Galaxy S9+
74
Huawei Honor View 10
65
Xiaomi Mi 8
64
Motorola Moto Z2 Force
61
Nokia 8
57
HTC U Ultra
41
Xiaomi Mi 8 SE
33
Xiaomi Mi 8 SE (Cooled)
33
Meizu 15
23
Oppo R15 Pro
22
Xiaomi Redmi Note 5 AI Dual Camera
16
Samsung Galaxy A5 (2017)
15
Motorola Moto G6 Plus
14
Xiaomi Mi A1
9.8
Samsung Galaxy A6+ (2018)
9.3
Huawei P20 Lite
8.7
Huawei P Smart
8.7
Huawei Mate 10 Lite
8.1
Huawei Honor 7X
8
Motorola Moto G6
6.1
Samsung Galaxy A6 (2018)
5.4
Samsung Galaxy J7 (2017)
5.1
GFX 3.0 Manhattan (onscreen)
Higher is better
Xiaomi Mi 8
57
Huawei Honor View 10
55
Samsung Galaxy S9+
45
Motorola Moto Z2 Force
40
Nokia 8
33
Xiaomi Mi 8 SE
30
Xiaomi Mi 8 SE (Cooled)
30
HTC U Ultra
24
Meizu 15
23
Oppo R15 Pro
19
Samsung Galaxy A5 (2017)
15
Xiaomi Redmi Note 5 AI Dual Camera
15
Motorola Moto G6 Plus
13
Samsung Galaxy A6 (2018)
9.8
Xiaomi Mi A1
9.7
Samsung Galaxy A6+ (2018)
8.5
Huawei Honor 7X
8.3
Huawei P Smart
8.3
Huawei P20 Lite
8.1
Huawei Mate 10 Lite
7.9
Motorola Moto G6
5.8
Samsung Galaxy J7 (2017)
5.1
Looking at the off-screen rendering results (since we don't want any pesky native resolution differences, getting in the way), we clearly see the Adreno 616 outperform lower-end offers from the previous generation, like the Adreno 512. However, much like on the desktop GPU scene, a powerful platform, like the Adreno 540, inside the Snapdragon 835 and even the Adreno 530, in the Snapdragon 821, remain potent and competitive.
That being said, the Adreno 616 does have the benefit of a newer, more efficient design, as well as cutting-edge APIs. Thus, making it a potentially more sensible investment in futureproofing, compared to an older flagship chipset.
GFX 3.1 Car scene (1080p offscreen)
Higher is better
Xiaomi Mi 8
33
Nokia 8
32
Samsung Galaxy S9+
28
Motorola Moto Z2 Force
25
Huawei Honor View 10
22
HTC U Ultra
18
Xiaomi Mi 8 SE
13
Xiaomi Mi 8 SE (Cooled)
13
Oppo R15 Pro
9
Meizu 15
8.8
Xiaomi Redmi Note 5 AI Dual Camera
6.3
Motorola Moto G6 Plus
5.6
Samsung Galaxy A5 (2017)
5.2
Motorola Moto G6
3.5
Xiaomi Mi A1
3.5
Samsung Galaxy A6+ (2018)
3.4
Huawei P Smart
3.2
Huawei P20 Lite
3.1
Huawei Mate 10 Lite
2.9
Huawei Honor 7X
2.8
Samsung Galaxy A6 (2018)
2
Samsung Galaxy J7 (2017)
1.9
GFX 3.1 Car scene (onscreen)
Higher is better
Xiaomi Mi 8
33
Huawei Honor View 10
20
Motorola Moto Z2 Force
15
Samsung Galaxy S9+
14
Xiaomi Mi 8 SE
12
Xiaomi Mi 8 SE (Cooled)
12
Nokia 8
12
HTC U Ultra
10
Meizu 15
9.2
Oppo R15 Pro
7.6
Xiaomi Redmi Note 5 AI Dual Camera
6
Samsung Galaxy A5 (2017)
5.2
Motorola Moto G6 Plus
5.2
Samsung Galaxy A6 (2018)
3.9
Xiaomi Mi A1
3.5
Motorola Moto G6
3.2
Samsung Galaxy A6+ (2018)
3.1
Huawei P Smart
2.9
Huawei P20 Lite
2.8
Huawei Honor 7X
2.8
Huawei Mate 10 Lite
2.7
Samsung Galaxy J7 (2017)
1.9
As for some real-world impressions from the MI 8 SE, it handled any game we threw at it with ease. In fact, any heavy load in general, was no task for the Snapdragon 710 and perfectly adequate 4GB of RAM, in our review unit.
Frankly, on a specs comparison basis alone, without looking synthetic loads, the Mi 8 SE could easily pass for a true flagship offer.
Basemark X
Higher is better
Xiaomi Mi 8
43285
Samsung Galaxy S9+
42134
Motorola Moto Z2 Force
38615
Nokia 8
37593
HTC U Ultra
35875
Huawei Honor View 10
33499
Xiaomi Mi 8 SE
27560
Xiaomi Mi 8 SE (Cooled)
27491
Meizu 15
20836
Oppo R15 Pro
20693
Xiaomi Redmi Note 5 AI Dual Camera
14799
Motorola Moto G6 Plus
14357
Oppo R15
11993
Xiaomi Mi A1
10472
Motorola Moto G6
9883
Samsung Galaxy A6+ (2018)
9835
Huawei P20 Lite
9090
Huawei P Smart
8834
Huawei Mate 10 Lite
8721
Huawei Honor 7X
8616
Samsung Galaxy A6 (2018)
5639
Samsung Galaxy J7 (2017)
5489
Qualcomm set out to create a new middle-ground offer, sitting between the power-houses of the day and the popular mid-range silicon and accomplished the mission with flying colors with the Snapdragon 710. It's a great performer that takes proper advantage of new ARM technologies and efficient manufacturing processes. All while borrowing most advanced features and connectivity options from the top-tier Snapdragon 800 series.
Judging by the Xiaomi Mi 8 SE, the pricing strategy for the SoC appears to be exactly on point as well. Could this be the basis of a whole new breed of affordable almost-flagship devices? The industry seems to already be showing a lot of interest towards the new 700 series chip: There is the vivo NEX A - the already announced little brother to the popular NEX S. A Nokia might already be on its way too. And perhaps even a Google Pixel device. This all makes us even more interested in the Snapdragon 710. We'll keep a close eye on things, but we definitely like what we've seen so far.
Who cares about the radio? Download from G.S . Infrared ? I think OIS are more important. And front facing stereo speakers, with Dolby Atmos. My (2016) ZTE axon beat the MI 8, still.