Xiaomi Mi Mix 2S review
GSMArena team, 06 May 2018.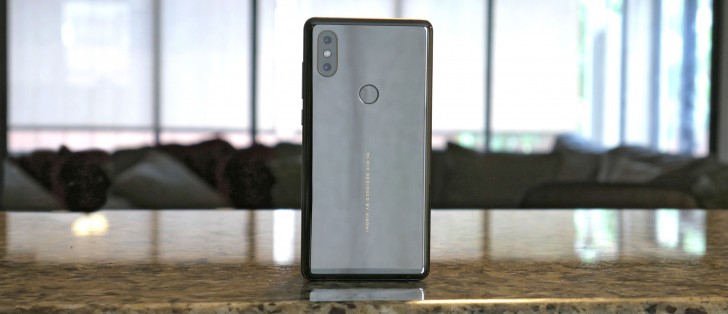 MIUI 9.5 over Android 8.0
Xiaomi's Android skin has seen a lot of popularity over the years, particularly in European and Chinese markets. MIUI is very reminiscent of iOS and is one of the more heavily modified OEM skins.
Despite its big difference to vanilla Android, MIUI 9.5 runs smooth and looks pretty. Starting off, there is no app drawer, and there's never really been one in MIUI except for a few custom themes that offer the shortcut. Of course, you can always install a third-party launcher if you really miss the app drawer.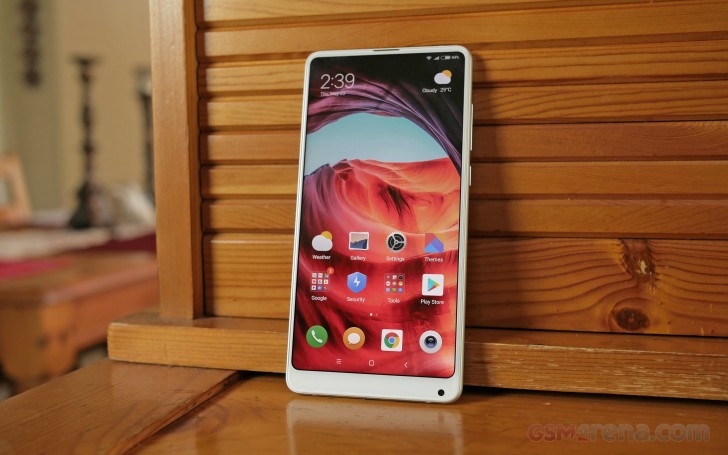 There are subtle animations in the app icons as you return to the home screen after using them. This is a nice touch and not something we're used to seeing. Sadly, only some app icons will animate. Otherwise, the flat, square icons with rounded corners remind us a lot of iOS. There are a few things that MIUI does that are similar to iOS, which we'll get to in a bit.
Here are the default home screens on the Mi Mix 2S. There's a weather widget in the upper right corner across from a large clock widget. When this clock widget is in view, the clock in the status bar disappears until you swipe away from it. The icons in the default 'Rhodium' theme are round and have some depth and shading, so they don't look completely flat.
A swipe to the right reveals shortcuts to frequently used apps and a peek at Mi Notes and upcoming calendar events. According to MIUI forums, this page can only be disabled on the Chinese version of the ROM. Swiping up on any home screen will bring up the Google app and swiping down will pull down the notification shade so you don't have to play finger aerobics to reach the top.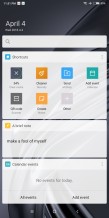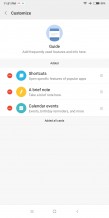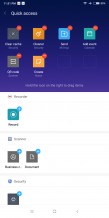 App Vault • Vault settings • Add new shortcut to Vault
As far as launcher customization, there aren't very many settings to change, which keeps it simple for most. You can change the default launcher right from the MIUI launcher's settings.
There are plenty of pre-loaded wallpapers to choose from as well and a whole bunch more you can download from the Themes app.
Xiaomi's got three pre-loaded themes, the default one has square and flat app icons. Rhodium has rounder and more intricate app icons with more depth in the shading of the icons. Finally, the Limitless theme has more abstract icons two-dimensional icons.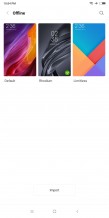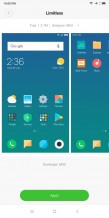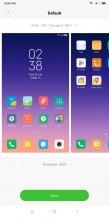 Themes: Home • Preloaded • Preview
There are plenty of pre-loaded utility apps for getting things done. Google Apps and the Microsoft Office suite come pre-packaged with the Global version of the phone with plenty of other tools as well. Such useful apps include: Voice/screen recorders, barcode/document scanner, compass/level, file manager, music player, notes, Mi Browser, and Facebook comes pre-installed.
You should know that MIUI is really an Android skin of its own in that a lot of the settings are in different places and it doesn't necessarily behave like vanilla Android does. For example, you won't find the screen timeout setting under "Display" like virtually every other Android device - it's actually in the lock screen settings under "Sleep". There is also no way to edit the quick settings directly from the notification shade, you have to go to "Notifications & status bar" under "Toggle positions".
Speaking of notifications, MIUI treats them more like iOS: pretty messy. Notifications don't appear in the lock screen by default and notification icons don't appear in the status bar. Instead, there is a single overflow icon "..." that shows in the status bar when there is one or more unseen notifications.
The notification drawer accumulates chronologically until you either tap on them or swipe them away. Notifications don't group together as per typical Android behavior, so while it's not entirely like iOS, it's also not entirely like Android, notifications are somewhere in the middle.
To make notifications behave as they are meant to in Android, enable "Show notification icons" and enable "Lock screen notifications" in each app's notification settings. You can always pull the notification shade down in the lock screen so you can enjoy the wallpaper, but you'd need to enable "Show on lock screen" in the Notification & Status bar settings.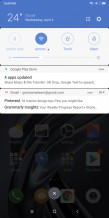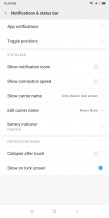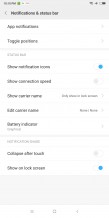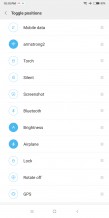 Notification shade • No notification icons • Show notification icons • Toggle order
Four quick toggles are arranged at the top of the notification shade and there are a few more if you pull down again.
Recent apps look very much like the iOS app switcher. Apps are aligned next to each other and you flick them up to close them. This feels really familiar and it also feels like a waste of space. There's a Split-screen button at the top, so use split screen, drag a recent app towards the top and then select a second one. If you press the Home button, you'll still have the option of returning to your split-screen session.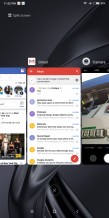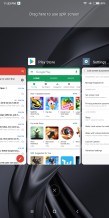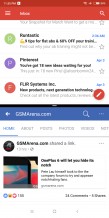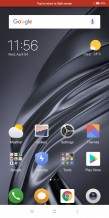 Recent apps • Drag to start split-screen • Split screen session
Setting up a fingerprint requires an alternative lock method, as usual. The actual fingerprint scanner is quite fast - a quick tap of the sensor instantly unlocks the Mi Mix 2S.
The "Full Screen Display" option in the Settings is where you can customize the navigation bar. If you'd rather switch the positions of the Back and Recents buttons, you can mirror their order. Here, you can also completely disable the navigation bar in favor of gesture navigation controls, much like the iPhone X has. Swipe up to go home, Swipe up and hold for multitasking, and swipe in from either the left or right edge to go "Back".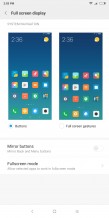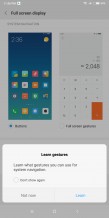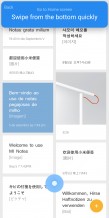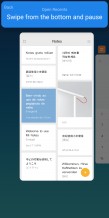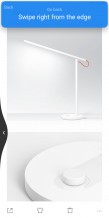 Full Screen Display Settings • Gesture controls
Xiaomi is open with its OS and we like that the company makes it relatively easy for customers to unlock their bootloaders with its comprehensive MIUI support website. Xiaomi also offers Beta builds for those who'd like to check out an update earlier than others. The MIUI site also hosts stable builds in case someone wants to revert to stock.
Xiaomi phones are among the longest-supported smartphones when it comes to software. Proof of this is when a popular device from 2013, the Mi 2/2S was updated to MIUI 9, the last version of Xiaomi's UI.
Performance
The Xiaomi Mi Mix 2S packs the latest Qualcomm Snapdragon 845 CPU, which is currently top of the line for mobile devices from Qualcomm. It is an octa-core chip on the 10nm process with a quad-core 2.8GHz Kryo Gold cluster and a quad-core 1.8 GHz Kryo Silver cluster. The default GPU pairing on the 845 is the Adreno 630.
The spec'd out model brings 256GB of storage with 8GB of RAM (as tested), otherwise - 6GB pairs with either 64 or 128GB of storage in the mid and entry level tiers.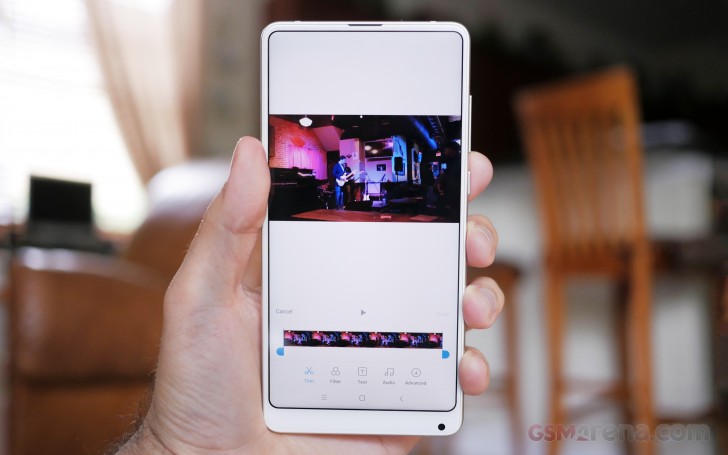 In GeekBench, the Mi Mix 2S topped the charts for both the single and multi-core scores against the Samsung Galaxy S9+ with the same chipset. Its Exynos 9810 was still ahead of the Mi Mix 2S in the single-core test while the iPhone X led scores for both with the iPhone 8 Plus trailing right behind.
GeekBench 4.1 (single-core)
Higher is better
Apple iPhone X
4256
Apple iPhone 8 Plus
4232
Samsung Galaxy S9+
3771
Xiaomi Mi MIx 2S
2468
Samsung Galaxy S9+ (Snapdragon)
2199
Samsung Galaxy Note8
1987
OnePlus 5T
1960
Xiaomi Mi Mix 2
1924
Huawei P20 Pro
1907
Huawei Mate 10 Pro
1902
LG V30
1901
Meizu 15 Plus
1863
Samsung Galaxy Note8 (Snapdragon)
1862
Although not many Snapdragon 845 devices are available on the market just yet, there is still drastic gap between Apple and Qualcomm chips in single core tests.
Multi-core tests are a little closer behind, but Apple's A11 Bionic CPU still tops the leaderboards.
GeekBench 4.1 (multi-core)
Higher is better
Apple iPhone X
10215
Apple iPhone 8 Plus
10037
Xiaomi Mi MIx 2S
9158
Samsung Galaxy S9+
8883
Samsung Galaxy S9+ (Snapdragon)
8349
Samsung Galaxy Note8
6784
Huawei Mate 10 Pro
6783
OnePlus 5T
6701
Huawei P20 Pro
6679
Samsung Galaxy Note8 (Snapdragon)
6590
LG V30
6365
Xiaomi Mi Mix 2
6234
Meizu 15 Plus
6122
In the all-around Antutu 7 benchmark, it's Androids-only. The Mi Mix 2S leads the pack with the Galaxy S9+ logically behind as a close second. The Exynos-powered S9+ is not too much farther behind and here, the HiSilicon Kirin 970 looks like it came from 2017 (wait, it did!).
AnTuTu 7
Higher is better
Xiaomi Mi MIx 2S
270814
Samsung Galaxy S9+ (Snapdragon)
264044
Samsung Galaxy S9+
246660
Huawei P20 Pro
209884
Samsung Galaxy Note8
201065
LG V30
182374
The Mi Mix 2S bested all the other devices in all other GFX benchmark tests. Aside from having the best processor of the bunch, the Mix 2S has an edge over the Galaxy S9+ in terms of resolution - the Galaxy S9+ needs to push more pixels with its QHD+ resolution while the Mi Mix 2S breezes through with 1080p+. However, in the off-screen tests, the Galaxy S9+ and Mi Mix 2S are neck-and-neck.
GFX 3.1 Manhattan (1080p offscreen)
Higher is better
Xiaomi Mi MIx 2S
61
Samsung Galaxy S9+ (Snapdragon)
61
Samsung Galaxy S9+
47
Apple iPhone X
44
Samsung Galaxy Note8 (Snapdragon)
43
Samsung Galaxy Note8
42
OnePlus 5T
41
LG V30
41
Huawei P20 Pro
40
Huawei Mate 10 Pro
38
Xiaomi Mi Mix 2
37
GFX 3.1 Manhattan (onscreen)
Higher is better
Xiaomi Mi MIx 2S
55
Apple iPhone X
51
Huawei P20 Pro
37
Huawei Mate 10 Pro
35
OnePlus 5T
35
Samsung Galaxy S9+ (Snapdragon)
34
Xiaomi Mi Mix 2
32
Samsung Galaxy S9+
24
Samsung Galaxy Note8
23
Samsung Galaxy Note8 (Snapdragon)
20
LG V30
19
GFX 3.1 Car scene (1080p offscreen)
Higher is better
Xiaomi Mi MIx 2S
35
Samsung Galaxy S9+ (Snapdragon)
35
Samsung Galaxy S9+
28
Xiaomi Mi Mix 2
25
Samsung Galaxy Note8 (Snapdragon)
25
Samsung Galaxy Note8
25
OnePlus 5T
24
LG V30
24
Huawei P20 Pro
23
Huawei Mate 10 Pro
22
GFX 3.1 Car scene (onscreen)
Higher is better
Xiaomi Mi MIx 2S
34
Xiaomi Mi Mix 2
24
OnePlus 5T
22
Huawei P20 Pro
21
Huawei Mate 10 Pro
21
Samsung Galaxy S9+ (Snapdragon)
20
Samsung Galaxy S9+
14
Samsung Galaxy Note8 (Snapdragon)
13
Samsung Galaxy Note8
13
LG V30
13
The Mi Mix 2S is very well optimized in MIUI 9.5 and the generous 8GB of RAM allow it to breeze through multitasking and the whole user-experience is free of stutters, not even a flutter.
The only place where you might notice a difference in performance between the Mi Mix 2 and the Mi Mix 2S is if you play graphic-intensive mobile games. Otherwise, the performance difference between the Snapdragon 835 and Snapdragon 845 is not very big and not enough to justify upgrading from the 835 for this single reason.
The camera might be a reason that one would upgrade from the Mi Mix 2, since it's much improved. Let's take a look at the Camera's UI and some samples to see if it lives up to expectations.
Just used this phone for a while , the screen is just and bad as my cheap Redmi phone. Avoid any Xiaomi with an LCD screen !
I got a lot feedback in telegram group before buy this phone in 2019. (you should too if you want to know more, most of the user give honest review). Firstly it was so much cheaper flagship now. Price same/cheaper than poco,mi9t without any critical ...
I found 64/6 in my country for nearly as same price as Redmi Note 7 128GB/4 and A50 64/4. 128/6 in same store is same price as A50 128/4. Jackpot, isn't it? P.S: in other stores in my country It is priced normal. I know this Mi Mix 2s or stor...