Xiaomi Mi Mix 2S review
GSMArena team, 06 May 2018.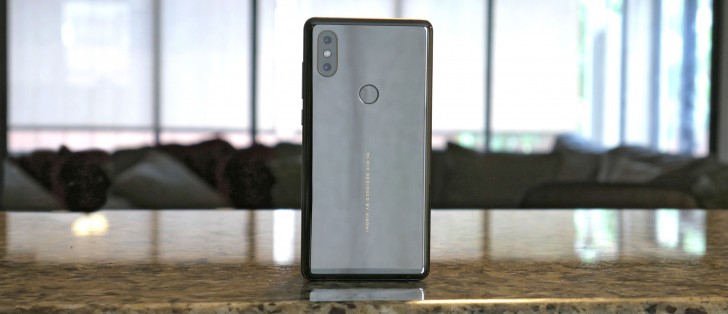 One Mix, 2 Cameras
The Mi Mix 2S isn't the first Xiaomi device to come with dual cameras, though it is the first Mix device to have two eyes. The Mi Mix 2S's cameras are 12MP with dual pixel autofocus. The main camera is a relatively new Sony IMX363 sensor with 1.4 micron pixels, features a fast f/1.8 aperture, and is optically stabilized. The secondary sensor is a Samsung S5K3M3 with smaller 1 micron pixels and a slower f/2.4 aperture.
This second lens is a telephoto one, so the dual cameras system uses the wide + tele combo like the iPhone and not the RGB + Mono combo that Huawei uses. The Mi Mix 2S' dual camera achieves 2X optical zoom. The second telephoto sensor is not optically stabilized.
New to the Mi Mix 2S is Xiaomi's "Hardware-level multi-frame noise reduction", which is what Samsung, Google (on the Pixels), and HTC use to get those crispy photos by processing multiple frames of the shot. It also introduces Xiaomi's AI dual camera, which first debuted on the Redmi Note 5. The camera can detect up 206 scenes across 25 categories and uses "AI" for portrait shots and beautification.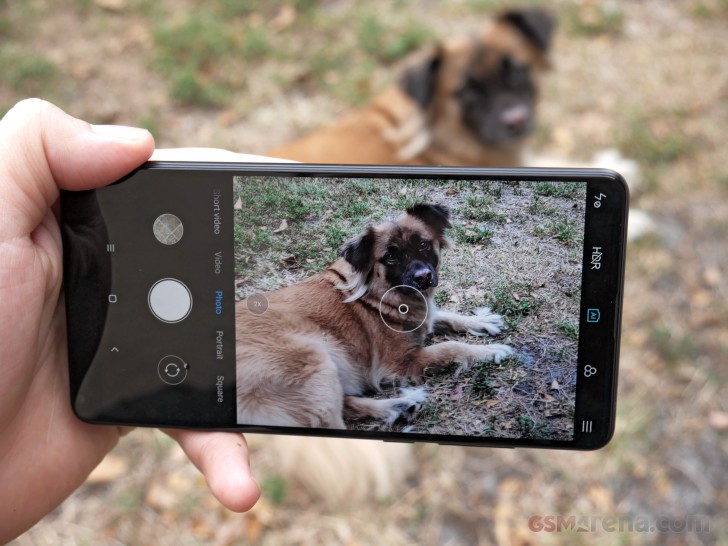 Xiaomi says it has put a lot of effort into improving the beautify mode, which is very popular in Asian countries. Xiaomi was so dedicated that it hired makeup artists to give the (male) software engineers makeovers in an effort to help them understand how to beautify certain areas of the face.
The camera app is much refined over the Mi Mix 2's. There is no longer a drawer of cameras modes. To access additional modes, swipe to scroll through them as you would on an iPhone. The buttons around the UI are dynamic and change depending on what mode is active. Off the top of our heads, Samsung and Huawei have also made its camera UI like this on the P20 and Galaxy S9.





Camera: AI • Filters • Video • Square




AI scene detection: Water • Greenery • Clouds
There are a few shooting tools in the menu overflow and even a tilt-shift option. There's a group selfie mode, which takes multiple shots and compiles one where each person looks best, and there's a straightening tool, which shows you a level using the phone's gyroscopic sensors, and a beautify option for the main camera. These tools don't show up in all the shooting modes, but the only one that does is the shutter timer.





Shooting options: Photo • Video • Beautify off • Beautify on
Manual mode offers control of the camera settings: white balance, focus, shutter speed (up to 1/2 second), ISO (up to 1600), and it lets you switch between the main, wide lens and the secondary telephoto lens.



Manual mode with: Wide lens • Tele lens
The camera settings are dynamic, so if you want to change the video resolution settings, you need to have the Video mode selected. There are a lot of settings to go around. You can disable the "Shot on Mi Mix 2S" watermark (which is on by default). You can adjust contrast, saturation, and sharpness to your liking - a nice option for those who like to edit all their photos.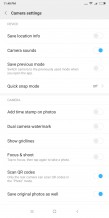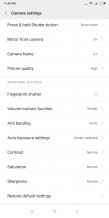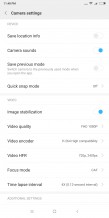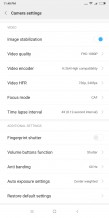 Camera settings: Stills 1 • Stills 2 • Video 1 • Video 2
The Mi Mix 2S's age and gender detection feature was moved to a deeper menu, and we're okay with that. This feature is more novelty than it is useful. We guess it could be a tool to teach you to make a younger-looking pose but we may be overthinking it.
Image quality
The Mi Mix 2S's AI camera can detect several scenes and take photos that are optimized for those settings. Greenery scenes look greener, food looks brighter, and buildings look sharper. Professional photographers would likely never use such a feature since they would rather edit the photo themselves, but the end result looks great for social media.
We feel that Huawei overdid the AI stuff with the P20 to the point of oversaturation, but Xiaomi's implementation is not as drastic.





AI: Off • On (Food) • Off • On (Building)
AI can definitely get in the way of some other shots. Take this prime example while shooting this lake entrance. The camera detected clouds and automatically reduced shadows to let the clouds outlines become more pronounced. As a result, all the foliage from the shot looks dark and it just looks like this shot came from a low-end phone.
Slapping a filter on the non-AI shot would have looked much better than the resulting AI shot. Those clouds still look good, though.



Comparison shots from Huawei P20 Pro
Overall, there were a lot of great shots from this camera. The Mi Mix 2S struggled a bit in dynamic range, particularly in shadows - these were sometimes too dark. Despite this, photos were well exposed and colors were pretty neutral, though accurate, even during golden hour.
Photos are not too contrasty and easy on the sharpness, which is great if you like to edit your photos before posting them. Meanwhile, details are well preserved in most lighting situations. The camera does struggle to maintain details in mid to lower light conditions like in dim indoor settings but can unexpectedly pull through in nighttime scenes. A steady hand goes a long way, friends.
The very last shot above is 2X zoom, which worked fairly well in this dimly lit New York City bar. Once you zoom into the pixels, you can see the processing of the image. Even so, this image is still worthy of a social media post.
HDR mode is a strange case on the Mi Mix 2S. We used it in daytime situations with no luck. Whenever we enabled it, our shots got darker in the shadowy areas without fail and in a couple of cases, it even raised the highlights.
The resulting images are darker overall in the shadows and add contrast, which is the exact opposite that we'd expect from HDR mode. We'd recommend you avoid HDR mode and use an editing app to raise the shadows or darken highlights as needed - Instagram offers these editing tools. Perhaps Xiaomi will fix this in a future update.
The Mi Mis 2S can do 2X optical zoom with its dual camera. Here are a few samples, which actually look quite good. It does struggle a bit in less-than-ideal lighting, but works great for daytime sightseeing. When pixel peeping, you can tell there was some extra processing going on, but these are still very usable shots.
Here are a couple of more shots the Huawei P20 Pro's as well.





Mi Mix 2S (1X) • Mi Mix 2S (2X) • P20 Pro (1X) • P20 Pro (3X)
Portrait mode is here and it works pretty well. Granted, the bokeh line is generated by software, so it won't always be spot-on. Portrait mode relies on facial recognition to identify a subject and blur the surrounding area. We do admit that the phone had a harder time recognizing Enobong's darker-skin face. Once it did, though, the result was pretty good.
We did like that the camera didn't just blur everything around the subject. In the shot of our friend Enobong, only the background pillar was blurred but not the one closer to the camera. At the same time, in our shot of Ricky, the bike wasn't totally blurred out. Rather, it blurred the background and only part of the foreground - gently blending the blur effect with elements in the foreground so look somewhat more organic.
5MP Selfies
We have to say we were not crazy about the idea of a 5MP selfie camera. Naturally, we had low expectations. The selfie camera did better than we thought it would.



Beauty Mode off, Potrait mode: Off • On
Portrait didn't work as well with the front camera. Unless the hair line is clearly defined, we'd imagine you'd get the same results that we got with Ricky's selfies. The areas around his hair make it hard for the camera to separate the tree branches from his mane.



Beauty Mode 3/5, Portrait mode: Off • On
Beauty mode is turned on by default and is set to 3/5. Xiaomi said it worked hard to refine beauty mode and went as far as hiring makeup artists to paint the engineers so they could learn about how to contour certain of the face and what makes a face look prettier. Beauty mode isn't our thing, but Ricky sure looks pretty.
Beauty and Portrait modes aside, the details captured in the background are not bad compared to many other selfie cameras that aren't good at capturing details that are further away from the selfie taker. The sky is blown out on this cloudy day (as is normally the case) and all the selfies look warm since they were taken a couple of hours before the sunset.
Panorama
Panoramic mode is easy to use: point, shoot, and sweep. The strange thing is it only lets you sweep to the right. Taken with the phone in a portrait orientation, the image is 3,904 pixels tall. The image has a consistent exposure throughout and there are just a couple of misaligned stitches.
Video quality
The Mi Mix 2S can record 1080p and 2160p (4K resolutions). Xiaomi kept the number of video modes to a minimum: 720p, 1080p, and 4K. There is no 60 fps mode in any video resolution. Meanwhile, full OIS+EIS image stabilization exists in 1080p while 4K only gets OIS.
4K videos were recorded in 42 Mbps while 1080p videos were around 20.2 Mbps. Meanwhile, audio was recorded at 192Kbps in both resolutions. Audio was always recorded in stereo.
We do have to complain about the audio quality in videos: it's terrible. We'll reach out to Xiaomi to see if there's any chance we got defective unit or if this can be fixed via a software update.
Like any EIS system, the frame crops in for 1080p, so do keep that in mind.
Details are much degraded in video compared to still images. Dynamic range is not bad while color accuracy remains about as good as in still images. Exposure is well balanced but noise is apparent in some of these daytime scenes.
Night-time video wasn't too bad. We recorded this at the same New York City bar - there was plenty of noise, but it is expected. Otherwise, we're glad the shutter speed didn't drop to the point that any movement would appear super blurry.
As usual, we've provided unedited samples straight out of the camera for you to download - 2160p@30fps (15s, 78MB), and 1080@30fps (15s, 35MB).
Just used this phone for a while , the screen is just and bad as my cheap Redmi phone. Avoid any Xiaomi with an LCD screen !
I got a lot feedback in telegram group before buy this phone in 2019. (you should too if you want to know more, most of the user give honest review). Firstly it was so much cheaper flagship now. Price same/cheaper than poco,mi9t without any critical ...
I found 64/6 in my country for nearly as same price as Redmi Note 7 128GB/4 and A50 64/4. 128/6 in same store is same price as A50 128/4. Jackpot, isn't it? P.S: in other stores in my country It is priced normal. I know this Mi Mix 2s or stor...