Xiaomi Mi Note 10 review
GSMArena team, 06 Nov 2019.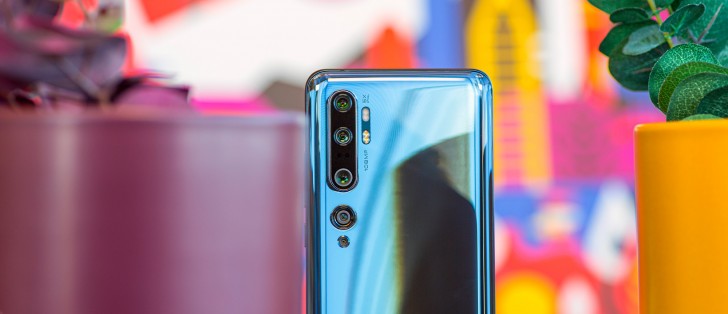 MIUI 11 on top of Android 9
Xiaomi Mi Note 10 is the first smartphone to boot MIUI 11 out of the box. The new launcher is based on Android 9 Pie and introduces a cleaner interface, an improved always-on screen, expanded Dark mode, smart notification sounds, and a better document editor.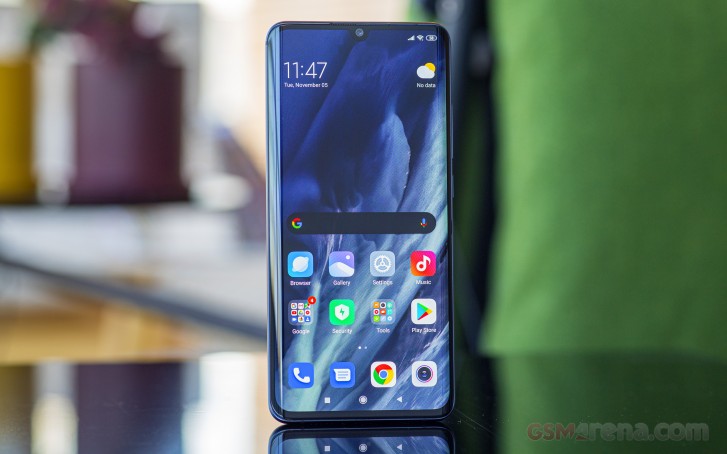 The Mi Note 10 supports Always-on display, and you can schedule it or leave it on/off all the time. MIUI 11 brings even more AOD themes you can choose from and make it yours. You can customize may of those. And, the AOD now supports breathing light - the curved edges of the display will flash with colors upon new notifications.
You can unlock the screen via the improved under-display fingerprint scanner. The reader is very easy to set up and works surprisingly fast. The accuracy is superb, too, and overall, it's excellent for your daily unlocking.
You can also set up face unlock in addition to it - it's equally fast as the Mi Note 10 wakes up the moment you pick it up. Note that the face unlock option may not be available in all regions and is far less secure than fingerprint unlock.
Xiaomi Mi Note 10 has a Dark mode - it will switch all system colors from white to black, and this way, you can save some battery juice by making the best use of the power-efficient AMOLED. With MIUI 11 it has been improved, and now more apps support Dark mode, and the icons and their colors have been redesigned to suit it better.
MIUI 11 supports nature alarm and notifications, which sound different depending on the time of the day. Nature sounds have been tailored for alarms and notifications and are far less stressful through the day.
There is no app drawer in MIUI, so all your apps are just sitting there on your homescreen, but you can still add them to folders. Of course, you can always install a third-party launcher if you miss the app drawer.
Here are the default home screens on Mi Note 10. There's a weather widget in the upper right corner across from a large clock widget. There is a Quick Card pane, the leftmost one. It contains different cards with relevant information - recent apps, step counter, notes, calendar events, the weather, and favorites, among others. You can configure what shows up here, or you can disable this altogether.
MIUI 11 has refined looks with less clutter, and you easily spot the Xiaomi efforts towards minimalistic design in the new Settings app.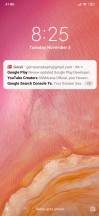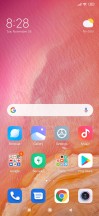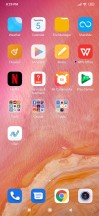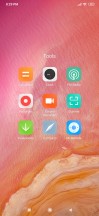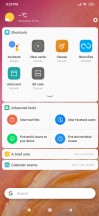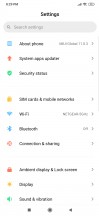 Lockscreen • Homescreen • Homescreen • Tools • Quick Card • Settings
The task switcher has not changed. It shows all of your recent apps in two columns. Tap and hold on a card for the split-screen shortcut, or just swipe it left or right to close it.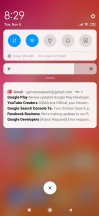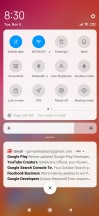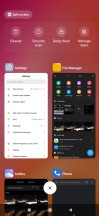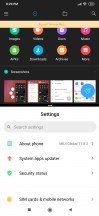 Notifications • Toggles • Recents • Split Screen
Themes are supported on the Xiaomi Mi Note 10, but the app appears only when the phone is set to a supported region, say India.
MIUI also offers a Security app. It can scan your phone for malware, manage your blacklist, manage or restrict your data usage, configure battery behavior, and free up some RAM. It can also manage the permissions of your installed apps and allows you to define the battery behavior of selected apps and applies restrictions only to the apps you choose.
MIUI also offers proprietary Gallery, Music, and Video player. In some regions, the music and video apps include paid streaming options. FM radio app is available, too.
MIUI 11 also introduces a new document viewing app, which supports all popular formats and make easier viewing docs on your phone no matter from what app they were opened. It makes for a seamless experience.
There is also a new Notes app that now supports Tasks.
MIUI 11 brings an improved Health app, too, which includes support for menstruation cycle tracking.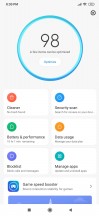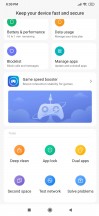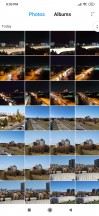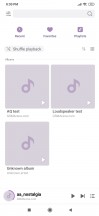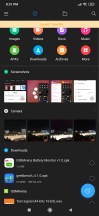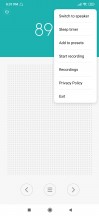 Security app • Security app • Gallery • Music • File Manager • FM radio
In some markets, the pre-installed applications by Xiaomi will show ads, which is how Xiaomi is compensating for the relatively low prices of its devices. We're reviewing a global version of the Mi Note 10, and we still saw ads within some of the system apps and processes (say, while scanning a newly installed app by Security).
Performance and benchmarks
The Xiaomi Mi Note 10 employs the Snapdragon 730G chip - the most powerful upper-midrange SoC from Qualcomm. Hardware-wise, the Snapdragon 730G is pretty much identical to its vanilla sibling. On the CPU side of things, it has two Kryo 470 Gold (Cortex-A76) cores, clocked at 2.2 GHz, and another six Kryo 470 Silver (Cortex-A55) ones, working at 1.8 GHz. They are all built on an 8nm LPP node and hence pretty power-efficient.
Both also have the same Adreno 618 DSP. But the one on the 730G is clocked 50 MHz higher and sits at 550 MHz.
Finally, there's a single memory tier of 6GB of RAM, but you can add €100 over the Note 10 and get the Note 10 Pro with 8GB RAM and double the storage.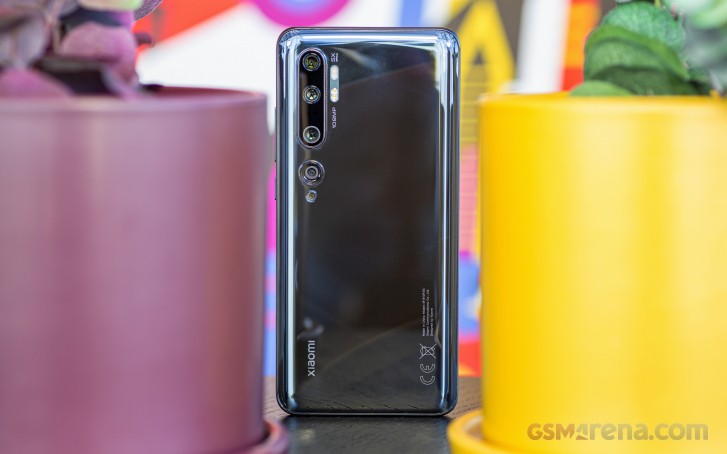 The Snapdragon 730G may have just two high-performance A76-derived cores, but those were enough to put a great fight. The single-core score is great and is bested only by the flagship processors of the Snapdragon 855 and Exynos 9820.
GeekBench 4.1 (single-core)
Higher is better
Samsung Galaxy S10e
4518
Realme X2 Pro
3527
Xiaomi Mi 9
3503
OnePlus 7T Pro
3502
Sony Xperia 1
3447
Xiaomi Mi 9T
2537
Xiaomi Mi Note 10
2536
Samsung Galaxy A70
2391
Xiaomi Mi 9 SE
1905
Realme XT
1899
Xiaomi Mi 9 Lite
1851
GeekBench 5 (single-core)
Higher is better
OnePlus 7T
788
OnePlus 7T Pro
780
Realme X2 Pro
589
Xiaomi Mi Note 10
544
Realme XT
410
Xiaomi Mi 9 Lite
395
Same goes for the multi-core test, too. The S730G is the best upper midrange chip and its only topped by the flagship models.
GeekBench 4.1 (multi-core)
Higher is better
OnePlus 7T Pro
11246
Xiaomi Mi 9
11181
Sony Xperia 1
10985
Realme X2 Pro
10373
Samsung Galaxy S10e
10081
Xiaomi Mi 9T
6863
Xiaomi Mi Note 10
6737
Samsung Galaxy A70
6584
Realme XT
6102
Xiaomi Mi 9 SE
6017
Xiaomi Mi 9 Lite
5989
GeekBench 5 (multi-core)
Higher is better
OnePlus 7T
2932
OnePlus 7T Pro
2807
Realme X2 Pro
2602
Xiaomi Mi Note 10
1737
Realme XT
1569
Xiaomi Mi 9 Lite
1471
The Adreno 618 GPU sounds beyond promising on paper and should be more than adequate to handle all 1080p content. Indeed, it can only be bested by the flagship Adreno 640 inside the S855 SoC, which is kind of an overkill beneath any 1080p's screen. The Adreno 618 inside the S730G SoC is clocked higher than the one inside the regular S730 (Mi 9T), and you can spot the difference in the scores.
GFX 3.1 Manhattan (onscreen)
Higher is better
OnePlus 7T
59
Samsung Galaxy S10e
57
Realme X2 Pro
57
Xiaomi Mi 9
56
Sony Xperia 1
55
OnePlus 7T Pro
40
Xiaomi Mi Note 10
27
Xiaomi Mi 9T
24
Xiaomi Mi 9 SE
24
Realme XT
23
Xiaomi Mi 9 Lite
21
Samsung Galaxy A70
13
GFX 3.1 Car scene (onscreen)
Higher is better
OnePlus 7T
41
Samsung Galaxy S10e
40
Realme X2 Pro
37
Xiaomi Mi 9
35
Sony Xperia 1
33
OnePlus 7T Pro
24
Xiaomi Mi Note 10
15
Xiaomi Mi 9 SE
14
Xiaomi Mi 9T
13
Realme XT
13
Xiaomi Mi 9 Lite
12
Samsung Galaxy A70
7
3DMark SSE 3.1 Unlimited
Higher is better
OnePlus 7T Pro
6921
Xiaomi Mi 9
5816
Realme X2 Pro
5792
Sony Xperia 1
5792
Samsung Galaxy S10e
4545
Xiaomi Mi Note 10
2481
Xiaomi Mi 9T
2329
Realme XT
2284
Xiaomi Mi 9 SE
2218
Xiaomi Mi 9 Lite
1959
Samsung Galaxy A70
1112
Some say AnTuTu never lies, and the compound test indeed put the Mi Note 10 on top of every other midranger but behind the flagship crop, as expected.
AnTuTu 7
Higher is better
Realme X2 Pro
396827
OnePlus 7T Pro
395868
Xiaomi Mi 9
372006
Sony Xperia 1
356734
Samsung Galaxy S10e
325192
Xiaomi Mi Note 10
213566
Xiaomi Mi 9T
211915
Realme XT
185193
Xiaomi Mi 9 SE
180057
Xiaomi Mi 9 Lite
175478
Samsung Galaxy A70
167750
The Mi Note 10 is well equipped to handle any game or any app you can throw at it. Everything is fast and fluid; there are no hiccups or bottlenecks. And we did not notice any throttling even after long benchmarking sessions. Even better, the phone keeps the shell mostly cool even when working at peak loads.
There is only one concern with the Mi Note 10 - its price is a match to quite a few Snapdragon 855-powered smartphones. We can understand Xiaomi charging a premium for the unique camera, sure, but we are not sure everyone will take note of that.
Anonymous
22 Jan 2023
Nv$
Yes most especially when flash is on
I am using the phone! It's an ideal gardet , nice camera with zoom permission that allows photos not to fade, reliable battery , beautifully curved👍 I recommend 😘