Poco M4 5G review
GSMArena Team, 15 August 2022.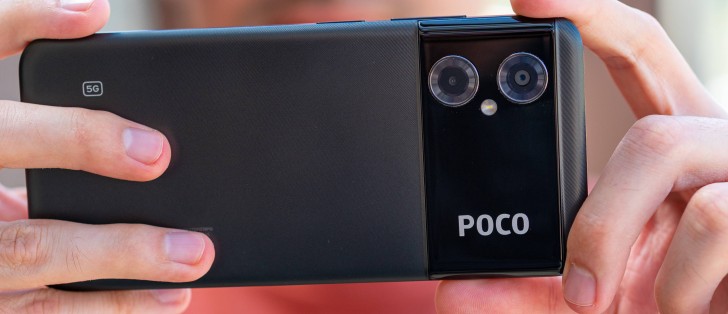 Design
The Poco M4 5G has a pretty recognizable design. That's honestly harder and harder to pull off with the seemingly never-changing modern "slab" design. Of course, we are talking about the back side of the M4 5G which sort of has a Google Pixel thing going on. The camera island is more of a plate extending from side to side. It is noticeably taller and bigger on the M4 5G, so the resemblance is fleeting.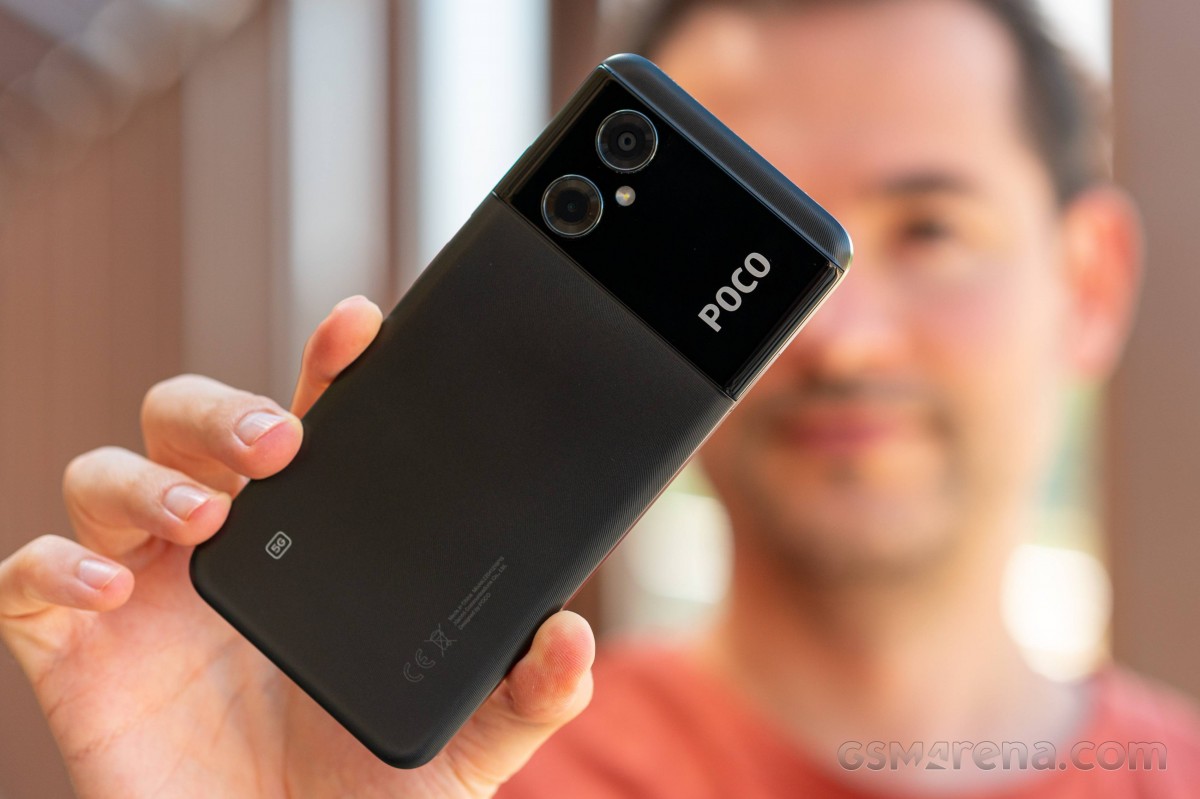 The rest of the back of the M4 5G is made of plastic and has a fine texture finish to it. It feels nice to the touch and has a matte finish to it. That finish attracts grease and dirt quite a bit. A fine texture also invites things to get stuck in between the grooves, making it generally hard to keep the surface clean.
The Poco M4 5G is available in a trio of colors - Power Black, Cool Blue and POCO Yellow. Our review unit is in Power Black, which is definitely the most boring of the bunch. Yellow and blue both look very vibrant and youthful. We appreciate having options.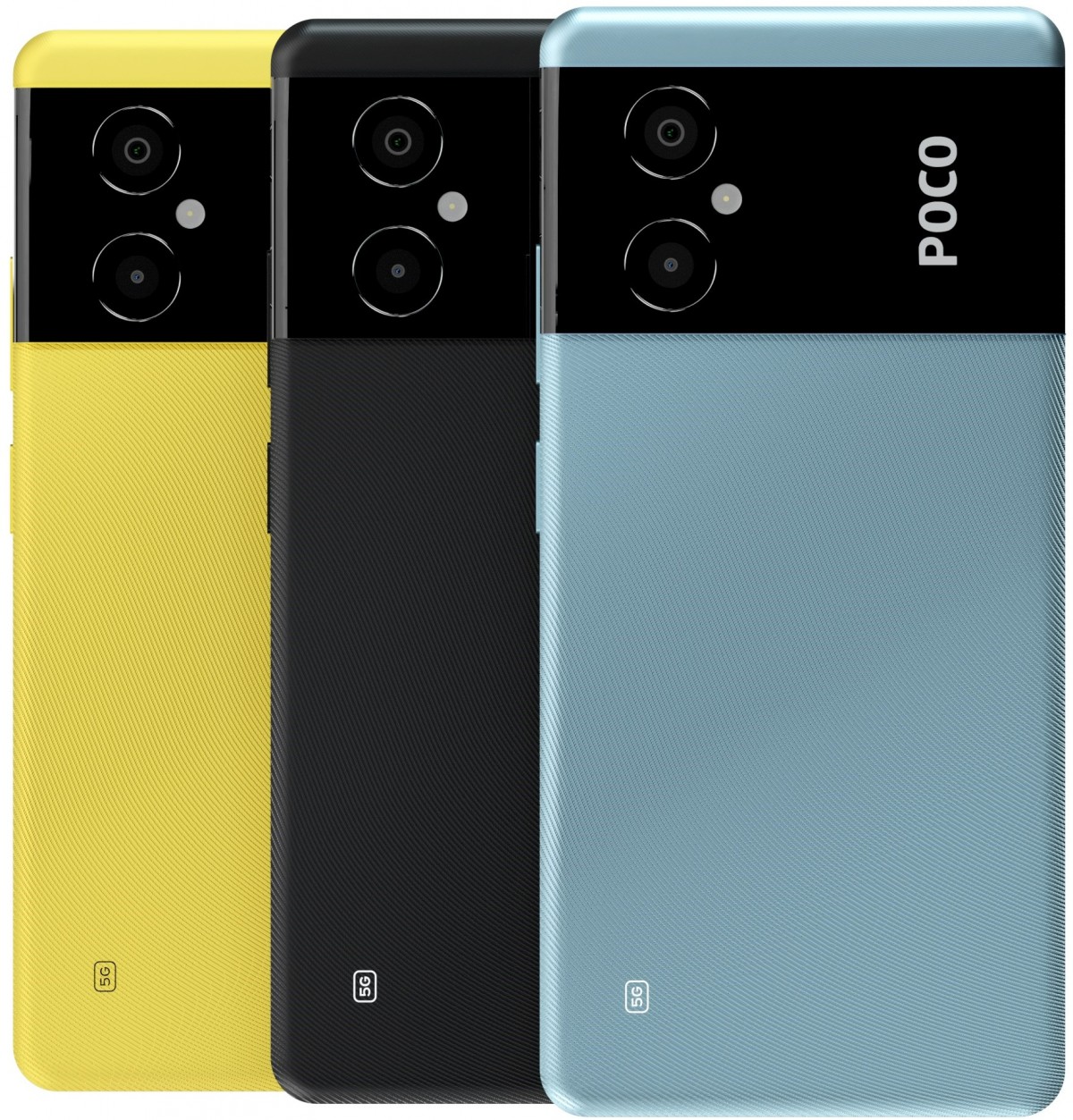 The sides of the M4 5G are flat and pretty modern in design. The middle frame is also made of plastic. The finish on top does a very convincing job of imitating metal, which is always a welcome sight when pulled off successfully.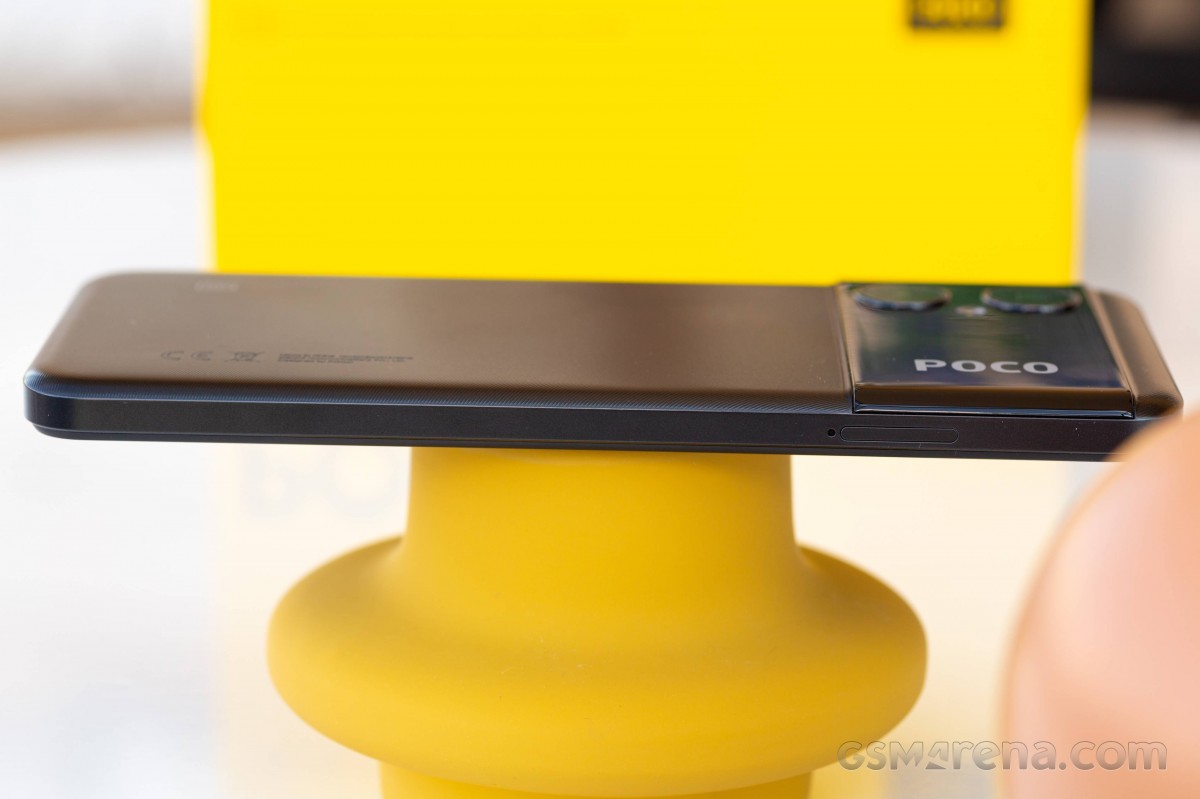 The front side of the M4 5G also looks quite modern. The bezels are very thin for a budget device. The selfie notch isn't overly large, either. Even so, Xiaomi managed to cram in a proximity and light sensor above the display. The earpiece is also very well tucked away.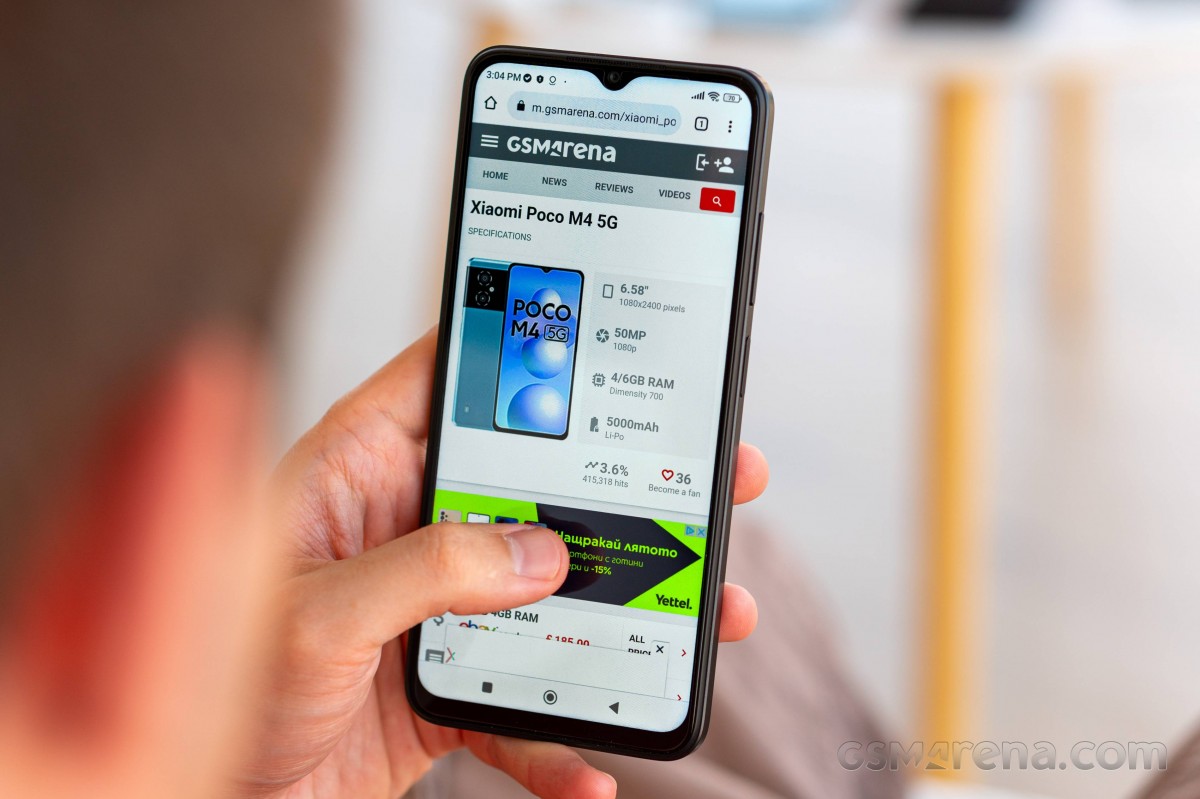 The Poco M4 5G is very comfortable to hold. It measures a reasonable 164 x 76.1 x 8.9 mm and tips the scale at a pretty light 200 grams. A lot of that lightness is thanks to the mostly plastic construction.
Materials and build quality
We've said it before, and we'll say it again - there is nothing intrinsically wrong with using plastic as a construction material. It is light and durable. It doesn't dent like metal and can show scuffs and scratches less than many alloys.
The M4 5G feels solid with practically no flex to the overall construction. Weight is well distributed vertically too. The one issue we have is that the back side has a hollow feel when tapped, which is frequently seen on cheaper devices. It doesn't affect the overall structural rigidity of the phone, though.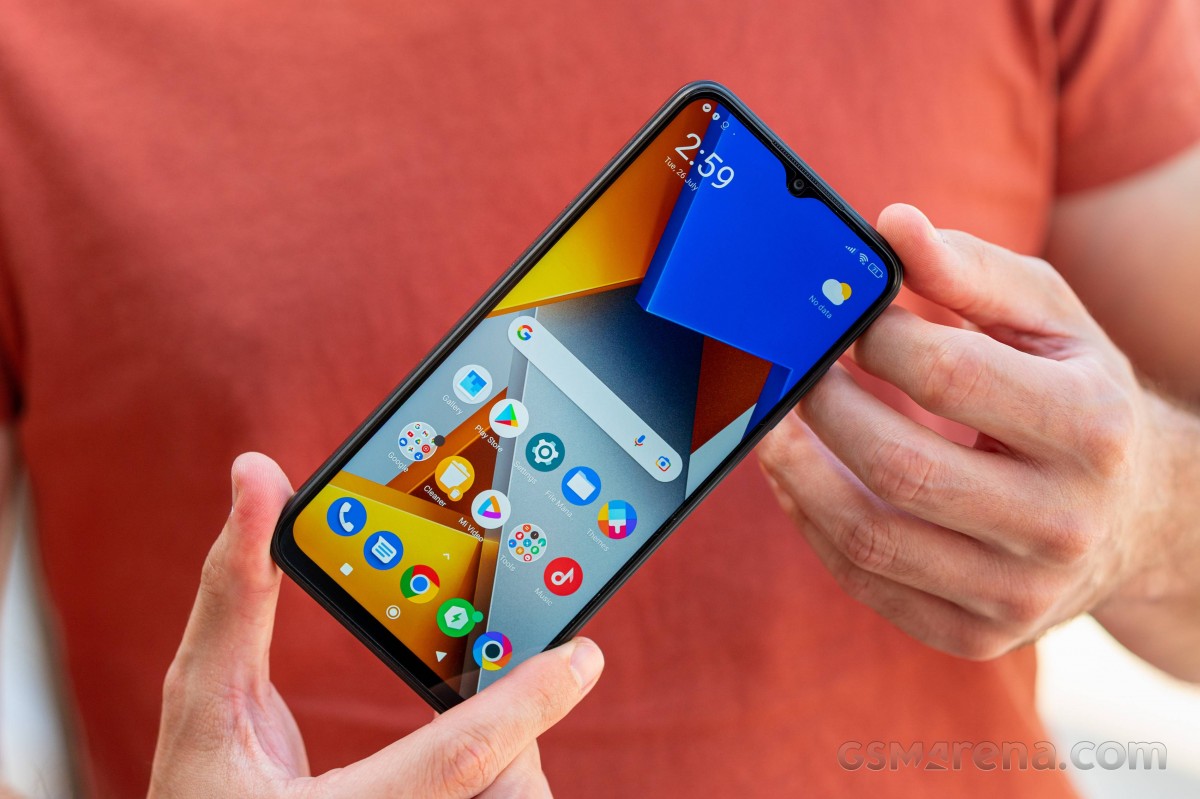 The Poco M4 5G has Corning Gorilla Glass 3 on the front, protecting the display. Even though this particular product version is quite a few years old, it still offers excellent scratch protection. Corning has been optimizing more for shatter resistance in recent years.
The phone also has at least some level of ingress protection, even if fairly basic. It is IP52, which basically means it should survive some dust exposure and splashes of water.
Controls and connectivity
The Poco M4 5G has a pretty standard set of controls and general layout. Both the volume rocker and power button are on the right side. Both are nice and clicky, with excellent tactile feedback. Their vertical positioning is also nice and ergonomic.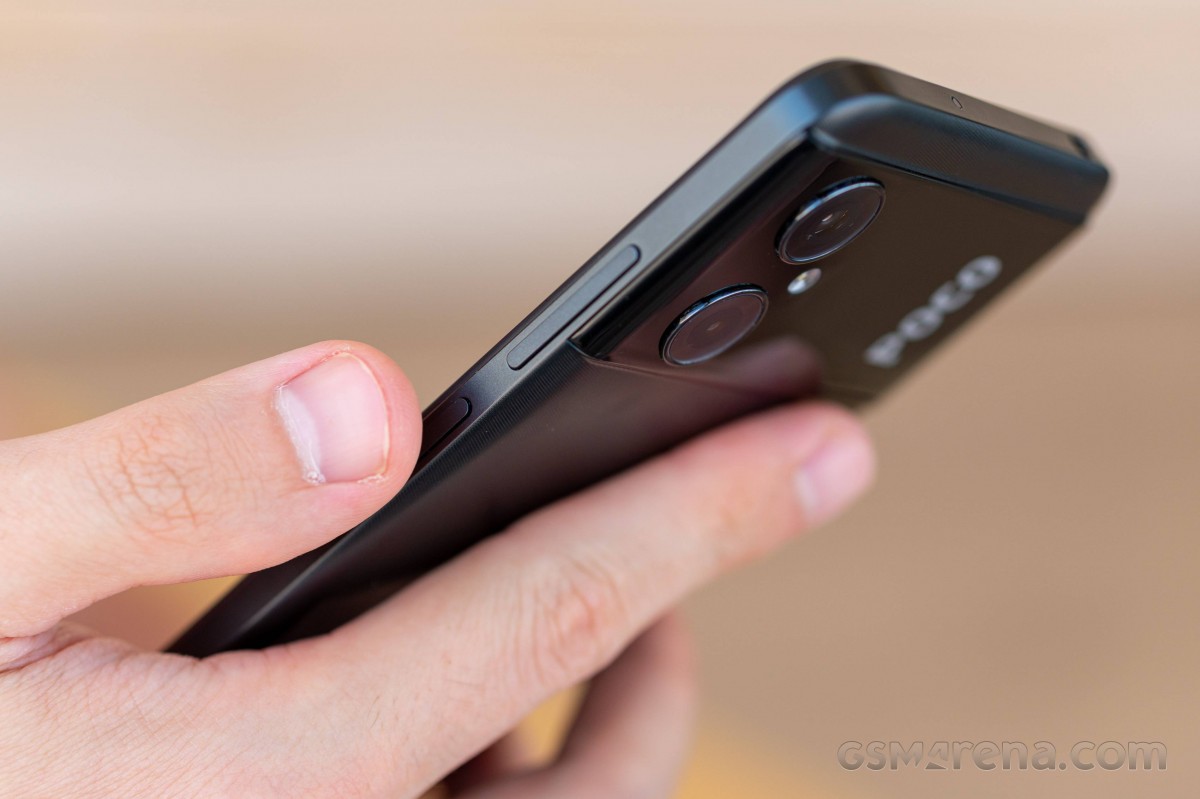 The power button doubles as a capacitive fingerprint reader. It is very snappy and accurate. It is also always on and can be set to unlock the phone with or without an actual press of the button. We have no complaints about it.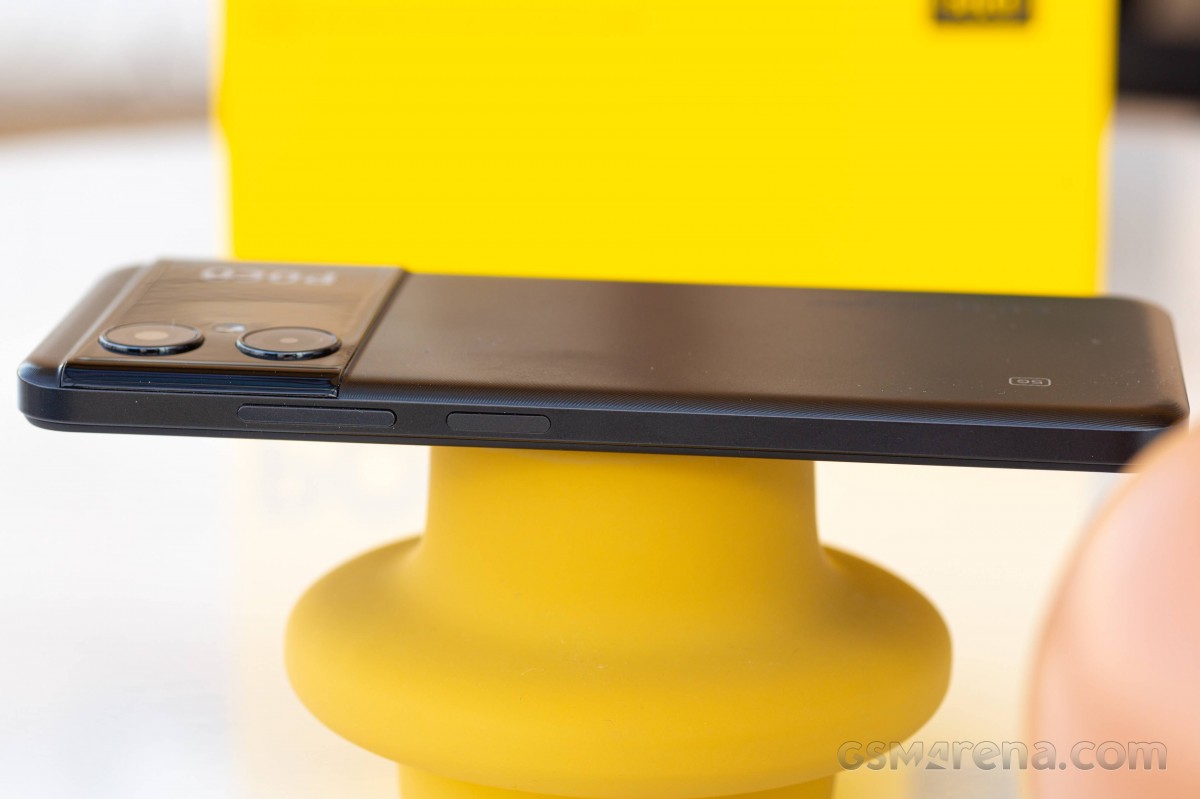 The phone's left side only houses the SIM tray. It is a long tray with two dedicated nano SIM slots and a separate microSD one. So, no need to pick and choose.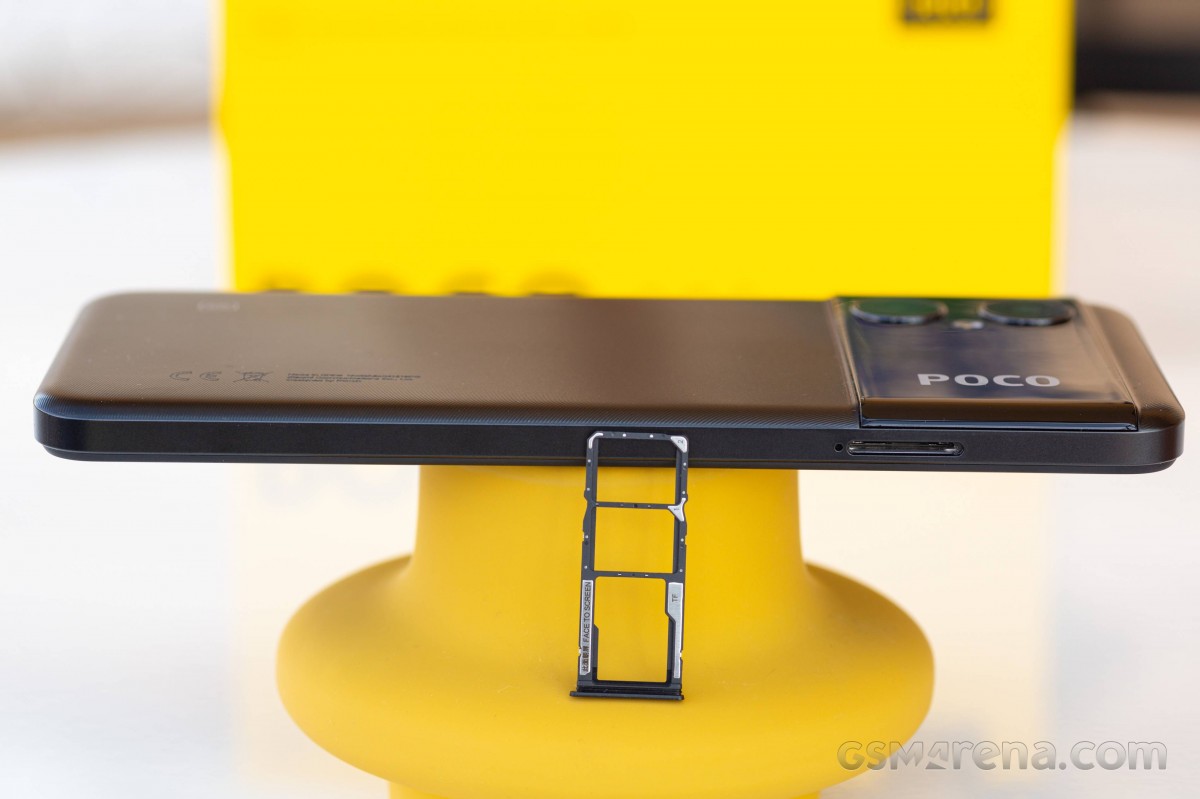 The top of the M4 5G has a 3.5mm audio jack which is an increasingly rare sight. That goes double for the IR blaster that is also positioned on the top of the phone. Xiaomi is pretty much the last major manufacturer to include IR on some of its models. It is quite convenient as a remote control alternative for appliances.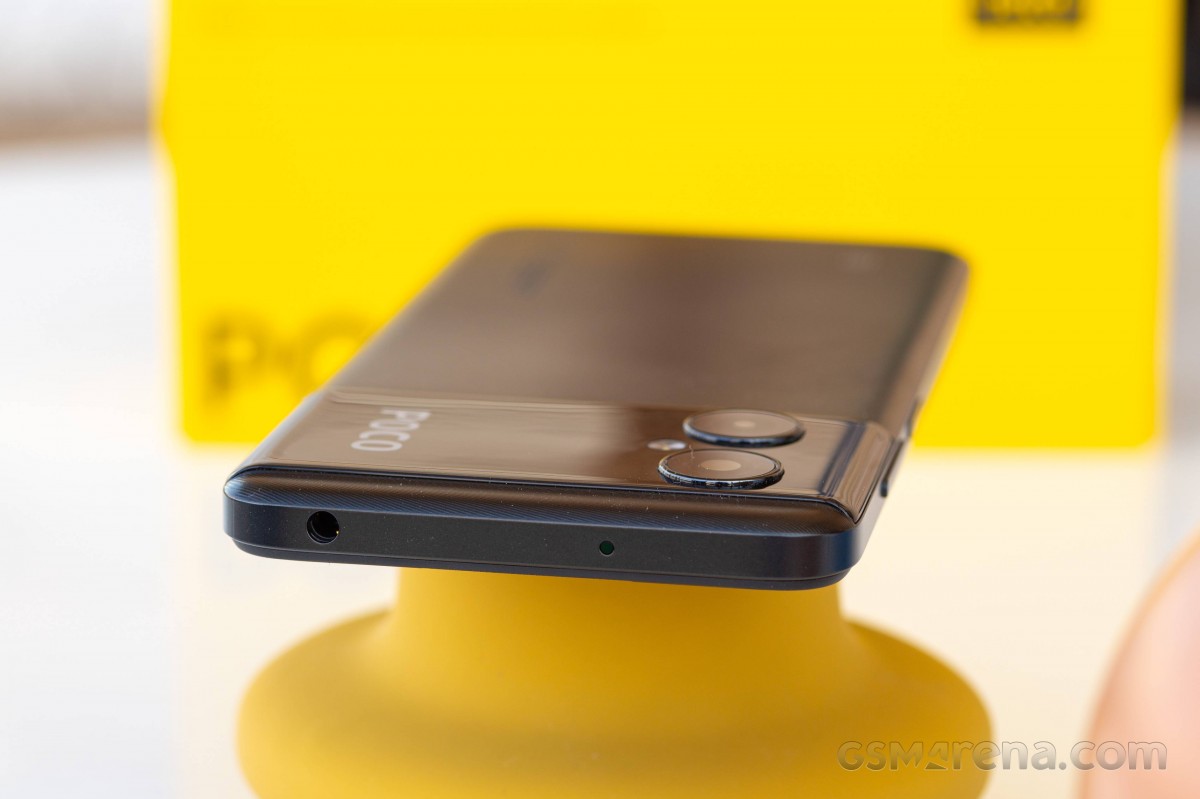 The bottom bezel houses the main microphone of the device as well as the single bottom-firing speaker. Between the two is the Type-C port. As already mentioned, it is capable of fast charging up to 18W. It is also wired for data at USB 2.0 speeds and has OTG support. There are no other extra features to it, though. No video out or anything of the sort.
Speaking of connectivity, the Poco M4 5G offers 5G in SA and NSA modes on both of its slots. There is also dual-band Wi-Fi ac with hotspot functionality on board. Bluetooth 5.1 with LE support and GPS with GLONASS and BDS are also present. So are an FM radio receiver and NFC.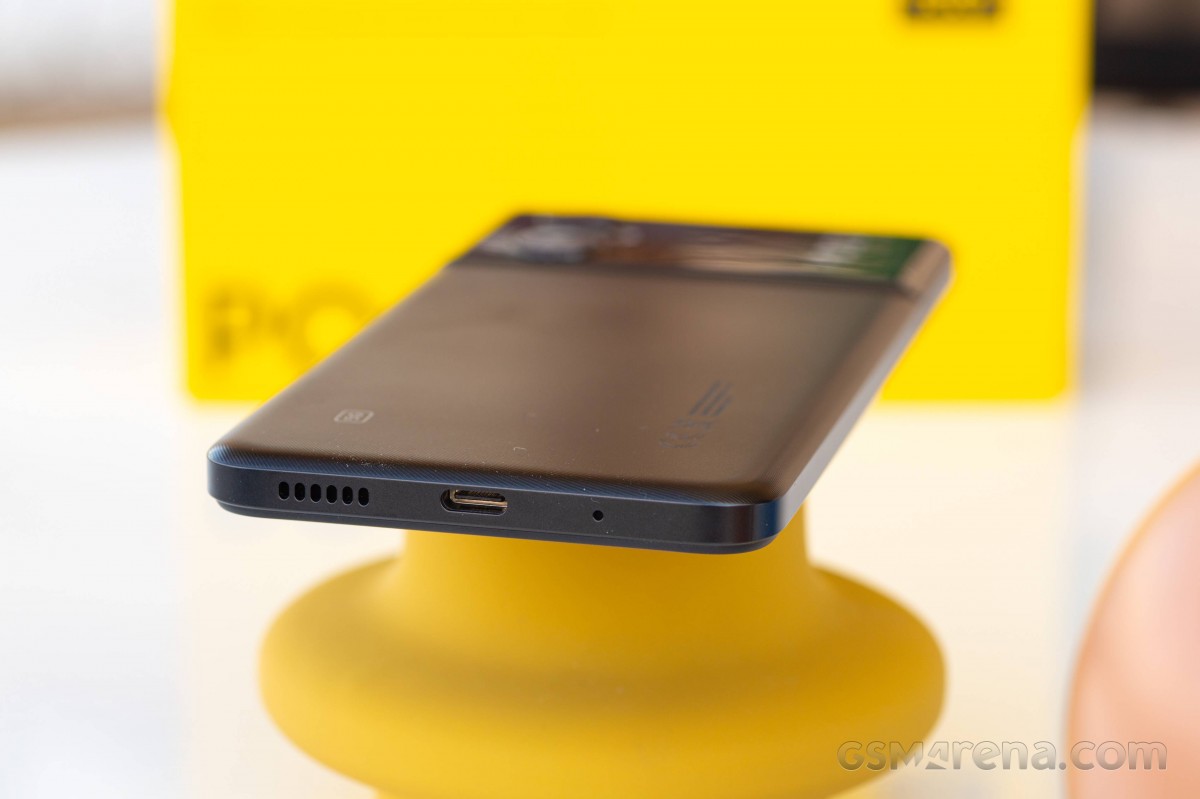 The Poco M4 5G also has a surprisingly full set of sensors under its belt for a budget device. Nothing is virtual or otherwise simulated. You get an actual TDM2755 combo proximity and light sensor, also an accelerometer, compass, gyroscope and magnetometer.
Lie, my battery life is low compare to xiami other phone worth 9thousand.. I wasted 4,5thousand..disapointed
I agree with that but the reality is that manufacturers do not care, especially xiaomi because of their razor thin profit margins so they cut more corners compared to apple or samsung.
To be honest, you shouldn't even consider Custom ROM availability in the first place. The key point is that the company should have made the OS stable from the very start before selling it. Because they all had the resources to do so, source cod...