ZTE Axon 40 Ultra review
GSMArena Team, 11 June 2022.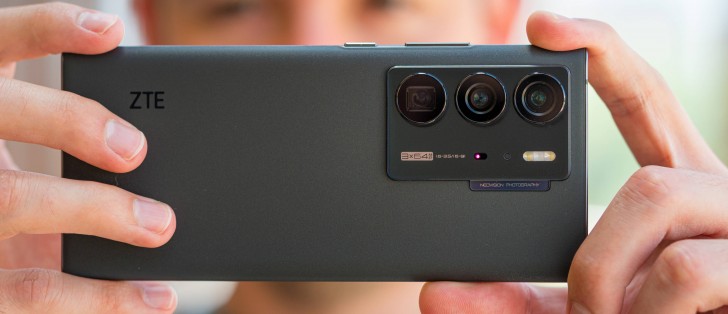 6.8-inch AMOLED with a 120Hz refresh rate
The Axon 40 Ultra introduces some changes in the display department, coming from the 30 Ultra. A modest size increase to 6.8 inches (from 6.67") comes with a nudge in resolution to 1116x2480px (from the standard 1080x2400px) which makes for a pixel density of 400ppi. The other difference is the refresh rate - it's now 120Hz as opposed to the 144Hz of the predecessor.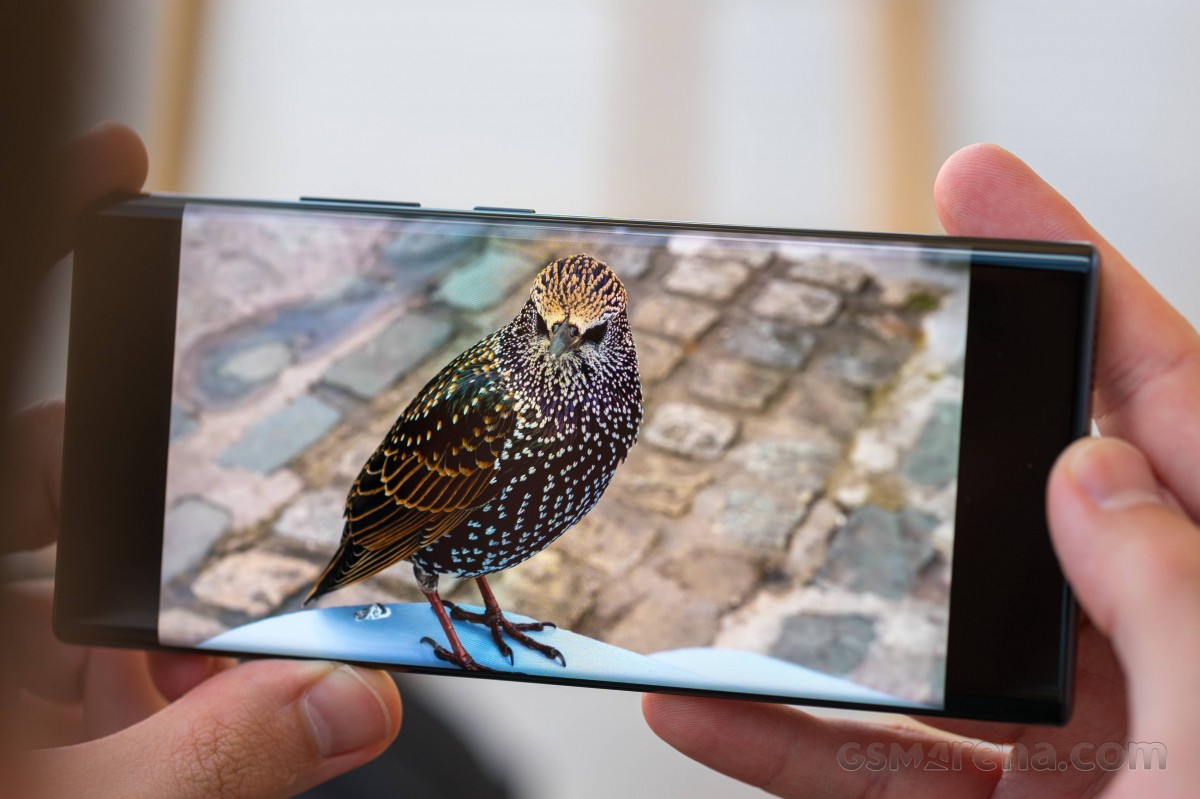 Still, being an AMOLED panel, the one on the Axon 40 Ultra delivers the truly black blacks, and more or less the same brightness as last year's model - 680nits under direct light with auto brightness enabled and 527nits with the slider all the way to the right with the auto disabled.
While decent, the boost in brightness under adverse light conditions makes for one of the lowest maximum brightness levels we've seen on high-end models. Ultimately, it's still very much usable out in the sun without any issues, it's just that ZTE is behind the curve on this one.
Display test
100% brightness
Black,cd/m2
White,cd/m2
Contrast ratio
ZTE Axon 40 Ultra (Max Auto)
0
680
∞
ZTE Axon 40 Ultra
0
539
∞
ZTE Axon 30 Ultra 5G (Max Auto)
0
698
∞
ZTE Axon 30 Ultra 5G
0
552
∞
OnePlus 10 Pro (Max Auto)
0
780
∞
OnePlus 10 Pro
0
498
∞
Xiaomi 12 Pro (Max Auto)
0
1050
∞
Xiaomi 12 Pro
0
506
∞
vivo X80 Pro (Max Auto)
0
1014
∞
vivo X80 Pro
0
488
∞
Samsung Galaxy S22+ (Max Auto)
0
1214
∞
Samsung Galaxy S22+ (Extra brightness)
0
782
∞
Samsung Galaxy S22+
0
468
∞
Honor Magic4 Pro (Max Auto)
0
957
∞
Honor Magic4 Pro
0
550
∞
Poco F4 GT (Max Auto)
0
761
∞
Poco F4 GT
0
468
∞
Oppo Find X5 Pro (Max Auto)
0
762
∞
Oppo Find X5 Pro
0
475
∞
Motorola Edge 30 Pro (Max Auto)
0
685
∞
Motorola Edge 30 Pro
0
485
∞
Realme GT2 Pro (Max Auto)
0
778
∞
Realme GT2 Pro
0
482
∞
It's a similar story in color accuracy - decent, but generally trailing the pack. In the 'Standard' mode, which we expected to be accurate for DCI-P3 content, we got unimpressive overall results and very blue grayscale swatches. Switching the temperature to Warm made things bad in a different way - grays now got a flesh tone. We never managed to get an accurate white point, not even with the color temperature wheel. 'Colorful' mode was slightly less accurate still, for the set of DCI-P3 test patterns.
The 'Soft' color mode was closer to target, sRGB in this case, returning an average dE2000 of 2.0.
The Axon 40 Ultra has Widevine L1 support and also supports HDR playback. We did get HDR streams from YouTube, but not from Amazon Prime Video (though that did at least support 1080p).
The Netflix app, meanwhile, doesn't show up for the Axon in the Play Store. Sideloading it did work, though, and then we would get 1080p support, but no HDR.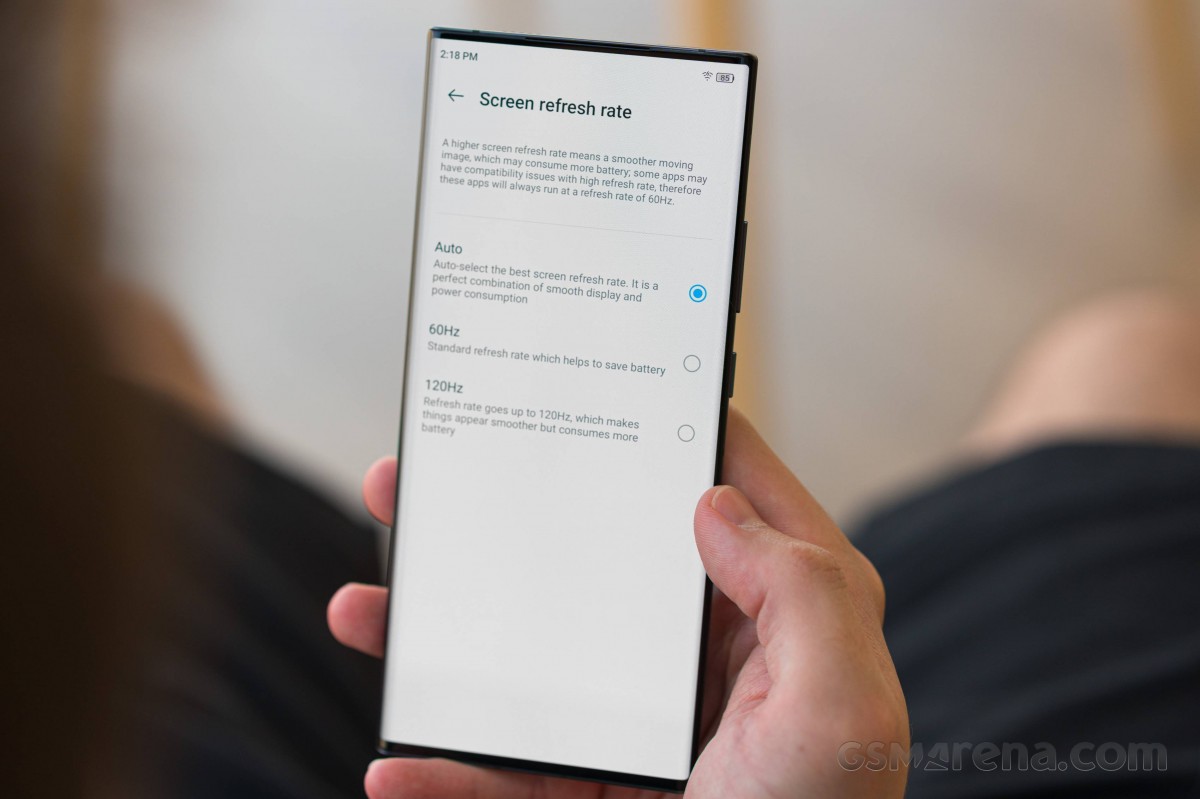 The refresh rate menu gives you one of three options - Auto, 60Hz, and 120Hz. The Auto uses somewhat of a rudimentary app-based approach to switch between 120Hz and 60Hz - you get 120Hz across the UI but 60Hz in most apps like video streaming apps, browsers, and the lot. The 120Hz mode lets apps run at 120Hz until you play a fullscreen video, which switches to 60Hz.
There are no in-between values or values lower than 60Hz - as best as the built-in Android tool can tell. Games are capped at 60Hz, even though GFXBench is allowed to run unobstructed at 120Hz, and you can get higher than 60fps results there.
ZTE Axon 40 Ultra battery life
For the Axon 40 Ultra, ZTE has upped the battery capacity to 5,000mAh (4,600mAh on the older one). It got a higher Endurance rating, too - the number now stands at 104h, thanks to improvements in screen-on tests and frugal standby consumption.
We clocked 17 hours of looping videos offline on the Axon 40 Ultra (with the display running at 60Hz), while the web browsing test returned a 12:40h result (this one at a constant 120Hz). It was only in voice calls that it couldn't quite match its predecessor, though, at over 24h, the result is still plenty good enough.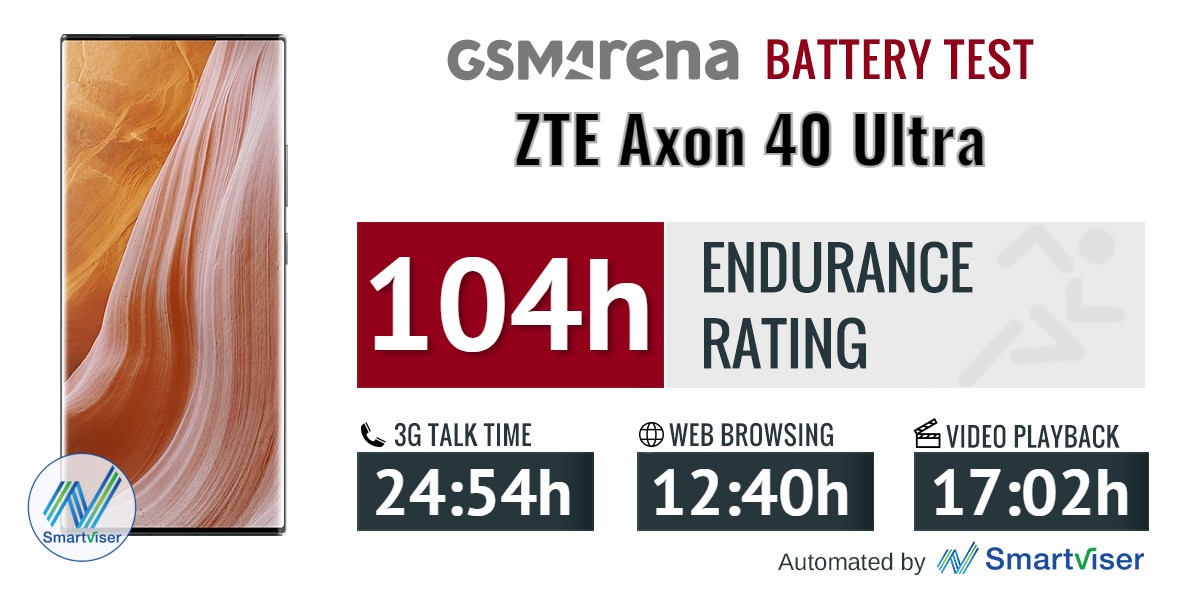 Our battery tests were automated thanks to SmartViser, using its viSerDevice app. The endurance rating denotes how long the battery charge will last you if you use the device for an hour of telephony, web browsing, and video playback daily. More details can be found here.
Video test carried out in 60Hz refresh rate mode. Web browsing test done at the display's highest refresh rate whenever possible. Refer to the respective reviews for specifics. To adjust the endurance rating formula to match your own usage - check out our all-time battery test results chart.
Charging speed
The Chinese specs page for the Axon 40 Ultra lists 80W charging capability, while the global one specifies 65W. Since our review unit shipped with a 65W adapter, that's what we're inclined to believe is the 'correct' specification, but also, that's what we tested with.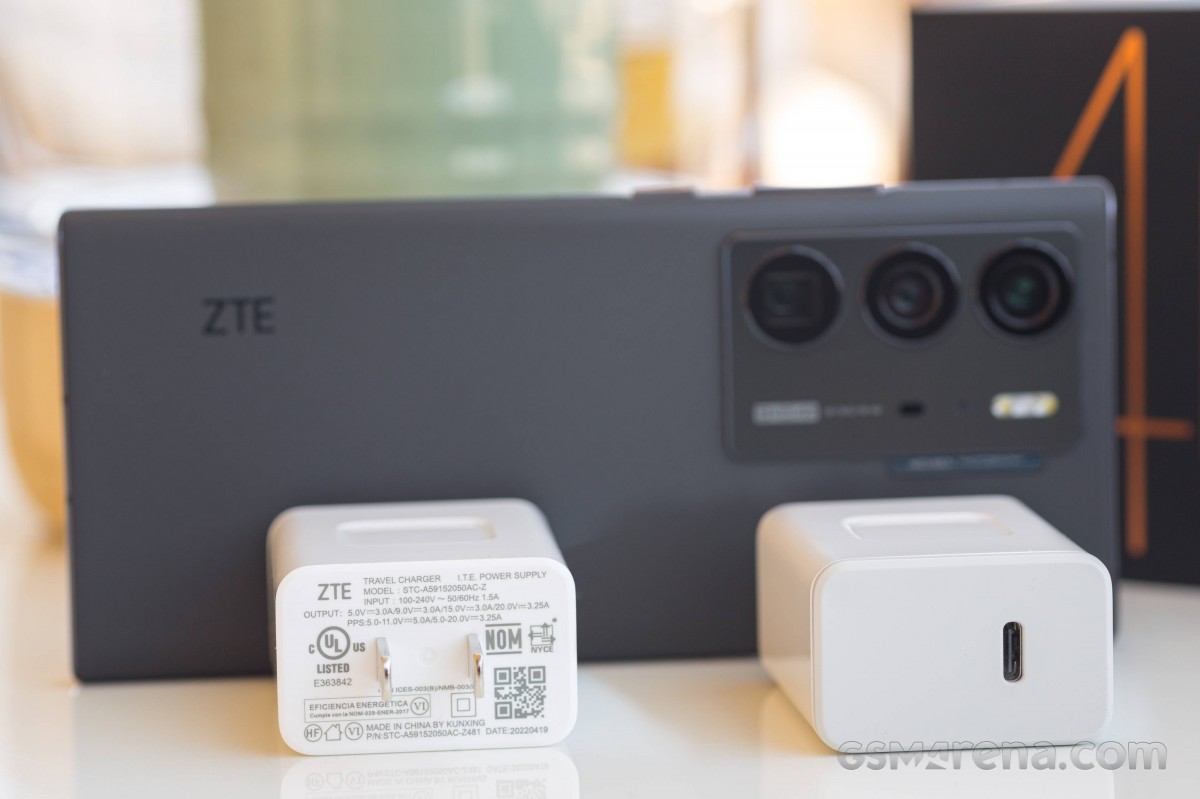 The charging rate peaked at 41-ish watts anyway, but it's doing that over standard USB PowerDelivery (with PPS), so it's not too shabby, all things considered. We clocked a 0 to 100% time of 47 minutes, with 80% showing in the battery indicator at the half-hour mark. That's marginally slower than the Axon 30 Ultra to full, but more charge in 30 minutes, and it's a larger battery on the new model, too.
30min charging test (from 0%)
Higher is better
Xiaomi 12 Pro (120W)
100%
Poco F4 GT
100%
Honor Magic4 Pro
100%
ZTE nubia Red Magic 7 Pro
100%
Xiaomi Black Shark 5 Pro
100%
OnePlus 10 Pro
98%
Realme GT2 Pro
91%
vivo X80 Pro
88%
ZTE Axon 40 Ultra
80%
ZTE Axon 30 Ultra 5G
74%
Samsung Galaxy S22+ (45W)
64%
Xiaomi 12 Pro (65W PD)
62%
Samsung Galaxy S22+ (25W)
62%
Time to full charge (from 0%)
Lower is better
Poco F4 GT
0:17h
Xiaomi Black Shark 5 Pro
0:18h
Xiaomi 12 Pro (120W)
0:21h
ZTE nubia Red Magic 7 Pro
0:28h
Honor Magic4 Pro
0:30h
OnePlus 10 Pro
0:32h
vivo X80 Pro
0:39h
Realme GT2 Pro
0:40h
ZTE Axon 30 Ultra 5G
0:44h
ZTE Axon 40 Ultra
0:47h
Xiaomi 12 Pro (65W PD)
0:50h
Samsung Galaxy S22+ (45W)
1:01h
Samsung Galaxy S22+ (25W)
1:02h
Proprietary charging solutions can pump more juice at a higher rate, so it's not surprising that the Axon isn't leading the charts, but it's a respectable performance nonetheless.
However, it's also worth noting that there is no wireless charging on the Axon 40 Ultra.
Speaker test
The Axon has a stereo speaker setup with one unit on the bottom, and another one up top, which has an extra opening through a slit above the display to serve as earpiece. The top speaker is always left channel, and the phone won't switch channels if you're holding it in landscape orientation with the buttons facing downward (earpiece on the right) - it's not ideal, but it's better than having the earpiece always be the right channel.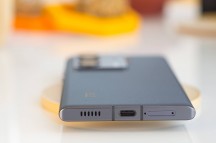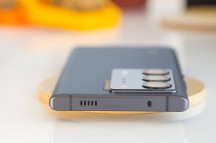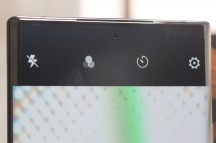 Bottom speaker • Top speaker • Earpiece
The Axon 40 Ultra earned a 'Very Good' rating for loudness, same as last year's model and on par with what the competition can offer. It's not a particularly pleasing output, however, with some of that 'bathroom' vibe and missing low end.
Use the Playback controls to listen to the phone sample recordings (best use headphones). We measure the average loudness of the speakers in LUFS. A lower absolute value means a louder sound. A look at the frequency response chart will tell you how far off tehe ideal "0db" flat line is the reproduction of the bass, treble, and mid frequencies. You can add more phones to compare how they differ. The scores and ratings are not comparable with our older loudspeaker test. Learn more about how we test here.
I just recommended to activate developer mode and kill all background processes which works for me but for me this will affect notifications from social media apps. To avoid this, do not follow that recommendation and instead allow the apps to run in...
Hi everyone, I would like to share my experience with the Axon 40 ultra after using it for two weeks note that I am using the Chinese ROM because I reside in China. For the first week I was really disappointed because of the unusual arrange...