ZTE nubia Red Magic 3 - your questions answered
Victor, 25 July 2019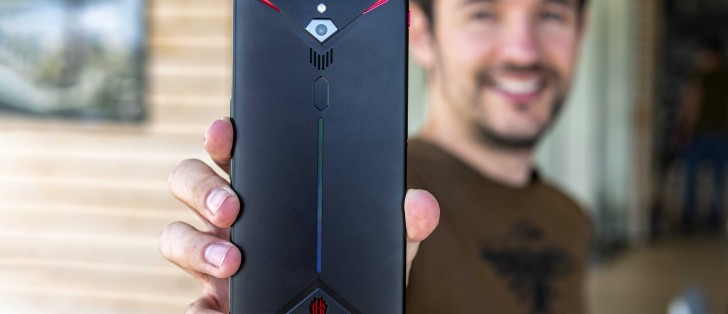 The ZTE nubia Red Magic 3 has been with us for a few days now and its review is well on its way.
But while we wait for all the tests to complete , we decided to try out something a bit different and take the time to answer some of your questions posted in our welcoming article.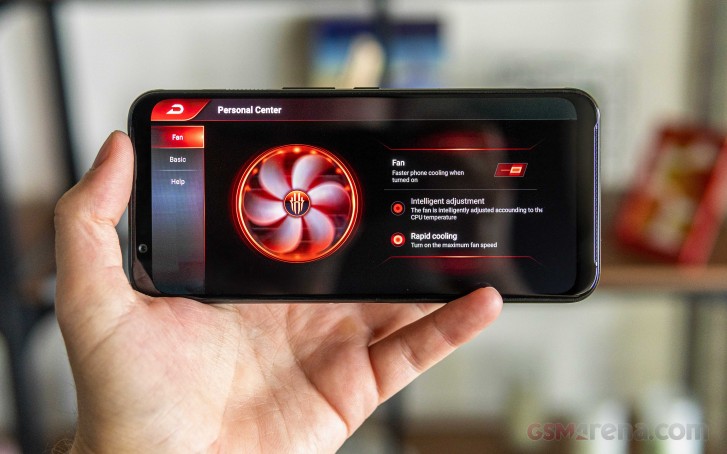 Design and hardware
Q: Can the cooling fan turn on automatically?
A: Not really. The fan is only available when the Red Magic 3 is in Game mode, or Game Space 2.0, as nubia calls it if you have turned it on in the first place. It has two modes of operation: full power and auto. The latter controls the speed of the fan according to temperature, but never turns it off entirely.
Q: Is the phone water-resistant? How is the fan durability in particular? What would happen if some water or dust got stuck into it?
A: The Red Magic 3 has no official ingress protection rating. We imagine the fan was at least partially to blame for. We can't comment on the ruggedness of the fan itself - the phone has spent days, rather than months and years with us.
Still, we have to note that the backplate right above it is quite sturdy and probably won't easily bend and damage or displace the fan. However, the air intake on the side looks very exposed with no visible grille or dust filter. We can only imagine dirt and dust are eventually going to get stuck in there.
Q: Does the grille on the side affect handling?
A: Surprisingly no, not at all. It is very thoughtfully positioned in a place you are unlikely to reach during normal operation in both portrait and landscape mode.
Q: Are the trigger sensors responsive or just a gimmick? How are the triggers compared to Asus ROG phone?
A: The two triggers on the Red Magic 3 are very well positioned and thoughtfully designed with nice grooves for convenient operation. However, like many other aspects of the phone, we see excellent hardware let down by poor software. In its current state, the nubia OS lacks any sensitivity or haptic feedback customization. The ROG Phone has both of these, so it has the Red Magic 3 beat.
Q: If all I care about is the front-facing speakers and the sound quality through headphones, is this phone worth buying? How does it compare in that department to the Axon 7/7 mini?
A: The Red Magic 3 performs great in both departments. Audio output is crisp, the speakers are loud. However, buying a gaming phone just for the speakers and audio output still seems a bit ill-advised since there are quite a few other bits and compromises you will have to live with. Bottom line, though - audio does not disappoint.
Q: Does the phone have a front-facing LED flash or an FM radio?
A: That would be a solid no on both. Another notable omission is NFC. There is an RGB status LED though.
Q: How much battery does the RGB lighting use?
A: This is a bit hard to accurately quantify. It really depends on the light pattern and intervals you are using. Our tests put the extra power draw of the LED strip when the phone is in standby at about 25%. Interestingly enough, the cooling fan at full blast only increases standby battery consumption by about 18%.
In the grand scheme of things this is not a phone that will spend a lot of time idling so the effect on battery life is not going to be great, but we should have the actual numbers to back this up when the review is complete.
Q: Are 10bit, 12 bit and 4:2:2 features available in any display mode mode?
A: 10-bit HDR mode is supported by the Red Magic 3. However, there is no particular info as to HDR formats that are supported (Dolby Vision, HDR10). The Netflix app does not offer HDR on the Red Magic 3 in its current state. As for 12-bit color and 4:2:2 chroma subsampling, sadly there is no easy way to extract that information from the OS.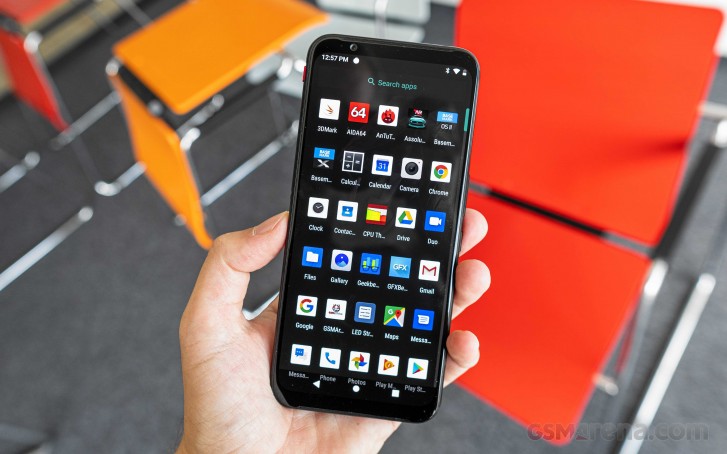 Software
Q: How often does the phone get updates? How does it compare to the OnePlus 7 in this regard?
A: That's a tough hypothetical question to answer. However, going by historical data - nubia doesn't exactly have the best update track record. There is also the matter of the rather poor current state of the Red Magic 3 ROM. On the flip side, OnePlus has a solid reputation for great after-sales support and a pretty lengthy support lifecycle for its devices. So while it's mostly an educated guess we'd say the OnePlus phone will get longer support.
Q: Can you have gestures navigation?
A: It is currently not an option in the OS.
Q: Is there an always on display option?
A: This is also absent from the current global nubia ROM. You do get an Ambient display option, which can wake up the display briefly for incoming notifications.
Q: Is the ROM "clean"? As in you don't have the sort of weird restrictions when enabling Developer Mode like Oppo's yellow status bar?
A: Yes, there is very little bloat in the software outside of the added game launcher options and the settings related to the active fan and RGB LED strip. Developer mode works as expected.
Q: Is there a split-screen mode for using two apps at the same time?
A: No. This is also not part of the current global nubia ROM.
Q: Will it work on the Sprint network, how is cell service reception and call quality? I've read many reviews but never any info on how it performs basic phone functions.
А: Unfortunately, we can't verify full compatibility with Sprint bands. As for general call performance we had zero issues with the Red Magic 3. It has solid signal and both the earpiece and microphone sound great.
Performance
Q: Does the gaming software actually improve gaming performance? Can you give us gaming performance review with/without the gaming app?
A: We had some substantial software hurdles while testing the Red Magic 3 and its OS is clearly still being actively developed so this might change at some point. However, in its current state, the performance mode or rather all four of them have very little effect on actual, real-world gaming performance.
These can be useful for potentially scoring a few more points in synthetic benchmarks, especially CPU-heavy ones since the CPU can be pushed very hard in short bursts thanks to the excellent cooling system.
However, that is not really beneficial to actual gaming. You will likely be getting the same fps regardless of any current game mode. That being said we do recommend using the fan since it improves the sustained performance over time a bit and, more importantly, makes the surface of the phone substantially cooler and more pleasant to hold.
Q: How hot does the RM3 get with/without the fan running?
A: 42 degrees without the fan at its hottest point and 37 degrees with the fan on at full blast. However, that remains limited to a small area on the back of the device, unlike the Xiaomi Black Shark 2 which gets scorching all around. You can read a more in-depth analysis on gaming phone thermals and throttling in this review.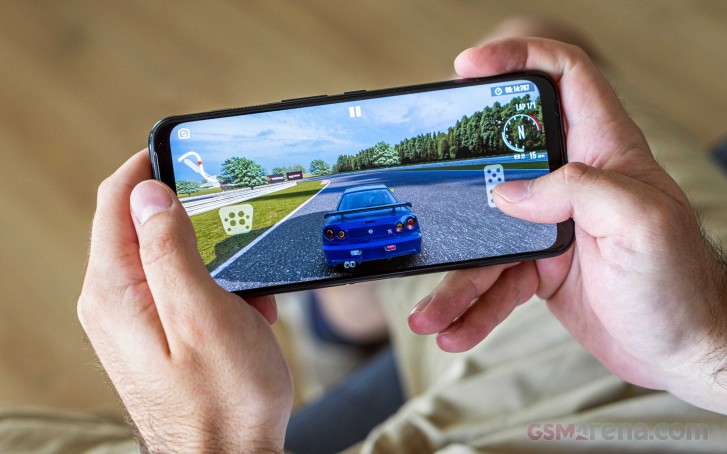 Connectivity
Q: Does it support video out via Type-C port? Can you use the phone as a touchpad and a TV as a monitor? Does it has a desktop mode?
A: Unfortunately video out on the Red Magic 3 is not possible at the moment. Disgruntled owners have been bringing this up with nubia online and there have been some vague promises that this might come in a future update. However, we wouldn't bet on that since the Type-C port currently only houses a USB 2.0 connection. So clearly it wasn't a major priority. Even the optional dock accessory can't do video out.
Q: Does the phone have dual frequency GPS?
A: No, it does not.
Camera
Q: The aperture is actually f1.8, correct? Everyone says f1.7, but I think the site said f1.79.
A: Yes, the aperture is f/1.79, which rounds to f/1.8.
Q: Is there any image stabilization (OIS or EIS)? What about with Open Camera?
A: There is no stabilization available on the Red Magic 3. We did try enabling EIS in Open Camera, but that left us with a very choppy video.
Q: What fps do 8K clips get recorded at? What about with Open Camera?
A: 8K recording is limited to 15fps. Nubia has mentioned a potential upgrade to 30fps at some point, but that might not even be possible with the current DSP. Open Camera only detects the maximum resolution of the camera as 4K.
We hope this quick Q&A session was useful to any prospective buyers out there. Stay tuned for the full, in-depth review of the nubia Red Magic 3 as well. It is already in the works and will be ready soon.
Related
My red magic shut down while i was updating system software. It doesn't open. Do u have any solution?
Does nubia have the ability to turn off unused apps automatically? To maintain its stability
can't show incoming callers id i mean name and number..
Popular articles
Popular devices