Canalys: Huawei dominates Chinese smartphone market in Q3 2019
Yordan, 30 October 2019
The smartphone market in China has improved sequentially, reported Canalys in its quarterly report. Huawei managed to steal market share from all its major competitors, reaching a total of 42%, thanks to an annual shipments growth of 66%.
However, the overall scene remained unimpressive, with 97.8 million shipments, 3% down from the 100.6 million for the same period last year.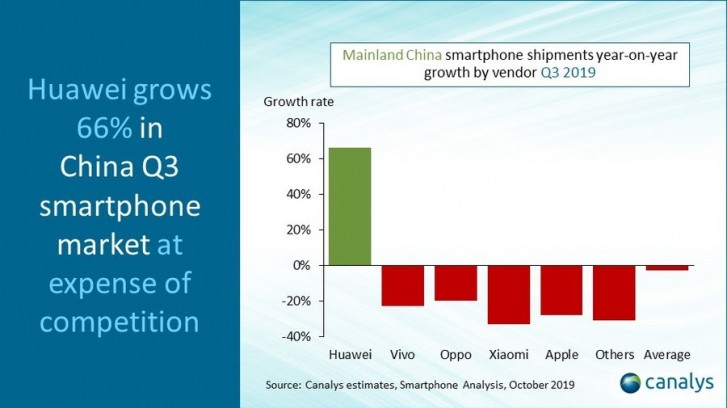 The runner-up for the July-September period of 2019 was vivo with 17.9% market share, followed by fellow BBK brand Oppo with 17.4% of the pie. Xiaomi and Apple completed the Top 5, while other brands saw 31% decline in sales on an annual basis.
According to Nicole Peng, VP of mobility at Catalys, the dominant position of Huawei gives the maker a lot of power in negotiating with the supply chain and increase its presence among retailers. Since the company is one of few major manufacturers that already have 5G smartphones it is working tight with 5G carriers, which could lead to even further dominance on the local scene.
Other Chinese brands like vivo, Oppo, and Xiaomi, are in freefall, added Louis Liu, Research Analyst with the agency. The reason is they are yet to release 5G smartphones and have been pushing aggressively with pre-registrations for upcoming 5G-enabled devices, including a discount with free data.
This lead to over 10 million subscribers registering an interest, but until they make an actual purchase, Huawei will gaining on its competitors. Expectations are 5G plans and device prices to fall rapidly and become more affordable, and the battle will be similar to when 4G arrived in China.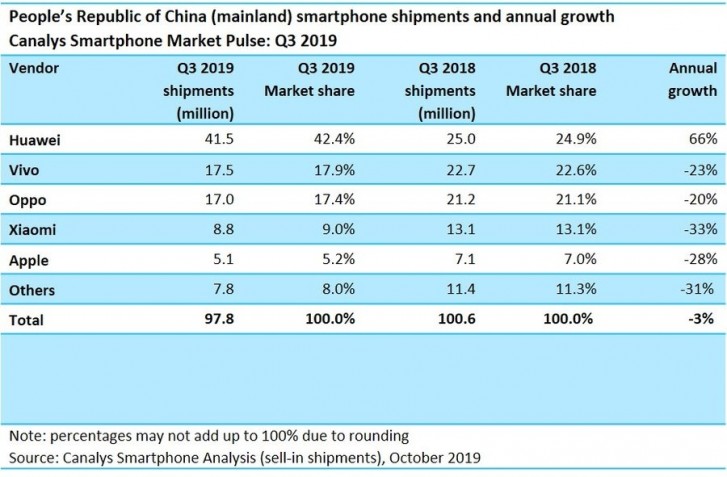 The only non-Chinese brand in the top 5, Apple, is hanging on its place mostly thanks to the launch of the iPhone 11 lineup at the end of the quarter. Nearly 40% of the shipments between July and September were of the new devices despite them only arriving in its final days. Chinese customers desired camera improvements and they were finally able to get an iPhone at an attractive price thanks to a more flexible channel margin structure for local distribution.
However, since Apple has no plans for a 5G smartphone until the next September, it can quickly fall out of Top 5 and be relegated to the dreaded "Others" group by the time the 2020 iPhones come.
Related
These are those hopeless people who think it's only huawei so spy however, USA has google, apple, facebook, etc companiess which spy on them & know about everyone up to that extend which they can't even believe... XD And there are many ways to...
If you have shipped Chinese mobiles from off-the-shelf online traders you may know what I am talking about. ROM updates are not guaranteed, you can get it serviced locally, resale will be paltry for the officially unsupported devices, many official a...
Popular articles
Popular devices
Electric Vehicles