Despite second recall, Galaxy Note7 usage numbers continue to rise
Peter, 14 October 2016
People don't like being told what to do - even if you tell them to put away a potential fire hazard. Samsung officially canceled the Galaxy Note7 and asked buyers to power off their units and send them back according to instructions (including special shipping).
That was several days ago and yet the number of users of the Note7 keeps growing - this Sunday it peaked at 10% higher than when the cancellation was announced. You can see that after the first recall, the usage dropped off almost instantly, rebounding as replacement units started arriving.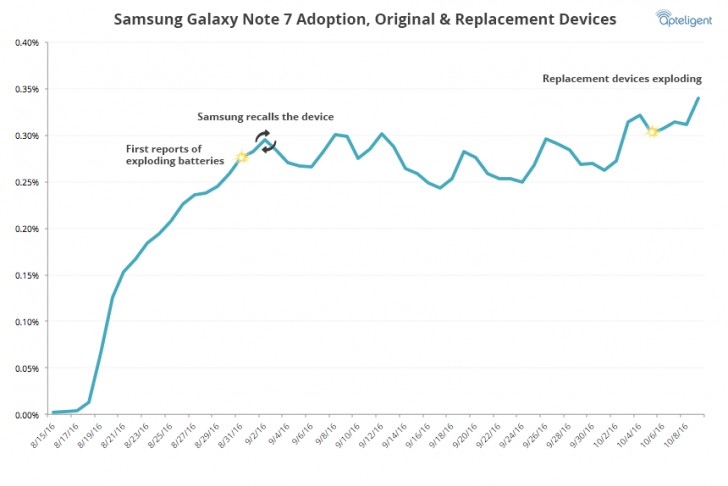 No such slump is seen here, even after reports came out that replacement units have the same potentially fiery issue. The worst incident so far was when a smoking Note7 (a replacement unit) caused a Southwest plane to be evacuated (the plane was on the ground at the time, no one was injured).
Samsung reported it sold 2.5 million Galaxy Note7s and looking at that chart makes it clear that many people are still using it. Don't do it - trade in your Note7 and get a crisp $100 bill. The phone will never see a software update, you'll get no warranty and no customer support, it's not worth keeping it.
Related
Samsung would not accountable for any potential explosion in Note7. Use your own risk.
samsung Mobile has always a good experience to use so Note 7 is also of the same brand.
GSMArena´s comment section gave me cancer :(. Too many apple-Samsung haters around
Popular articles
Popular devices