Flashback: the social networking phones built for Facebook and other such oddities
Peter, 20 December 2020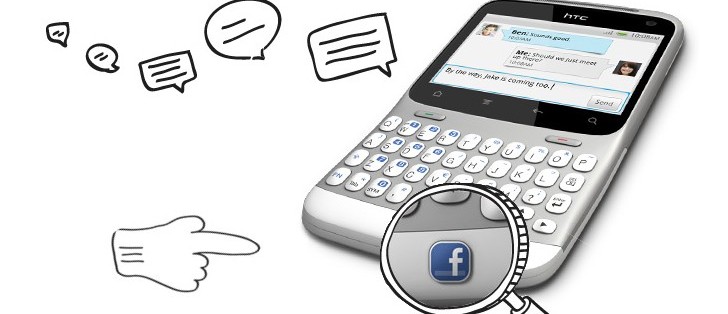 Phones are tools for communication. The early ones only supported one-to-one calls (and were wired to the wall), but the Internet bred a number of social networks, which popularized the idea of sharing everything with large groups of people. Friends, family, coworkers, even strangers, you could post messages and photos for all of them to view (and like).
Being Internet-based also meant that the social networks were primarily used from PC browsers, desktop PCs at that. You can't bring those to a party or on vacation and post photos of your experiences as they happen. You need a social networking-enabled mobile phone for that.
HTC's multiple Facebook phones
Facebook established itself as the main social network after dispatching MySpace. The network made the jump from Web to native app with a version for the iPhone 3G in 2008 and followed that with its first Android app in 2009. There were apps for Symbian S60, Windows Mobile and BlackBerry too.
Still, Zuckerburg and co. felt they can reach a wider audience if there was a phone built specifically for social network use. So, Facebook tapped HTC as an ODM to built two phones in 2011.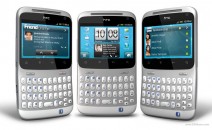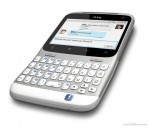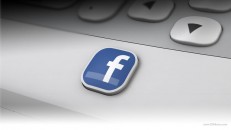 The HTC ChaCha was a phone for people who write lengthy posts on Facebook
The HTC ChaCha was the more interesting of the two, featuring a hardware QWERTY below the 2.6" landscape display. This was a phone designed for those who are better at expressing themselves through text. And they would preferably do that on Facebook, as the dedicated button on the bottom suggests.
They didn't have to, though, as the phone supported SMS, email and all kinds of chat clients. HTC's Sense UI was just perfect for the phone – the custom phonebook app brought calls, messages, emails and even social networking updates under one roof. The ChaCha was a capable communications hub, even if you didn't use Facebook.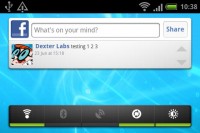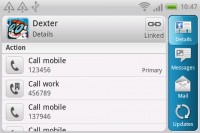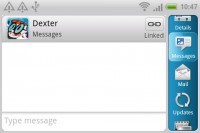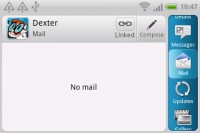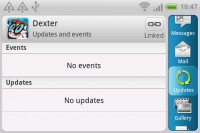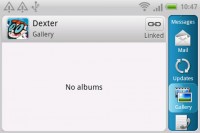 Facebook widget • The awesome Sense phonebook supported messages and even online galleries
The HTC Salsa was the second phone. It came with the same software and mostly the same hardware (including the 800MHz single-core CPU with 512MB of RAM). But instead of an old-school design with a hardware keyboard, the Salsa went the full-touch route. Well, it still had a dedicated Facebook button on the bottom, but other than that it was all touch.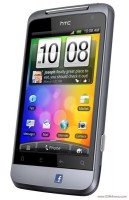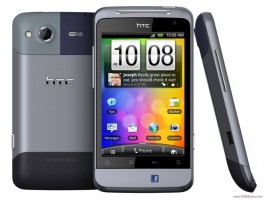 The HTC Salsa was more of the same instead you would use the on-screen keyboard
ChaCha's 5MP camera may have been less than perfect, but that was okay – that phone was all about texting. With its larger 3.4" display you'd think that the Salsa will be the more media and camera-oriented device, but that wasn't the case.
For starters, the screens on both phones had the same 480 x 320 px resolution (3:2) and the smaller diagonal meant that the ChaCha screen was sharper. Also, the Salsa used the same 5MP camera, which barely managed to record 720x480px videos at 24fps.







The phone book also displayed status updates, plus Facebook and Flickr photo galleries
Of the two, the ChaCha was the better phone. The QWERTY keyboard and ladscape display made it stand out, the Salsa was just another HTC phone. And Sense UI had a good handle on social networking, even without the extra Facebook stuff.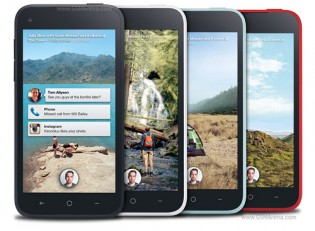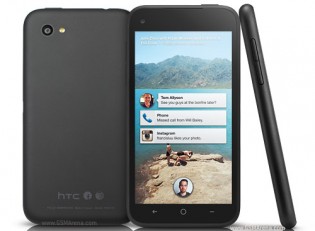 The HTC First was built around the Facebook Home launcher
Unfortunately, it's the Salsa that got a sequel. Well, sort of – the HTC First was an attempt to push a Facebook-designed launcher more than anything. Facebook Home as it was called turned the Android phone into a portal to the social network with other apps taking a step back.
The lockscreen was turned into a slideshow of status updates and photos from your Facebook contacts. You could give a post a thumbs up or leave a comment as soon as you see something interesting. There was a circular button (showing your profile photo), which could be swiped to access one of three functions – messaging, app launcher and app switcher.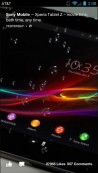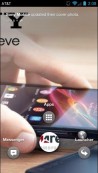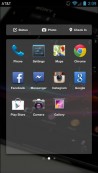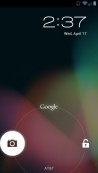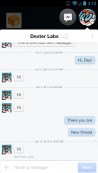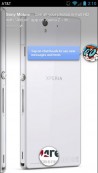 The lockscreen showed status updates • standard Android 4.2 Jelly Bean underneath • Chat heads
The Home launcher and the Facebook app also enabled the then-new and exciting "chat heads" feature. But equally interesting was what was removed – this phone ran plain Android 4.2 Jelly Bean and you could switch off the Home launcher. But you'd get no Sense UI and not even any AT&T bloatware (this was an AT&T exclusive phone).
Motorola CLIQ/DEXT
The Motorola CLIQ (aka DEXT in Europe) was an early take on a social networking-focused phone, which launched in 2009. It had a slide-out QWERTY and a relatively large 3.1" display that went into landscape orientation when the keyboard was out.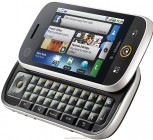 The Motorola CLIQ (aka DEXT in Europe) also had a QWERTY keyboard and SNS-focused software
Like with the HTCs above, it was the maker's customized Android UI that was the "special sauce". In this case that was Motoblur, which required you create an account with Motorola. This allowed its servers to collate information from an impressive number of services.
Motoblur on the CLIQ supported the following: MySpace, Facebook, Twitter, Photobucket, Picasa, last.fm and other services. It also featured a generic email client with Exchange support, so business folk could use it too.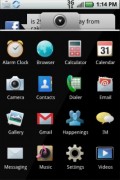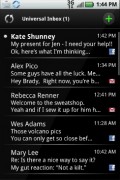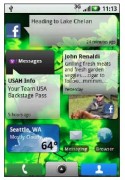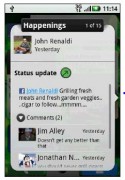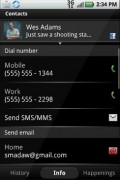 Motoblur's supported every messaging channel and social network you can think of
Even better, there was an API that would allow third-party apps to hook in and add their own messages and photos to the feed, so that the CLIQ can keep pace with the fast-changing world of Internet services and networks.
Three's INQ1 and Skypephone
By now you're probably thinking that all social networking phones were smartphones. That's not the case – the INQ1 is a curious (if ill-fated) example to the contrary). On the surface it was a classic slider featurephone that launched on British carrier Three in 2008 at just £80 on a pre-paid contract.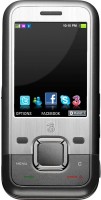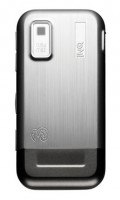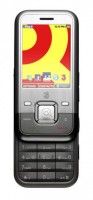 Three's INQ1 was a social networking feature phone
But there was a lot more to it. It could receive Facebook notifications and post status updates, even upload photos from the 3.2MP camera. Remember that at a time when mobile data wasn't all that cheap. Plus, it also supported Windows Live Messenger and Skype too (including free voice calls).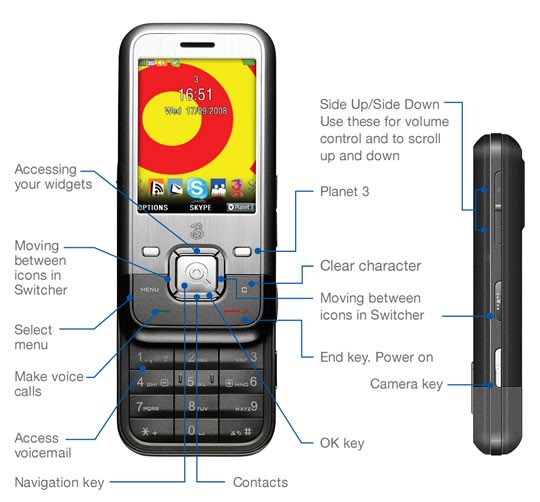 With all that, plus a 3G connection, the INQ1 was a surprisingly capable communication machine. Well, if you could live with the 2.2" 240 x 320px screen and standard keypad. At least you could tether your laptop to the phone using a USB cable and use that for browsing and messaging.
This wasn't the carrier's first Skype phone, by the way. It released the aptly-named Skypephone in 2007 in collaboration with Skype itself, then followed that with the Skypephone S2 the next year. These were available at just £40 for the original and £60 for the S2 on a pre-paid contract.
Besides Skype, these feature phones also support Facebook, Live Messenger, Yahoo Messenger, Google Chat and bebo. You may want to write off the Skypephones as gimmicks, but they actually had a really good use case.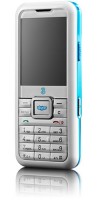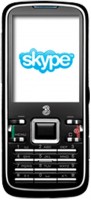 Three's Skypephone - a simple way to call abroad while avoiding hefty phone bills
International calls were expensive over traditional phone networks (over cell networks too), but Skype calls were free. And if you did need to call a landline (or receive calls from one), SkypeIn and SkypeOut support were added with a firmware update.
Next time...
In case you missed it, you should check out our first weird phones from unexpected brands post. In there we covered (among others) the Vodafone 555 Blue, a feature phone for Facebook that had a QWERTY keyboard similar to the ChaCha. In fact, the 555 was the inspiration behind today's post. You can also read about the Microsoft Kins, a pair of phones that were supposed to thrive on social networking... but somehow ended up being killed off twice.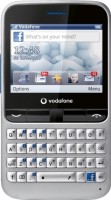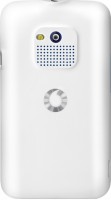 The Vodafone 555 Blue - a Facebook-connected feature phone with QWERTY keyboard
Anyway, we have another post about weird phones in the works, we just wanted out to get the car-branded and social networking phones out of the way first. We should be back to the regularly-scheduled programming next week. That is unless we get distracted with oddball fashion phones (one particular Prada phone may be of great interest).
Related
A Facebook phone. Can not see that going down too well these days. Imagine being directly connected to The Zucker direct. Some of your contacts might be upset.
It's like asking yourself why people buy samsung A series phones when the s20 ultra is so great. Totally different price ranges, bro. I did have a ChaCha and loved it at the time, not necessarily for the social media features.
Sony Ericsson also used a Facebook ish type of skin over for the Xperia X10. Timescape. Great idea but was poorly executed and killed the phones resources....
Popular articles
Popular devices
Electric Vehicles