Flashback: thanking Android Jelly Bean for the buttery interface and multimedia improvements
Peter, 11 July 2021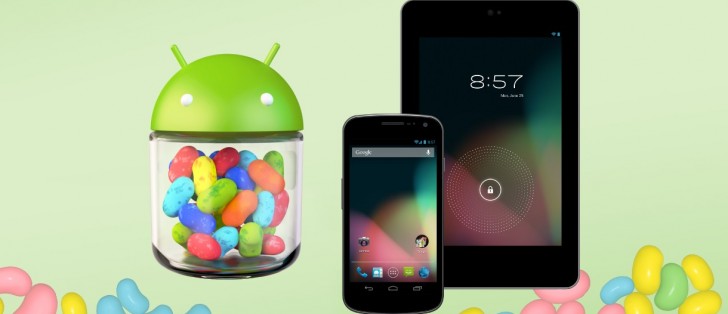 As Google prepares to retire Android Jelly Bean to the great farm in the cloud where it can play with the alphabetically smaller versions, we thought this would be a good time to have a look back at a life well lived.
Jelly Bean first arrived in 2012 with Android version 4.1, but the name would stick around for two more minor releases (4.2 and 4.3). Nine years is a long time for an operating system, especially in the mobile world. Even a desktop OS like Windows 10 will stick around for only 10 years (it was introduced in 2015 and Microsoft will end extended support in 2025).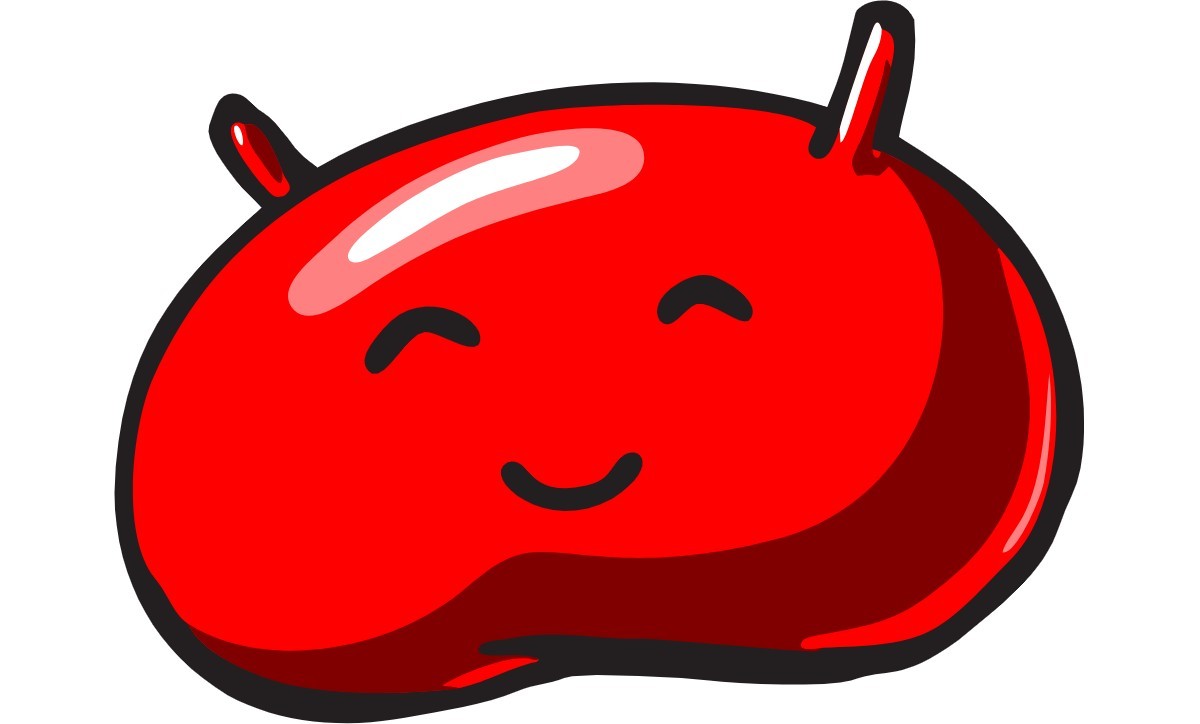 But before we talk about Jelly Bean, we have to set the stage. Android's early interface was promising if rather clunky, which led most makers to skin it – back then skins were noticeably better than stock UI. Android 2.3 Gingerbread (which we covered in a previous installment) was the last version before a major split.
Android 3.0 Honeycomb introduced Holo UI, but it was a version made exclusively for tablets. Months later version 4.0 Ice Cream Sandwich brought Holo to the smaller displays of phones. The ICS version of Holo was more minimalistic, whereas Honeycomb had a touch of futuristic flair.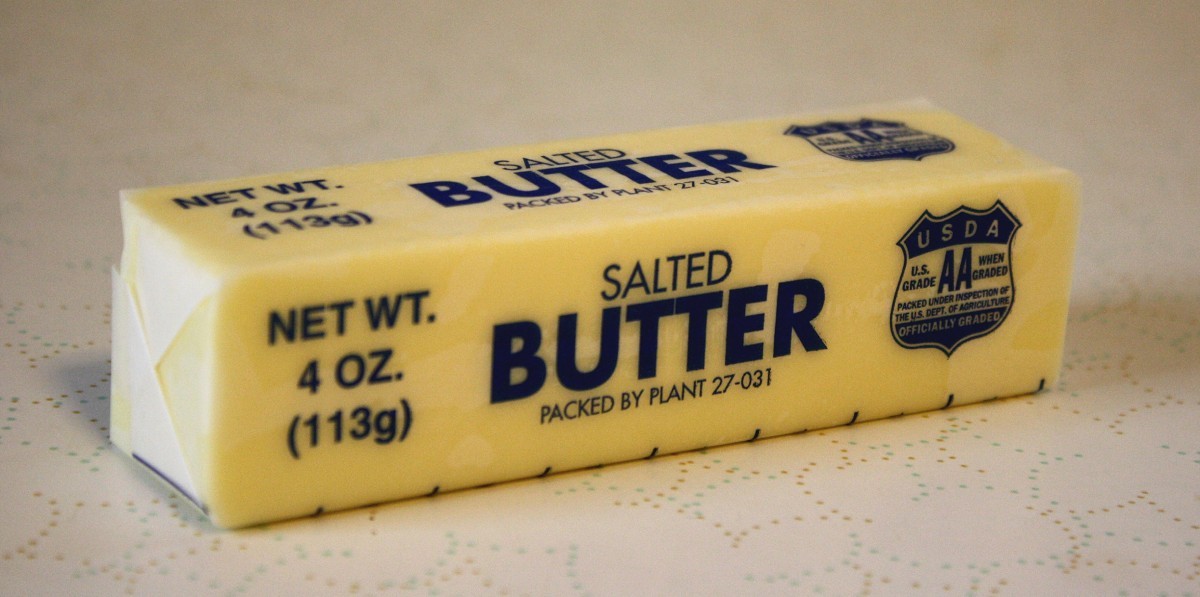 Now that the look of the interface was settled, it was time to make it run smooth – smooth as butter. This work was done under Project Butter, of course. What it did was introduce triple buffering for the UI and applied vsync timing to all drawing and animation. This made everything run in lockstep with the screen refresh cycle, a standard 60 Hertz at the time. To help the hardware along, JB made the CPU go into its highest performance mode the moment you touched the display, so that it would update the screen as fast as possible.
Another major improvement was expandable notifications. This allowed notifications to hold more content than before, obviously, but it added a new feature too – they could show up to three buttons, giving the user instant access to key actions. For example, a missed call notification would give you the option to call or message the person who called you.
Jelly Bean also touched up the homescreen. It enabled live wallpapers to be previewed before applying them and it introduced resizable widgets.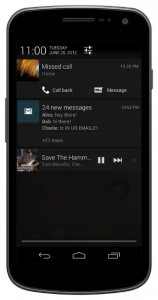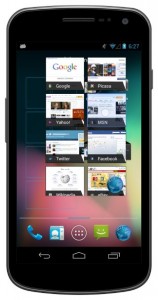 Expandable notifications with actions • Resizable widgets that would rearrange automatically
Android Beam was introduced with 4.0 Ice Cream Sandwich, but this initial version only used NFC to send links – to websites and even apps (with the link pointing to the Play Store). Jelly Bean added Bluetooth to the equation, allowing you to share photos, videos and other files as well.
Beam was discontinued with Android 10 and there is a battle for its throne. Google sees its Fast Share as the replacement, but it still isn't quite ready. For example, you can't use it to share a file with a Windows or ChromeOS computer. Recently, a group of smartphone makers have banded together in the alternative Mutual Transfer Alliance, to unify the in-house solutions they developed separately.

Smart App Updates allowed the Play Store to deliver delta updates, that is to transfer only the bits that changed between versions, instead of repeating data the phone already has. On average (by Google's calculations) this shrunk updates to 1/3rd of a full download. Later this year Google will make a major shift in how this works by requiring App Bundles to be uploaded to the Play Store instead of APKs. These can shrink even the initial download of an app by skipping the parts not needed on a particular device.
Another change was to encrypt the assets of paid apps using device-specific keys. This made it harder to, say, copy a game from one device to another.
Jelly Bean also significantly improved audio support on Android, which was lagging behind iOS. It added support for multichannel audio through HDMI ports, also the AAC codec became supported by default (including AAC 5.1 audio). Gap-less playback made phones much better music players and the Media Router button gave a standardized way to direct the audio to the headphones or to Bluetooth receivers. This version also included support for USB Audio, which allowed external DACs to be plugged in.
All this and more came with Android 4.1 Jelly Bean. It was followed by version 4.2 a few months later. It improved on Project Butter with a faster hardware-accelerated 2D renderer, which leveraged the GPU.
4.2 also introduced lockscreen widgets, which were popular for a while, but have fallen out of favor since. Daydream, an interactive screensaver mode was also introduced and alter dropped (the name was repurposed for Google's now-defunct VR platform).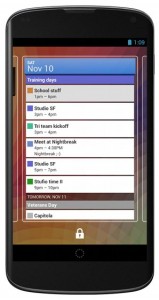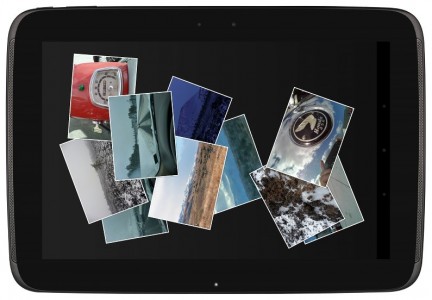 Lockscreen widgets • Project Daydream (screensaver)
Some features did stick around – 4.2 brought proper external display support. Previous versions could only mirror the display, the second iteration of JB allowed apps to handle each display separately. This is the basis of desktop modes we see today. Wireless displays were also supported, using the Miracast standard. Sound was further improved with support for low-latency audio.

External display support with presentation mode
The whole Bluetooth stack was swapped out, dropping BlueZ in favor of an open-source project co-developed by Google and Broadcom. This version introduced many more improvements to connectivity and security.

Brand new Bluetooth stack
4.2 improved the camera with HDR support, an early step into computational photography, which would go on to become the most important feature of modern smartphone cameras (more important than even the sensor and lens).
The last version of Jelly Bean, Android 4.3 arrived in 2013. It added support for Bluetooth Low Energy and the Audio/Video Remote Control Profile 1.3. Also, the graphics stack was improved with OpenGL ES 3.0 support.
Perhaps most important of all was the addition of emoji support. They were pretty plain black-and-white emojis (color was added with v4.4), but you can now switch the keyboard to emoji mode and avoid pesky letters and words in your messages. You can see the Jelly Bean emojis here.

There were other changes too. For example, v4.3 included a VP8 encoder as Google was trying to move away from patent-encumbered formats. Also, all three incarnations of Jelly Bean added incremental improvements to Right-To-Left (RTL) languages.

Improved RTL support for the interface and text input
Google stopped publishing Android version distribution numbers some time ago, but by 2019 all three versions of Jelly Bean had fallen to around 3% market share. The company said that they now account for less than 1%, which is why it decided to stop updating Play Services for those older versions.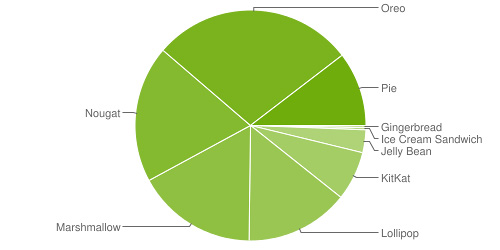 Android version distribution in mid-2019
Here is a bit of trivia - Jelly Bean was the last Android version to reach 50% market share. Despite Google's hard work at simplifying the update process for makers, no Android version since JB has managed to achieve a majority share.
Anyway, devices running Jelly Bean can continue working and even downloading apps from the Play Store, though they won't see many (if any) updates for those apps.
Do you still have a functioning Jelly Bean device? Drop a line in the comments to tell us what it is and what you use it for – and maybe consider retiring it or at least flashing a more recent version of Android.
Related
SkullSamCandy
23 Jan 2022
f3e
I have a Galaxy Ch@t running 4.1.2 JB, originally came with 4.0.4 ICS,I also have a retired Galaxy Trend Plus running 4.2.2
my first android phone had ICS and upgraded to JB before it died.. not sure what happened to it it just wont turn on.. its still with me.. i wonder if i change its batteries would it turn on? or do i need to check its board for short circuit or somet...
JustSomeRandomGuy
14 Jul 2021
EwD
Ah, yes, Android 4.1 Jellybean. My first phone actually ran w/ICS out of the box. when I heard it was going to be updated to 4.1, my excitement went off the roof. I recall I was so excitement mostly because of Project Butter and Google Now. I was alw...
Popular articles
Popular devices
Electric Vehicles