Huawei surpasses Apple in Q2 to become second smartphone manufacturer
Enrique, 31 July 2018
Today, The International Data Corporation (IDC) releases preliminary data that shows smartphone OEMs have shipped a total of 342 million units during Q2 of this year. This calculates to a 1.8% decrease from Q2 of 2017, where OEMs shipped a higher total of 348.2 million handsets.
During the same quarter, Huawei has surpassed Apple in the number of overall shipments. The Chinese OEM shipped 54.2 million units with a record high of 15.8% of global market share and a whopping (also record breaking for Huawei) 27% market share in China. This puts Huawei at the No. 2 spot globally while Apple sits at No. 3 with 41.3 million units at 12.1% global market share.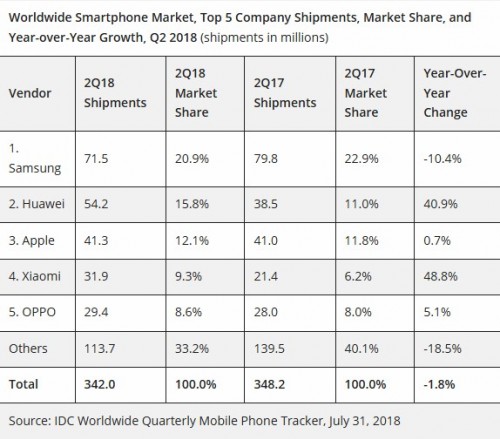 The continued growth of Huawei is impressive, to say the least, as is its ability to move into markets where, until recently, the brand was largely unknown," – Ryan Reith, Vice President of IDC's Worldwide Mobile Device Trackers
The IDC attributes this growth in the success of Huawei in new markets as well as the wide success of Huawei's secondary brand: Honor. Meanwhile, Huawei's P20 and P20 Pro "found strong demand in the $600-$800 price segment".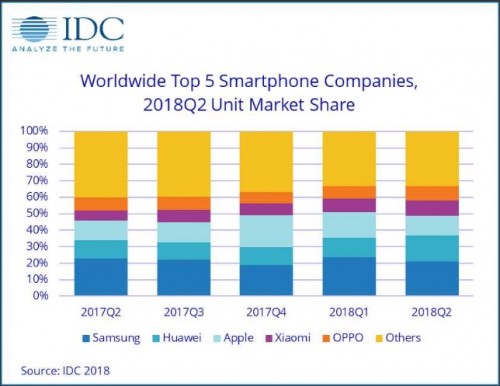 Samsung remains at No. 1, where it sold 71.5 million units and took 20.9% of the global market share, despite a 10.4% decrese in units shipped last year. The Galaxy S9 and S9+ saw slower sales compared to the S8 and S8+, likely due to the incremental update that didn't have S8 owners rushing to upgrade to the S9. Samsung's Note9 is going to be announced soon and is expecting it to boost sales, in addition to releasing its Note series well-ahead of Apple's new generation of iPhones, whose event date is yet to be announced.
Xiaomi and Oppo took the No. 4 and No. 5 spots, respectively. Xiaomi surpassed Samsung for the No.1 position in India this quarter while Oppo faced slowing down in India and Southeast Asia. Even so, Oppo grew 5.1% from last year's Q2 as it expanded into new markets in the Middle East and Africa.
Related
Chris_the_Apple_boy
09 Aug 2018
0TF
Who's been pioneering what? Samsung you say, right? Well we are yet to see a capable chipset by them to be as powerful and power efficient as A11 Bionic. This is just a small comparison, and if you want real deal I can tell you that the real innovati...
Anonymous
05 Aug 2018
XS5
dont you think that Apple only release phone every year unlike huawei that releasing a new phone almost every other month or sometimes monthly. huawei have too many variants of phone that sells which allow them to ship more products and possibly sell...
Dethrowing? Last time I check Samsung is comfortably sitting in first place for almost decade :) they are still way ahead in sales of any other company, but gap is closing, but again Samsung is all the time ahead in innovating so as being pioneers of...
Popular articles
Popular devices
Electric Vehicles