LeEco Le Max 2 review: L'etranger
L'etranger
GSMArena team, 08 June 2016.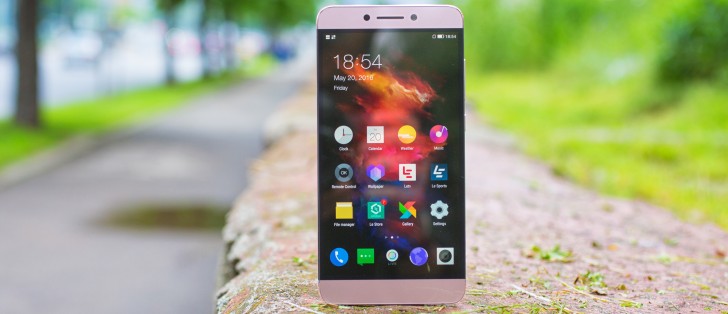 Contacts and telephony
The dialer and the phonebook share a single app although there are two shortcuts, bringing you straight to the tab you need. It uses a tabbed interface - recent with dialer on the first and the contact list on the second. And if you need the so-called Yellow Pages - it's the third one.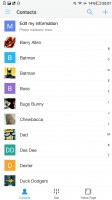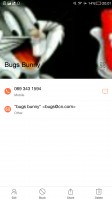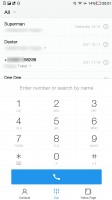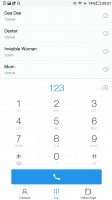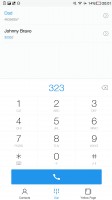 The Phonebook • A single contact • The call log • Dialing • Smart dial
The Le Max 2 supports voice call recording and it can do it automatically on each call if you like.
The LeEco Le Max 2 comes with a single speaker, which turned out to be quite loud. It scored a Very Good mark on our loudness test. The produced sound is quite pleasant with an above average depth.
| | | | | |
| --- | --- | --- | --- | --- |
| Speakerphone test | Voice, dB | Pink noise/ Music, dB | Ringing phone, dB | Overall score |
| Apple iPhone 6s Plus | 65.8 | 65.1 | 64.6 | Below Average |
| Xiaomi Mi Max | 67.1 | 66.2 | 68.1 | Average |
| Meizu Pro 5 | 67.7 | 66.6 | 68.7 | Average |
| Samsung Galaxy Note5 | 65.3 | 64.6 | 73.5 | Average |
| Motorola Moto X Force | 66.3 | 66.7 | 71.7 | Average |
| Meizu Pro 6 | 66.6 | 66.5 | 75.7 | Good |
| LeEco Le Max 2 | 74.9 | 69.3 | 77.2 | Very Good |
| Huawei Nexus 6P | 74.7 | 77.8 | 72.1 | Very Good |
| OnePlus 2 | 75.7 | 73.5 | 80.7 | Excellent |
The gallery
The LeEco Le Max 2 comes with a custom Gallery app. It defaults to your camera roll, but also supports Albums, and Cloud. You can't resize the thumbs with pinch gestures.
The integrated editor offers crop and rotate options, as well as various effects.
Music player
The Le Max 2 music player is a custom app with a well laid out, easy to navigate interface. It features four tabs - the first one (Me) is an overview with all of your local music - albums, songs, playlists, download manager, among others. The second one is iLive - a music video streaming service courtesy of LeEco music, then you have Music - similar to Google Music service provided by LeEco, and the final iPerformance tab offers streaming of different concerts.
The player has a very clean interface, which hides lots of goodies especially in the Now Playing section - the app was able to display lyrics for most of the songs we played.
There are no equalizers within the Music app, though you can turn Dolby Atmos on or off from the settings menu. The setting enriches the sound, though if you are an audiophile purist, you may find it distorts the audio output to an extent.
If you get one of LeEco's CDLA headphones with an integrated 24bit/96kHz DAC and a USB Type C plug, you may enjoy uncompressed audio tracks in their full beauty. CDLA stands for Continual Digital Lossless Audio and it just means that it's not the phone that does the digital to analog conversion but the headset itself. Unfortunately, we didn't have any of the headphones available for testing.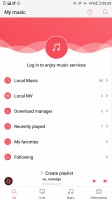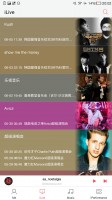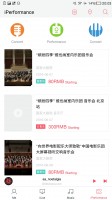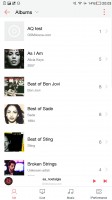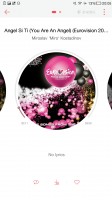 Music Player • iLive • iPerformance • Local Music • Now Playing
Video player
The video player interface is very basic but there is rich video codec support. It managed to play everything we threw at it (including MKV and WMV files). The AC3 audio codec is surprisingly, supported too.
Subtitles (Latin-based and Chinese) and pop-up play are supported by the eUI's video player, too. You can opt for Dolby Atmos sound, there is a Video enhancement for increased contrast and more saturated colors but it requires more power from the battery.
Solid audio output
We were a little worried how dropping the dedicated audio jack will affect the quality of the output but the Le Max 2 showed that there's nothing to worry about. Beside the inconvenience of having to carry an adapter around, the phablet really nailed this part of our test.
It delivered excellent output when used with an active external amplifier, getting top marks for clarity and garnishing them with nicely high volume levels.
Degradation caused by headphones is minimal too with a moderate hike in stereo crosstalk being the only notable change. Volume remained high for a pretty great overall showing.
And now here go the results so you can do your comparison.
Test
Frequency response
Noise level
Dynamic range
THD
IMD + Noise
Stereo crosstalk
LeEco Le Max 2
+0.01, -0.03
-92.1
92.4
0.0034
0.075
-85.5
LeEco Le Max 2 (headphones)
+0.07, -0.19
-87.7
91.3
0.017
0.191
-65.3
Meizu Pro 6
+0.07, -0.09
-93.5
93.4
0.0012
0.066
-92.3
Meizu Pro 6 (headphones)
+0.07, -0.08
-93.4
93.3
0.0010
0.021
-60.7
Meizu m3 note
+0.13, -0.00
-91.9
91.9
0.0021
0.0082
-91.3
Meizu m3 note (headphones)
+0.02, -0.20
-90.7
91.2
0.0028
0.050
-53.4
Oppo F1 Plus
+0.05, -0.04
-93.3
93.5
0.0015
0.0071
-94.1
Oppo F1 Plus (headphones)
+0.51, -0.16
-89.2
88.4
0.015
0.378
-56.8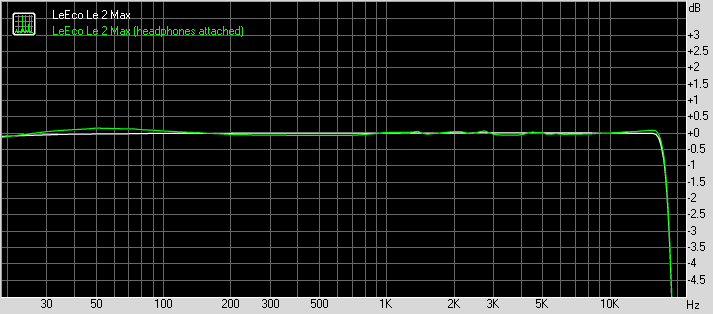 LeEco Le Max 2 frequency response
You can learn more about the tested parameters and the whole testing process here.
This device is lit AF. When you buy, it doesn't have voLTE. Type c headphone will not work after some days. VoLTE be enabled after eui update 5.9. Then you cant use BHIM upi or google pay just because you have lost the device verification from Googl...