New Samsung patent shows off dual foldable display design
Victor, 14 November 2018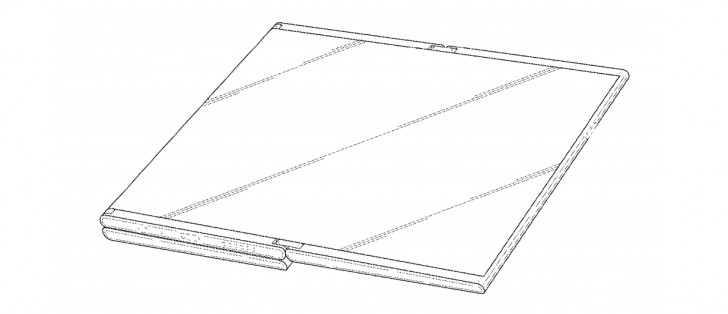 It seems like we have been talking about foldable displays forever now. That's no coincidence either, since looking back at the news section, we can trace the earliest mentions of the futuristic tech to 2014 - a millennium ago in tech terms. Well, flexible displays are finally here and going to start appearing on consumer devices in 2019.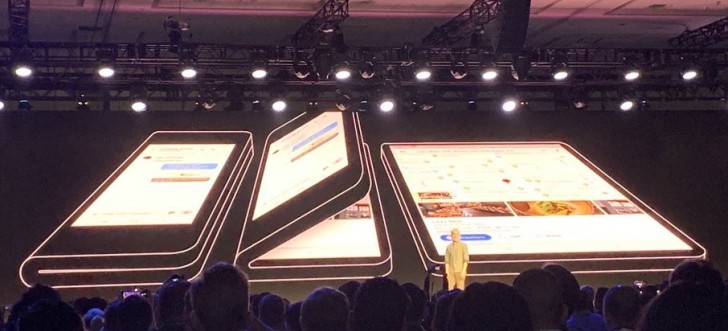 How do we know for sure this time around? Well, Samsung already teased a working prototype at its annual developer conference (SDC 2018). Other manufacturers have stated official plans for delivering flexible phones too. Plus, Google is already working to adapt its UI to the new form factors. So, It's happening!
Naturally, foldable panels open up enormous new design possibilities, beyond resurrecting some tried and true concepts of old, like the clamshell. Samsung has been keeping busy for quite some time patenting various designs. One such very intriguing concept, requested all the way back in June 2016, was published today to the US patent office (USPTO) database.

At first glance it looks almost ridiculous. As if someone took three handsets and simply taped them together. Analysing the sketches closer, however, actually reveals quite a bit of potential in the design.
Judging by the placement of the camera module and the Type-C port, it appears that the design is meant for a handset. But since foldable displays will definitely blur the lines between categories even further, we'll put it this way - in its default state this device appears to have an equally big display on both sides, with a bigger central portion, probably holding in the chipset, main electronics and likely a big chink of the battery.
This means an orientation agnostic device that you should be able to hold in one hand. If Samsung combines this with some hidden earpiece design and potentially even some other advancements, like an Infinity-O panel, as described in its recent display design plans, it could make for a perfectly usable device, with one or even two cameras in this collapsed state.
The main camera module, however, appears to only be accessible after at least one unfold. This puts the triple piece device in a rather odd phase, but does effectively double the screen real estate on one side, while still leaving a whole functional display on the back.
The rear panel could easily be used for taking selfies with the main camera. Speaking of which, having the main camera module on a whole separate panel could, potentially free some space and clear positioning constraints, which could allow bigger and better sensors to fit in.
In its "final", fully unfolded form the device looks like it could easily put most modern tablets to shame in terms of screen real estate. Of course, it is difficult to judge size or aspect from these sketches, but given recent trends, we can only assume that most manufacturers won't go back from the trendy extra-tall displays and the extra vertical scroll space they provide.
Of course, having said all this, it's time to step back into reality and re-iterate that Samsung and other major manufacturers regularly patent a large number of designs, without any guarantee that they will actually produce them. If you are looking for some more tangible and short-term developments in the foldable display field, Samsung has already leaked some bits and pieces about the future of the Infinity Flex Display.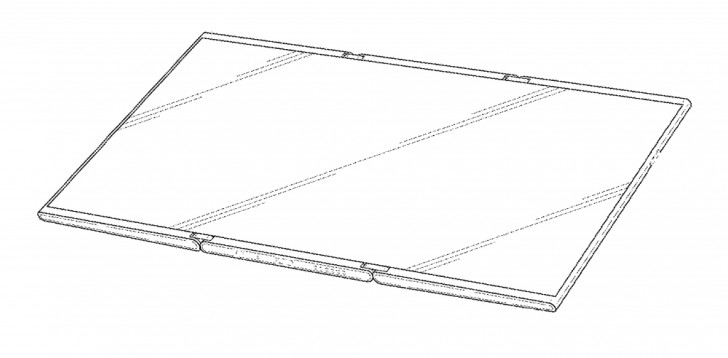 As per current rumors, the technology is expected to debut on a device in February or March 2019. February should see the unveiling of a trio of new Galaxy S10 flagships. The first foldable display model won't be one of these three, but might join them on stage. On the flip side, some industry insiders believe that there will be another demo at the MWC in February before the final reveal in March.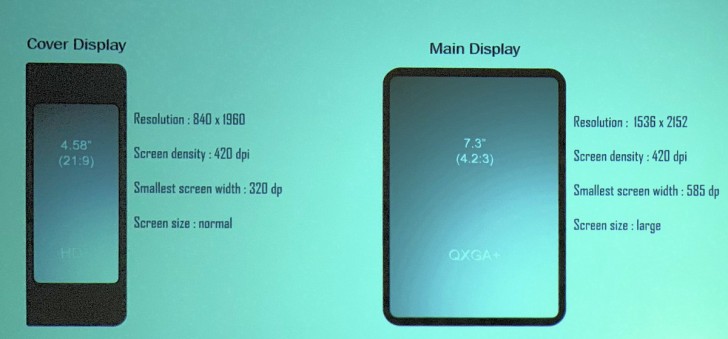 The foldable phone is built like a clamshell with a 4.58" external display and a tablet-sized 7.3" display on the inside. It is expected to cost $1,770 (KRW 2 million in its homeland) and will likely feature 5G support. That's currently about as much as we know.
Related
You people are missing the point. Yes, patenting this doesn't guarantee it will ever come out, but that would be true if wasn't the natural direction this technology is following. Like any foldable phone is nothing but a prototype helping the develop...
It makes sense to wait for future bigger releases. There will be a lot of bugs and I want a bigger screen folded and unfolded
This isn't a news unless announce the actual phone, if not you can make many patent but with nothing real stuff coming.
Popular articles
Popular devices
Electric Vehicles