Realme Watch S Pro Review
Sagar, 22 March 2021
Realme launched its first wearable dubbed Realme Band last March and followed it up with its first smartwatch called Realme Watch in May. The company then unveiled the Watch S in November and the Watch S Pro.
We already reviewed the Realme Watch S and concluded that the smartwatch's overall experience is a noticeable step up from the first-gen Watch. And as expected, the Pro variant comes with a few upgrades over the Watch S, including an AMOLED screen with higher resolution and pixel density, a bigger battery, and iOS support.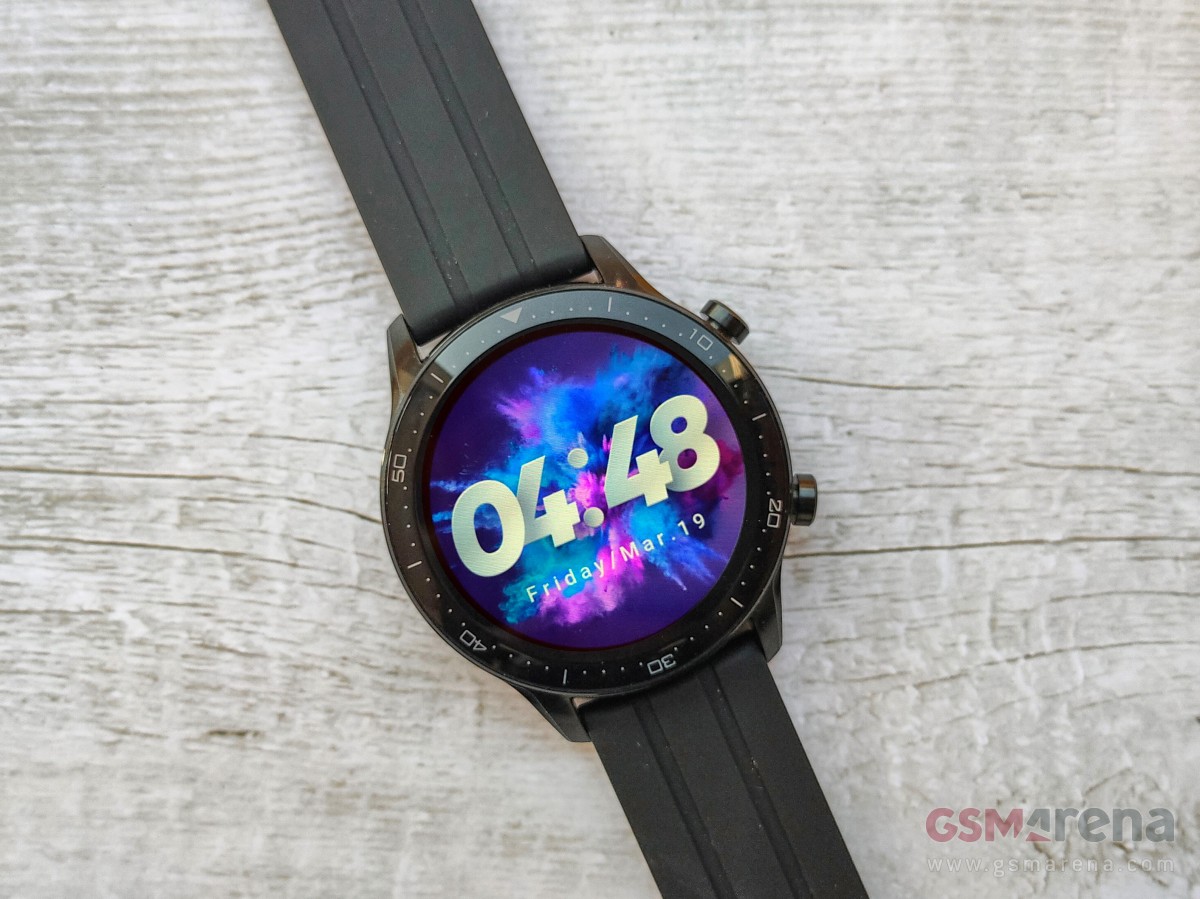 However, the Realme Watch S Pro costs twice as much as the Watch S for those upgrades, and I used it for over a month to find out if it's a worthy purchase.
Realme Watch S Pro specifications
Display: 1.39", 454x454 pixel color screen, 326ppi pixel density, 2.5D Gorilla Glass
Straps: Detachable silicone straps, 22mm width, 152-223mm adjustable length
Features: Real-time heart rate monitor, Blood oxygen level monitor, IP68 rating, Sleep Tracking, Sports Tracking, Step Counter, Meditation, Smart Notifications, Idle Alert, Drink Reminder, Phone Finder, Weather Forecast, Music and Camera Control
Sports Modes: Outdoor Run, Indoor Run, Outdoor Walk, Indoor Walk, Outdoor Cycling, Spinning, Hiking, Swimming, Basketball, Cricket, Yoga, Rowing, Elliptical, Strength Training and Free Workout
Sensors: PPG optical heart rate sensor, SpO2 sensor, 6-axis accelerometer, Rotor Vibration Motor, Geomagnetic sensor, Gyroscope sensor, Wear detection sensors
Connectivity: Bluetooth 5.0, Compatible with Android 5.0+ and iOS 9.0+
Positiong: Dual-Satellite (GPS + GLONASS)
Battery: 420 mAh
Colors: Black
Dimensions: 257.6 x 46.0 x 11.1 mm (with wrist straps)
Weight: 63.5 grams (with straps)
Design
The Realme Watch S Pro looks similar to the Watch S, and Realme says its design is inspired by the divers' watches. The Watch S Pro's case is made of SUS316L stainless steel, and the smartwatch comes with a polished front and brushed sides, which gives it a premium look and feel and makes it sturdy. The watch even fell off my hands once from about 3.5 feet with the screen hitting the floor, and it didn't pick up a single scratch and is still working fine.
On the right side of the Watch S Pro are two physical buttons with nice feedback. You can use them both to wake the screen - the one at the top can be used to turn off the display and go back, while the second button lets you quickly access the sports modes and go directly to the homescreen. Neither of these are customizable at the time of writing this review, which is limiting. Hopefully, Realme will make them more useful by allowing customizations with a future update.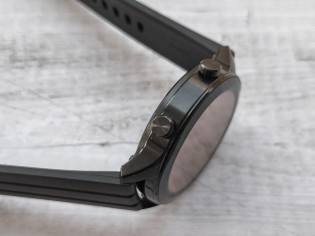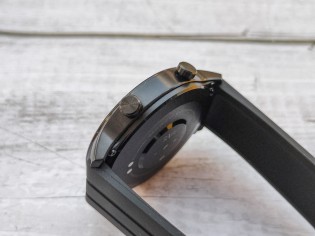 Physical buttons on the Realme Watch S Pro
Around the back, we get charging pins, PPG optical heart rate sensor, and an SpO2 sensor. The last two are housed inside an elevated plate, which ensures proper contact with the skin for accurate measurements and prevents the accumulation of grime over time. The Watch S Pro is also water-resistant up to 50 meters, meaning you don't have to take it off when going for a shower or a swim.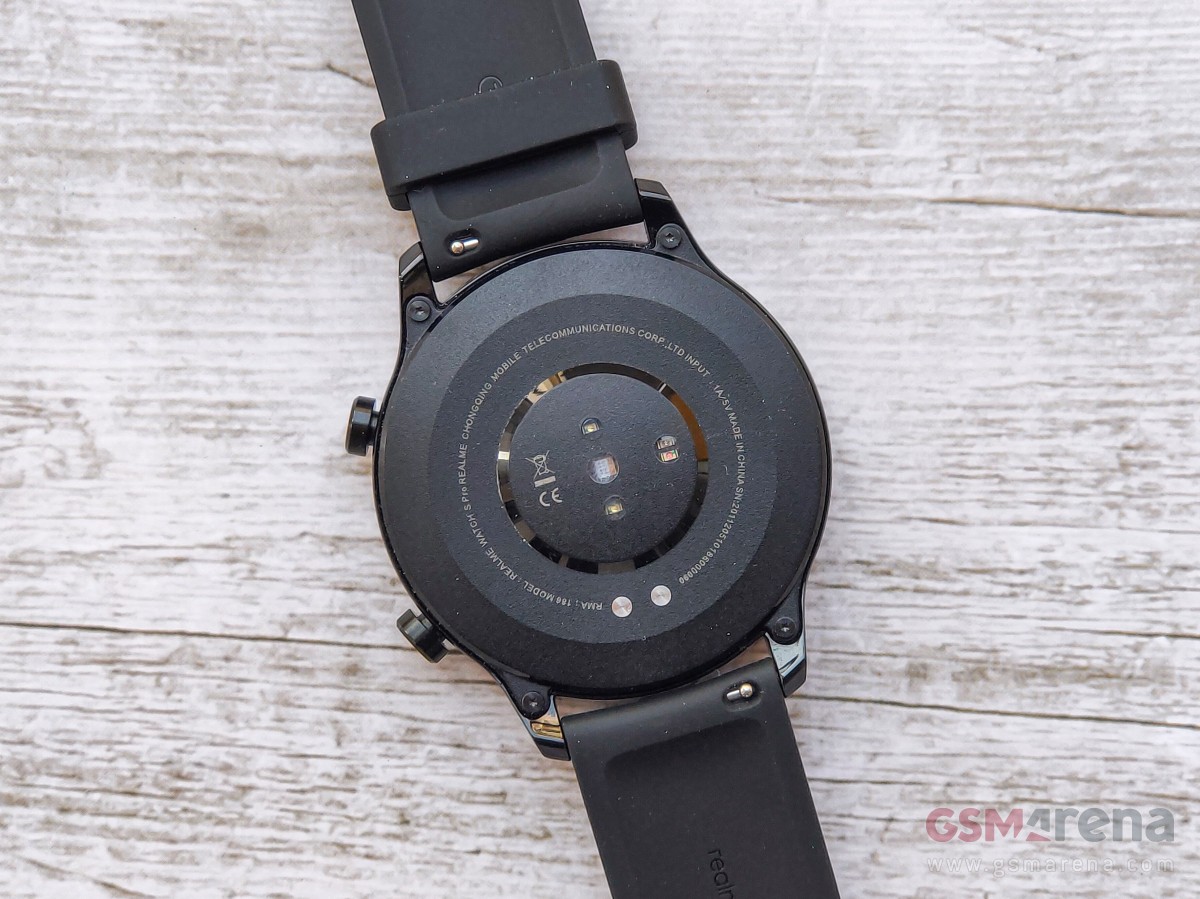 The Realme Watch S Pro weighs 63.5 grams with the straps and is very lightweight and comfortable to wear at night and during workouts. It comes bundled with detachable black-colored silicone straps, but there are stainless steel and vegan leather options as well that you can purchase separately.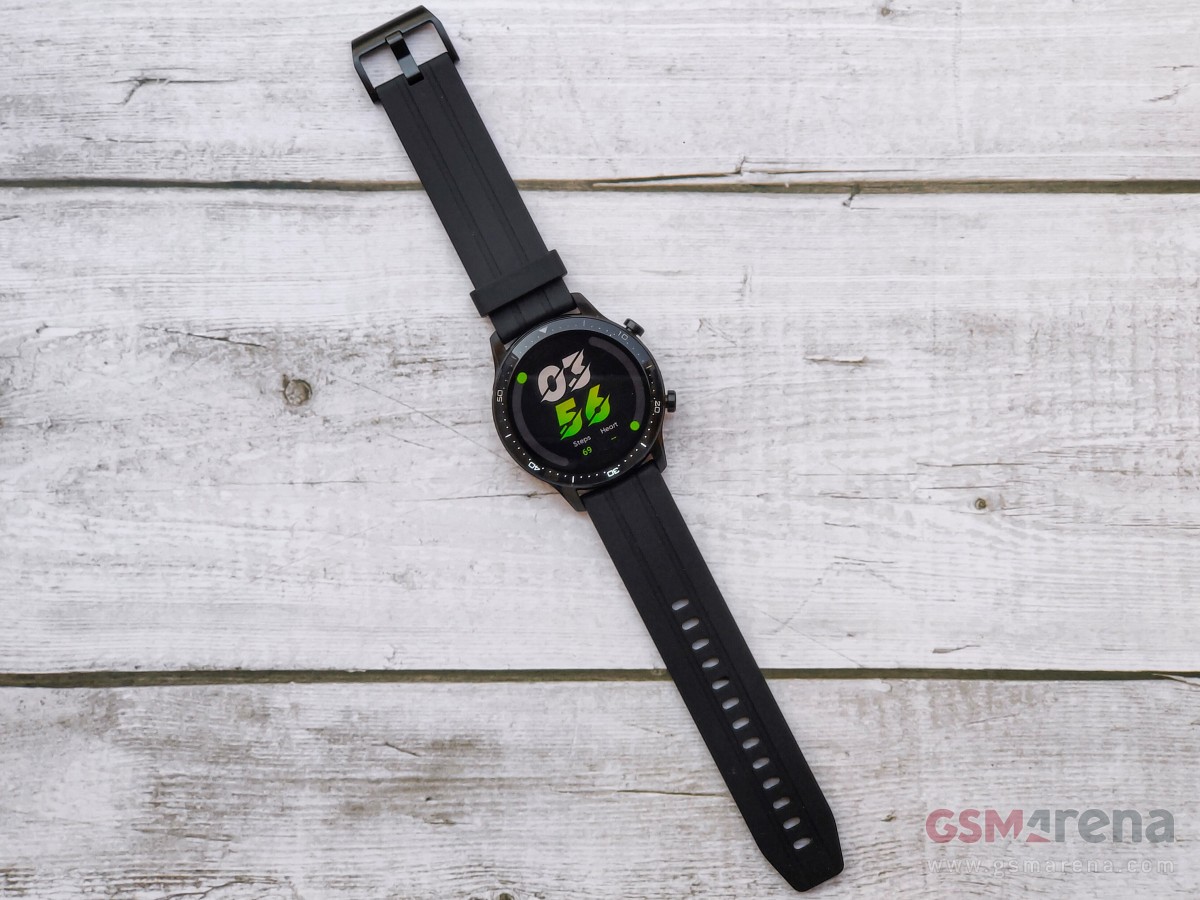 The silicone straps are sold in blue, green, and orange colors, while the vegan leather version replaces the orange color with brown. The stainless steel strap, on the other hand, only comes in black color.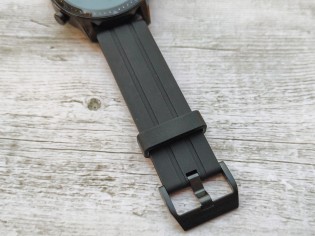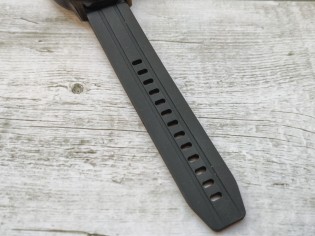 Realme Watch S Pro comes bundled with black-colored silicone straps
All these straps have a width of 22mm and an adjustable length of 152-223mm. Realme kindly shared all the silicone straps with us for review, and they are of good quality. You can use the silicone straps for a sporty look and go with the leather ones for a more formal occasion.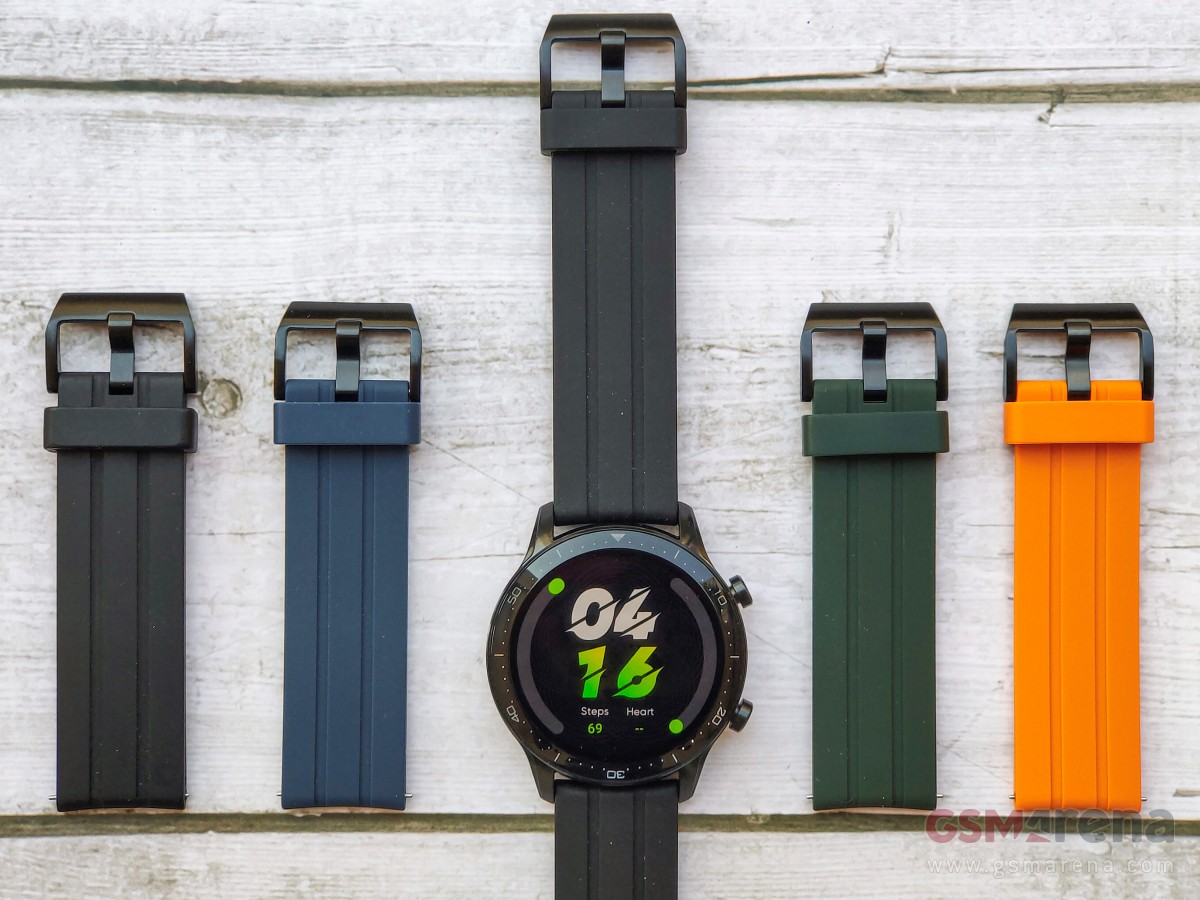 Display
The Realme Watch S Pro packs a 1.39" AMOLED touchscreen that has a 454x454-pixel resolution and the protection of 2.5D Gorilla Glass. It looks vibrant and has a nice touch response.
The Watch S Pro's screen comes with a peak brightness of 450 nits and 5-level adjustments. It is bright enough for outdoor usage, and I didn't face any issues watching the content under strong sunlight at maximum brightness.
The smartwatch also comes with an ambient light sensor for automatic brightness adjustment, which works well and adjusts the brightness quickly.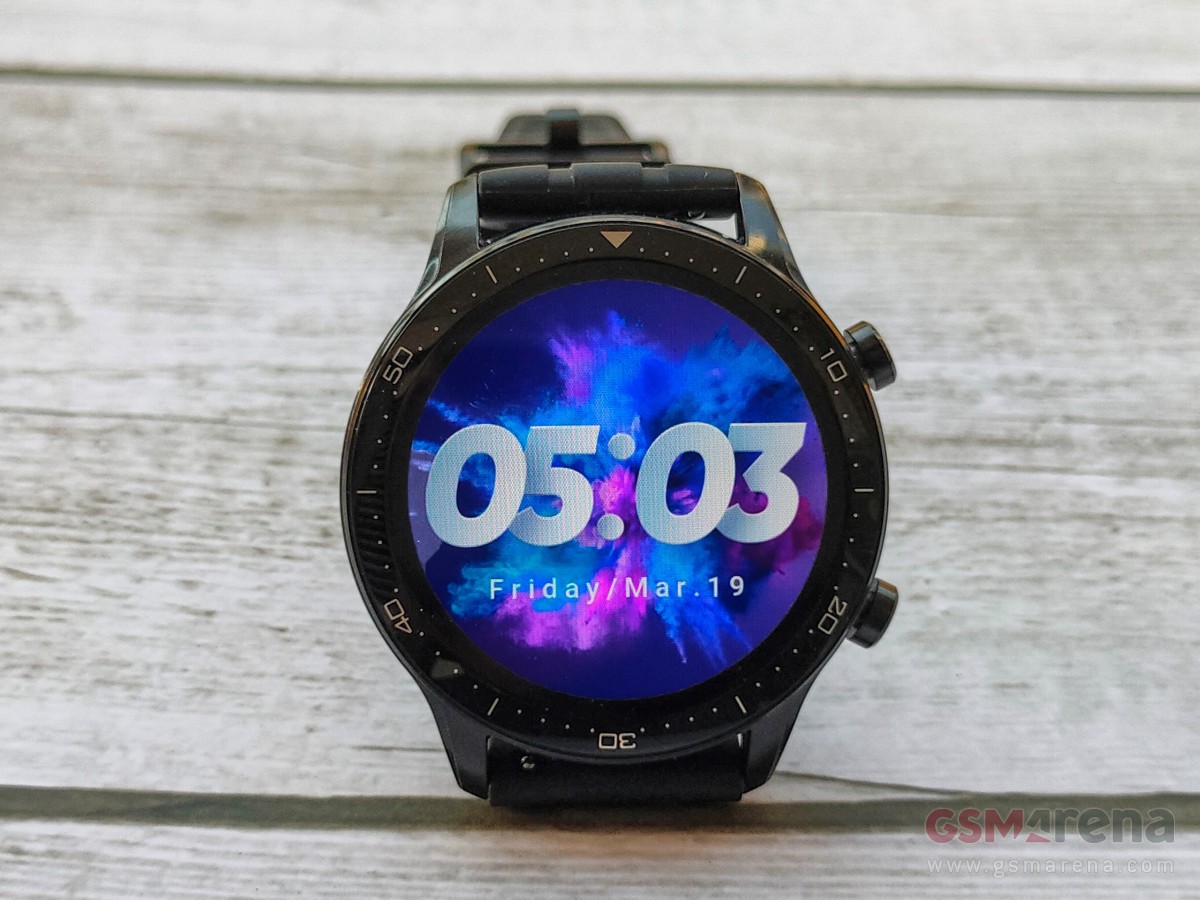 The Watch S Pro is Realme's first wearable with an AMOLED panel and features Always-On Display (AOD) which comes with analog and digital watchfaces, allowing you to use the smartwatch as a traditional watch by taking a quick glance at the time.
The analog watchface only shows the time, but its digital counterpart displays the date and day as well.
The Always-On Display feature can be enabled from the Settings > Always-on display menu on the Watch S Pro, and there's also an option that lets you turn it on and off automatically every day at a given time.
Always-On Display kept the screen on the entire time initially for the specified duration, but Realme rolled out the wear detection with a software update later, which turns off the screen when you aren't wearing the Watch S Pro, resulting in power savings.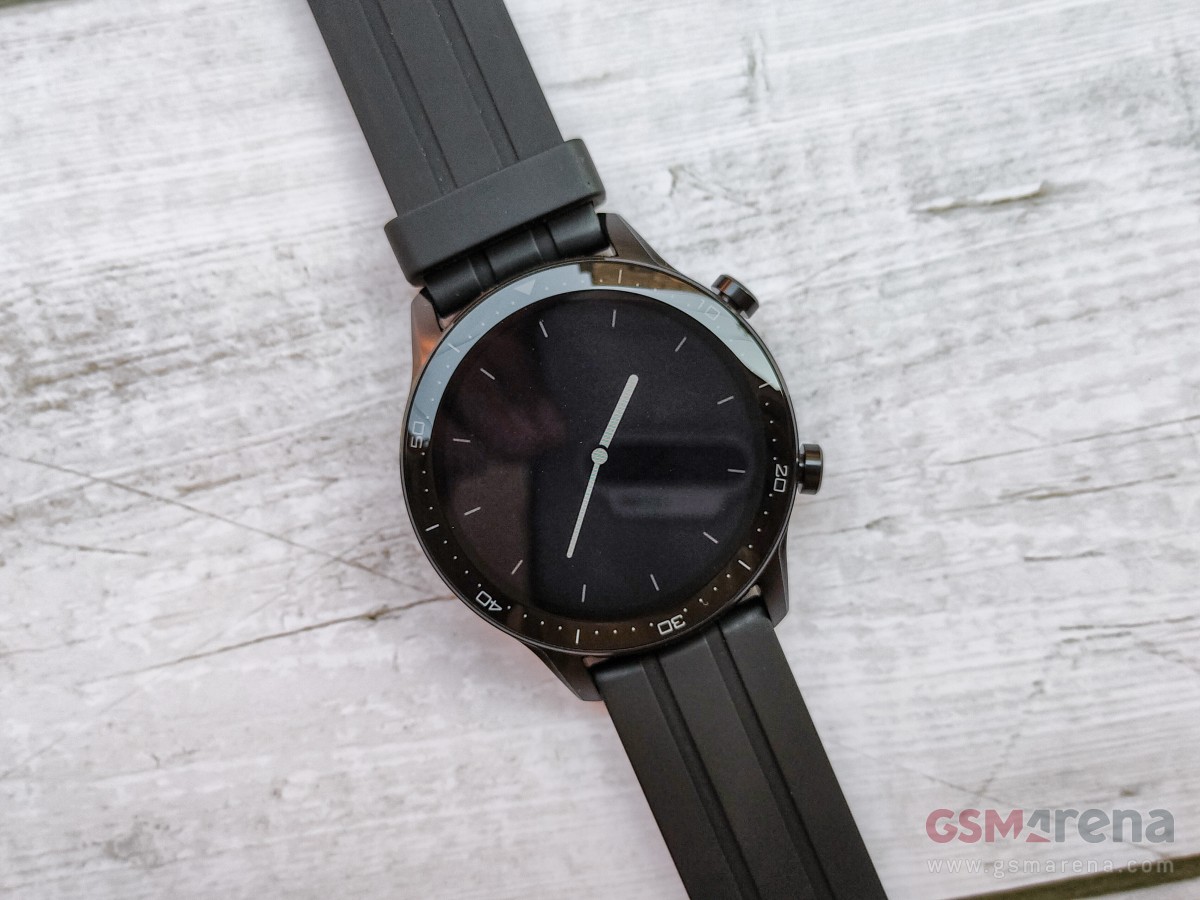 I'm personally not a fan of wear detection for AOD, though, since I had to wake the Watch S Pro's screen manually to check the time when it's lying on a table. And while I do understand that Realme wants to improve the smartwatch's battery life with wear detection, I believe the brand should have let the users decide what's best for them by including an option to choose between a truly always-on display and the power saving version.
The AOD feature also needs some fine-tuning since the AOD screen doesn't turn on automatically in the morning after sleep, and sometimes you have to press one of the physical buttons to use the smartwatch normally to get rid of the notifications that stick around on the screen.
That said, the Realme Watch S Pro supports 100+ watchfaces. It comes loaded with eight watchfaces, and you have another 99 available through the Realme Link app. And in case you don't happen to like any of them, you can create one yourself using the Realme Link app.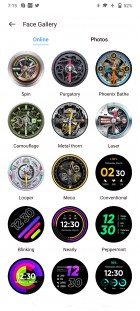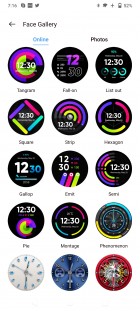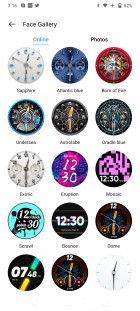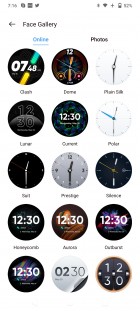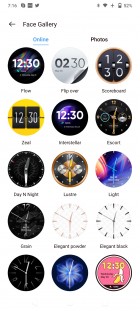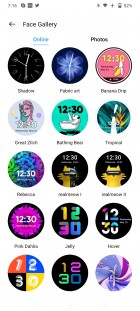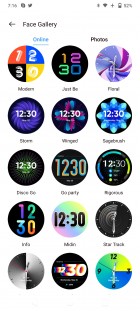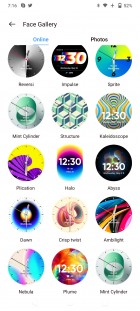 Realme Watch S Pro currently supports over 100 watchfaces
However, none of the watchfaces available for the Watch S Pro currently support customizations, meaning you can't choose what information you want to see on the screen. Realme told us they are working on this but didn't provide any timeframe for when the functionality will actually be available.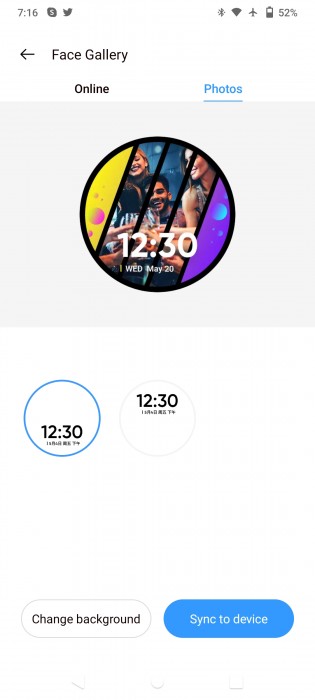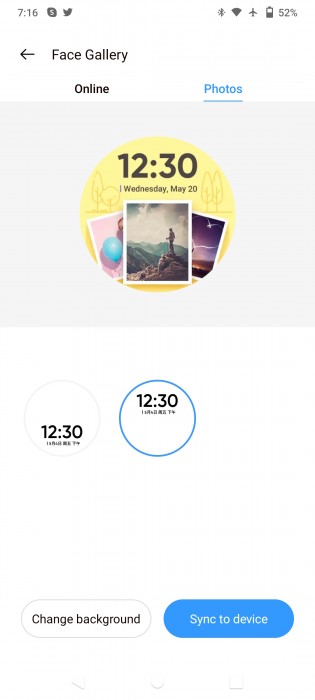 You can create a custom watchface for Watch S Pro using the Realme Link app
Like most other wearables, the Realme Watch S Pro also comes with the Lift Wrist To Wake Screen feature. It worked as advertised, but there's no way to enable/disable it automatically at a specific time like Always-On Display, which is quite a chore since you have to manually turn it on and off every day, especially before going to sleep because if you don't disable it, the screen will keep turning on and consume power unnecessarily. Not just that, the screen lighting up could also cause inconvenience to others in the room at night.
Software
Like other Realme AIoT products, the Watch S Pro also relies on the Realme Link app, which is used to set up the smartwatch, customize its settings, and sync data. The app was exclusive to Android devices for a long time, but it's finally available for iOS users, so you can now use the Watch S Pro with your iPad and iPhone as well.
The Realme Link app has a simple and clutter-free UI. I used the Android version during the review period and didn't face any issues. The pairing process for the Watch S Pro was fast enough, and you can check out the screenshots below for a better understanding of Watch S Pro's settings options in the Realme Link app.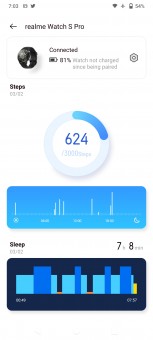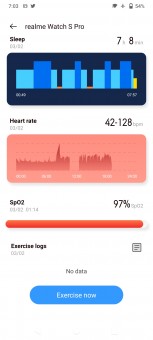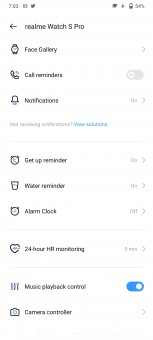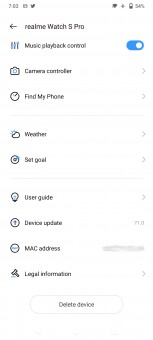 Realme Watch S Pro data and settings in Realme Link app
The Watch S Pro is powered by the ARM Cortex-M4 processor and runs an unnamed custom OS - those did a great job at offering a smooth experience.
The Watch S Pro's UI is pretty simple and straightforward and works similarly to the first-gen Watch and the Watch S. A swipe down on the homescreen gives you access to the notifications, while a swipe up displays 15 apps in a grid view.
A swipe on the right side presents quick shortcuts to Power Saver, Flashlight, Brightness Adjustment, DND, and Lift Wrist To Wake Screen, in addition to displaying the connection status, battery level, and date and day.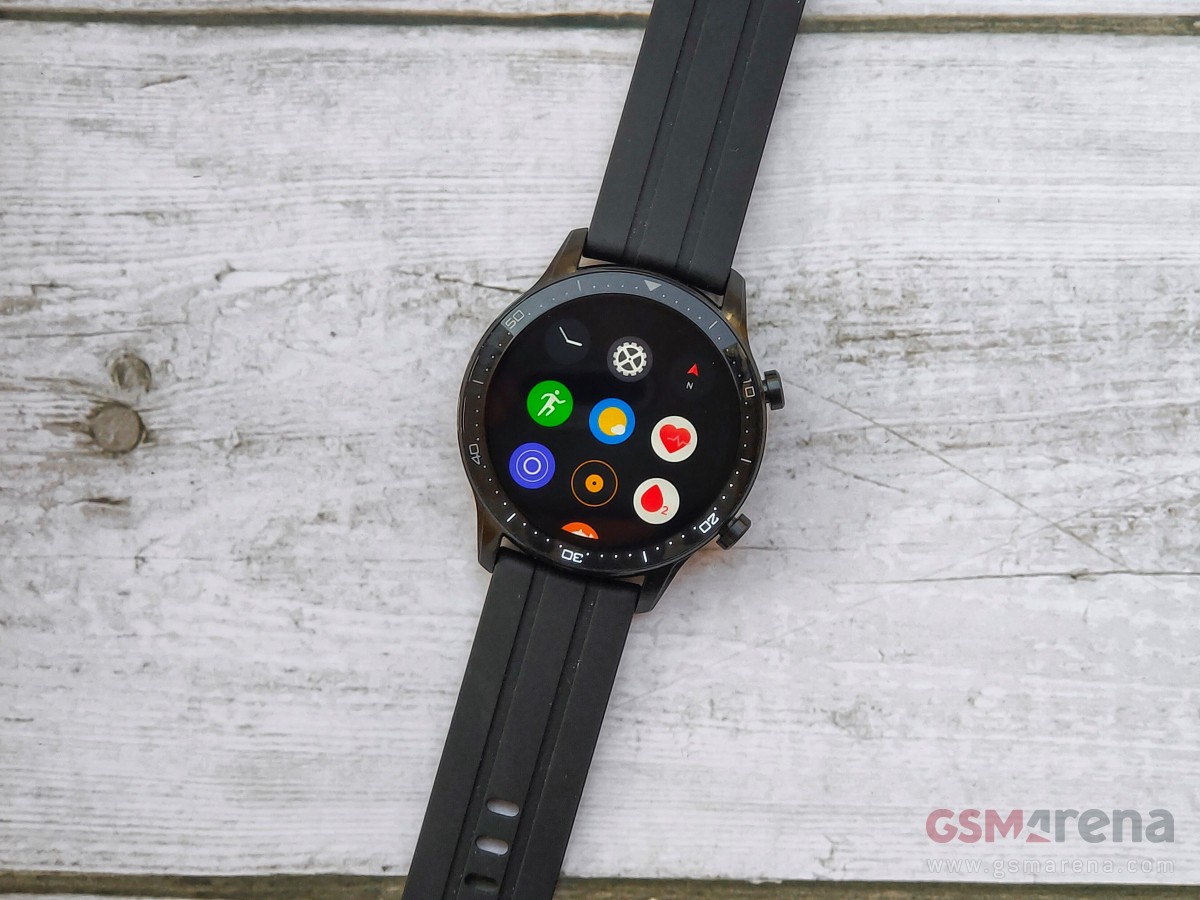 To get a quick glance at the weather forecast, your daily steps and burned calories, heart rate, last night's sleep duration, and control music, you can swipe left on the homescreen. But since Realme has used continuous scroll, you can swipe either left or right depending on what you want to access first.
It's worth mentioning that Realme currently doesn't let you customize the order in which the information appears on the screen or add/remove any items, which could have improved the user experience. Hopefully, the Chinese phone maker will make this possible with a future software update.
Features and Performance
The Realme Watch S Pro features heart rate monitoring, an SpO2 sensor for blood oxygen level measurement, and an automatic step counter. It also offers sleep tracking, sedentary reminder, drink reminder, meditation training, and 15 sports modes.
Aside from the health and fitness features, you also get the camera and music controls, compass, weather forecast, phone finder, stopwatch, countdown timer, and smart notifications with the Realme Watch S Pro.
Let's talk about heart rate monitoring on the Realme Watch S Pro first, which is done with a PPG optical sensor that can measure your pulse automatically at an interval of 5, 10, 20, and 30 minutes. But like most other wearables, it can also be measured manually whenever you want. In my testing, it took about 10 seconds on average to measure the heart rate manually.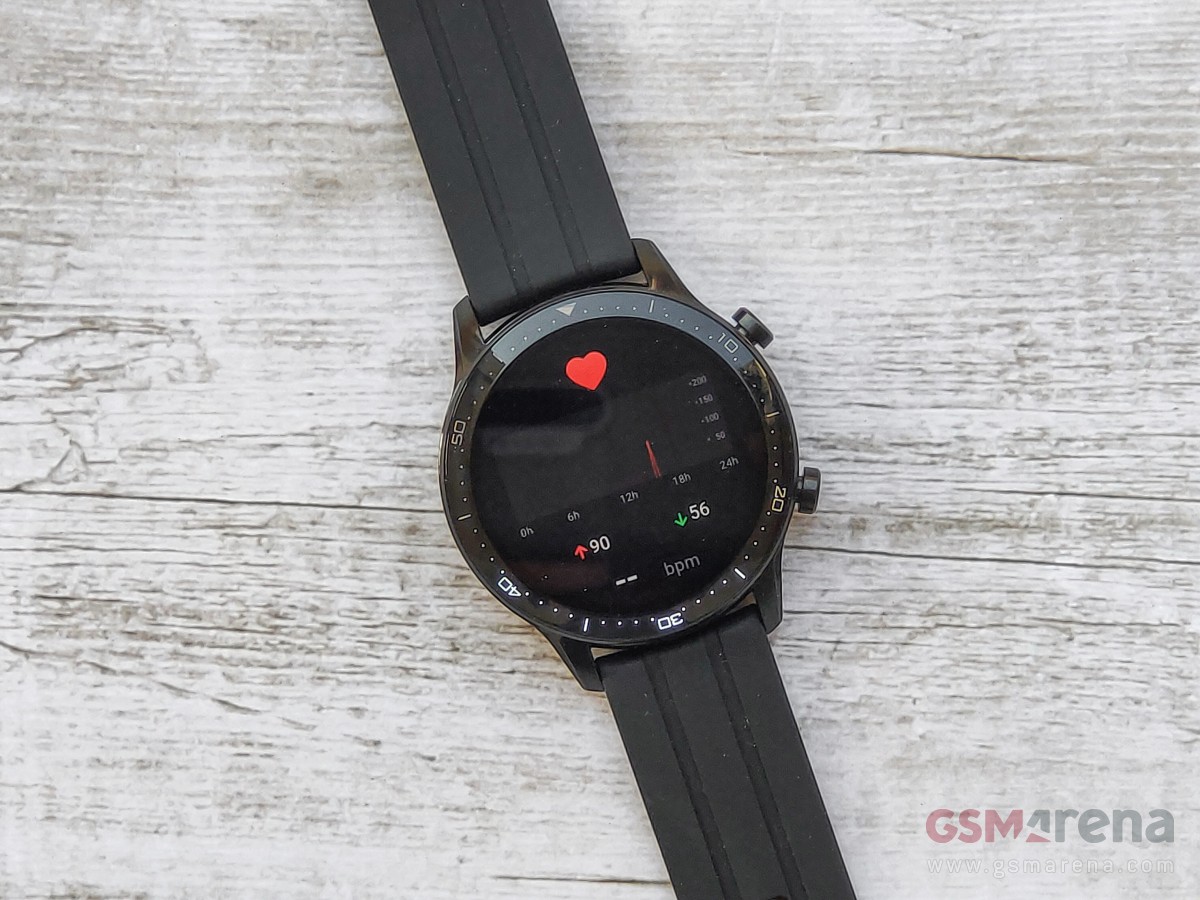 You can get a quick glance at your highest and lowest heart rate for the current day along with the most recent value in the form of a graphic on the Watch S Pro, but for a detailed analysis, you need the Realme Link app, where you can also check your weekly, monthly, and yearly average.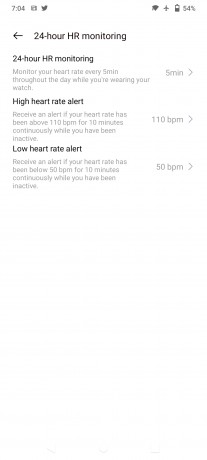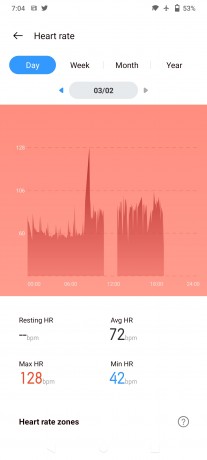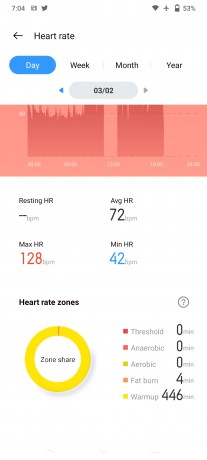 Heart rate monitoring on Realme Watch S Pro
Sleep tracking on the Realme Watch S Pro is pretty accurate, and like the heart rate data, you can find details about your sleep quality on the smartwatch. But again, you'll need the Realme Link app if you are interested in a detailed analysis.
The Watch S Pro breaks down the total sleep hours into Light Sleep, Deep Sleep, REM Sleep, and Awake. It can also record your afternoon sleep, provided its duration is at least 90 minutes.
While the Watch S Pro monitored sleep pretty accurately, there were a few times when it didn't track the sleep despite heart rate monitoring functioning properly. This happened on both units I received from Realme, and the watches only resumed sleep tracking after they were restarted.
Upon discussing the matter with Realme, I learned that both watches I received were pre-release units, and they hadn't received these complaints from other reviewers and users, so the issues are likely due to the non-final hardware.
Next up is the blood oxygen level measurement done using the SpO2 sensor placed alongside the heart rate sensor on the Watch S Pro's back. But unlike heart rate monitoring, the blood oxygen level isn't measured automatically. You need to navigate to the SpO2 app on the Watch S Pro to count it manually.
On average, it took about 25-30 seconds for the Watch S Pro to measure blood oxygen saturation, and Realme says the smartwatch's accuracy is comparable to medical devices, although it's still best to not use it as a basis for diagnosis and treatment.
That said, unlike the heart rate and sleep data, the blood oxygen information for the day isn't stored on the Watch S Pro, but you can get a detailed analysis of your blood saturation in the Realme Link app.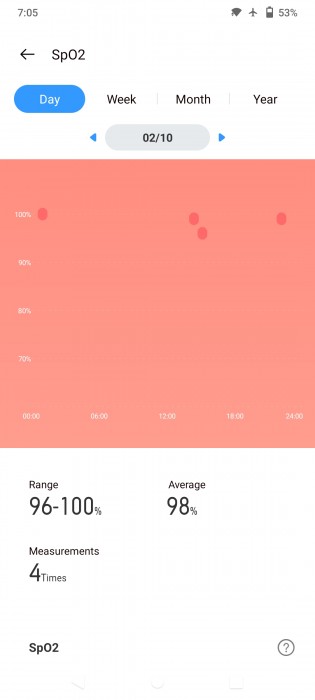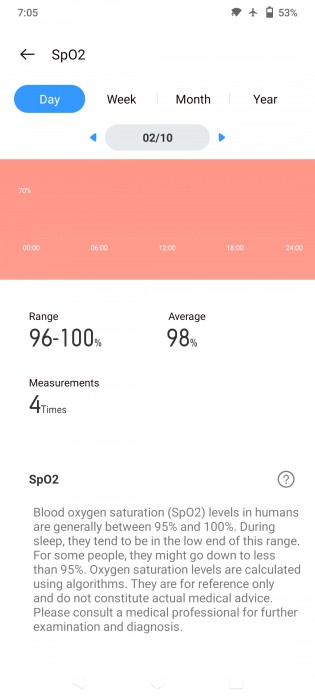 Blood oxygen level data in Realme Link app
Moving on to sports tracking, we get a total of 15 sports modes on the Watch S Pro, including Basketball, Yoga, Cricket, and Swimming. The last one can now record the sports data in real-time, including SWOLF, Kcal, Distance, and Average Pace.
Compared to some other smartwatches, the number of sports modes Watch S Pro supports is on the lower side, and it may not increase soon since Realme says instead of introducing more sports modes, it's working on providing more data for existing modes, like Cricket.
You can check out your workout history in the Realme Link app and on the Watch S Pro as well, but you can only access all the information on the smartwatch since Realme Link displays limited data, which is a bit inconvenient. I hope Realme will make all the workout information accessible to the users in the Realme Link app soon.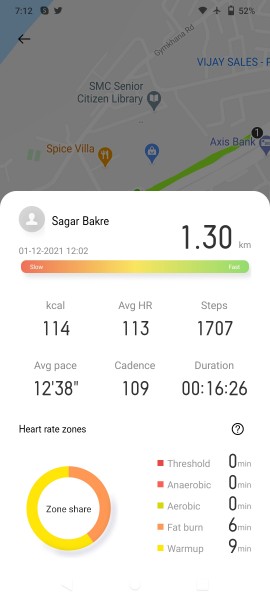 Workout data in Realme Link app
The Realme Watch S Pro comes with dual-satellite (GPS + GLONASS) location tracking for running, jogging, cycling, and walking. I tested it with the Outdoor Walk sports mode, and the Watch S Pro not only latched on to the GPS signal quickly, but also did a great job at accurately tracking the route without being connected to a smartphone and presenting it on the map in the Realme Link app.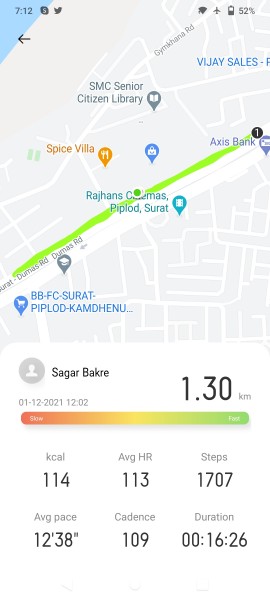 GPS route tracking on the Watch S Pro is accurate
The rest of the Watch S Pro's health and fitness features include an automatic step counter, sedentary reminder, drink reminder, and meditation training.
Like many other fitness wearables, the automatic step counter on the Realme Watch S Pro recorded extra steps, but you should still get a fair idea of your movement. You can check your daily steps on the Watch S Pro and head to the Realme Link app to see your weekly, monthly, and yearly performance.
The Music and Camera Control worked as advertised and are pretty responsive. The latter's actually one of the quickest I've seen yet.
The Realme Watch S Pro also supports Smart Notifications, which alert you of incoming calls and app notifications. The smartwatch shows up to 10 notifications at a time like Realme's previous wearables, but doesn't display the corresponding icons of all the apps. Besides, Realme uses the SMS app's icon as the default icon for notifications from some apps, creating confusion at times.
That said, you can't reply to the notifications from the Watch S Pro, and it's unclear when you'll be able to do so since Realme is still working on the Quick Replies feature.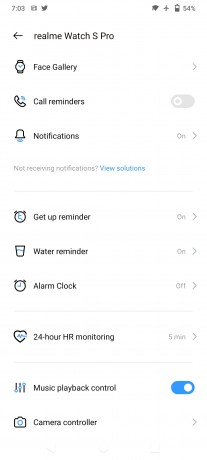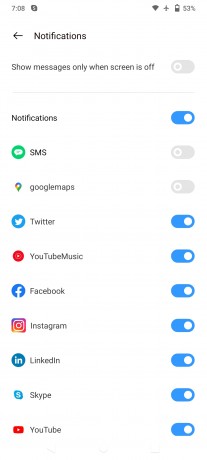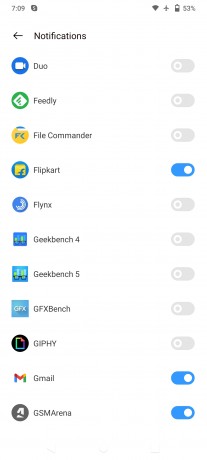 Incoming Call alert • App Notification alerts
It's also worth mentioning that the Watch S Pro doesn't feature stress monitoring, which is offered by the competition and even found on some more affordable wearables.
Battery
The Realme Watch S Pro packs a 420 mAh battery which is claimed to offer 14 days of autonomy on a single charge with the following settings and usage:
24-hour heart rate monitoring
Raise to Wake feature lighting up the screen 80 times a day
Synchronizing data with the Realme Link app five times a day
20 incoming call notifications per day
Receiving 100 message notifications daily
Two alarms every day
On average, the battery on the Watch S Pro lasted me eight days on a single charge with the following usage and settings:
Default watchface
Raise to Wake screen enabled
Display brightness set to auto
Always-On Display (analog) turned on for about 7 hours
Vibration strength set to strong
Automatic heart rate measurement interval set to five minutes
Sleep tracking enabled
Measuring blood oxygen level with SpO2 sensor about 3 times daily
Receiving over 100 app notifications every day which light up the screen and vibrate the smartwatch, consuming additional power
Around 20 minutes of indoor walking daily
It's worth mentioning that I got this battery endurance on the Watch S Pro after Realme rolled out the wear detection for the Always-On Display function, which turns off the screen when you aren't wearing the smartwatch. Before that, I had the Always-On Display turned on for 17 hours, and with the usage and settings mentioned above, the Watch S Pro lasted me about 3-4 days on average.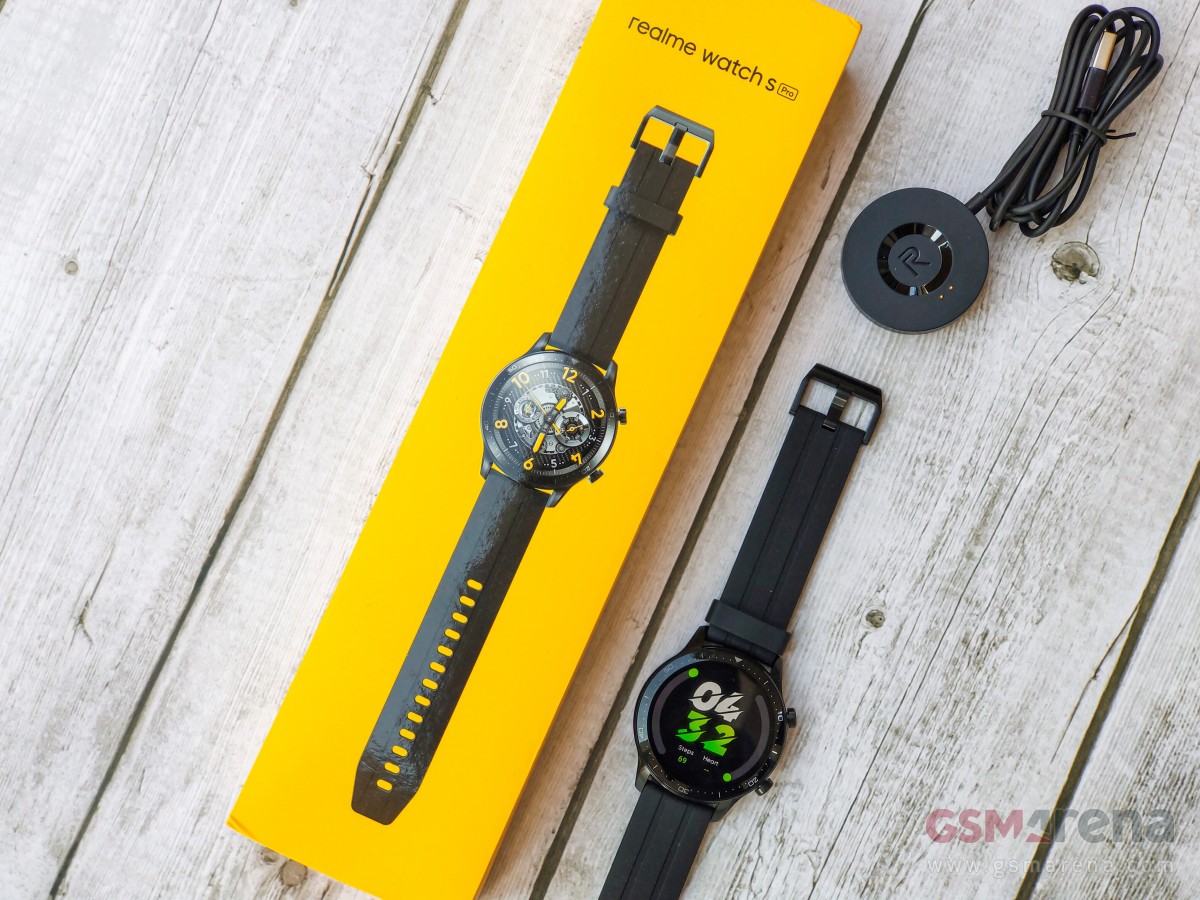 Once the Watch S Pro's battery is fully drained, you can charge it with the bundled dock, which has a rubber grip at the bottom to prevent it from slipping off. Realme says the charger can juice up the Watch S Pro in two hours, but in my testing, it went from flat to 100% in 1 hour and 30 minutes on average, which is faster than the Realme Watch and the Watch S.
Verdict
Realme has come a long way from its first-gen smartwatch with the Watch S Pro. It has a premium design, sturdy build, and packs a vibrant screen that's legible outdoors even under strong sunlight.
The Watch S Pro's UI is also pretty simple and straightforward, and its custom OS paired with the ARM Cortex-M4 processor does a great job at offering a smooth experience.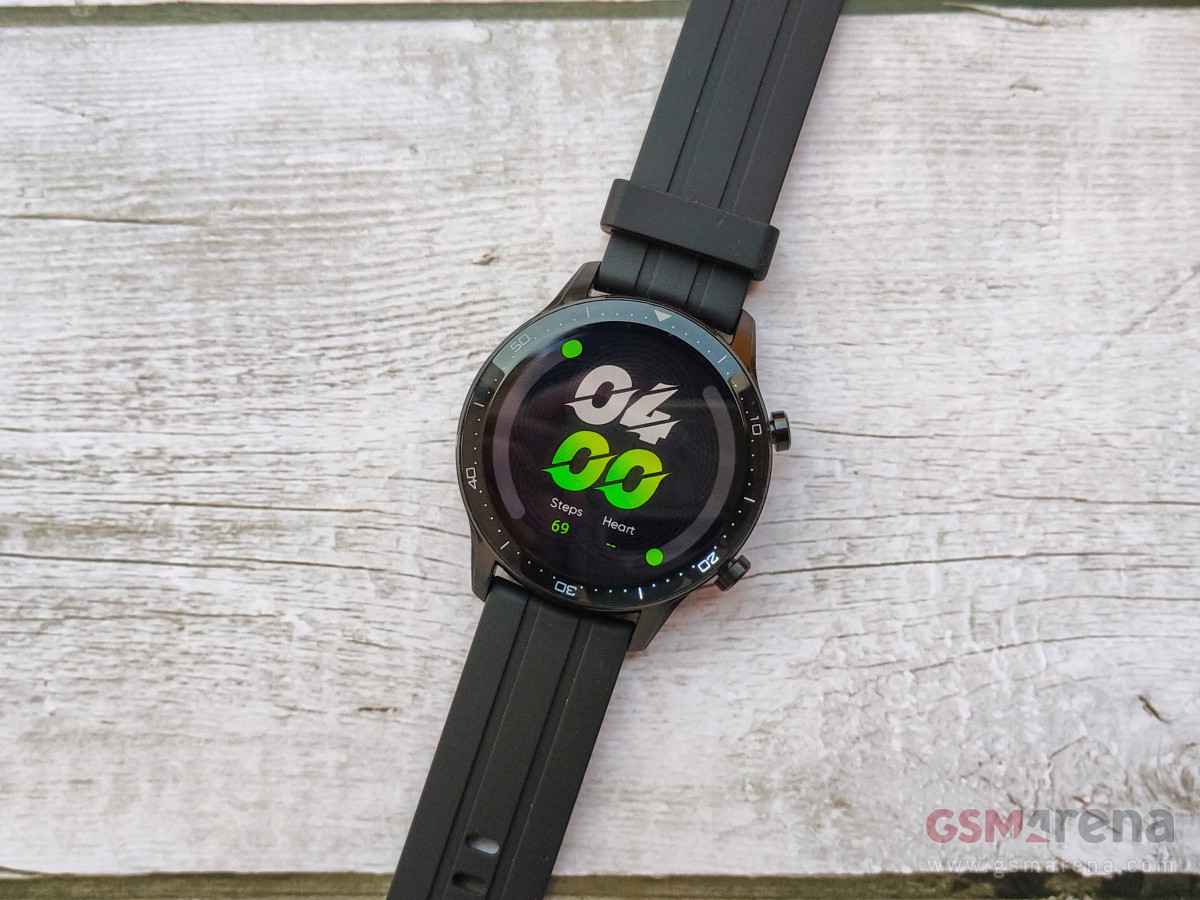 The smartwatch comes with a built-in GPS, which accurately tracked the workout route. You also get an SpO2 sensor for blood oxygen level measurement and 50-meter water resistance, which, coupled with improved swimming, helps you better understand your swimming performance.
The Watch S Pro has the usual slew of health and fitness features in tow one can expect at this price point, but it doesn't come with stress monitoring - a feature that's present on competing smartwatches and even some cheap wearables.
That said, most other complaints we have with the Watch S Pro are something Realme can fix with a software update, so even in its current state, it does get a recommendation from us. More so if you plan on investing in Realme's ecosystem since the company has said its smartwatches will be at the center of its AIoT ecosystem, and going forward, you'll be able to control AIoT devices right from your wrist with them.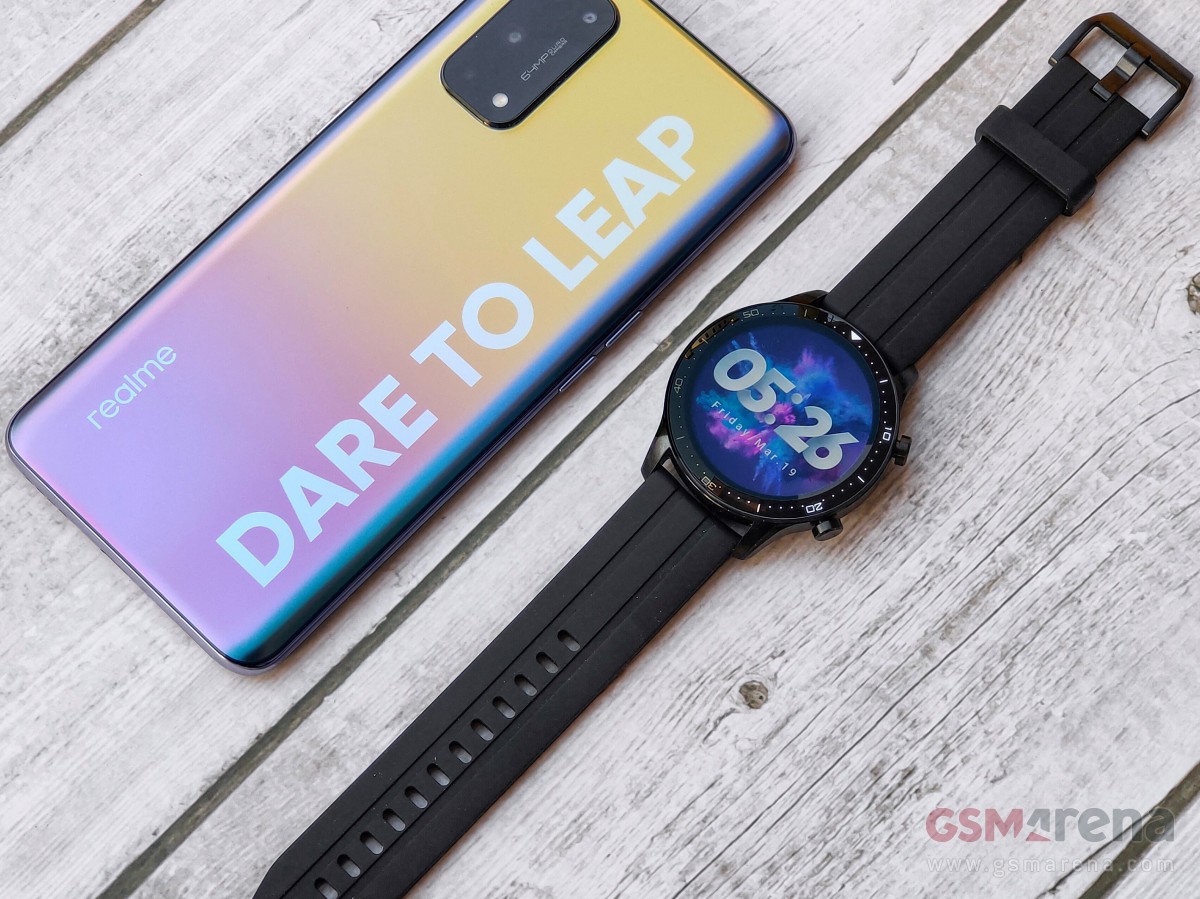 Priced at INR9,999 ($135/€115) in India, the Realme Watch S Pro goes up against Amazfit's GTR 2e and GTS 2e, which offer stress monitoring, 90 sports modes, and an offline voice assistant for the same price. You can also answer your phone calls from these watches since they include a speaker.
At the same price, you also have the option to purchase Xiaomi's Mi Watch Revolve. However, the choice is not clear cut as choosing the ecosystem to invest into is more important than the actual value of the smartwatch itself.
Pros
Premium design
Sturdy build
Vibrant screen
Accurate sleep tracking
Accurate GPS tracking
5ATM water resistance
SpO2 sensor
Cons
No stress monitoring
Buttons aren't customizable
Smart Notifications need improvement
Lift Wrist To Wake Screen feature cannot be enabled/disabled automatically
Not all workout data is accessible through the Realme Link app
Related
I think amazfit is better than this, even zepp app also way better than realme link
The Realme Link got to be upgraded a lot. Its far far far far behind the Mi Fit application. Realme Link does not give much to look around. With 10K watch not expected realme to give a worthless health programme.
Ou so no support for Google Pay on Oneplus watch ?
Popular articles
Popular devices