Samsung Galaxy S10 5G is now available in Germany
Peter, 25 June 2019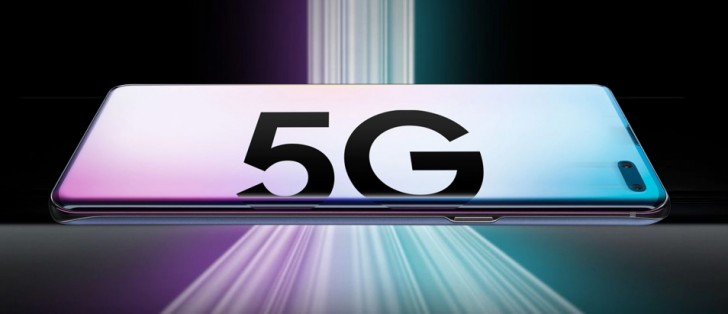 The Samsung Galaxy S10 5G is now available in Germany. You can buy it from Samsung.com or from Deutsche Telekom. Soon, it will be available through Vodafone as well. It costs €1,200 in the only available configuration - 8GB of RAM and 256GB storage.
Germany's wireless authority (the BnetzA) just finished auctioning off 41 blocks of spectrum between 2GHz and 3.6GHz, worth a total of €6.5 billion. DT paid the most, €2.17 billion, followed by Vodafone, €1.88 billion. Also, there's a brand new carrier, 1&1 Drillisch, which will operate as an MVNO.
As you can imagine, there's no operational 5G network in Germany. DT does say it 80% of its existing antennas are ready to be upgraded to 5G and there are some test antennas installed in Berlin, Darmstadt and the Port of Hamburg, but that's about it.
Until the next-gen networks are ready, the Galaxy S10 5G will have to operate on LTE networks. You still get a great screen and one of the best cameras on the market.
PS. Both Deutsche Telekom and Vodafone are complaining about how expensive the 5G auction was. Indeed, it topped the expectations of €3-5 billion. For comparison, the LTE auction brought in €5.1 billion. All that is to say don't expect 5G data plans to be cheap.
Related
Yes, I can definitely see your problem of doing those testing... 1. 5G is effect by both environment & obstacles conditions. 2. 5G has very limited range average is 46 meters radius, barring weather & other conditions. 3. 5G take about ...
That's for sure that 5G plans will get very pricey but hopefully 4G plans will get a bit cheaper.
I live in one of the cities mentioned and my university has tied up with testing the 5G as part of our doctorate research and trust me, the issues we are facing with mass deployment is giving all of us a headache here. I really see no point in paying...
Popular articles
Popular devices
Electric Vehicles