Samsung Galaxy S8+ review: Infinity and beyond
Infinity and beyond
GSMArena team, 18 April 2017.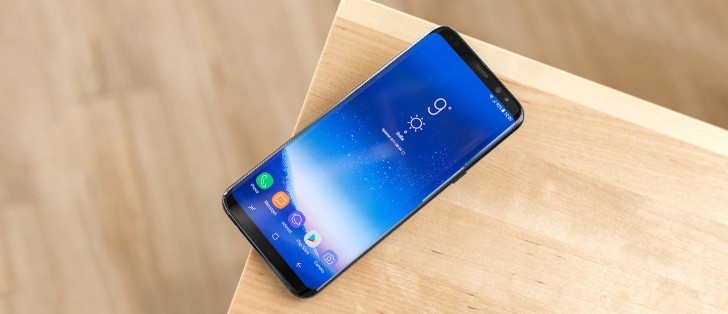 Display
When it comes to AMOLED technology, Samsung has pretty much been the industry leader for quite a few years now. Top notch displays have been gracing the company's flagships for generations and the new Galaxy S8 pair does live up to that reputation.
The industry is shifting to new ultra-wide screens but the transition will inevitably take some time.
Apps and games are one thing, Android can scale those so no big deal. Media content, on the other hand, will either take years to adapt to the new format or won't do it at all. Either way prepare to see a lot of black bars around your videos or photos or live with some stretching or cropping.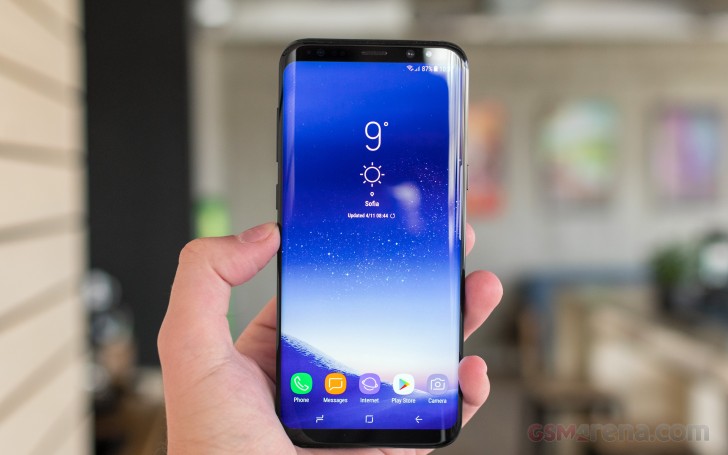 It's not all bad - the new format is better for watching movies and their trailers as they come in the even wider 21:9 format. Netflix is making a push in that direction as well. And even viewing older sources, living with letterboxing isn't really all that bad, since, at the end of the day you are still getting more usable space than on the Galaxy S7 edge. The only real difference being that bezels can't magically turn into extra screen real estate when needed, while the S8 and S8+ effectively offer an alternative that can.
Speaking of streaming services and new content standards, HDR is quickly becoming the buzzword. We get it, if we are really going through with this wide aspect revolution, then we might as well get all the extra colors and contrast along with that. The Galaxy S8 and S8+ support the HDR10 standard, but not Dolby Vision, which the LG G6 has.
However, the HDR situation is currently a bit more complicated than that. Samsung's new Infinity Display panel holds the UHD Alliance's "Mobile HDR Premium" certification - it is the first smartphone display to get it. It got there through a combination of 113% coverage of DCI-P3 and 142% of the sRGB color spaces, impressive levels of brightness and contrast ratios DisplayMate recently gave the S8 panel its highest ever "A+" rating, so it should be perfectly well prepared for HDR, regardless of formal certification.
Netflix seems to hold most promise, as a provider of next-gen content at the moment. However, neither the S8+ nor the G6 can currently get to HDR sources through the service. From what we can gather, Netflix currently offers HDR only as part of its UHD package. That requires a 4K or UHD device to view. Since the S8 and S8+ have a resolution of 2960 x 1440 or QHD+, they don't meet current criteria.
Amazon has promised to adjust its system to accommodate the Galaxy S8 pair and the G6 soon, so they can benefit from the HDR part of the higher-res sources. This is what we meant when we mentioned early-adopter hurdles.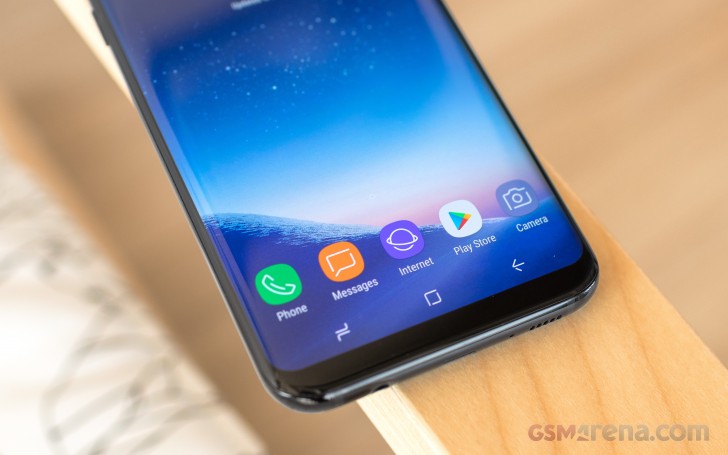 Both devices have the same screen resolution and given the size difference, it is only natural that the 6.2-inch Galaxy S8+ has a lower 529ppi, compared to 570ppi on the regular S8. Both numbers are a bit lower than last year's S7 edge and S7, respectively. However, the difference is really negligible and the S8+ is as sharp as you'd need. It is also worth mentioning that Samsung runs the display at 2220 x 1080 pixels by default. This is something the company introduced in hopes to improve battery life on its devices. Of course, you can always put the S8+ on its native 2960 x 1440 pixel resolution, or even go down to 1480 x 720. Things do look noticeably fuzzy on the latter.
On a sub-pixel level, Samsung employs a setup it calls Diamond Pixels. It has a few key characteristics: First, the Red, Green and Blue pixels are all different sizes. The Blue is the largest, since it has the lowest light emitting capacity. Then comes Red and the noticeably smaller Green. Shape is also different. In order to maximize sub-pixel rendering, the first two are shaped like diamonds, while Green is oval and squished in between. The 45-degree symmetry of the arrangement should prevent aliasing and artifacts in drawing straight and diagonal lines on the Pentile display.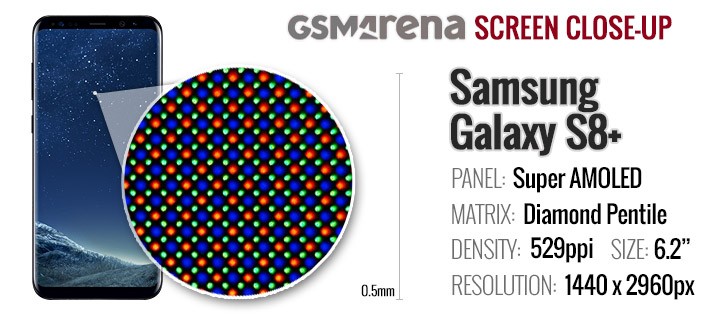 AMOLED screens have become synonymous with saturated colors and the new Galaxy S8 and S8+ take things up another notch. Besides the already mentioned wide native color gamut, the screen also boasts significantly higher color saturation. Samsung is referring to it as a high-saturation 'Deep Red' OLED, which is a fancy term for even punchier colors.
It is worth mentioning that our standard color tests all measure color accuracy compared to the sRGB color space. By that standard, our unit managed an average deltaE of 3 and a maximum one of 5.6, using the AMOLED Basic mode. This is a bit worse than last year's Galaxy S7, but there is more to be said here about the color mode options.
The S8+ has a total of four selectable screen modes, each with its own gamut specifics. If you really want to get technical about it, AMOLED Cinema is very accurate as per the DCI-P3 color gamut. AMOLED Photo is what you want to come as close to Adobe RGB as possible and Basic Screen mode aims towards sRGB or Rec. 709. The latter is usually what consumer digital cameras, TVs, laptops and other tech aim for, so it could be a familiar sight, if you spend a lot of time in front of other screens.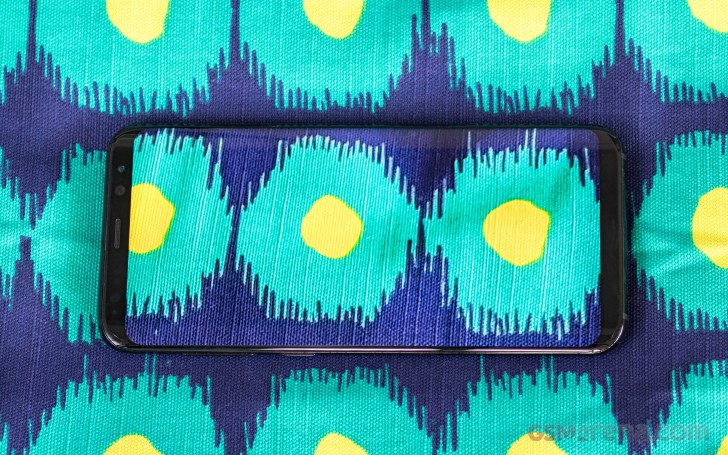 However, Adaptive display is what you probably want as your day-to-day setting. What it does is try to detect what kind of content is currently on-screen and adjust itself to that. It also makes good use of the entire extra wide color gamut range of the panel to offset some of the washout in brighter ambient light. This is great for outdoor use.
Speaking of, brightness on the Galaxy S8+ is exceptional. We managed to measure a whopping 870 nits in our tests. DisplayMate claims an even more astounding peak of 1,020 nits. That has to be a record right there. Still, it is worth noting that this was achieved in a very precisely controlled environment, not really applicable to real-world use. As far as real-word usable numbers go, the S8+ tops out somewhere around 647 nits.
This is still a pretty impressive result. And, in case you are wondering where the variance comes from: OLED brightness is dependent on the percentage of the screen being lit up. We thus got the 870 nits score from a very small white rectangle. 647 nits is what you can realistically expect when using the entire screen. For the sake of fair comparisons, we've stuck to the usual APL (average picture level) we've used in the past.
Since this is an AMOLED panel, contrast is practically infinite. Minimum white luminance is also nicely low at 3.30 nits so you won't be blinded if you operate the phone in complete darkness.
Display test
100% brightness
Black, cd/m2
White, cd/m2
Contrast ratio
Samsung Galaxy S8+
0
442
∞
Samsung Galaxy S8+ Max auto
0
647
∞
Samsung Galaxy S7 edge
0.00
392
∞
Samsung Galaxy S7 edge max auto
0.00
610
∞
Samsung Galaxy Note7
0.00
428
∞
Samsung Galaxy Note7 (Max auto)
0.00
647
∞
LG G6
0.228
468
2053
LG G6 max auto
0.277
564
2036
LG V20
0.43
475
1097
LG V20 Max auto
0.59
628
1064
Huawei Mate 9
0.41
665
1622
Huawei Mate 9 Pro
0.011
366
33273
Huawei P10 Plus
0.335
547
1633
Honor 8 Pro
0.399
560
1404
Apple iPhone 7 Plus
0.41
573
1398
Apple iPhone 7 Plus (max auto)
0.50
681
1362
HTC U Ultra
0.539
428
794
HTC U Ultra (max auto)
0.564
507
899
Google Pixel XL
0
432
∞
Sony Xperia XZs
0.461
564
1223
OnePlus 3T
0
447
∞
ZTE Axon 7
0.00
352
∞
Xiaomi Mi Mix
0.45
589
1309
Xiaomi Mi Note 2
0.005
341
68200
Xiaomi Mi 5s Plus
0.44
637
1448
The Galaxy S8+ also manages all this picture quality, while maintaining a very low level of reflectivity. Naturally, combined with the high brightness, this helps deliver excellent sunlight legibility. The Galaxy S8+ is nothing short of a chart-topper in this respect. It even comes close to the all-time champ, the Nokia 808 PureView.
Sunlight contrast ratio
Nokia 808 PureView
4.698
Samsung Galaxy S8+
4.658
Samsung Galaxy S6 edge+
4.615
Samsung Galaxy S7 edge
4.439
OnePlus 3
4.424
Samsung Galaxy S7
4.376
HTC One A9
4.274
Samsung Galaxy Note7
4.247
Samsung Galaxy A3
4.241
OnePlus 3T
4.232
Google Pixel XL
4.164
ZTE Axon 7
4.154
Samsung Galaxy S6 edge
4.124
Samsung Galaxy A7 (2017)
4.124
Samsung Galaxy Note5
4.09
Huawei Nexus 6P
4.019
OnePlus X
3.983
Vivo Xplay5 Elite
3.983
Oppo R7s
3.964
Apple iPhone 7
3.964
Huawei P9 Plus
3.956
Meizu Pro 6 Plus
3.935
Lenovo Moto Z
3.931
Samsung Galaxy A7 (2016)
3.918
Samsung Galaxy C5
3.911
Samsung Galaxy C7
3.896
Samsung Galaxy A5
3.895
Samsung Galaxy J7 outdoor
3.879
Samsung Galaxy J2 outdoor
3.873
Samsung Galaxy A8
3.859
Sony Xperia XZs
3.818
Samsung Galaxy A9 (2016)
3.817
Motorola Moto X (2014)
3.816
Samsung Galaxy A5 (2017)
3.804
Samsung Galaxy J7 (2016) outdoor mode
3.802
Xiaomi Redmi Pro
3.798
LG V20 Max auto
3.798
Sony Xperia XZ
3.795
Samsung Galaxy A5 (2016)
3.789
Apple iPhone 6s
3.783
Meizu Pro 5
3.781
Microsoft Lumia 650
3.772
Samsung Galaxy J7 (2016)
3.756
Oppo F1 Plus
3.709
Vivo X5Pro
3.706
Sony Xperia X Compact
3.694
Samsung Galaxy A3 (2017)
3.688
Apple iPhone SE
3.681
Huawei Mate 9
3.68
Samsung Galaxy A7
3.679
Meizu PRO 6
3.659
BlackBerry Priv
3.645
Apple iPhone 7 Plus
3.588
Apple iPhone 6s Plus
3.53
Motorola Moto Z Play
3.526
Samsung Galaxy J3 (2016)
3.523
Samsung Galaxy J3 (2016) outdoor mode
3.523
Acer Jade Primo
3.521
Microsoft Lumia 950
3.512
Oppo R7 Plus
3.499
nubia Z11
3.466
Huawei P10 Plus
3.456
HTC U Ultra
3.453
Samsung Galaxy J7
3.422
Meizu MX5
3.416
LG V20
3.402
Huawei P10
3.379
Oppo R9s
3.352
Oppo R7
3.32
Lenovo P2
3.316
Xiaomi Mi 5s
3.276
Nokia 6 (Chinese version)
3.244
Samsung Galaxy J2
3.235
Sony Xperia X Performance
3.234
Xiaomi Mi Note 2
3.228
Motorola Moto X Play
3.222
Huawei Mate 9 Pro
3.206
Huawei P9
3.195
Lenovo Vibe Shot
3.113
Motorola Moto X Force
3.105
LG Nexus 5X
3.092
Huawei Mate S
3.073
Microsoft Lumia 640 XL
3.065
Sony Xperia X
2.989
Huawei Mate 8
2.949
Xiaomi Redmi 3S
2.913
Sony Xperia XA Ultra
2.906
LG G5
2.905
HTC One S
2.901
Xiaomi Redmi 3s Prime
2.893
Xiaomi Mi 5s Plus
2.884
Sony Xperia Z5
2.876
Microsoft Lumia 550
2.851
Lenovo Moto M
2.813
Xiaomi Redmi 3 Pro
2.803
Sony Xperia Z5 compact
2.784
Meizu MX6
2.751
LG V10
2.744
Xiaomi Redmi 3
2.735
Xiaomi Redmi Note 4 (S625)
2.714
Meizu M5
2.71
Sony Xperia M5
2.69
Huawei P9 Lite
2.679
Xiaomi Redmi 4 Prime
2.679
Vivo V3Max
2.659
Xiaomi Mi Mix
2.658
Xiaomi Mi 4i
2.641
Sony Xperia XA
2.609
Motorola Moto G4 Plus
2.582
Motorola Moto G4 Plus (max auto)
2.582
Meizu M5s
2.58
Xiaomi Mi 4c
2.574
LeEco Le Max 2
2.567
Microsoft Lumia 640
2.563
Asus Zenfone 3 ZE552KL
2.563
Lenovo Moto G4
2.544
Lenovo K6 Note
2.544
Oppo F1
2.528
Sony Xperia Z5 Premium
2.525
Huawei Honor 7 Lite / Honor 5c
2.506
Sony Xperia M4 Aqua
2.503
Oppo F1s
2.481
Motorola Moto G
2.477
Lenovo Vibe K5 Plus
2.473
Huawei G8
2.471
Huawei nova
2.467
Sony Xperia Z
2.462
Lenovo Vibe K5
2.459
Meizu m3 max
2.447
HTC 10 evo
2.407
Huawei Honor 7
2.406
Sony Xperia E5
2.386
ZUK Z1 by Lenovo
2.382
HTC 10
2.378
Samsung Galaxy J5 (2016)
2.378
vivo V5 Plus
2.371
Meizu m1 note
2.362
Huawei nova plus
2.329
HTC One E9+
2.305
Alcatel One Touch Hero
2.272
Lenovo Vibe K4 Note
2.254
Sony Xperia C5 Ultra
2.253
Xiaomi Redmi Note 3 (MediaTek)
2.249
Sony Xperia C4 Dual
2.235
Xiaomi Mi Note
2.234
Motorola Moto G (2014)
2.233
Huawei P8
2.196
Meizu M5 Note
2.189
Huawei Honor 6
2.169
Xiaomi Redmi Note 2
2.166
OnePlus Two
2.165
HTC One X
2.158
LG Aka
2.145
Xiaomi Redmi Note 4 (X20)
2.145
Archos 50 Diamond
2.134
Xiaomi Redmi Note
2.119
Acer Liquid X2
2.084
Huawei P8lite
2.078
vivo V5
2.059
Moto G 3rd gen max manual
2.026
Xiaomi Mi 3
2.001
Xiaomi Mi Max
1.996
Sony Xperia E4g
1.972
OnePlus One
1.961
Meizu m3 note
1.923
BlackBerry Leap
1.892
Meizu m2 note
1.892
ZTE Nubia Z9 mini
1.759
Sony Xperia U
1.758
Asus Zenfone Selfie
1.68
Motorola Moto E (2nd Gen)
1.675
ZTE Nubia Z9
1.659
Jolla Jolla
1.605
Motorola Moto E
1.545
Sony Xperia M
1.473
Sony Xperia L
1.351
HTC Desire C
1.3
Sony Xperia C
1.283
Meizu MX
1.221
Sony Xperia E
1.215
Connectivity
It should hardly come as a surprise that Samsung treated its latest flagship offers to a full set of connectivity options - and cutting edge at that. The Galaxy S8 and S8+ are the first phones to launch with 1gb LTE, thanks to the Snapdragon 835 and Exynos 8895 chipsets. That is LTE-A (4CA) Cat16 1024/150 Mbps. Yes, both chips are not only very close performance-wise, but should be equally capable of sustaining blazing fast network speeds, if your carrier supports them.
It's also worth noting that the Exynos 8895 version supports 5 carrier aggregation, while its Qualcomm counterpart has to get by with 4. In practice, you likely won't be able to reach that high any time soon, so we wouldn't fret over it too much.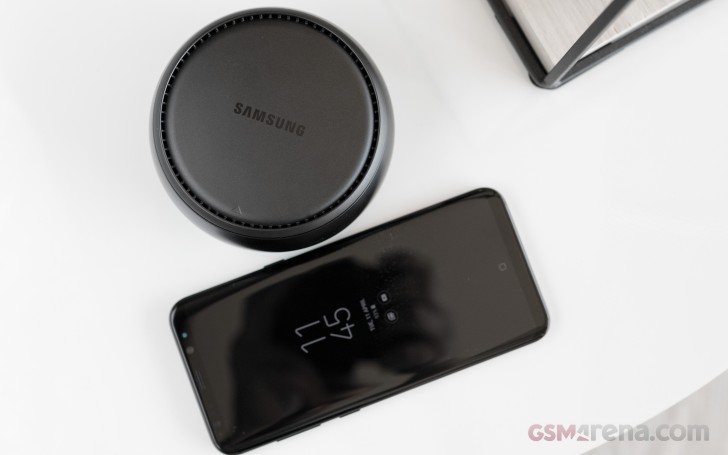 In keeping with Samsung's typical marketing, there are both single and dual SIM versions of the S8+ out there. Unlike with recent Galaxy A models, there is only one tray on the S8+ with a dedicated nano SIM slot, along with a hybrid one. This could, potentially, be a problem for anyone that doesn't trust the cloud and still has high storage requirements, since 64GB is the norm in this generation.
In terms of local connectivity, you get dual-band Wi-Fi 802.11 a/b/g/n/ac, MU-MIMO (1024-QAM modulation mode with 25% higher data rate over the standard 256-QAM), as well as the up-to-date Bluetooth v5.0, with support for A2DP, LE, aptX and ANT+.
The Bluetooth radio has one particularly neat trick up its sleeve - it can connect to two audio devices at the same time and output to both simultaneously. The feature works decently, but perfect sync is not really feasible. You could potentially make it work for a quick and dirty multi-room solution, but sync becomes an even bigger issue than with two sets of headphones.
NFC is a given and so is Samsung's proprietary MST technology for card payments in supported markets. Of course, the list gets even longer if you decide to count sensors, of which the S8+ has quite a few: Iris scanner, fingerprint, accelerometer, gyro, proximity, compass, barometer, heart rate, SpO2.
There is a full stack of location services supported as well: GPS, Galileo, Glonass and BeiDou.
Like we said, Samsung has now officially taken the plunge to USB Type-C. In the case of the Galaxy S8 and S8+, there are a few special things about the port. It houses a USB 3.1 connection, which means theoretical data transfer speeds of up to 10 Gbit/s. However, the real icing on the cake lies in the phone's support for outputting video - an increasingly rare feature, even among flagships.
Samsung has implemented DisplayPort Alternate Mode on the Galaxy S8 and S8+, which is how the phones manage to drive a display with the DeX dock. And before you call us out on the fact that the latter has HDMI output, consider that DisplayPort is versatile enough to be backwards compatible with VGA, DVI and HDMI through the use of passive and active adapters, depending on the use case.
Official information is patchy, but going by existing standards, this should mean the S8+ outputs video through DisplayPort 1.3. In theory, this should allow for video output up to a whopping 4K@120Hz or even 5K@60Hz and 8k@30Hz. However, the official standard is one thing and real-world support is another. In practice, you have the option of using DeX for video out.
Samsung is trying its best not to advertise any of this too openly, but the DeX only actually outputs at 4K if you use it to mirror your device screen. The actual desktop UI gets rendered in 1080p@60Hz.
Luckily, if a proper 4K@60Hz stream is what you are after, Samsung does already offer an official USB-C to HDMI 2.0 adapter for the S8 and S8+. It will set you back $49.99 and sounds like a better idea if multimedia is all you are after and you don't really mind skipping on the new desktop UI. You can read more about DeX in the dedicated chapter.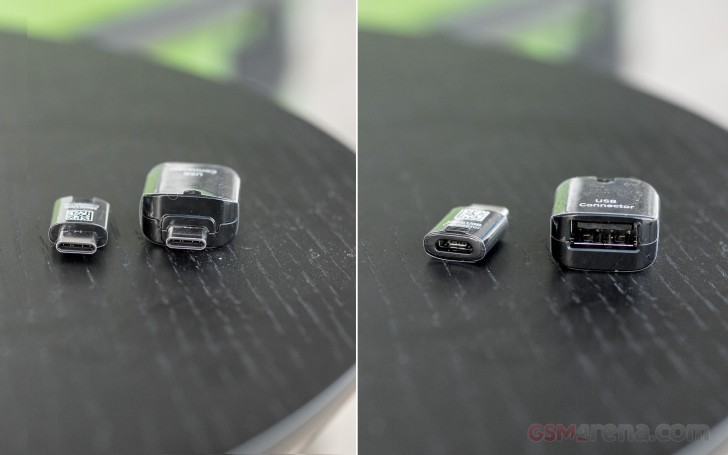 Before we round things up with the port, there are those two little adapters in the bundle that we mentioned earlier in the unboxing chapter. They have a lot to do with transitioning away from the older micro USB standard and towards Type-C. The big adapter lets you connect any USB accessory with the new port. Since the S8+ supports USB Host, an older Type-A thumb drive would be the most obvious choice. You can even connect your old phone and have the Galaxy S8+ transfer all information when you set it up.
The micro USB adapter is more for convenience - it allows you to use a regular micro USB cable or charger with the S8+. It doesn't have USB host functionality unlike the bigger adapter.
MirrorLink is also part of the S8+ mix. If you have already invested in something like a compatible car entertainment system, the phone upgrade won't break your setup.
Of course, beyond wired connectivity, the S8+ has its Smart View interface to support an assortment of wireless display sharing protocols, including Miracast and Google's proprietary Chromecast.
Finally, in case FM radio is your thing, the Galaxy S8+ will let you down - it has no receiver on board.
Battery
Size aside, few things actually set the Galaxy S8 and S8+ apart. In fact, the battery is the only other major difference. The Galaxy S8+ packs a non-removable 3,500mAh battery, a good 500mAh more than the regular S8. Since the Note7 misfortune, Samsung has delivered plenty of evidence that it has boosted quality control to make sure the issue never repeats itself.
The Galaxy S8+ managed a solid 88 hours in our regular battery test routine. Overall, this falls in line with what we expected, considering the endurance of last year's S7 edge and the S8+ hardware differences. The new screen has both a larger surface area and more pixels than the predecessor and the S8+ still managed to last over an hour more than the S7 edge in Wi-Fi browsing and 45 minutes during video playback.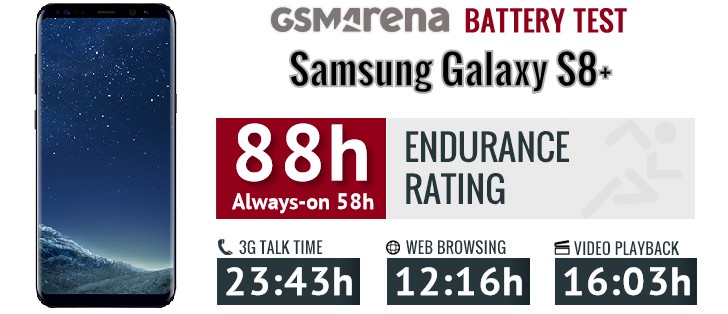 To be fair, our test clip is in 16:9, so the rest of the phone's pixels were essentially off during our runs. A lot of this improvement could be attributed to polished software. However, we can't fail to acknowledge the new and efficient 10nm manufacturing process in both the Exynos 8895 and Snapdragon 835 chips.
On the other hand, 3G talk time and standby are both a bit lower compared to the S7 edge. The latter could partly be explained with the extra load of Bixby running in the background.
All of the posted results were achieved through testing at the phone's native QHD+ resolution. Battery percentage data was recorded programmatically straight from the handset, to ensure the highest possible level of precision.
For the sake of thoroughness, we ran the tests in 2220 x 1080 pixels and 1480 x 720 pixels modes as well. The minor differences we recorded were in the minutes, and are well within the margin of error of the tests. Perhaps an alternative usage pattern might lead to some meaningful advantages of going low-res, but our experience doesn't point in that direction. One such potential scenario is gaming, but then again you already had the option to limit resolution within Game launcher. This falls in line with what we observed while re-testing last year's Galaxy S7 and S7 edge flagships after the Android Nougat update introduced variable resolution.
The Always On display feature was always going to be a battery drainer, no two ways about it. Samsung's claim that it would cost you 1% per hour seems about right and it does leave a huge impact on the overall endurance rating.
Since its launch, the AOD setting has been optimized and now allows you to schedule times to activate it. Of course, your mileage will vary depending on how long you keep the phone out of your pocket.
All of these numbers were achieved using the international Exynos 8895 version of the S8+. We would love to put the Snapdragon 835 variant through its paces as well but, in honesty, we don't expect any major differences.
Samsung is still sticking with its Adaptive Fast Charging solution. Frankly, it does a good job topping the 3,500mAh battery in about 90 minutes. There is also support for Qualcomm's Quick Charge 2.0.
Much like the company's last-year flagships, the Galaxy S8+ is also capable of wireless charging compliant with both WPC (Qi) and PMA. Samsung will also sell you a fast wireless charging pad, which can fill up the battery nearly as fast as cable.
The battery testing procedure is described in detail in case you're interested in the nitty-gritties. You can also check out our complete battery test table, where you can see how all of the smartphones we've tested will compare under your own typical use.
where do i have to get refurbished one like yours bro
Excellent phone no doubt. I have been using since the very first day of releasing. Battery performance still like new. Using more than five years without facing any problems. Thank you Samsung for making such a nice phone.
The 8A Plus is NOT 6G at least mine was not. 2 G and 3 g yes. So when the networks here went ot 5 G and dropped 3 G the phone will not connect to Network. had ot buy a new phone, :(