Samsung Galaxy Tab S4 shows up on a Geekbench
Ro, 16 May 2018
Samsung's upcoming tablet, the Galaxy Tab S4, has been leaking extensively lately, which typically suggests a nearing launch. The latest bit of unofficial info was delivered by a Geekbench scorecard, which confirms some of the internals.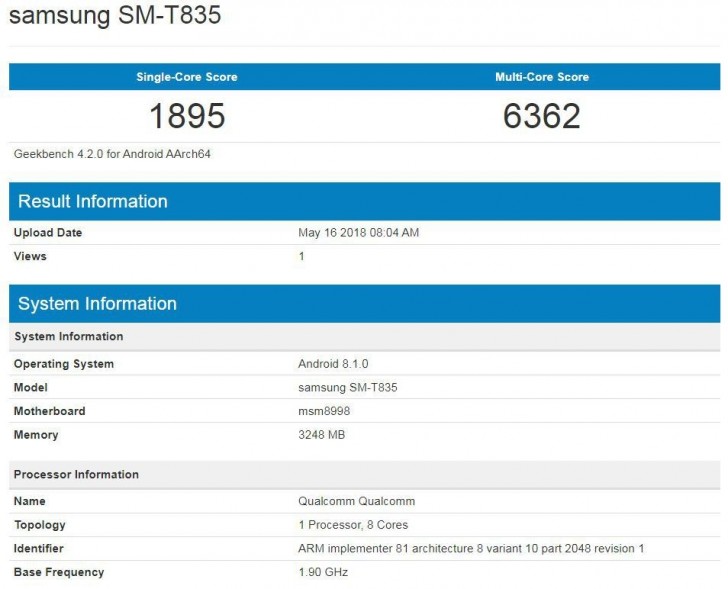 After receiving certification by Bluetooth, Wi-Fi and Russian authorities, the tablet's specs were revealed by its GFX profile. Today those were confirmed by a Geekbench scorecard.
The Galaxy Tab S4 will sport a Snapdragon 835 chipset with 4GB of RAM, powering up a 10.5-inch display of 1600 x 2560px resolution (16:10 aspect ratio). The previous leaks also add 64GB of internal storage, 12MP rear-mounted camera, 7MP front-facing one and LTE support for the SM-T830 model.
Related
the ipad 2018 is amazin. the apps are great. samsung has the play store... ahahahahahahahahahahahahahahahahhahahahahahahahahaahhahahaahhahahahaha on a frigging tablet ahahahahahahahahhhahahaha what an l. smh. the lcd is fine for 90 percent of users a...
Where is the 8" tablet? Why samsung is ignoring the 3:4 aspect ratio? And why samsung stop putting the s-pen inside the device Same as Tab A 8.0 with s-pen (SM-P355)? And for those people who like to have bigger s-pen simply they should buye...
Maybe because right now the S3 is now $500, I don't care what it cost last year. And again, the $330 iPad is a joke. Add a pencil, and non-laughable storage, and tadah! now you're paying $528 for a crappy 2GB, LCD tablet. Typical Apple bullshit.
Popular articles
Popular devices
Electric Vehicles