Top 10 fan favorite phones of 2018
Ro, 30 December 2018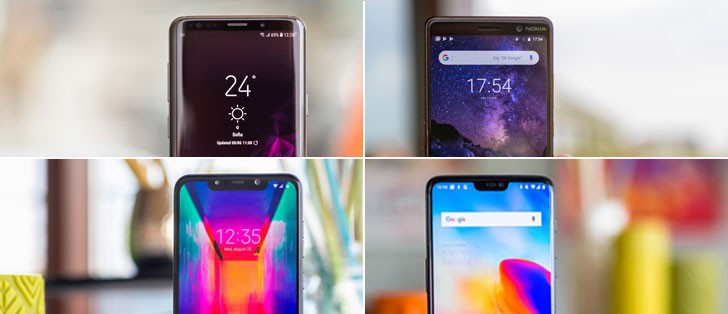 The year is almost over and it's time to reset the counter. But before we do that, let's take a look at which Android and iOS devices won the hearts of our readers. Note that we are not talking sheer popularity here, but number of likes - that is we only count
The Xiaomi Redmi Note 5 Pro leads the pack and we can see why. It was the best mid-ranger for a large chunk of the year. It checks a lot of boxes while keeping the price reasonable and that helped it win more love than any other phone introduced in 2018.
The next one is the OnPlus 6 - the first of the two most controversial OnePlus phones up to date. It's the first OnePlus smartphone with a notch and a glass back and even if it lacked advanced facial recognition or wireless charging its improved camera, great software and super fast charging helped it earn a lot of love.
The Nokia 7 Plus is mentioned in almost every mid-range review these days. It has a powerful Snapdragon 660 chipset, capable cameras and good battery life. Combined with the clean Android experience and vibrant display, the Nokia 7 Plus is the most successful phone by HMD Global this year.
Of course, the list won't be compete without the Galaxy S9+ - Samsung's flagship phone from the first half of the year, which secured the fourth spot.
The fifth place is occupied by the Pocophone F1. In just a few months, it won over so many fans and it's hard not to like the little fellow. It focuses on what's important - performance and battery life. Sure, it misses on some features often found in today's flagships but it still packs plenty of storage, a Snapdragon 845 chipset and a huge 4,000 mAh battery while costing less than half what its direct rivals ask.
Next down the list is the Huawei P20 Pro. This phone started a mini revolution in the mobile photography. It still tops the charts as the one of the best camera phones on the market. But the cameras aren't its only selling point. The P20 Pro is powerful and enduring as well.
Further down the list we find another Xiaomi phone - the stock Android-powered Mi A2, which even edged out the Samsung Galaxy Note9 - the most powerful phone the Korean company produced this year.
The last two places are taken by Nokia's 6.1 Plus pure Android phone and Xiaomi's mainstream flagship - the Mi 8.
What are your favorite phones from this year that didn't make the cut?
















Related
Huawei p20 pro is great. Huawei did great job! nice to know that is on top 10.
It's not about shattered it's about scratches
Ofcourse it is not because I'm not a fanboy to any of the OEM. All OEM forces unusual things on users and all they care is money
Popular articles
Popular devices