Vodafone UK switches on 5G network, announces unlimited plans
Vlad, 03 July 2019
As promised, Vodafone UK has turned on its 5G network today, which is available in seven cities for starters: London, Glasgow, Manchester, Liverpool, Birmingham, Cardiff, and Bristol. To use the brand new airwaves, you'll need a compatible device, and Vodafone is offering the Xiaomi Mi Mix 3 5G and the Samsung Galaxy S10 5G at the moment, along with the 5G GigaCube router by Huawei if you don't desire a 5G-capable smartphone. The router starts at £30.
You can buy the phones already, but they're currently being offered with Vodafone's old plans, that are due to be replaced on July 10. Let's see what Big Red has been cooking for you in this regard.
You'll essentially have six Pay Monthly options to choose from. Three of these carry Unlimited branding, and if you go with any one of them you won't pay a price premium to access the 5G network.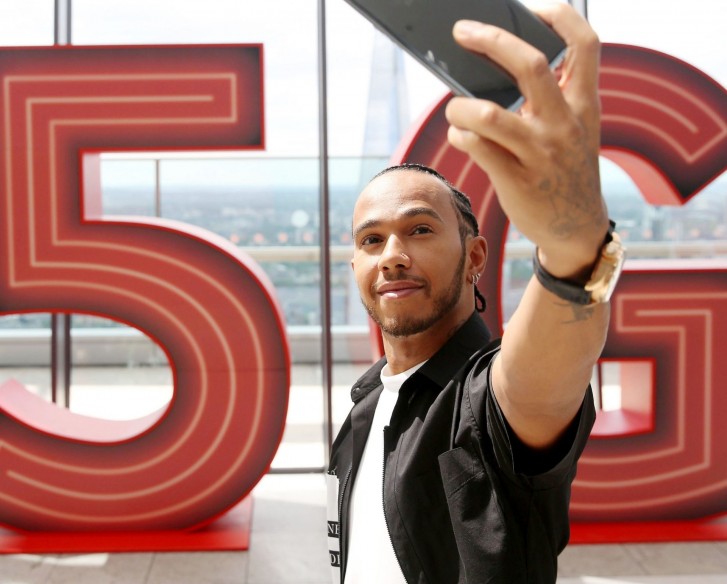 Five-time Formula One champion Lewis Hamilton is now a 5G brand ambassador for Vodafone
Unlimited Lite is £23 a month and offers speeds up to 2 Mbps; Unlimited brings the cap to 10Mbps for £26 a month; Unlimited Max is £30 a month and will not be speed capped at all - so you'll always connect at the highest possible speed, as fast as your device and the network conditions will allow.
Unlimited Max also comes with roaming to 77 destinations, while the other two Unlimited plans are limited to 48 destinations. 5G roaming is available to Germany, Italy, and Spain over the summer, and will be expanded to include more countries as they turn on 5G.
If you don't want unlimited data, you have the new Red plans. Red 1 with 1GB of traffic per month for £11, Red 2 with 5GB for £15, and Red 3 with 20GB for £20. All of the plans will have unlimited minutes and texts, and the new Red options include roaming to 48 destinations as standard.
Vodafone is trailing EE in the 5G launch, but is still ahead of both Three and O2. By the end of July, Big Red will offer Vodafone Together, combined plans with unlimited mobile and home broadband in one deal. Prices will start at £50 for Unlimited Max and Vodafone Superfast Broadband 1. Extra family lines will get a 15% discount.
Related
Well here in Slovakia the 4G coverage is good eough for this kind of cell phone operator and it will grows more and more over time. Its the youngest among all major the cell phone operators we have here in Slovakia. I am excluding moinor one whi...
You forgot to mention the catch... 4ka's offer of unlimited data is (according to its website) valid in its 4G/3G network which doesn't have the best coverage (though it's of course complicated in a country with that much area of mountains). But even...
That's because EE only bought a tiny portion of the 5G spectrum. Vodafone bought most of it. Congestion shouldn't be an issue, 5G is equivalent to a motorway carrying 64 lanes of traffic, and 4G is equivalent of a 3 lane motorway. At peak times that ...
Popular articles
Popular devices