YouTube Signature Devices are handsets with the best YouTube watching experience
Ro, 10 August 2018
YouTube just launched a Device Report website that lists the best devices for enjoying its videos. The list isn't particularly long but includes all the flagships from the major manufacturers.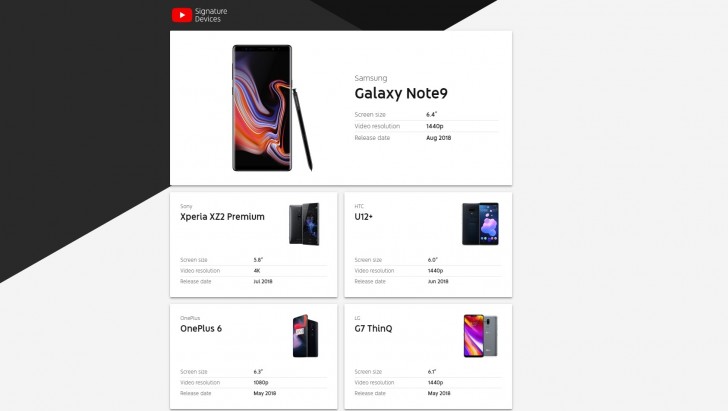 The YouTube team claims that every device goes under extensive testing and it's working closely with the OEMs to provide the best possible performance and quality when streaming YouTube videos. The list consists of 18 smartphones from Samsung, LG, OnePlus, HTC, Huawei, Xiaomi, Google and Nokia.
Interestingly, Apple's devices are missing from the list due to the fact that iOS handsets don't support Google's VP9 video codec. All YouTube Signature Devices must support six core technologies - HDR, 360° video, 4K decoding, high frame rate, next-generation video codecs such as the VP9 and digital rights management performance. You can learn more about each feature here.
Related
Cant think of any. Please educate us.
? A phone with 4k 765 ppi hdr lcd probably. But as yt is audiovisual content sound also kicks into merrit. A phone with balanced front stereo surround sound is best for audio content. Only one phone out there meets both those class leading sp...
So which phone actually leads according to you? Which phone on the planet can give you better YouTube experience than a phone with 570 ppi super amoled 2k+ display?
Popular articles
Popular devices