Samsung Galaxy Note10 won't have a headphone jack or physical buttons
Vlad, 31 May 2019
Remember the buttonless abomination that was the HTC U12+? Samsung apparently took a long hard look at that concept and decided it's something it needs to get into. Seriously, a new rumor today, claimed to originate at "a source familiar with the company's plans", says the Galaxy Note10 will be devoid of any actual physical buttons.
Those will be replaced by capacitive or pressure-sensitive areas, which will probably be highlighted by raised bumps or special textures along the edge. Read: faux buttons. Read: HTC U12+ redux. Let's hope Samsung manages to pull this off more than HTC could, in terms of usability and haptic feedback.
Before you ask: yes, both versions of the Note10 will get the same treatment. Oh, and yes, this rumor also confirms there will be two sizes of the stylus-toting flagship. So it looks like you need to get ready to embrace the Note line's buttonless future.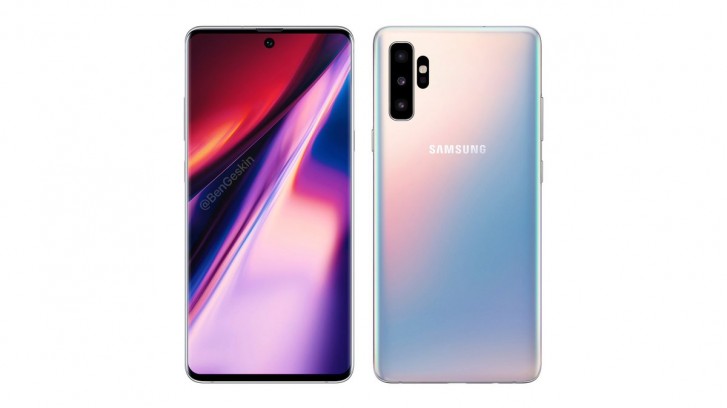 And speaking of removals, the headphone jack will be killed too. Samsung reportedly saw fit to make the Note10 its first flagship smartphone to not have the 3.5 mm connector, for whatever reason. You can bet the spin will have something to do with fitting a bigger battery instead, but we all know it's just the trend du jour and soon there won't be any handset on the market with a headphone jack.
The lack of buttons, on the other hand, might have some actual upsides - no keys means no cutouts in the aluminum frame, and those cutouts tend to be the weakest points in the chassis of any modern phone. So without them it might be possible to have a thinner frame design without compromising on structural integrity.
The Note10 is expected to be presented in August, if Samsung sticks to its usual timeline. The phone will have a rearranged rear camera setup and a punch-hole display with a single selfie cam in the middle (as seen in the render above, created by Ben Geskin). The device should get very fast charging, a 19:9 screen, and perhaps a 6.66" display for the bigger model, which also gets a 4,500 mAh battery, whereas its smaller sibling will have to make do with 3,400.
Related
Anonymous
03 Jun 2019
4QP
Wow....you know people who use them. Therefore that proves that have supreme unheard of godly software that none other can match.... This...you being as easily manipulated as the ones using them. Whether you use them or not.
How would I know? Are you kidding now? I know people who are using them, that how I know it! :))
Anonymous
03 Jun 2019
I8m
I never said you used apple products. And you just did it again. I never used apple products but they are amazing..... How would you know. Plus there's a difference between great software and vastly superior software. You're just full if logic...
Popular articles
Popular devices
Electric Vehicles