OnePlus 5 to be announced on June 15, leaked poster claims
Vlad, 31 May 2017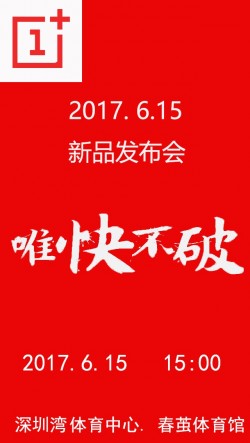 The teaser campaign for the upcoming OnePlus 5 is already in full swing. The company's CEO has told us what chipset it's chosen for its next flagship smartphone, some color versions have been outed, and the headphone jack may be staying. Camera sample? Check. Earlier today you were invited to choose the design for the phone's retail box. And now we get an unofficial glimpse at what could be the big unveiling date for the OnePlus 5.
The leaked poster you can see in the image to the left plainly states that there's going to be a OnePlus event on June 15. The words "OnePlus 5" aren't in there, but we are clearly very close to the phone's announcement now, what with all the teasers, so it would be unwise for the company to hold an event for something else so soon. Thus we have to assume that the OnePlus 5 will in fact be the star of the show.
That is, if this leaked poster is real. It's incredibly easy to put such an image together in your favorite editing software (let's not call it Photoshop), then release it on the internet for OnePlus fans to believe. So don't forget that we may simply be looking at an elaborate fake. Either way, we expect some kind of official confirmation of the date for the OnePlus 5's introduction to come pretty soon, perhaps following a few more teasers.
Related
battery to be 3300 mAh, to low for me, i dont want this :(
Lol dude. Ur funny. So u want to remove IP waterproofing rating eh? Smartphone companies create new features, not removing them. If u want to remove them I would like to suggest the very old Nokia 3310 to u. With no waterproofing, no ips lcd 1080p di...
Popular articles
Popular devices