Samsung Galaxy S8/S8+ get exclusive Play Music feature, but you can too
Ivan, 19 June 2017
Google is rolling out a new Google Play Music feature exclusively to Samsung Galaxy S8 and S8+ users, dubbed New Release Radio.
As the name suggests it's streaming new music releases, tailored to your taste and updated daily with new titles. The feature is currently available for Galaxy S8/S8+ users with no official word on outside availability.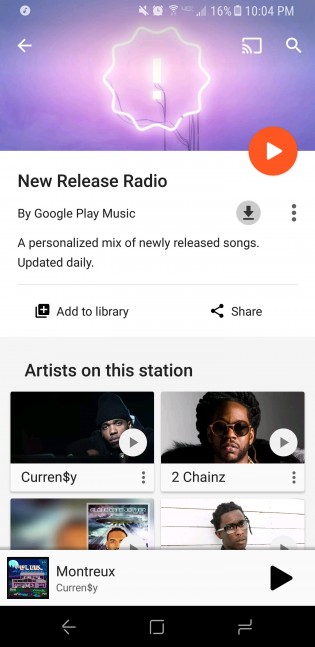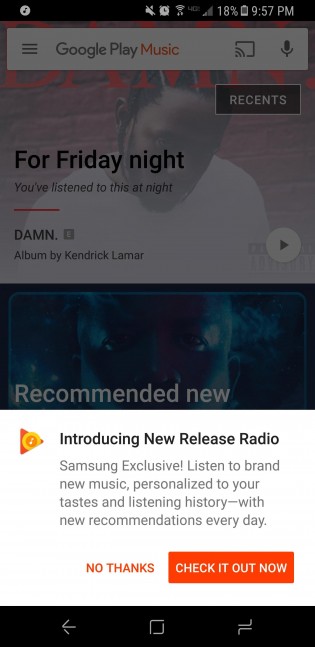 Google Play Music New Release Radio
Yet, thanks to the guys over at Reddit, you too can get the feature on your smartphone now. There are instructions in the comments of the source link.
Google Play Music is the default music player on the Galaxy S8 and S8+, and it comes with a few Galaxy-only exclusives already. S8 owners can upload twice as many of their songs for free streaming - 100,000 instead of the usual 50,000. They also get 3 months of free premium listening with each device.
Related
Agreed. I used to use PowerAmp music player on my Galaxy S3, HTC One M7 and alternate between Samsung Music Player and PowerAmp on my Galaxy S6. Now using Samsung Music Player as my main music player on my S8+. Two of the best music player.
just add new release radio from desktop.it works on all phones
No applicable for S8 users as Google Play Music All access is not available in South East Asia region.
Popular articles
Popular devices