OnePlus 3 review: Time-saver edition
Time-saver edition
GSMArena team, 04 July 2016.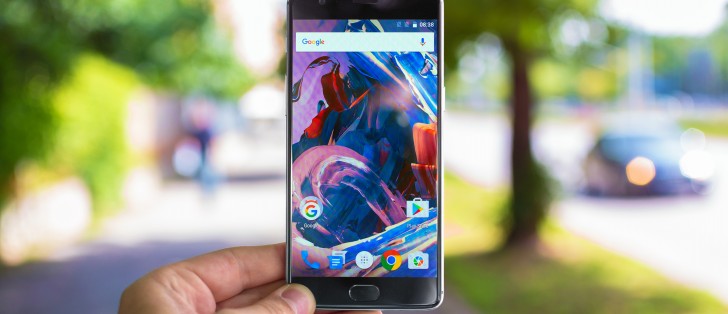 Introduction
A quality act is hard to follow, especially so, when you've already done it twice and you are gunning for nothing short of gold with a "never settle" attitude. The third flagship in OnePlus's modest device lineup represents a new and quite difficult approach to the task, juggling between the classic start-up style formula of high-end specs on a budget and a newly found business maturity and company growth. It is a difficult mix, to say the least and yet, somehow, the OnePlus 3 seems to make it work.
On many levels, the handset preserves that very same fiery attitude and approach that earned the original OnePlus One its "Flagship killer" reputation, but at the same time, it is a radically different device, stemming from a now bigger and stronger OnePlus, that has transcended the need for Guerrilla marketing schemes and the dreaded invite system into a much more mature company.
Key specifications

5.5"1080x1920 pixels

16MP 2160p

2.15GHz Snapdragon 820

6GB RAM 64 GB memory

3000mAhLi-Po
This is a theme that gets carried over to the OnePlus 3 as well. Sure, it still has that specs-centric excitement to it, but overall, it is a lot more toned-down, mature, if you will, even boring to some. The fact of the matter is that it might not be the most powerful device or the most attractive and ingeniously designed one, but it is undoubtedly a collection of reasonable and well thought-out choices.
Design and build quality
As already mentioned, the OnePlus 3 isn't particularly exciting in terms of design. Don't get us wrong, the 152.7 x 74.7 x 7.35mm body comes with an exquisite finish, a combination of smooth rounded shapes and some sharp well-defined edges and is truly elegant. Plus, the phone can boast a surprisingly slim profile for its metal-clad build.
There is not much really novel or too flashy about the phone's exterior and that is probably its biggest strength. Amid a sea of devices, desperately trying to stand out with things like detachable modules, case add-ons and, arguably, unnecessary curves and accents on all sides, OnePlus has decided to stick to a very restrained approach.
All the controls are logically laid out. Nothing is really out of place and it is nice to see that OnePlus has stuck with its few, but important customizations in this respect as well. Fans will be pleased to hear that the fingerprint reader, touch-enabled, always-on sensor on the front is still a thing and is insanely fast and accurate. So is the notification slider on the side. It allows you to quickly switch through notification modes.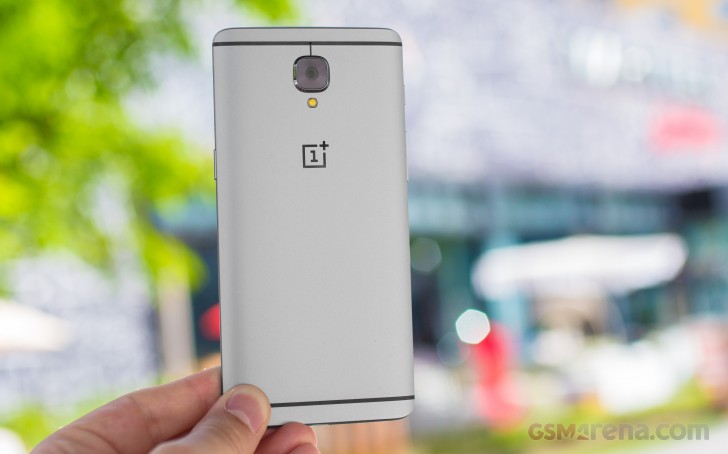 The only beef we really have with the OnePlus 3 is the camera bump. It sticks out quite a bit, which is a natural side-effect of having a 7.35mm body. The device also sadly lacks water-proofing, but that is basically nitpicking, considering the price point. The absence of expandable storage, on the other hand, can not be forgiven quite so easily.
Display
The OnePlus 3 is equipped with a 5.5-inch screen, which still seems to be right in the sweet spot for media consumption and web browsing by current standards. The 1080p resolution has been among the most controversial aspects of said display and frankly the whole phone. The panel uses a Diamond Pentile pixel arrangement, which is far from ideal for this size and resolution, but with a pixel density of 401ppi, it looks pretty sharp from a user standpoint.
It also uses AMOLED technology, one produced by Samsung, to be exact. But, since it is designed by OnePlus specifications, it uses an Optic AMOLED moniker, instead of the familiar Super AMOLED one. Still, you get the punchy, vibrant colors, associated with the technology, as well as the benefit of deep blacks and infinite contrast.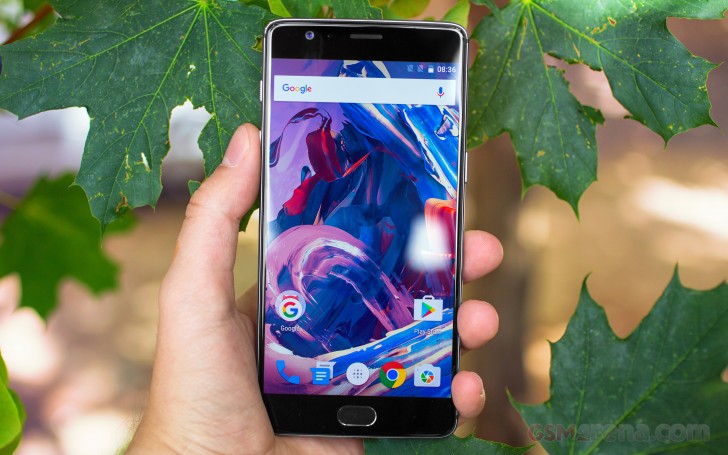 Speaking of colors, the OnePlus 3 has a tone slider, which allows for custom adjustment. You can easily opt for a more AMOLED feel or choose to go with accurate colors with an average deltaE as low as 6.0, by cranking the setting all the way up. This also affects brightness - 403 nits on the first setting and a respectable 433 nits at the far end of the slider.
Battery life
The OnePlus 3 is equipped with a sealed-in 3,000mAh battery. The OnePlus 3 managed to clock in a respectable 66h endurance rating. This actually falls in line pretty well with what we have seen from previous OnePlus phones - 61 hours total on the OnePlus 2 and exactly 66 hours on the original OnePlus One as well. The traditionally excellent call time has now become even better at almost 32 hours. Video playback has also received a major improvement. The weakest link seems to be the browsing time.
A lot of this can be attributed to the power-efficiency of the 1080p AMOLED panel, as well as the almost stock approach to Android.
Charging on the OnePlus 3 is handled beautifully thanks to the company's new Dash charging technology. It is a variant of Oppo's industry-leading VOOC and it can actually bring the 3,000 mAh battery from 0% to 60% in just under 30 minutes with no overheating. A whopping 20W dash charger is also conveniently included in the retail package.
Audio
The OnePlus 3 went off to a flying start in our audio quality test. When used with an active external amplifier, it got top marks for clarity and had very high loudness for one of the more impressive showings out there.
Unfortunately, hooking our standard headphones did quite a lot of damage - the loudness plummeted to Average only levels, while the stereo crosstalk rose significantly and the frequency response got a little shaky. Intermodulation distortion crept in too, so it's not the best in this case and certainly some way behind what we consider flagship standard in 2016.
Photo camera
The OnePlus 3 is equipped with a very respectable camera setup, considering its price. The main shooter utilizes a 16MP Sony IMX298 sensor with an 1.12 µm pixel size and an aperture of f/2.0. It is also OIS-enabled and has a single LED flash at its disposal. As for the selfie snapper, it offers a respectable 8MP resolution, which surely provides nicely detailed photos.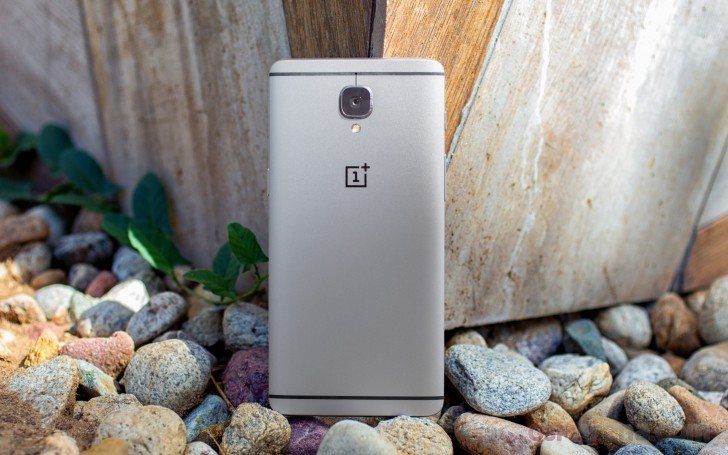 OnePlus's take on the camera app is quite similar to the stock Android solution and looks very clean and tidy, even basic on the surface. However, with the exception of some detailed resolution controls and perhaps little additions like filters, nothing is really missing. The Manual mode is truly powerful, giving you control over ISO, contrast, shutter speed and focus and it works really well. You get a few other additional modes as well, including Panorama for stills, Time-lapse and Slow motion for video. There is auto and manual HDR, as well as something OnePlus calls HD mode. The latter enables some extra post-processing, which produces visually sharper images with more clarity, which works great for nicely textured subjects.
Quality on the OnePlus 3 stills is definitely up to par with 2016 flagship standards. They offer plenty of detail while keeping the noise levels reasonable. The color balance is decently accurate, with a slight warm tint from time to time.
We can't really ask more of the OnePlus 3. It has managed to make proper use of the Sony IMX298 sensor just as well as the Xiaomi Mi5 or the Huawei Mate 8. It is a very solid camera experience and that's about as good as we hoped.
Video camera
The OnePlus 3 can pump out 720p, 1080p, or 2160p 4K videos all in 30fps, unfortunately, it does not look like there is a 60fps option on any of the video resolution settings.
The 4K videos have a bitrate of 42 Mbps, while audio is captured at 96 Kbps with 2 channels (stereo).
The amount of resolved detail in the 4K videos is high, but not the best we've seen. The colors are accurate and the contrast is high, while the dynamic range is slightly above the average. The framerate is smooth and consistent at 30fps. Focus-hunting is kept at a minimum during recording.
Optical image stabilization is also present on the OnePlus 3, but we're not that impressed by the way it does its job. The 1080p videos make additional use of additional Electronic Image Stabilization (EIS) and are noticeably smoother even if that comes at the expense of
Software
The OnePlus 3 boots the company's own Oxygen OS 3.1.2, so no surprises there. It is built on top of Android 6.0.1 Marshmallow and is as near-stock looking as possible. There are a few useful proprietary additions. For instance, gestures are available across the UI, even when the screen is off. You can double tap to wake it up, draw O to open the camera, draw V to toggle the flashlight on/off, or draw < > for previous/next track.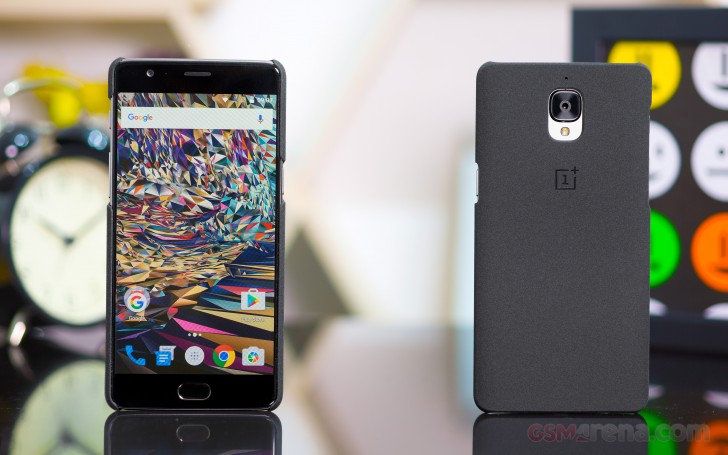 Most of the Android interface is intact - it's the Material design and icons we first met in Android Lollipop. All vanilla Android fans will be pleased to find out OnePlus touched almost nothing as far as homescreens and menu visuals are concerned.
This time around, the fingerprint reader is better than ever. It is still always-on and can be used for unlocking the phone without waking it up and as already mentioned, it is fast. In fact, it is so fast and precise that you could easily forget it's there, which is a great achievement.
Benchmark performance
The OnePlus 3 is powered by a Snapdragon 820 CPU with two Kyro cores clocked at 2.15GHz & two Kyro cores clocked at 1.6 GHz. This is backed up by a generous and quite futureproof 6GB of RAM. Throw in the 1080p panel, which gives the Adreno 530 GPU a lot of breathing room and you have got one benchmark-breaking device on your hands.
Every piece of the hardware puzzle has been specifically assembled to ensure the high-end performance OnePlus fans have grown accustomed to expecting. Sure, the lack of a QHD panel might be a drawback for some, but all this considered, the OnePlus 3 offers one of the best Android gaming experiences currently out there. Even the OpenGL ES 3.1 Car benchmark managed to run at an almost playable 18 frames per second.
Wrap-up
The OnePlus 3 looks and feels great, performs like a champ, captures solid still and video and best of all, won't break the bank. Sure, it might not be as exciting as its predecessors, despite the company's best efforts to keep the youthful spirit alive with signature cases and it definitely doesn't hold a universal appeal, but the OnePlus 3 is a solid all-around device.
Interestingly enough, however, OnePlus seems to be on to something, as its phone is no longer in a niche of its own, as was with previous iterations. This time around, others have picked up on the formula as well with their own takes on the high-end hardware on a budget mix.
OnePlus 3
Pros
Cons

Thin metal body, solid build quality
Sharp 5.5-inch Optic AMOLED screen delivers pleasantly punchy and vibrant colors
Impressive 16MP shooter, especially for stills
Snappy performance and virtually no bloat on the Oxygen OS
Truly impressive performance, especially in the graphics department

No MicroSD card slot
No dust or water-proofing
Also consider
Speaking of the OnePlus 3 formula, Lenovo is definitely among the better-known competitors, who have already managed to copy it. For around EUR 440, the ZUK Z2 Pro comes with a 5.2-inch, FullHD, Super AMOLED panel, and the same 6GB of RAM plus Snapdragon 820 combo. However, the premium exterior isn't quite there.

The same goes for the ZTE Axon 7 - Snapdragon 820, 5.5-inch, QHD AMOLED panel and 4GB or 6GB RAM, plus 64GB or 128GB storage. Pricing should not be that far off either. However, with both this and the aforementioned ZUK, there is a slight concern regarding future support and updates.

Xiaomi also has quite an alternative to the OnePlus 3 - the excellent Xiaomi Mi 5. It can be yours for anywhere between EUR 280 and EUR 440 or so and if you don't mind the smaller 5-inch LCD panel, you could potentially get an even better camera experience and a lot more storage for your money.
Now past the need for flashy titles or viral sales and pricing tactics, OnePlus has managed to create a remarkable device yet again, both mature in its choices and yet somehow still really special and not exactly mainstream.
But probably the best thing about the OnePlus 3 is that this dualistic nature doesn't really leave much room for major dilemmas. If it is right for you, you'll know it and there's little to no fine print attached - it's pretty much a "what you see is what you get" kind of deal.
OnePlus 3
Total GSMArena score
4.3 / 5
| | | |
| --- | --- | --- |
| Design and build quality | | 3.5 |
| Display | | 5.0 |
| Battery life | | 4.0 |
| Audio | | 3.5 |
| Photo camera | | 4.0 |
| Video camera | | 4.5 |
| Software | | 5.0 |
| Benchmark performance | | 5.0 |
| Coolness | | 4.5 |
Md Monir Hossain
23 Jul 2021
6p}
Battery backup is very poor
Anonymous
21 Apr 2021
guw
Good phone
Anonymous
12 Nov 2019
v$D
Best phone in Android systems