Sony video teases phones with 3D ToF cameras
Peter, 01 February 2019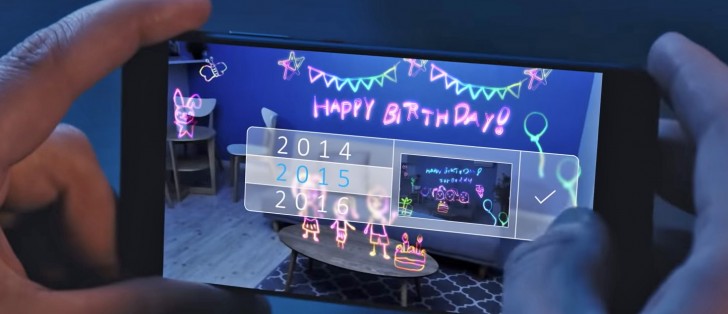 Back in 2015 Sony acquired Belgium's Softkinetic, which produced 3D Time of Flight cameras called DepthSense. Yesterday, Sony posted an image titled "Life with DepthSense", which shows different possible applications for phones with 3D ToF cameras.
The first imagines 3D virtual graffiti, friends and family can leave you drawings and notes which you can explore and even walk through using your phone. The next concept (1 minute in) puts the ToF camera on the front for enhanced animated selfies.
There are entertainment opportunities too, like shooting robots with finger guns (1:15). Such a phone can also help you shop (1:50) by giving you the exact dimensions of things you're considering (e.g. will my iPad fit in this handbag?).
We saw a report yesterday that claimed the Sony Xperia XZ4 will feature a 3D ToF camera, so the release of this video might not be coincidental.
Whatever "phone" was used in the video, its corners are much too rounded to be one of the current Xperias (it's more than likely that this is just a dummy with some CGI magic).
Meanwhile, a leakster has been teasing the "Xperia α1" name in relation to a new phone camera. It promises 0.02s autofocus, which will be the fastest in the smartphone world (beating Sony's current 0.03s AF) and real-time tracking.

This is related to the Sony a6400 mirrorless camera, which delivers 0.02s AF.
The specs of the Xperia XZ4 have leaked in detail, though we're still not convinced about the 52MP sensor. We'll find out for sure about this, α and the Time of Flight cameras on February 25.
Related
And also... It would be great if we move from this thread to XZ2 thread. This is the news about Time of Flight camera.
Ok, now I know. The problem is in me. Because that 5mpx selfie to me look worse than S9s selfie cam. Both in video and pictures. I didn't say it's bad, I just noticed according to my eyes and my taste, that that on S9 is better in my opinion. In most...
I'm glad you asked. I personally have an xperia xz2 and my two sisters and my best buddy are using note 9 and they all said it themselves that my camera is way better than theirs. They were amazed by how my xz2 puny 5mp selfie camera can produced so ...
Popular articles
Popular devices