Best flagship phones 2020 - buyer's guide
GSMArena team, Last updated 23 November 2020.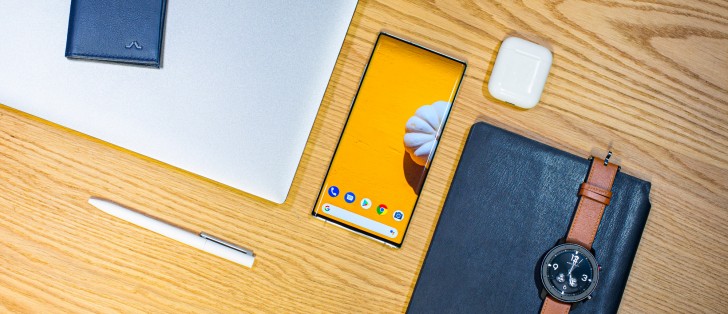 Last updated: Nov 23, 2020 (Changelog)
If you are after the very best on the smartphone market, you've come to the right section of this buyer's guide.
The highest of high-end phones are in this category. The latest Galaxy and iPhone are the default choices at this level, but big names out of China have their own takes too, of course. Both Xiaomi and Oppo can offer you no-compromise handsets with build and features to match or even beat Apple and Samsung, and OnePlus doesn't mind being mentioned in this company either. Alternative form factors can be found here too - whether it's the unique rotating camera of the Zenfone or Samsung's ever more affordable Galaxy Z Fold2.
---
Editors' choice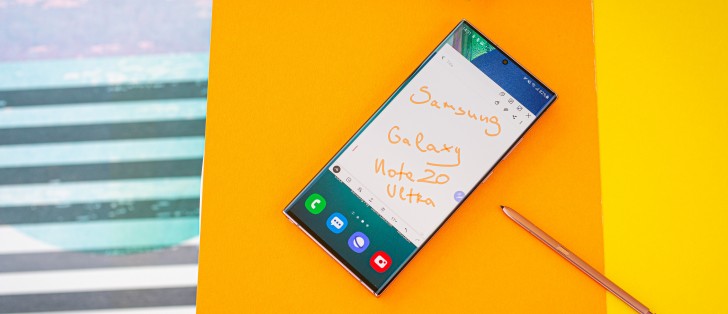 Samsung Galaxy Note20 Ultra 5G
The best display on the market
Surprisingly good battery life for the display/battery combo
S Pen works great - if you're into that
The rear camera bump can be an eye sore
Performance divide between versions, Exynos variant isn't as good
Charging speed is not competitive
You still have to choose between 120Hz refresh rate and 1440p resolution
The Galaxy Note20 Ultra gathers all the cutting edge tech Samsung can offer to the public, short of a foldable screen. The latest in the Note lineup has a superb display, great battery life and a very capable tri-set of cameras. But it's the S Pen that makes it a unique proposition for any type of creative use as well as general note-taking.
The continued regional divide that leaves the bulk of the world with the somewhat inferior Exynos chipset is hardly ideal, and that's probably our biggest issue with the Note20 Ultra. Other minor niggles include the relatively slow charging speed and maybe the ultra-sonic fingerprint reader, as well as Samsung's refusal to enable 1440p resolution at 120Hz refresh rate. For all its image capture prowess, the camera assembly is anything but pretty, physically, but is that really a reason not to get the most complete Android smartphone available?
Read full review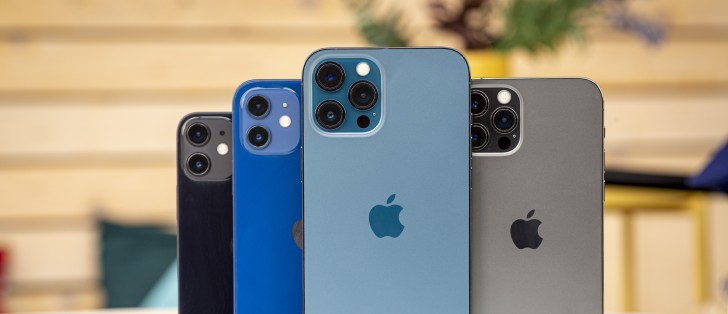 Apple iPhone 12 Pro Max
'Best iPhone ever'
Robust build - Steel frame, Ceraminc Shield IP68 and then some
Most potent chipset on the market
Huge notch, slippery design
Display is missing the all-important high refresh rate
No memory expansion, Lightning port
No charger, no headphones in the box
Expensive
The iPhone 12 Pro Max is currently Apple's best iPhone. It sure omits some long-overdue features like an HRR screen, a smaller notch and a more prominent camera upgrade. Sure, Apple did bring a couple of imaging improvements, but the image processing made these pointless.
All that aside, it's inevitably a refinement over the previous generation, offering a new zoom camera and expanded Night Mode, improved durability and dust and water resistance (still IP68, but deeper and for longer), and unmatched performance. If you're at all an iPhone type of person, the 12 Pro is a no-brainer. Same goes for the regular Pro, in fact. It's up to you to decide which size suits you best. No matter the hardware differences, you will still get the same experience. Got to love Apple for that.
Read full review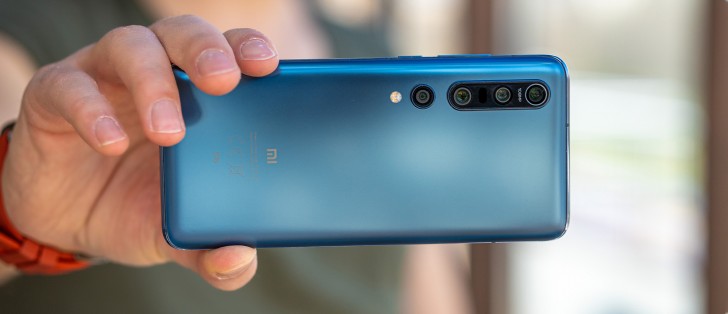 Xiaomi Mi 10 Pro 5G
Super bright 90Hz AMOLED display
Dependable battery life, fast charging, 65W brick in the box, super fast wireless charging
Best stereo speakers we've heard
Quad cam with two teles and a 108MP main unit delivers outstanding photo quality across the board, day and night, very good video as well
No IP rating (though some splash resistance claimed)
No memory expansion
Ultra wide cam misfocuses in close-up shots, not great in low light
Selfie cam not up to the rear cam's standard
The Xiaomi Mi 10 Pro puts an end to the bargain prices of Xiaomi flagships and charges top dollar instead. And it does have what it takes to justify it too, save for an IP rating.
Its quad camera system relies on a 108MP sensor to do the heavy lifting, an autofocusing ultra wide that moonlights as a close-up shooter (with the occasional hiccup), and not one but two teles going all the way to sort of 5x zoom. The selfies aren't as spectacular, but you have to pay the price for the tiny punch hole.
The 6.67-inch display ranks towards the top of the charts for brightness, and it supports a high-ish refresh rate - Xiaomi's stopped at 90Hz for this one, and that's helped the battery life which is also among the better ones in the class. The bundled 65W USB PowerDelivery adapter will also work for your laptop, while the phone will charge at a mere 50 watts.
Read full review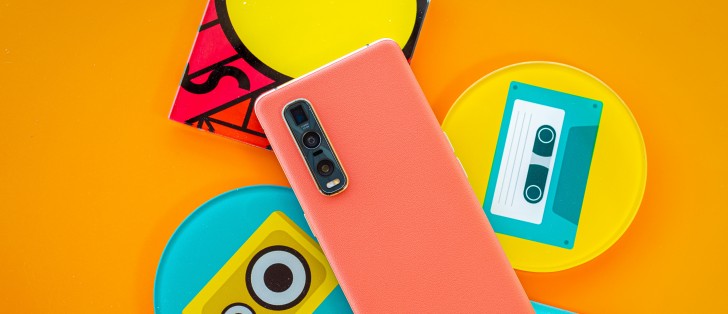 Oppo Find X2 Pro
Standout design, particularly if you opt for the Vegan leather version
Class-leading 120Hz 1440p display
Fastest charging in the segment (36mins to full)
Excellent thermal management, exemplary sustained performance
€1200 is a bit hard to swallow
No memory expansion
No wireless charging
Low-light zoom camera performance not quite up there with the best
Oppo made zero compromises when picking the hardware for the Find X2 Pro and that made for a price only Apple was comfortable charging until this year. But the custom-built camera system with big-sensor main and ultra wide shooters and a 5x periscope couldn't have been cheap. The display is also so universally great, that it didn't come out of the bargain bin either.
The top-tier Snapdragon chipset is a given, but Oppo's implementation has turned out particularly successful in terms of thermals and continued load. And while battery life is so-so, no competitor will charge as quickly as the Find X2 Pro. Wireless charging is missing on this one, however. So is the option for storage expansion, but with a 256GB base model we're wondering if that's such a big deal.
Read full review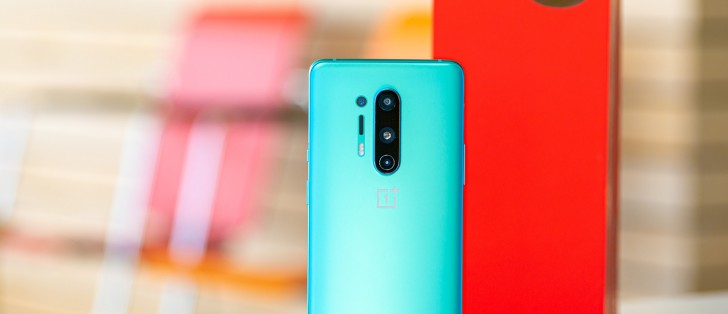 OnePlus 8 Pro
Class-leading 120Hz 1440p display
Great camera all-around
Super fast wireless charging
Loud stereo speakers
Inconsistent motion smoothing feature, no always-on display
No memory expansion
Color filter camera is meh, so is the ultra wide in low light
Formerly a flagship-on-a-budget brand, OnePlus has reached a point where it charges premium prices and the OnePlus 8 Pro goes for as much as a Galaxy S20+ in some parts of the world. But the compromises that went with the flagship killer approach are no more, and the 8 Pro comes with an IP68 rating and wireless charging, top-shelf niceties once sacrificed.
The OnePlus 8 Pro's display is the same one you'd find on the Find X2 Pro, so that gets you 120Hz at 1440p and all the brightness you'd ever need. The big-sensor modules for the main and ultra wide angle cameras are also shared with the Oppo, and we're really liking the stuff we get out of them. As for the telephoto, well, the OP8P takes a more cautious path and is missing out on any periscope action, instead sticking with the sort-of 3x zoom of the predecessor.
Read full review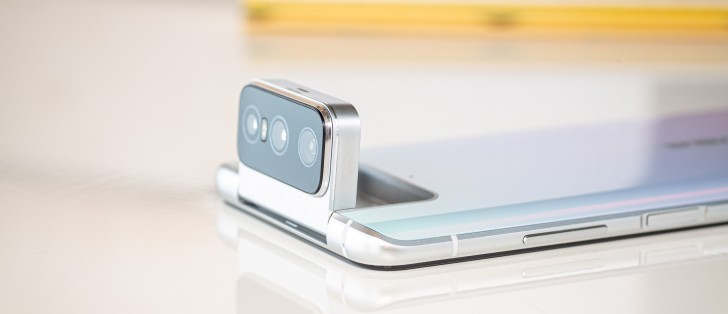 Asus Zenfone 7 Pro ZS671KS
Unique motorized camera assembly is cool, recognizable and useful
One of few cutout-free displays on the market
Comprehensive battery care options
Powerhouse chipset, software options to get the most of it
Heavier than most, thick too
No IP68 rating
Spotty fingerprint reader experience
The Zenfone 7 Pro is a welcome breath of fresh air among barely recognizable slabs. But the motorized Flip Camera isn't just for show - it makes for the most capable selfie cam on the market plus it's not too shabby as main shooters go either. The other consequence of the rotating cam is a true full-screen display - no punch holes or notches on this one.
Among the less noticeable strong points of the Zenfone is its top-grade Snapdragon 865+ implementation - it runs fast and cool and does so for longer than most. Dedicated efforts in the charging department, meanwhile, ensure your Zenfone's battery will remain in better health in the long run.
With the motorized camera's versatility comes a trade-off - the phone makes no claims for waterproofing and the moving bits are likely to blame. It's also a big handset, and a heavy one too, so it's not for compact phone lovers. We were not particular fans of the side-mounted fingerprint reader, but if an under-display unit couldn't make the budget, so we can have the other stuff, so be it.
Read full review
Almost there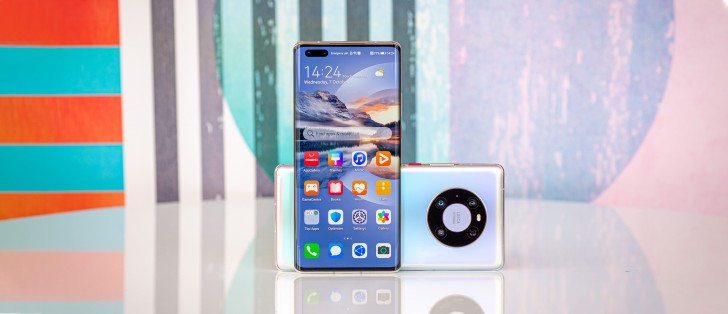 Huawei Mate 40 Pro
Standout design thanks to waterfall screen and distinct camera assembly
Long-lasting battery, very fast charging
Top-class speakers
Secure facial recognition
Likely the most capable camera system to date, day and night, back and front
No Google Mobile Services means some apps will never work
Competitors have 120Hz displays, this one is only 90Hz
Front camera cutout is a bit in your face
Chipset may not stand up to 2021 competition
We're used to having a Huawei flagship almost on the list. The Mate 40 Pro can easily earn a spot in a possible top three ultimate smartphones contest, if only it wasn't for its lack of Google Mobile Services. An unfortunate victim of a trade dispute, the Mate has few other shortcomings.
We have our doubts about the futureproofing of the new Kirin chipset, and the Mate's display maxes out at 90Hz among a crowd of 120Hz-capable rivals. The camera cutout on the front is also quite the pill to swallow.
It does enable secure facial unlock that only the iPhone on this list has, and the waterfall display does make up for the selfie shooter's less than ideal aesthetic - curved edges do look cool. One of the fastest charging solutions on the market complement an otherwise great endurance and the Mate has some of the best speakers around. But it's really its cameras image quality that has us all ecstatic and wishing the US and China ultimately shake hands.
Read full review
Niche choice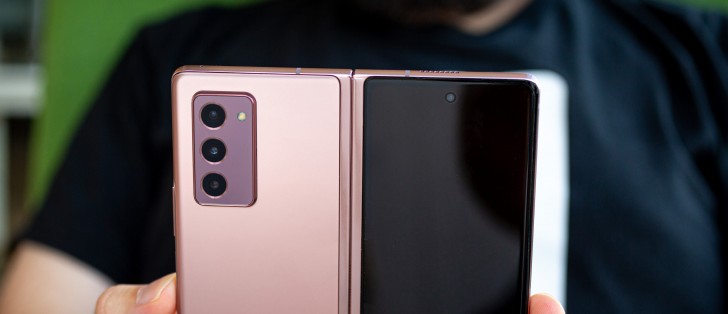 Samsung Galaxy Z Fold2 5G
Truly innovative form factor, a lot of structural improvements over the first generation
Hardware offers unique usability potential, the software is there to unlock it
Speakers are excellent
Flagship-grade full-featured camera system.
No ingress protection rating
The Snapdragon 865+ chipset is a bit thermally-constrained and underperforms slightly
Relatively slow charging
So what if it's almost twice as expensive as an iPhone 12 Pro Max? The Galaxy Z Fold2 is the one phone that offers a glimpse into a possible future and you can have it today.
Samsung's second generation of phone-turns-into-tablet foldable comes with an improved build to address durability concerns and a larger outer display in response to usability complaints. OneUI 2.5 is there to help if the new form factor has you wondering what to do with it, but multi-tasking and selfie-taking are two areas elevated to a whole different level.
It folds in the middle, but it's bright and color-accurate, the Z Fold2's main display. A well-rounded high-end camera system is only missing a periscope, but we get the space constraints. The phone also manages to return solid endurance numbers with mixed screen use and has great speakers. Overall, Samsung's way past the proof of concept stage with this one, so it's worth a look if you're shopping with an unlimited budget.
Read full review
Most recent updates
Nov 23, 2020: Replaced the Apple iPhone 11 Pro Max with 12 Pro Max.
---
Best phones by category
---
What is a flagship phone?
Actually no, the Edge+ has comparatively better specifications (865 vs 835)