Best compact phones 2022 - buyer's guide
GSMArena team, Last updated 29 June 2022.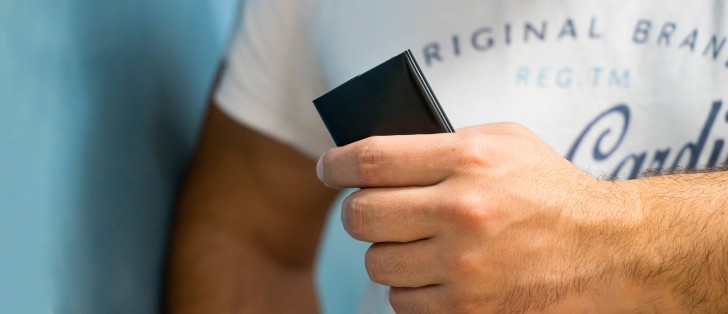 Last updated: June 29, 2022 (Changelog)
The trend towards growing displays seems to be plateauing, but even in the current state of things, most phones are just too big for easy handling with one hand. This is why we always enjoy it when we come across the occasional competent compact handset. In this section of our buyer's guide, we'll try to point out the ones we think deserve your attention.
---
Editors' choice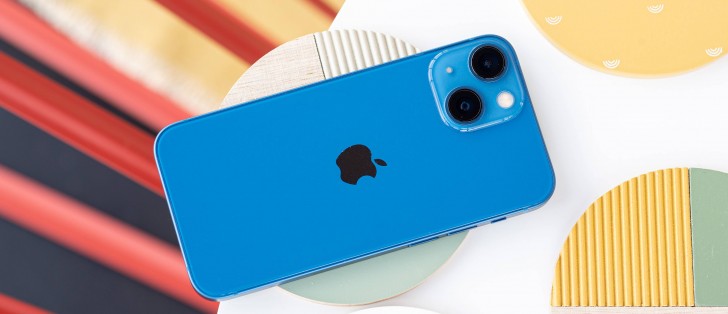 Apple iPhone 13 mini
Tiny OLED, high-res, bright
Iconic design with ceramic shield, aluminum frame, IP68
The latest Apple A15 Bionic chip with 5G
The cameras take some great photos and videos
Night Mode and Dolby Vision available
Loud stereo speakers
Improved battery life over 12 mini
Potential throttling under certain conditions
No charger, no headphones
The Apple iPhone 13 mini is a smaller version of the iPhone 13 and it's lost nothing. The most important updates over the 12 mini are the larger battery capacity, the smaller screen notch, and the doubled base storage. We sure don't think iPhone 12 mini owners should update, but we do consider the 13 mini as the best compact phone there is right now.
The iPhone 13 mini packs a 5.4" OLED screen of 1080p resolution and the powerful Apple A15 chip with 5G connectivity! It has the same dual-camera as the regular iPhone 13, complete with sensor-shift stabilization, Night Mode and Dolby Vision video capturing. It also enjoys loud stereo speakers and improved battery life. Another best bits - the mini is one of the most durable phones to date as it has the same Ceramic Shield and IP68 water proofing as the standard and Pro models.
The iPhone 13 mini is the best compact smartphone to date, and we wholeheartedly recommend it. You should also consider the Apple iPhone 12 mini as it is cheaper, and the differences with the 13 mini aren't exciting.
Read full review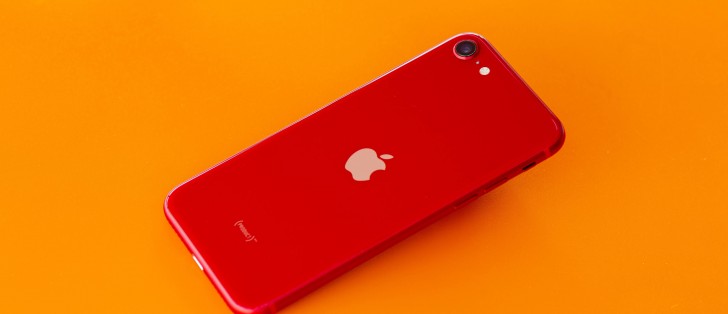 Apple iPhone SE (2022)
It's an iPhone, and a 'cheap' one at that, as iPhones go.
TouchID!
IP67 rating
Apple A15 Bionic with 5G chipset
The camera takes some great photos and videos
Stereo speakers
While technically 'compact', the massive bezels mean small usable screen area
Apple's excellent Night mode is sorely missed here
Battery life is only so-so
60Hz LCD screen
No charger in the box
Apple released a new SE in 2022 and it's among our top picks in this Compact chapter. It's hardly perfect though, but Apple has the iPhone 13 mini and 12 mini for those seeking perfection. So, the SE has a dated a form factor introduced years ago and reuses a lot of the iPhone 8 bits. That means a single camera, a small battery, giant screen bezels and - TouchID.
The best bit about the iPhone SE 2022, outside its incredibly compact and lightweight body, is the chipset – it employs the Apple A15 Bionic chip with 5G, the same one behind the latest iPhone 13 generation. The A15 chip is more powerful than even the beefiest Android, and it'll remain capable for years to come, during which time it'll keep getting software updates - the iOS way. It's a very affordable entry into that iOS world too.
Read full review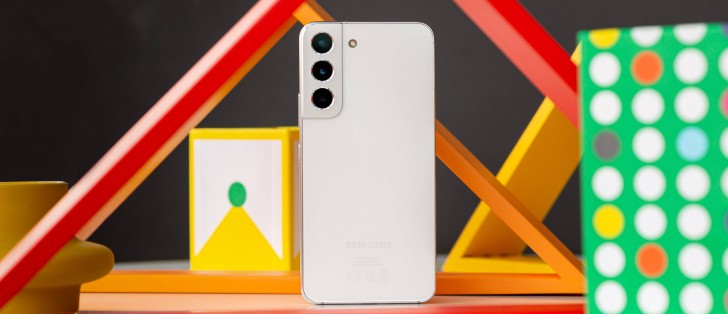 Samsung Galaxy S22 5G
IP68 rating, Gorilla Glass Victus, metal frame, 167g
Superb 120Hz AMOLED display
Versatile triple camera that goes from ultra wide to 3x zoom with excellent performance across the board
Great performance
Stereo speakers
No charger in the box
The bitter taste in your mouth from calling the 64MP camera telephoto
The Samsung Galaxy S22 is one of the most compact Android flagships available and the small size didn't come at the cost of cut features.
The Galaxy S22 comes a 1080p 120Hz AMOLED and flagship hardware, be it Snapdragon 8 Gen 1 or Exynos 2200. It has an improved camera system since the controversial S21 – now we have a 50MP OIS primary, a 10MP OIS 3x telephoto, and a 12MP ultrawide camera. The selfie camera is the flagship-grade 10MP AF unit we've seen on the S21. All cameras deliver top-notch quality in stills and video, day and night.
The smallest Galaxy S22 offers a decent battery life even if it's a bit lower than the S21's. It is one of the most compact droids available right now, among the most powerful, too, and an easy enough recommendation.
Read full review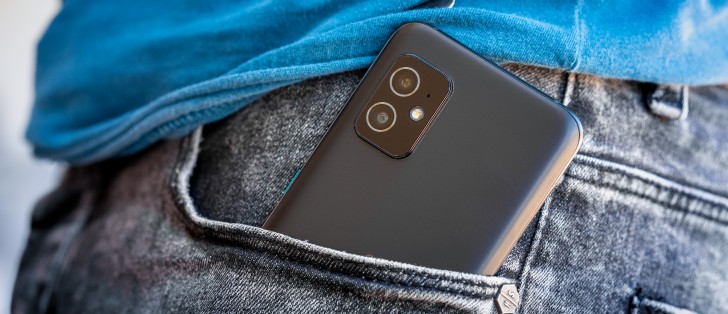 Asus Zenfone 8
IP68-rated, GG Victus, metal frame, grippy, lightweight
Excellent 120Hz OLED screen
Flagship performance and reliable sustained performance
Class-leading speaker quality
Has a 3.5mm jack
Outstanding photo and video quality across the board
Gets hot, but does not throttle much
No wireless charging
The Asus Zenfone 8 is probably among the best compact Android flagship you can get. It has commendable qualities across the board. It's built as flagship as it can be - IP68 rating, GG Victus front, metal frame, GG3 back. There is the Snapdragon 888 5G chip with great sustained performance even when the phone gets hot. The camera quality turned out brilliant, no matter day or night, photo or video, or the type of camera you are using.
That's not all. The Zenfone 8 impressed us with its speakers quality, the excellent OLED, and rich connectivity options, including a 3.5mm jack.
Finally, the Zenfone 8 may be a flagship, but its price of €600 is more in the upper mid-range territory.
Read full review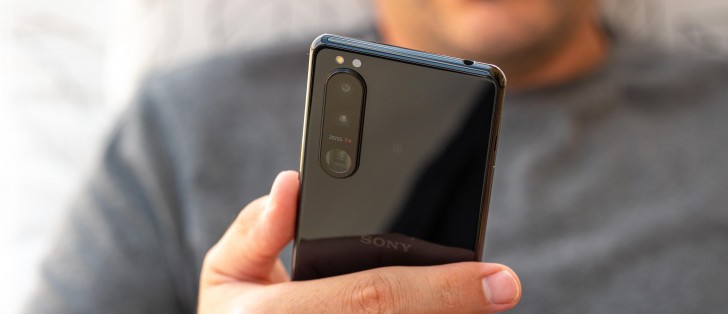 Sony Xperia 5 III
It's not Xperia Compact, but close. IP68, lightweight, too.
Excellent OLED 120Hz display
Versatile triple camera setup (wide, ultra wide, tele) with great image and video quality
Dependable battery life, quick top-ups
Snapdragon 888, 5G
No wireless charging
No 4K60 video recording in the native app
Outdated selfie camera
The Sony Xperia 5 III should be getting a sequel sooner rather than later, but it still deserves a spot here. While it isn't the next Xperia Compact, the Xperia 5 III is compact enough in Android's universe. Tall, but thin and lightweight. It is also one of the most powerful Sony smartphones, which means you are getting the best of everything - build, camera, performance, connectivity.
We liked handling the Xperia 5 III a lot and it fits well in hand or in a shirt pocket. It is unusually tall and yet compact and that has a certain charm we just can't explain. Plus, once you feast your eyes on that 120Hz OLED screen you may reconsider the iPhone 13 mini.
The Xperia 5 III also offers this unique feature-set for a fairly compact phone with possibly the most versatile camera for the size and we like what Sony did with the telephoto camera. The advanced photo and video capture apps are a boon if you know what you're doing, too.
The things we did not like - the selfie camera and the overcomplicated 4K60 video capturing. But it is what it is.
Read full review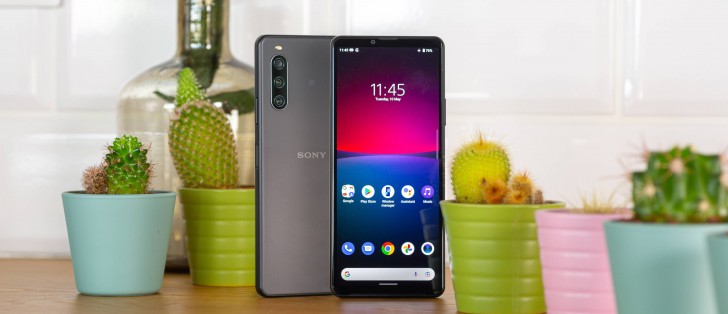 Sony Xperia 10 IV
153 x 67 x 8.3 mm, 161 g, IP68
OLED display, 1B colors, HDR
Three outstanding rear cameras, 2x zoom incl.
Spectacular battery life
Snappy Android from Google
No charger, no cable in the box
No high refresh rate for the screen
No stereo speakers
Unimpressive selfies
Underpowered chipset
The €500 Sony Xperia 10 IV is an interesting offer for its compact and lightweight design, IP68-rated at that. In addition to the solid build, the Xperia 10 IV also offers an excellent OLED screen and a very capable triple-camera system. And on top of everything, the phone has spectacular battery life.
It's not all good though – the display is limited to 60Hz refresh, the Snapdragon 695 5G chipset is inferior to mostly everything that's considered midrange, and the phone has one speaker only.
The Xperia 10 IV is not cheap either. But, as we said, it is one of the most compact Android smartphones you can get today and despite its shortcomings, it is still a solid and reliable device.
Read full review
Most recent updates
June 29, 2022: Replaced the iPhone SE (2020) with the iPhone SE (2022). Replaced the Galaxy S21 5G with the Galaxy S22 5G. Added Sony Xperia 10 IV. Removed the Pixel 5.
Oct 20, 2021: Replaced the iPhone 12 mini with the iPhone 13 mini. Replaced Xperia 5 II with the Xperia 5 III. Replaced the Pixel 4a with Pixel 5. Removed the Galaxy A41.
Aug 02, 2021: Added the Pixel 4a. Removed the 'Almost There' suggestions.
Nov 27, 2020: Replaced Galaxy S20 with Galaxy S21. Added the Asus Zenfone 8. Removed the Galaxy S10e.
---
Best phones by category
Anonymous
05 Aug 2022
I0x
Zenfone 8 should probably be replaced with Zenfone 9, now that the 9 has been releaed and GSMArena has a review.
Xperia 5 III or upcoming one Xperia 5 IV. But it is still 6"
Not many mini smartphone left I can't believe it but I think apple might have the best mini smartphone in 2022 if ios is a option for you that is and don't need Android iPhone se 2022 the only flagship opinion All other o...