Best gaming phones 2020 - buyer's guide
GSMArena team, Last updated 05 January 2021.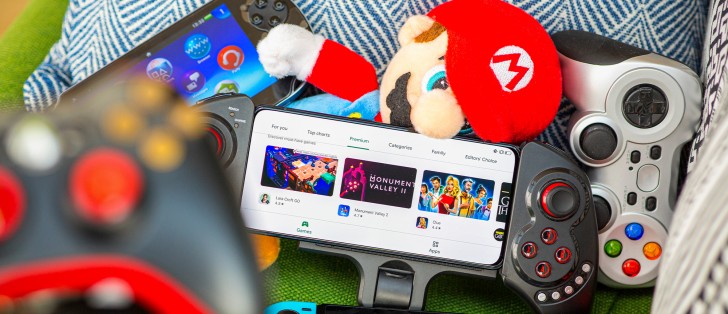 Last updated: Jan 05, 2021 (Changelog)
Phones have gradually replaced so many standalone devices we used to rely on, so why not take over our handheld gaming. Razer made waves in late 2017 and Asus' ROG branch joined in in 2018, with offers following from a Xiaomi-backed Black Shark and ZTE's nubia. Those have gaming centric features and often sport a certain gaming aesthetic that may not be to everyone's taste, but there are also some mainstream phones that can do better for gaming than others. What's the best there is right now?
Here's what we consider to be the best gaming phones of 2020 so far.
---
Editors' choice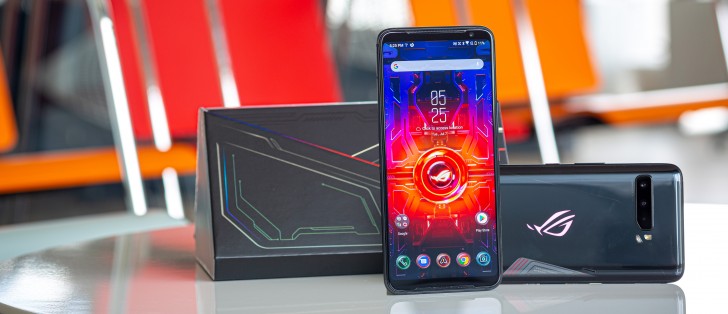 Asus ROG Phone 3 ZS661KS
Backwards compatibility with many of the ROG Phone II accessories.
AirTigger 3 ultrasonic touch sensors are very precise and versatile.
Rich retail package, including 30W charger and AeroActive 3 cooler.
Superb AMOLED screen with HDR10+ (true 10-bit), 144Hz refresh rate.
Great battery life, even at full 144Hz. Rich battery health prolonging options.
Industry-leading speaker performance, complete with gaming-specific sound tweaks.
Fastest-available Snapdragon 865+ chipset, rich performance tweaks. Blazing-fast LPDDR5 RAM and UFS 3.1 storage.
Unrivaled accessory ecosystem.
Solid daylight photos, as well as low-light images.
Very good video quality, impressive EIS
No water or dust resistance
No microSD, no 3.5mm jack
Rather basic camera setup, compared to typical 2020 flagships. HDR needs some extra work
Expensive
The ROG Phone 3 took everything that made the ROG Phone II great and elevated it further. On the surface, it is still, very-much the same phone, even maintaining nearly identical dimensions. That's an entirely deliberate choice, since Asus successfully managed to maintain compatibility with the already industry-leading accessory ecosystem of the ROG Phone II.
The iterative upgrade approach doesn't stop there either. The chipset has been swapped for the newest Snapdragon 865+ beast, implemented alongside a cutting-edge, massive cooling solution, still incorporating an external fan add-on, as well as unprecedented low-level access to system performance tuning for both the CPU and GPU. The Asus Armoury Crate and Game Genie combo is the ultimate candy shop for mobile gamers, still leading the pack on what is possible in the Android realm.
The ROG Phone 3 also gets an even faster 144Hz AMOLED display and a more-potent camera setup, now incorporating a higher-resolution 64MP Quad Bayer main snapper and a new dedicated 5MP macro camera. Camera prowess has never been a huge priority for the ROG division, yet the ROG Phone 3 manages to deliver a surprisingly strong all-round experience, even including certain standout features, like stabilized 8K video capture.
As a matter of fact, just like its predecessors, the ROG Phone 3 holds certain appeal to the non-gaming enthusiast crowd, as well, thanks to its very little compromise specs sheet. Most every bit of its internals is optimized for speed, like the UFS 3.1 storage and USB 3.1 port, to name just a couple. All backed by a massive 6,000 mAh battery.
On the flip side, you do have to learn to live with a 240-gram behemoth on a daily basis to make use of all that potent hardware. And, despite the huge footprint, there are some sacrifices, compared to the ROG Phone II, like the lack of a 3.5mm audio jack, FM radio and Wi-Fi ad (60GHz). Most of these had to go in order to make room for the new Wi-Fi 6 hardware, including the external modem and antennas. All, without compromising on things like battery capacity and what are still one of the best stereo speakers in the entire industry. Only this time optimized, even further, for gaming, thanks to Dirac audio.
Just like its predecessor, the ROG Phone 3 still lacks some mainstream flagship quality-of-life extras, like wireless charging and an ingress protection rating. However, these are still things that fall beyond the practical scope of what is still, in our opinion, the yardstick leader in the mobile gaming realm. All of the refinements and upgrades, included over the ROG Phone II bring enough added value to the table to recommend the newer ROG Phone 3 instead. Plus, limited stock has already led to speculative pricing on its predecessor.
Read full review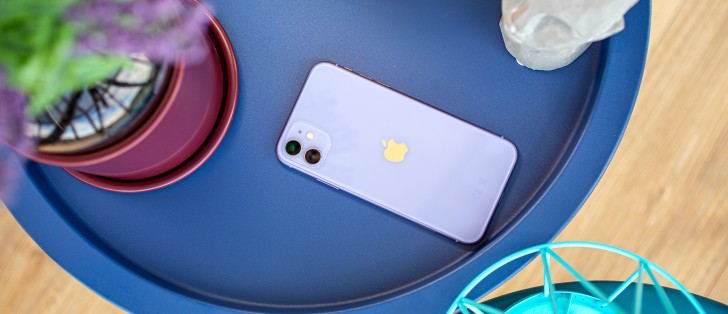 Apple iPhone 11
Vast game ecosystem, early releases and exclusive iOS titles
Most powerful chipset available
Great battery life, wireless charging support
IP68 rated
Very capable camera
Low-res LCD, 60Hz only, notched too
Painfully slow charging with the bundled adapter
Expensive
Apple decided to keep the iPhone 11 in production even after the launch of the iPhone 12 series. The good news is that the iPhone 11 is now even cheaper and it still remains one very capable phone for gaming. In fact, the iPhones always have been, we'd argue. Certainly, the combination of super-powerful hardware with a huge selection of games (some exclusive to the platform, or coming sooner than elsewhere) makes the iPhone 11 a gaming smartphone. The long battery life doesn't hurt either.
Sure the iPhone lacks the bells and whistles of gaming-centric handsets and its display has a mere 60Hz refresh rate, and its design is rather bland and non-flashy. But it too is a very good phone outside of that one use case called gaming.
You can also consider the newer iPhone 12 for the better chipset and the higher-res OLED screen. It is more expensive though and offers lackluster battery life.
Read full review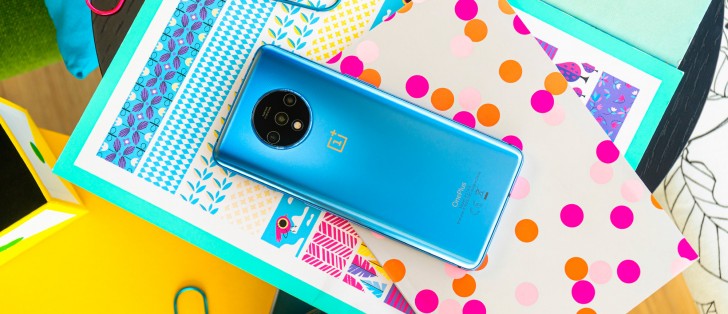 OnePlus 7T
90Hz AMOLED display is excellent overall. Flat too, which we see as a bonus for handling while gaming
High-end internals, performance-oriented thermal policies
Great battery life, fast charging
Capable and versatile triple camera
No official IP rating
Screen doesn't actually run in 90Hz in most games
The OnePlus 7T has a spot in this category as an excellent all-rounder with a few peculiarities that make it a bit better suited to gaming than most.
Sure, it packs a Snapdragon 855+ too, but it also employs performance-oriented thermal policies, letting it throttle less and perform better under sustained load. Then there's the 90Hz display, which should, in theory, be a boon for gaming, though in this case, it does revert to 60Hz for the majority of titles.
Read full review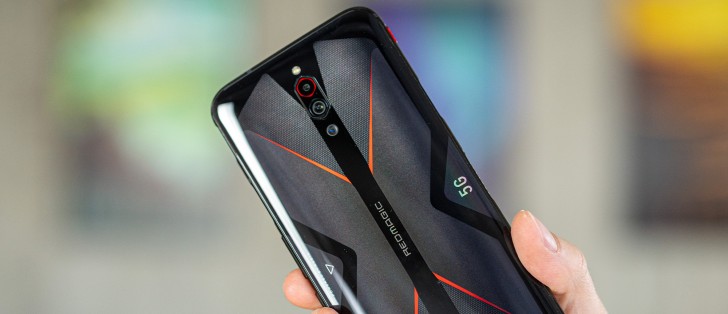 ZTE nubia Red Magic 5G
The first (but not last) 144Hz AMOLED display in the business, minimal touch latency, bright
Snapdragon 865m built-in fan ensures sustained top performance for long gaming sessions
Hardware trigger buttons
Lower price than the competition
Quite the looker, LED-illuminated RGB elements
Not many games can provide framerates to match screen refresh rate
Uninspiring camera performance
Confusing software and issues with translation
Outside of China, the 55W charger doesn't come bundled
Another member of the gaming droids roster, the Nubia Red Magic 5G is more than just a chipset and camera refresh over the Magic 3s. In addition to the new Snapdragon, this Nubia is also the first phone to offer a 144Hz OLED and that's a huge deal.
Just like it Red Magic 3s predecessor, the 5G is affordable, ships to pretty much everywhere and it looks plenty cool. And what the ROG Phones need an accessory for, the Nubia has built in - a cooling fan.
It may not be picture-perfect as the camera performance is underwhelming, but as far as gaming go - this the Red Magic 5G is one of the best in the class.
Finally, we opted to include the Red Magic 5G instead of the newer 5S model for its advanced LED-illuminated RGB elements. Both phones are virtually the same, but the older 5G is cheaper and the better-looker. If you are interested, get it soon as the stock won't last long.
Read full review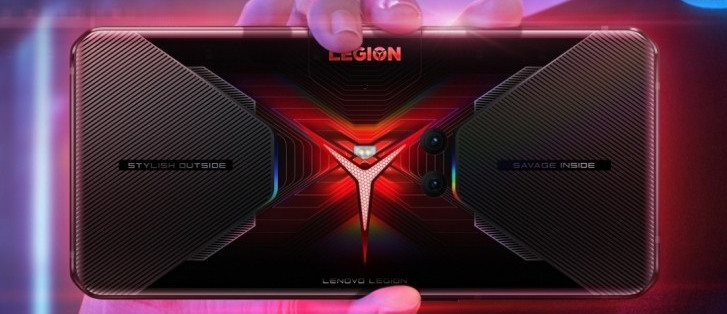 Lenovo Legion Duel
Great 144Hz OLED display, HDR10+, no cutouts
Promising battery life and blazing fast charging
Snapdragon 865+, 12GB or 16GB RAM, UFS3.1 storage
Shoulder trigger, RGB lights
Stereo speakers
No IP rating
No wireless charging
No audio jack, no microSD slot
€1000
The recently launched Lenovo Legion Duel looks beyond promising. It has a proper 144Hz OLED screen with fast touch response, the fastest chip on the market yet, plenty of RAM and fast UFS3.1 storage, and, of course, shoulder triggers. There are no cutouts on the screen as the selfie camera is mounted on a motorized pop-up mechanism on the side. This way it is also ideal for recording commentary during gaming sessions.
Lenovo claims it has optimized the 144Hz display and shoulder triggers for 130+ games and is working to get more developers on board to take full advantage of its hardware. The Duel features an advanced cooling system with two heat pipes as well as Lenovo's U-Engine dual X-axis vibration motor which promises over 100 types of long vibration patterns and 13 kinds of low-response ones.
The dual-camera (64 main + 16MP ultrawide) is nothing special, but it's a gaming phone, not a camera one. What's special though is the fast wired charging. The battery comes in at 5,000mAh and is separated into two 2,500 mAh cells. It can be recharged at 90W and a full charge is achieved in just 30 minutes. To do so you need to plug in chargers in the two USB-C ports - one on the bottom and another on the left side and fill the two cells simultaneously.
Finally, Lenovo is advertising the Lenovo Legion Duel as one of the best phones for the Xbox Game Pass. The maker offers a range of accessories for the Duel, including a dock which allows for easy connection to a monitor. You can connect a mouse and keyboard, or a gamepad and you can play whatever you like whenever you like. The Duel is no cheap though - it's starting price is €1000 and you'll need to spend more if you want some of the cool accessories. Gaming has never been cheap though, has it?
SPECS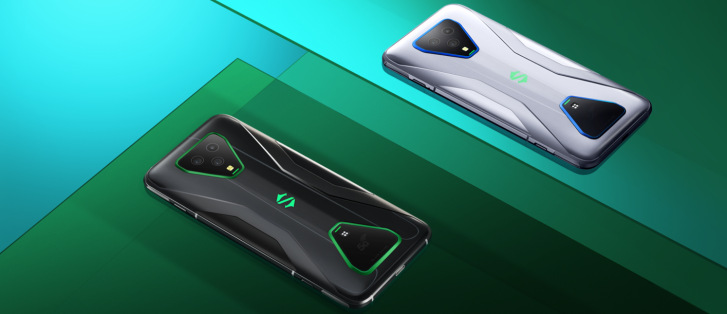 Xiaomi Black Shark 3 Pro
Not that expensive
Massive 7.1" OLED display, 90Hz, HDR10
Promising battery life and very fast charging
Snapdragon 865
Shoulder trigger, RGB lights
Stereo speakers, audio jack
No IP rating
No wireless charging
The Black Shark 3 Pro is one of the most obvious choices. It also offers massive upgrades over the Black Shark 2 Pro, including a larger and HRR screen, a faster chipset, a larger battery with faster charging, among others.
The Black Shark 3 Pro comes with a tablet-sized 7.1" OLED display, capable of 90Hz refresh rate and HDR10 playback. It also packs a large 5,000mAh battery that can be fast charged with the regular 65W or the magnetic 18W chargers. It also brags with stereo speakers and also offers an audio jack!
Finally, the Black Shark 3 is not that expensive, not ROG money anyway.
SPECS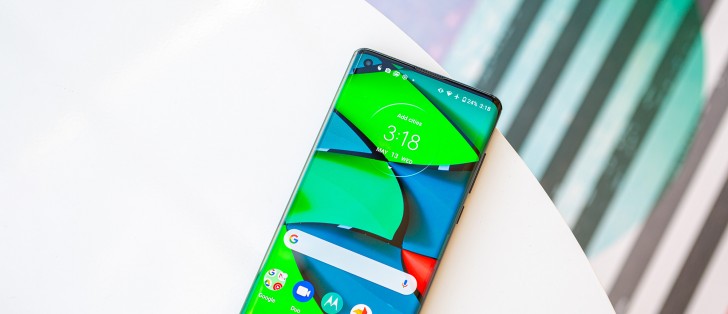 Motorola Edge
Splash-proof curvy design
Large HDR10 OLED with 90Hz refresh rate
Clean Android, gaming-oriented features such as virtual trigger buttons on the edge
The fastest midrange chip
Stereo speakers, dependable battery, good camera skills, 3.5mm jack
Not the fastest charging
Uninspiring low-light camera performance
The Motorola Edge is a midrange gaming phone, no two words about that. It offers nice perks such as curved 90Hz OLED that allows adding virtual trigger buttons on the sides, offers stereo speakers and audio jack, and has the hardware to provide adequate gaming performance.
The Edge is a good all-rounder, too, with various cameras even if neither of these stands out for its photo quality. But the Edge still impresses with its large battery and the excellent battery autonomy. Finally, the clean Android OS and the plenty gaming-centric Moto improvements do help a lot.
Read full review
Value proposition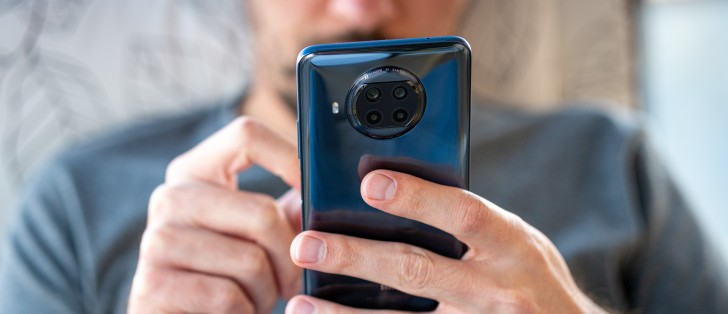 Xiaomi Mi 10T Lite 5G
Large 6.67" 120Hz HDR10 LCD screen
Gaming-friendly Snapdragon 750G 5G chip with 6GB RAM
Excellent battery life, fast charging
Plenty snappers with good overall quality
Not the brightest display
The Xiaomi Mi 10T Lite is shaping as an excellent gaming phone on the budget. It has an HRR HDR10 screen, large at that, while the Snapdragon 750G offers more than enough punch for smooth gaming. And some games can even go beyond 60fps, unlike on the Realme HRR phones. We also appreciate the Mi10T Lite having the battery backup to last you many gaming sessions in one charge.
The Mi 10T Lite is good at snapping photos, too. It has a 64MP primary with Night Mode, there is an 8MP ultrawide shooter and you can snap 2MP macro images. The photos from the main camera aren't the sharpest around, but at this price this is in the nitpicking territory.
Read full review
Niche choice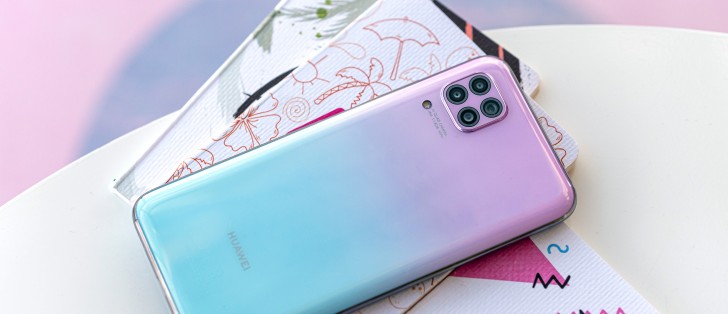 Huawei P40 lite
Large screen, small cutout
Excellent performance, great for gaming
Very good photos out day and night
No Google Mobile Services
Memory expansion via NM cards
The Huawei P40 Lite is still one very balanced smartphone that excels in performance, battery life and camera quality. Its screen is ideal for gaming and streaming videos, too. There is only caveat - no Google services like most recent Huawei phones.
The P40 Lite is one of the best phones for gaming within the midrange price bracket - the Kirin 810 chip coupled with the EMUI 10 gaming optimizations performs admirably. Unfortunately, or not, you need to rely on sourcing your apps from places other than the Google Play Store.
One really nice thing about the Huawei P40 Lite is its fast 40W charging. A full charge of its 4,200mAh battery takes 1 hour, but you get 70% in just 30 mins.
Read full review
Local favorite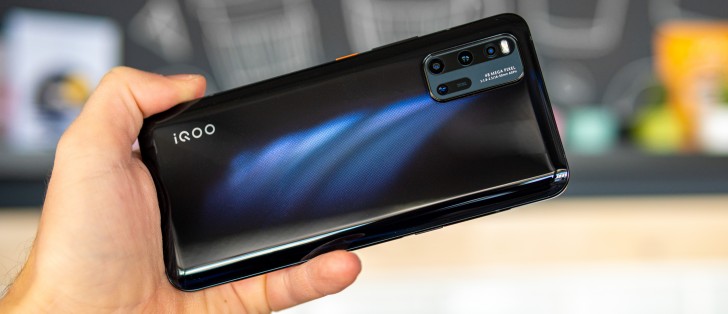 vivo iQOO 3 5G
Shoulder buttons are a boon for gaming
Super bright AMOLED display
Top-class battery life, fast charging
Stable performance under sustained load, UFS 3.1 storage
No HRR capability of the display
Single speaker, not very good at that
While not best suited for gaming, the iQOO 3 (in 5G or 4G trim alike) is a competent package for general use. Sure, its screen is missing high-refresh rate support, and its camera isn't as universally capable as some of the more expensive models. But 60Hz-only display is bright as daylight and the trio of cams covering the UW-1x-2x range will work more than fine in good light.
And that's before we get to the top-tier Snapdragon 865 chip that handles continuous load with grace and the UFS 3.1 storage that's faster than what the Galaxies and the OnePluses of the day have. With no 90Hz or 120Hz display modes to take a toll on the battery, the iQOO is truly an endurance champ too, complete with speedy 55W charging for when the battery does run out. Finally, the shoulder triggers are what made us list the iQOO 3 here and they sure come in handy.
A small caveat here is that the phone is only available in China and India, so tough luck for all you iQOO fans elsewhere.
Read full review
Most recent updates
Jan 05, 2021: Replaced the Nubia Red Magic 5S with Red Magic 5G. Replaced the Realme 6 Pro with Xiaomi Mi 10T Lite 5G.
Nov 27, 2020: Added the Lenovo Legion Duel. Replaced the Nubia Red Magic 5G with Red Magic 5S.
---
Best phones by category
This article is meaningless, all iphones with a13 / a14 should be on the list.
yeah and what bout OP8 pro, iphone 12, S21U, the mi note 10 they reviewed recently